Are you tired of seeing me yet? I certainly hope my players aren't tired of hearing from me yet. Being the first woman to captain the U.S. Solheim Cup team three times is a huge honor and because of that the job this time around comes with added pressure, and when you are preparing to take on a very strong squad from Europe you don't need any added pressure.
When it comes to gals who've captained multiple Solheim teams, it's a short list. Mickey Walker led the first four teams for Europe, winning once. Alison Nicholas, Catrin Nilsmark and Dale Reid were all captains twice for Europe and they each had a .500 record. For the Americans, Judy Rankin was 2-0 while Kathy Whitworth and Patty Sheehan were both 1-1.
The good thing about having done it before is that I've learned not to stress over the little things, like menus and uniforms and the opening ceremonies, until they need to be worried about. It's like planning a wedding: You do this and then do that. Now, I know more about what needs to be done and when.
But the danger of having been captain before is getting lazy. You want to make sure you've crossed your T's and dotted your I's. I don't really worry about the girls much in terms of how they are playing. I do worry about them getting sick of hearing my voice, but I think they will not let that happen. They know me well enough to know how much I care. And they all know how to compete.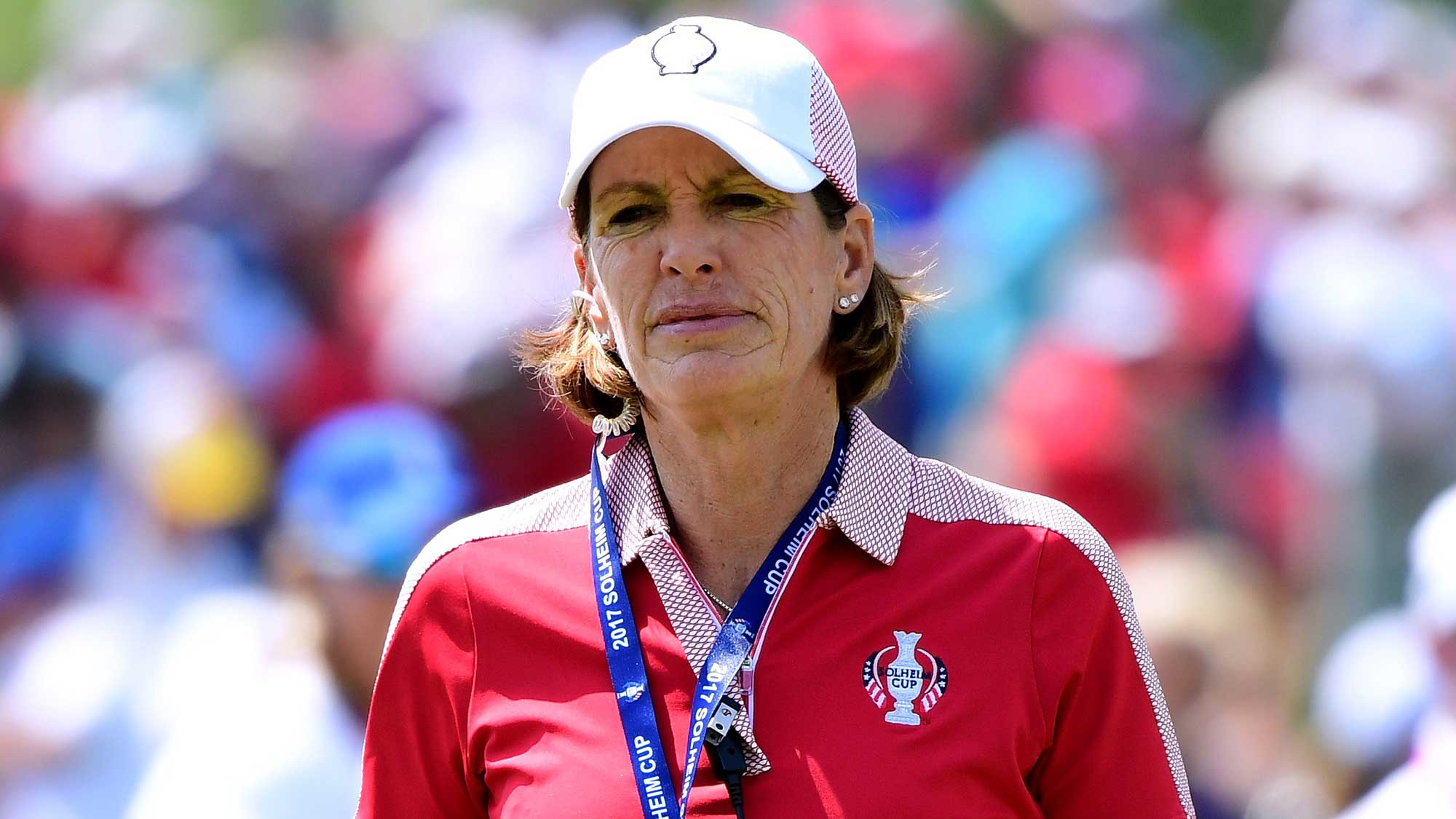 This year, I'm trying to keep things fresh, especially off the golf course. That's part of my job: To keep it fresh and exciting so that they all want to play in Scotland. I've had a bunch of great girls on my first two teams and I expect the same will be true this year. They call me The Old Lady – hey, my daughter, Hayley, is older than the Solheim Cup, only by a matter of months but older, with both born in 1990 – but it's with respect.
Being the Mom of two daughters has really helped prepare me for this job. I actually know where a lot of these girls are coming from. They all like to drink wine, just like my girls. Hey, I wouldn't be who I am today without Hayley and Cori and without the youngsters on tour. They inspire me to do my best for them.
You know, a challenge of the Solheim Cup is that golf is an individual game and an advantage the Europeans have is that they play a lot more team golf over there. But with new events like the International Crown and the Dow team event our girls are getting more experience at it. I've learned a lot about trying to be a team leader over the years by talking to Phil Mickelson, Davis Love, Golden State Warriors coach Steve Kerr, San Francisco Giants manager Bruce Bochy, Duke basketball coach Mike Krzyzewski and Secretary of State Condoleezza Rice.
What I've learned is that you can't lead everyone the same way and that I can't lead them the way I like to be led. Being captain three times and still playing a lot of LPGA events I think I know the girls well enough to be able to adapt my style to connect with each individual. I know how hard it is as a player and that you can't be on 24/7. I know they are trying their hardest.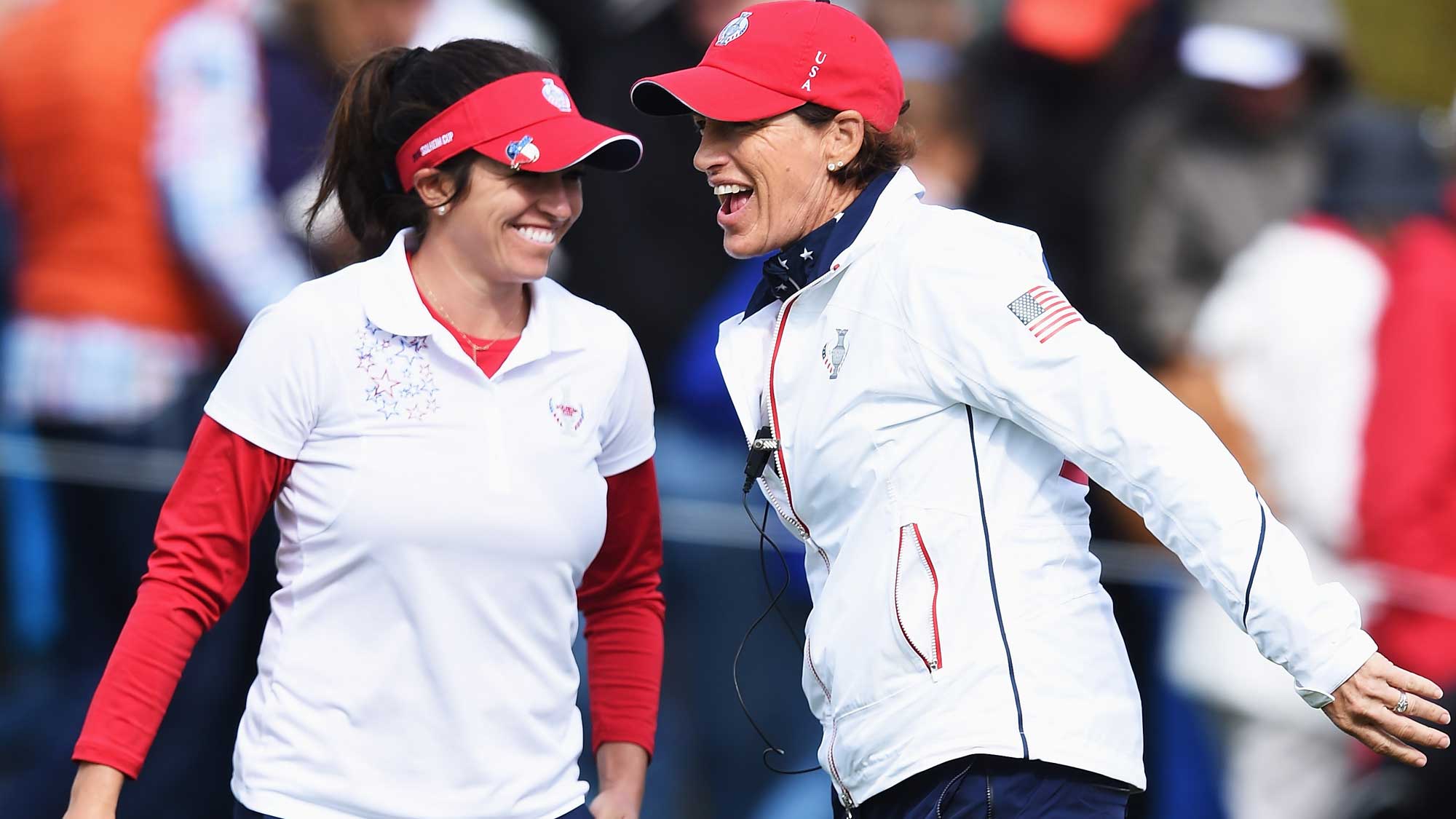 I'll tell you this: When I ask myself why I want to do this again the answer is that I love being with the girls and I love representing my country. When I think of how they played when they came back in Germany and when I think of how well Europe played in Des Moines and still my girls played better – those were huge moments for women's golf and those memories make me want more.
And I'll tell you another thing: It's not about me winning. They are the ones that do it. I'm just the voice of the team. We have to play great golf to beat Europe – they are a formidable team. Both teams have a great mix of young talent and older players who are embracing the newcomers, showing them what the Solheim is all about.
I like to keep things loose and relaxed. You saw me dancing on the first tee in Des Moines with their captain, Annika Sorenstam. Hey, I'm a stinking dancer but I love music and Annika got me on the golf course so many times, but I got her with my dance moves. I guess dance moves are one of the details I'll have to think about for Scotland. See you there.