PONTE VEDRA BEACH, Fla – Who will caddie for Kiradech Aphibarnrat at the Masters Par 3 contest remains a point of contention between the Jutanugarn sisters. Not because it really needs to be an issue, but because Ariya and her older sister, Moriya, are quite competitive.
Aphibarnrat, a fellow Thai and longtime friend of the Jutanugarns, has already extended the invitation to both sisters to caddie for him during the 2019 event. Ariya caddied during the 2018 contest and Moriya is eager to get her chance, but Ariya isn't giving up her white caddie bib that easily.
"We've been fighting because I told Kiradech, 'who you love more?' Pick one," Ariya said laughing while standing beside her sister. "He said you both can come, but I said you have to pick one. Just tell us who you love more. So, let's see who is going to show up on his bag."
Wednesday, the sisters spent the day with Aphibarnrat during THE PLAYERS Championship at TPC Sawgrass, where they walked inside the ropes with him for the first time at a PGA Tour event. Fellow LPGA member, Wichanee Meechai, also tagged along for the day. When the group reached the iconic par 3 17th hole, Aphibarnrat skipped his practice opportunity to give the sisters time to each hit a tee shot to the island green. Ariya hit first, choosing a 9-iron from her friend's bag. She laughed and threw her arm around Aphibarnrat as her tee shot landed in the water well short and right of the putting surface.
"Actually, I was so excited," Ariya told LPGA.com afterwards. "With Kiradech and lots of people watching, I almost hit the tree! It went like 60 yards to the right."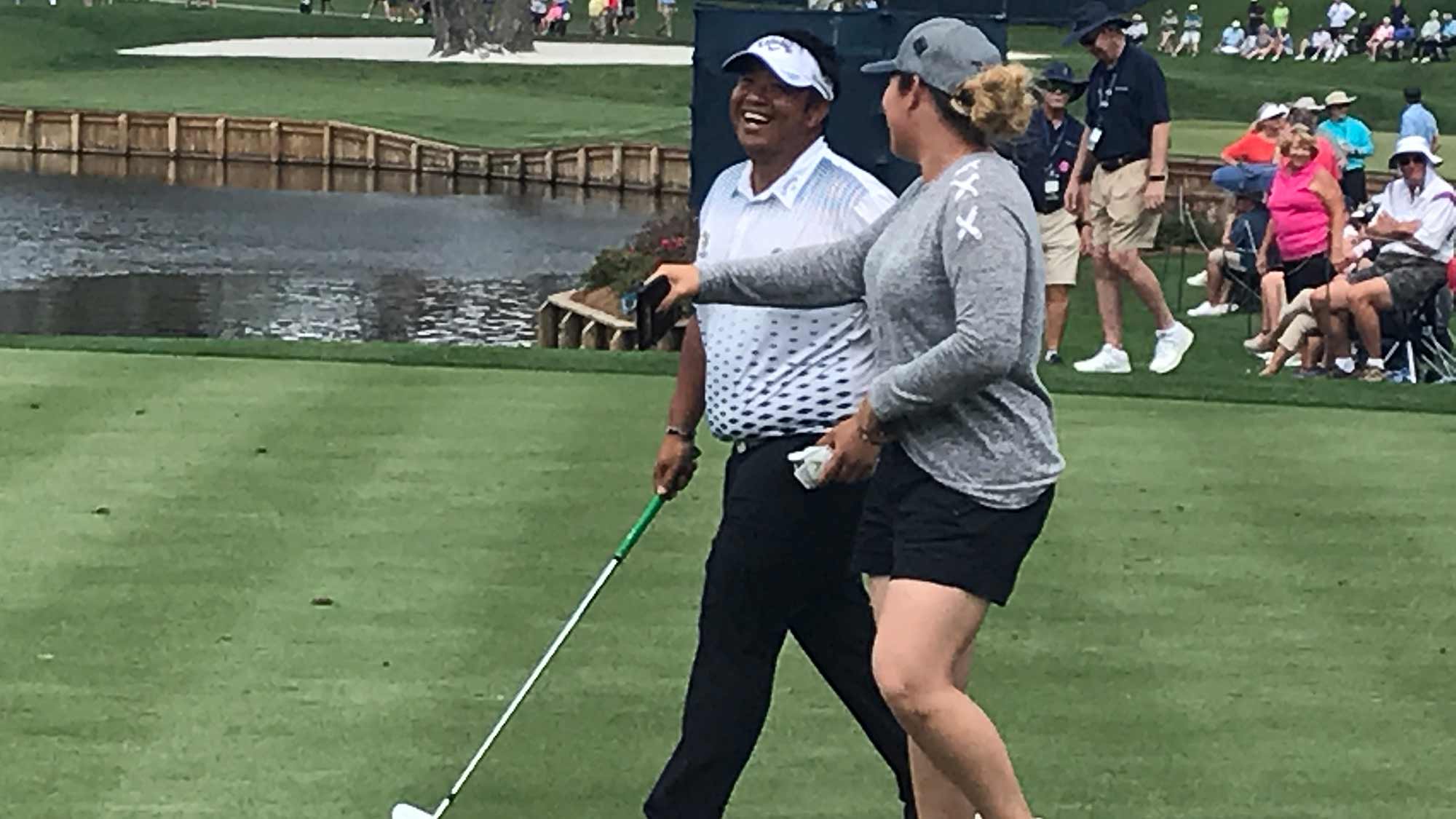 Moriya had better luck. She hit a 7-iron from Kiradech's bag and came up just a few yards short of the green.

"That shot on 17, you always watch it on TV. You never know how exciting or nervous it's going to be until you have to hit it," Moriya said. "I told them, 'you guys make me nervous!'"

The Thai trio have made a tradition of supporting each other at Tour events throughout the year. After the Jutanugarns attended the 2018 Masters, Aphibarnrat returned the favor and watched the sisters compete during the Walmart NW Arkansas Championship later that same year. Last week, the Jutanugarns, who call Orlando their home base in the United States, also watched their friend compete in the Arnold Palmer Invitational. Regardless of who Aphibarnrat selects as his caddie for the Masters, although LPGA.com has learned chances are quite good that both sisters will be on the bag, they enjoyed getting an up-close look at the skills needed for the job during THE PLAYERS Championship.

"We just put the pressure on Kiradech," Moriya said laughing. "We'll see who he is going to pick."