It has taken three long years for the timing to work in her favor, so Karen Stupples could not be more excited that she will finally be able to compete in the Senior LPGA Championship presented by Old National Bank, at French Lick Resort in Indiana next month.
When the senior major was first held there in 2017, Stupples was one year too young to qualify for the 45-and-over age limit. She did, however, attend the event in her role as a Golf Channel analyst. The second edition of the Senior LPGA Championship took place in mid-October 2018 when Stupples was in the Republic of Korea covering the LPGA Tour's LPGA KEB Hana Bank Championship.
But this year is a different matter.
"Jack Graham, my boss at Golf Channel, asked me if I wanted to work the Senior LPGA Championship again and I said, 'Actually, I'd really like to play in it.' So this is my opportunity to give it a go, to step out there and try and put my best foot forward and see where it puts me," Stupples, the 2004 Women's British Open champion, told LPGA.com. "It's exciting for me to watch players that I have played most of my professional golf with and feel like I am on a level playing field with them again. As soon as it was announced that there was going to be a Senior LPGA Championship (in 2017), I knew that I wanted to play in it. Now I finally get the chance!"
For a third successive year, the Senior LPGA Championship will be played on the Pete Dye Course at French Lick and Stupples has a good idea of the challenge that will face her from October 14-16.
"It's a tough golf course. You've got to keep it straight, you've got to hit quality shots and you've got to make putts," the Englishwoman said. "That's what a major championship is all about. It doesn't matter whether you're 45 or 25, it's still the same principle. Anybody that's competing in it has had experience at that level when they were younger, so you know what you've let yourself in for. It's a challenging course, it's hilly and the weather there in 2017 was pretty cold so you've got to be prepared for just about anything.
"I think it's a mental battle because when you haven't played golf as a full-timer for a number of years, to put yourself back in that position mentally, that's the toughest part for anybody that's teeing it up. It's not the physical side of playing golf because it very much is like riding a bike. When you've worked all your life to groove a swing a certain way, that doesn't leave you. It's whether you can mentally get it right."
Asked what would define a successful week at French Lick, Stupples replied: "Being able to walk off the golf course with my head held high, knowing that I had prepared to the best of my ability, given the time constraints I have had due to my whole work schedule for this year. I want to make Logan (her son) proud that his mum went out there and performed again, and I would love to make (Golf Channel commentator) Jerry Foltz (her partner) come and interview me," she said before breaking into laughter. "That would be one of my goals."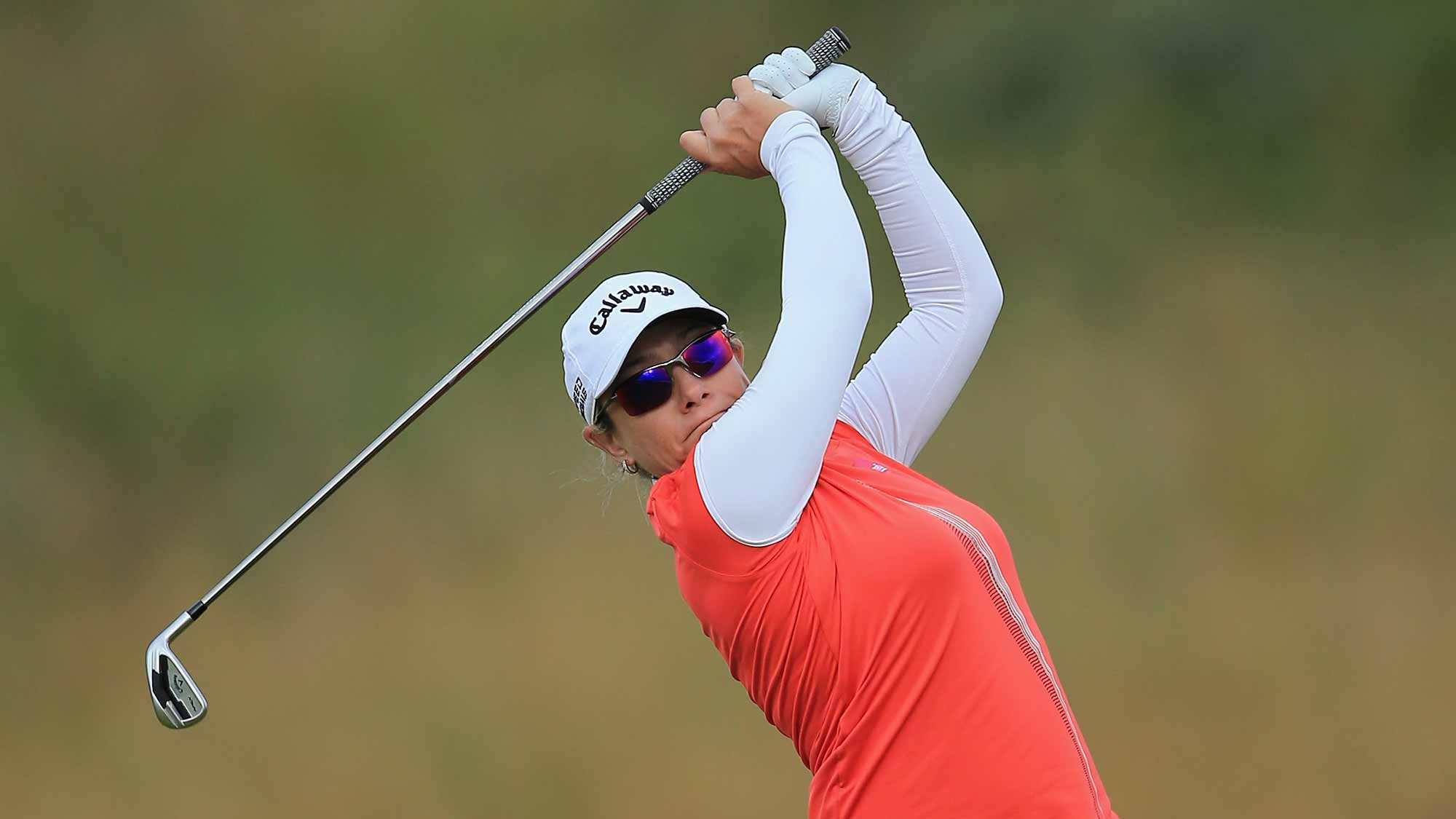 VERY LITTLE COMPETITIVE GOLF

A two-time winner on the LPGA Tour, Stupples has played very little competitive golf over the past four-and-a-half years, teeing it up in only two Tour events during that period. Her most recent outing came at the 2018 Cambia Portland Classic, where she missed the cut after carding rounds of 71 and 79.

"I've never really had huge amounts of success in Portland, but I felt really comfortable about going there last year," Stupples recalled. "And I had a different set of goals for that week. Not so much about the score, but I wanted to go and play a tournament through the eyes of an LPGA Founder - Act Like a Founder and be like a Founder and do everything that I feel like I could have done better when I was playing full-time on Tour...things that I took for granted because I was there every single week. So I went

into Portland with a fresh set of eyes, really appreciative of all the volunteers, the spectators, Cambia and Mark Ganz, who is president and chief executive officer of Cambia Health Solutions. I just wanted to do everything I could to make Cambia proud that they gave me an exemption for the week, to make Mariajo Uribe, who was my playing partner, happy that she got to spend two days with me and I wanted to give my caddie the best caddie week of his life - without winning, obviously!"

Stupples, who became only the second player ever to record a double-eagle at an LPGA Tour major on the way to a five-stroke victory in the 2004 Weetabix Women's British Open at Sunningdale, felt as if her job was done after she had opened with that 1-under 71 in Portland.

"When I shot 71, I'm like, 'Well, that wasn't so hard? I'm not really sure I need to play another round of golf but okay, I guess I'll go out and do it again.' It wasn't so good the second day and I missed the cut," she said with a smile. "But I was quite happy and in many ways for me, now as a commentator who talks about golf, when the players saw me playing and shooting a 71, even though I hadn't been in competition for a number of years, it created a level of respect. So when I'm standing up there talking about their games and potentially criticizing them, they know that I did it fairly recently on Tour and that I know what it's like to walk inside the ropes."

From a 'big picture' standpoint, Stupples is thrilled there are now more major tournaments taking place in the United States to entice the best senior players in the women's game. The Senior LPGA Championship led the way when it was launched in July 2017, and the U.S. Senior Women's Open followed suit one year later.

"To go into these majors as one of the youngsters, to have a game that is comparable with everybody else as opposed to people knocking it 40 yards past you, it's very refreshing and it adds a new dimension to what women can do in general," Stupples said. "It gives players a chance to dream and believe that there are opportunities after the regular LPGA Tour, which haven't been there in the past. That's a really great thing, although it's a long time overdue. It's not only great for young girls to dream that they can one day play on the LPGA Tour but it's also nice that LPGA Tour players can now dream that there are senior majors."

There are two big differences between the two senior majors. While the Senior LPGA Championship is played over 54 holes for players aged 45 and over, the U.S. Senior Women's Open is a 72-hole championship that caters to those above 50.

"I think the Senior LPGA Championship have it right with an age limit of over 45," said Stupples. "I like that because it's in line with the Legends Tour (formerly the Women's Senior Golf Tour). The Senior Open, at 50, is a little old. I would like to have seen that in line with everything else. Actually, I think 40 should be the age when women start their senior golf. If you look down at how many men are competitive at the age of 50 on the PGA Tour, it's about the same as how many women are competitive at the age of 40 on the LPGA, so 40 would be a better number. Women tend to start their golf careers younger and then retire earlier, so you're out of the game for too long by the time you get to 45.

"I'm lucky. I see golf every day. I see what makes the players tick. I see how it all works. I'm still involved in the game. But if you haven't been, that's a big mountain to climb back up, to stand on that first tee and get back into competition. Overall, though, these senior majors are great because they give players a chance to relive their life on Tour, to come back and to compete with a little bit of fun."