There is something special that happens when passion and determination come together – especially when it's a young girl who wants to help a friend.
Scarlett Dombrowski has a passion for playing golf and the 8-year-old had been anxiously awaiting the first playing of the LPGA's Dow Great Lakes Bay Invitational, which was taking place literally in her backyard. Scarlett's house backs up to the second hole at Midland Country Club and she was looking forward to seeing the LPGA players on her home course.
But Scarlett had an idea that went beyond just watching the LPGA players come by her house throughout the week. She wanted to help her 2-year-old friend Blakely who has Acute Lymphoblastic Leukemia and has been undergoing treatment for it over the past year. So with some help from her family and other kids, they set up a lemonade stand behind her house to raise money to help with Blakely's treatment.
Scarlett's mom, Michelle, was so blown away by the response from the LPGA players and caddies that she wrote a letter thanking them all for what they helped these young kids do.
After all the proceeds were totaled, Michelle Dombrowski said the kids raised a total of $1840 for Blakely's family -- $840 from the lemonade stand and a $1000 direct donation from longtime Dow ambassador Suzann Pettersen who got a chance to meet Blakely and her parents at the event. Scarlett, who wants to be a golf professional one day and is taking part in a Drive, Chip & Putt event this week, wrote her own letter to let her LPGA heroes know how much their participation in her lemonade stand meant to her.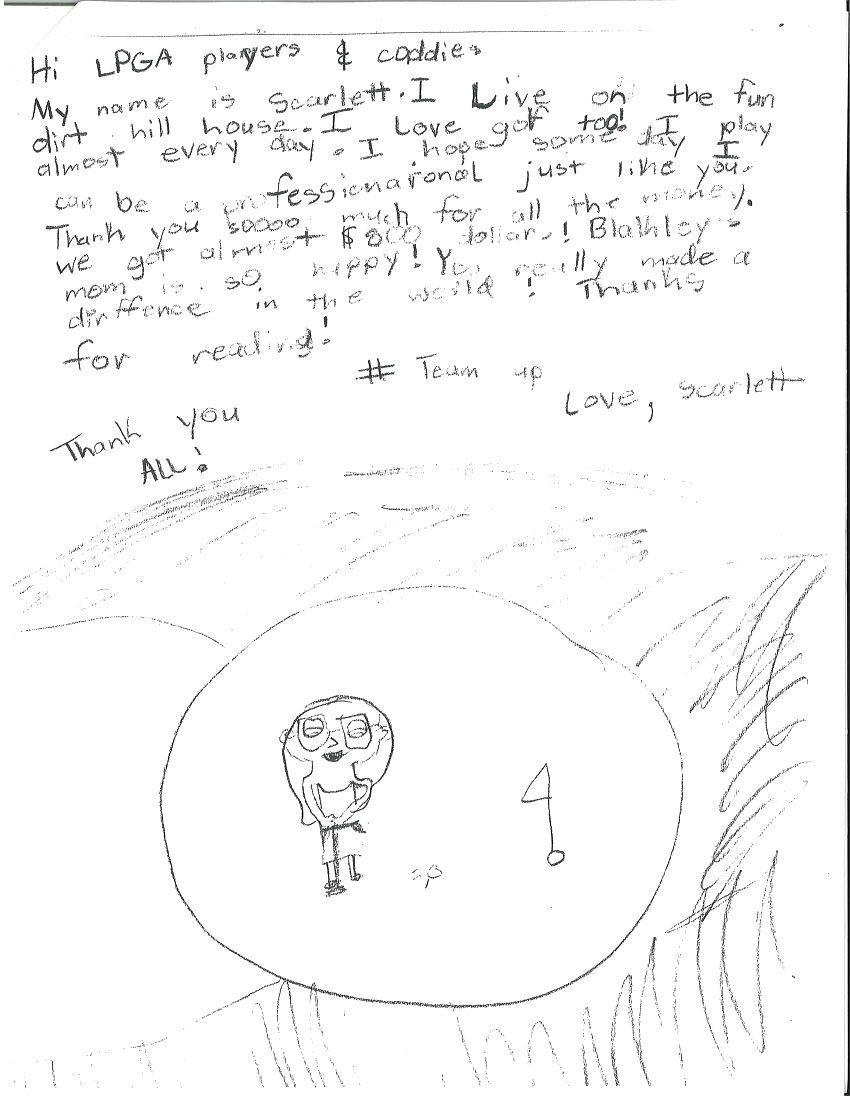 Dear LPGA players and caddies,

I'm not going to lie – I don't know much about golf. What I do know though, is that my husband, Alex, and our daughter, Scarlett, are addicted to the sport. They golf any chance they can get (which is almost every day during the summer and fall).

Myself, I grew up always swimming and ended up swimming on a collegiate scholarship for Michigan State University (MSU). I enjoyed the competition and the determination to succeed.

As this week has progressed at the GLBI, I have been admiring your individual talents. It has been so amazing to see how gifted each and every one of you are. You all have been an inspiration not only for myself but for my family.

I just really wanted to take the time to write to you all to say THANK YOU. Your incredible generosity with our lemonade stand meant so much to us. We were all just so blown away with how caring and considerate you all were for Scarlett's 2-year-old friend, Blakely. It was Scarlett's idea to make a difference in Blakely's life, as she is going through treatments for Leukemia. With the help of all of you, she was able to do that. The kids raised $743.50. Pretty amazing for a lemonade stand!

It's the simple things in life that really make an impact on us as a family. Just taking the time to wave to us, saying hello, stopping to sign autographs – that's what it is all about. WE are your biggest fans, and we've genuinely enjoyed getting to know each and every one of you. We only wish for the best for all of you this week at the GLBI.

Next year, we'd love to host a party at our house, once our huge landscaping project is done. We'd love to treat you all.

Thanks again to all of you! You ladies and caddies have been an absolute pleasure to meet. We cannot wait to have you all back here to Midland next year!

Sincerely,

Michelle Dombrowski