ORLANDO, Fla – Lexi Thompson was a rock star at the PGA Merchandise Show.
For over an hour, dozens of fans lined up to have a quick chat and snap a selfie with the major champion during demo day at Orange County National Golf Club. The top-ranked American in the world sat under a black tent signing autographs at Cobra Golf, her club sponsor. Her mother, Judy, stood close by holding her daughter's new, constant companion – a puppy named Leo. The Havapoo has become so popular after being held by Thompson during on-camera interviews at the CME Group Tour Championship and QBE Shootout that he's inspired his own Instagram account. He already has more followers than most humans who use the platform with more than 2,000 fans of his own.
Thompson continued dazzling her fans with a clinic on the driving range. Fellow Cobra ambassador, Blair O'Neal, joined her and the pair went head to head in a series of friendly competitions.
First up - driver.
Thompson, who is one of the longest hitters on the LPGA Tour, outdrove O'Neal on each of their tries with distances of 285, 287 and 289 yards. Thompson currently uses a KING F9 SPEEDBACK Driver with 8 degrees of loft and an extra stiff Fujikura shaft. She put the club in her bag in the lead up to the final event of 2018, which she went on to win.
"I made a transition within three days before the CME Group Tour Championship, and I think it helped out quite a bit," Thompson said with a chuckle. "I've gained some distance off the tee and I can't complain with that. And the consistency has helped me out a lot. That's really what I was looking for off the tee because I love to bang driver around the golf course."
Next, Thompson hit a few irons into the sun-filled sky. She struck her 7-iron 181 yards. It's a KING Forged prototype designed exclusively for the major champion. As the wind howled across the range, Thompson demonstrated how she keeps her ball flight low in challenging conditions.
"Distance is always important but I would say for me, I love controlling my irons," Thompson told the crowd. "You'll hardly ever just see me full out swing at an iron. It's more like an abbreviated finish and just controlling my ball flight."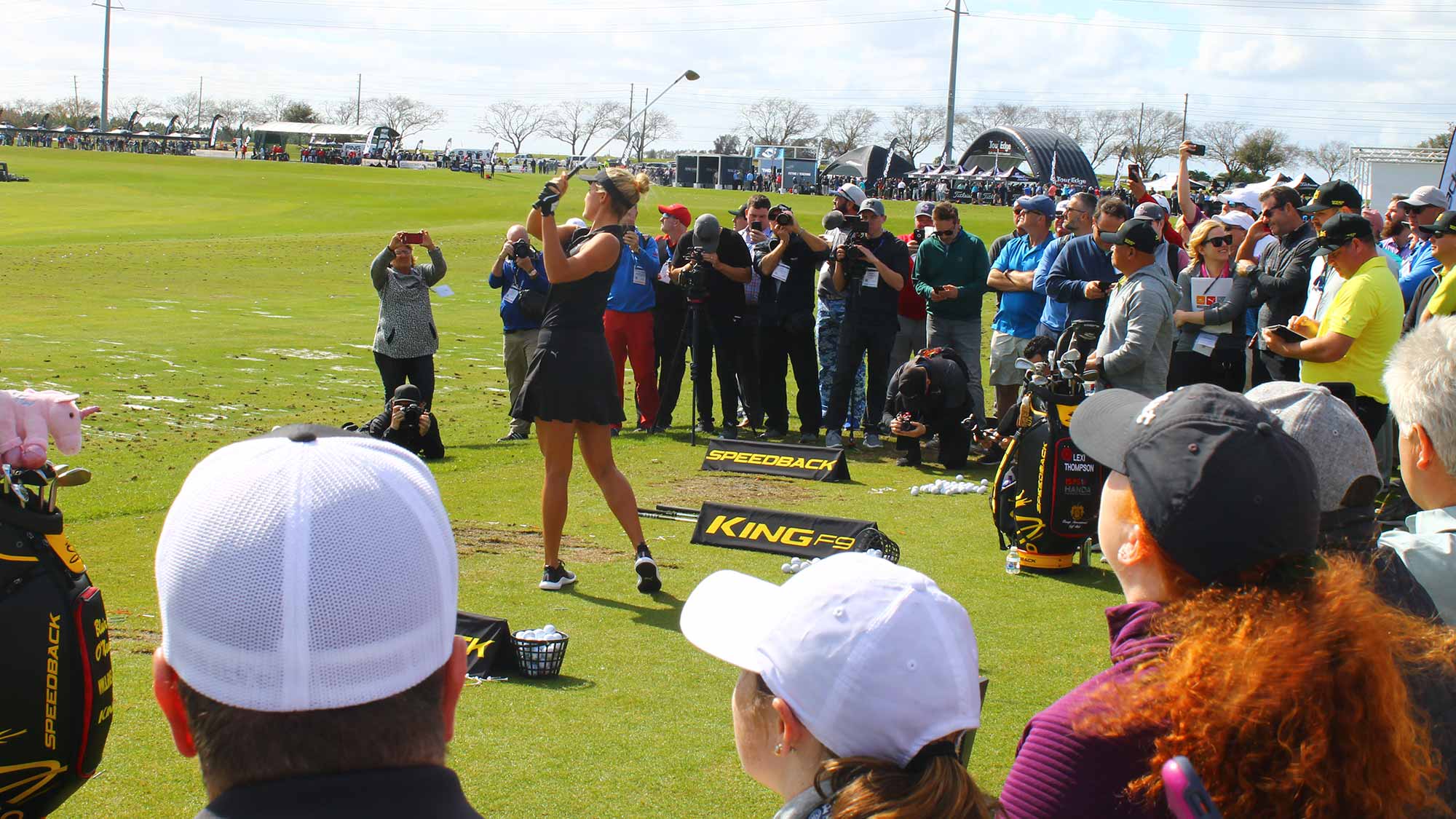 Rickie Fowler, a fellow Cobra ambassador, was called in to help with the final challenge of the afternoon. But it wasn't exactly Fowler in the flesh. He had already committed to playing in that week's PGA Tour event, so he couldn't attend in person. Instead, Cobra blew up a large photo of Fowler in which he was lounging back in a beach chair in a bunker with a beach ball nearby. The oversized poster was placed on the range with a plastic, yellow kiddie pool sitting in front. The target sat 30 yards out from Thompson, who worked through her bag as she tried to pull the right club to nail her target. It was a utility club that got the job done and Thompson sent ball after ball sailing into Fowler. The crowd howled with laughter. Thompson was the start attraction. And for the fans that waited around for more than an hour, she was certainly worth getting to see.