Ariya Jutanugarn has enjoyed many special days on and off the course because of her outstanding golf prowess but Wednesday in Augusta, Georgia, turned out to be one of the most memorable of all for the long-hitting Thai.
Not only was she presented with the 2018 Female Player of the Year trophy by the Golf Writers Association of America (GWAA) during a lavish function at Savannah Rapids Pavilion but her moment in the spotlight came after one of her idols, Tiger Woods, received the second award of the evening. Woods, a 10-time winner of the GWAA's Player of the Year Award and a former winner of the GWAA's Charlie Bartlett Award, was honored with the Ben Hogan Award, given to a player who has overcome a physical handicap or serious injury to remain active in golf.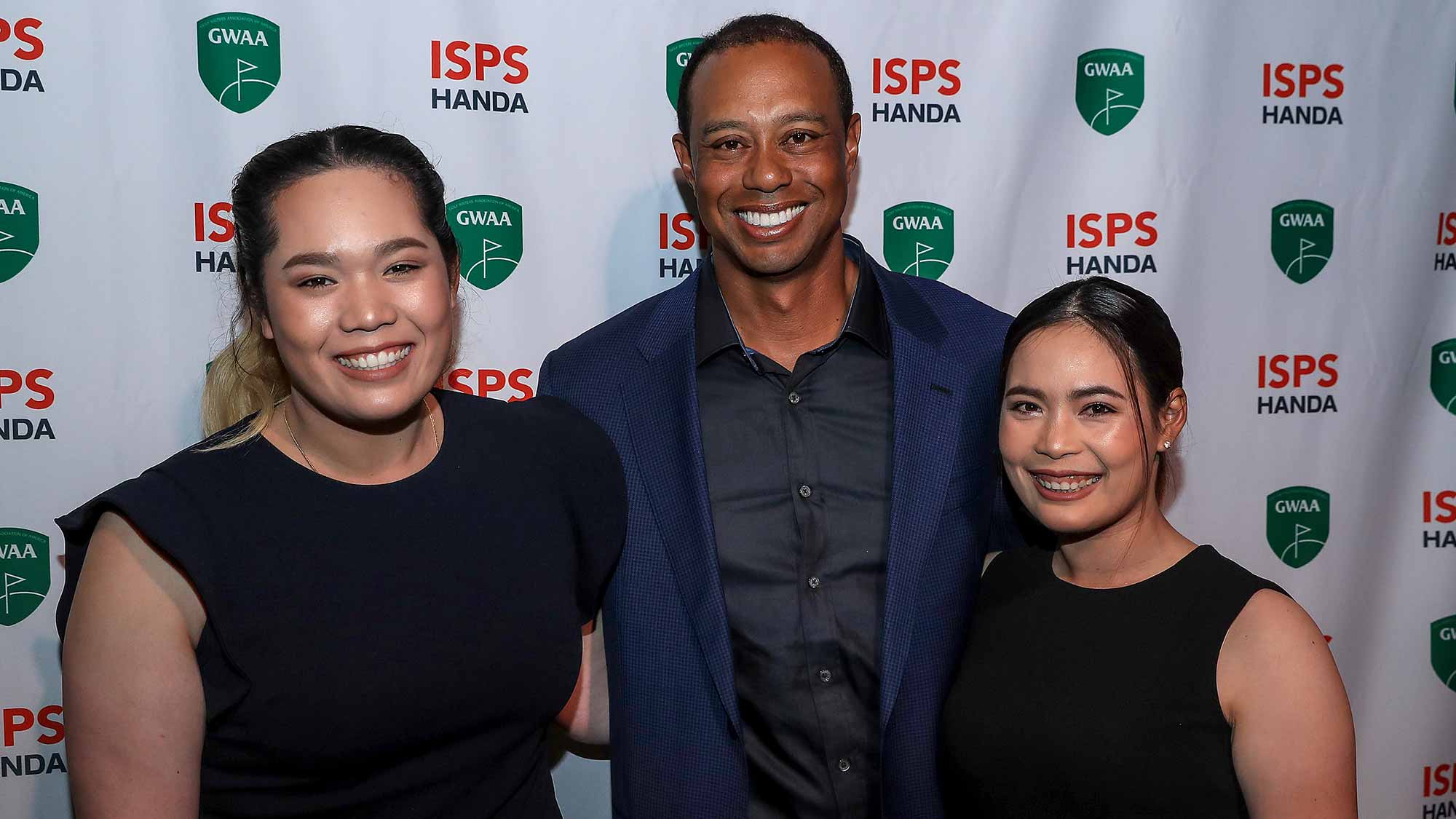 As if that was not enough for Ariya to savor, she and her sister, Moriya, were lucky enough to spend time with their good friend Kiradech Aphibarnrathit while he practised for the Masters Tournament and they both hit tee shots during the Par 3 Contest held at Augusta National on the eve of the opening round.
"It is a big honor for me to receive this Golf Writers Association of America award for a second time, especially from the media in the U.S." Ariya, who was also the 2016 Female Player of the Year, told LPGA.com. "When I come back here to Augusta, it just reminds of all the great memories I have from last year.
"Words cannot describe what this day has meant to me. This day has been so amazing, to spend time with one of my best friends, with Kiradech, and to caddie for him at the Par 3 Contest. Then to receive this award and to have Tiger here as well is just unbelievable for me."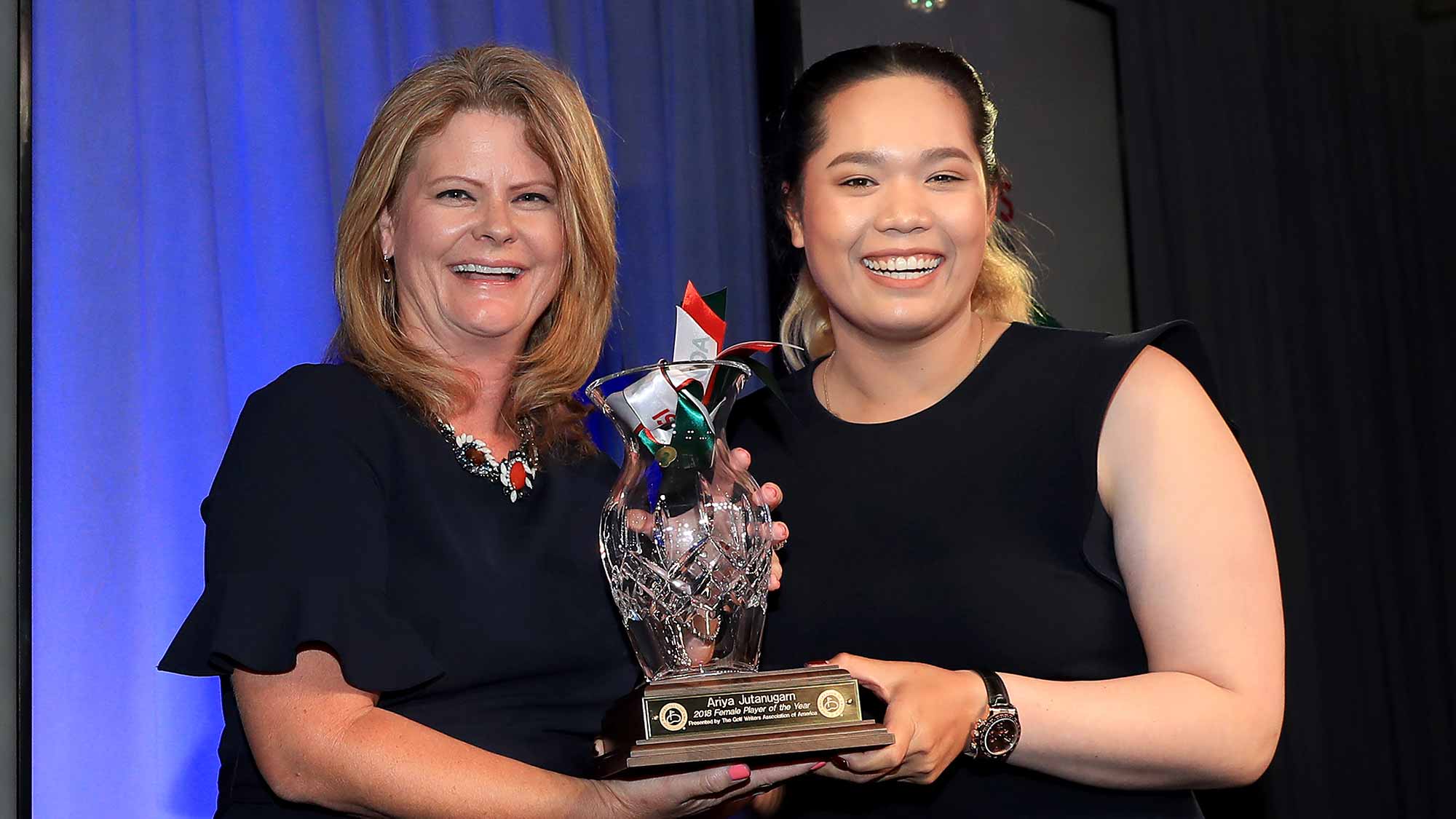 Ariya, who won three times in 2018 including the U.S. Women's Open while earning Rolex Player of the Year honors on the LPGA Tour, had never met Woods in person until Wednesday night. Shortly before the awards dinner started that all changed when she and her sister were thrilled to be introduced to Woods and have their picture taken together.
"Tiger has always been one of my idols," said Ariya, who completed a sweep of all the major LPGA awards for 2018 as she claimed the prestigious Vare Trophy for the lowest scoring average, and also took home the season-long Race to the CME Globe. "I wanted to hug him! It was so cool. I can't say anything better. I had never met him in person before, but I have always loved the way he plays. I have been watching him since he was young. He is my idol.
"What I like about Tiger is every golfer has a good bad and a bad day, up and down, but the one thing I saw from Tiger is that he never gives up. He keeps fighting. He is so amazing."
Ariya received her Player of the Year award shortly before the dinner segment of the evening after Woods had accepted the Ben Hogan Award and both Brooks Koepka (2018 Player of the Year) and Bernhard Langer (2018 Senior Player of the Year) had come up to the stage to receive their trophies.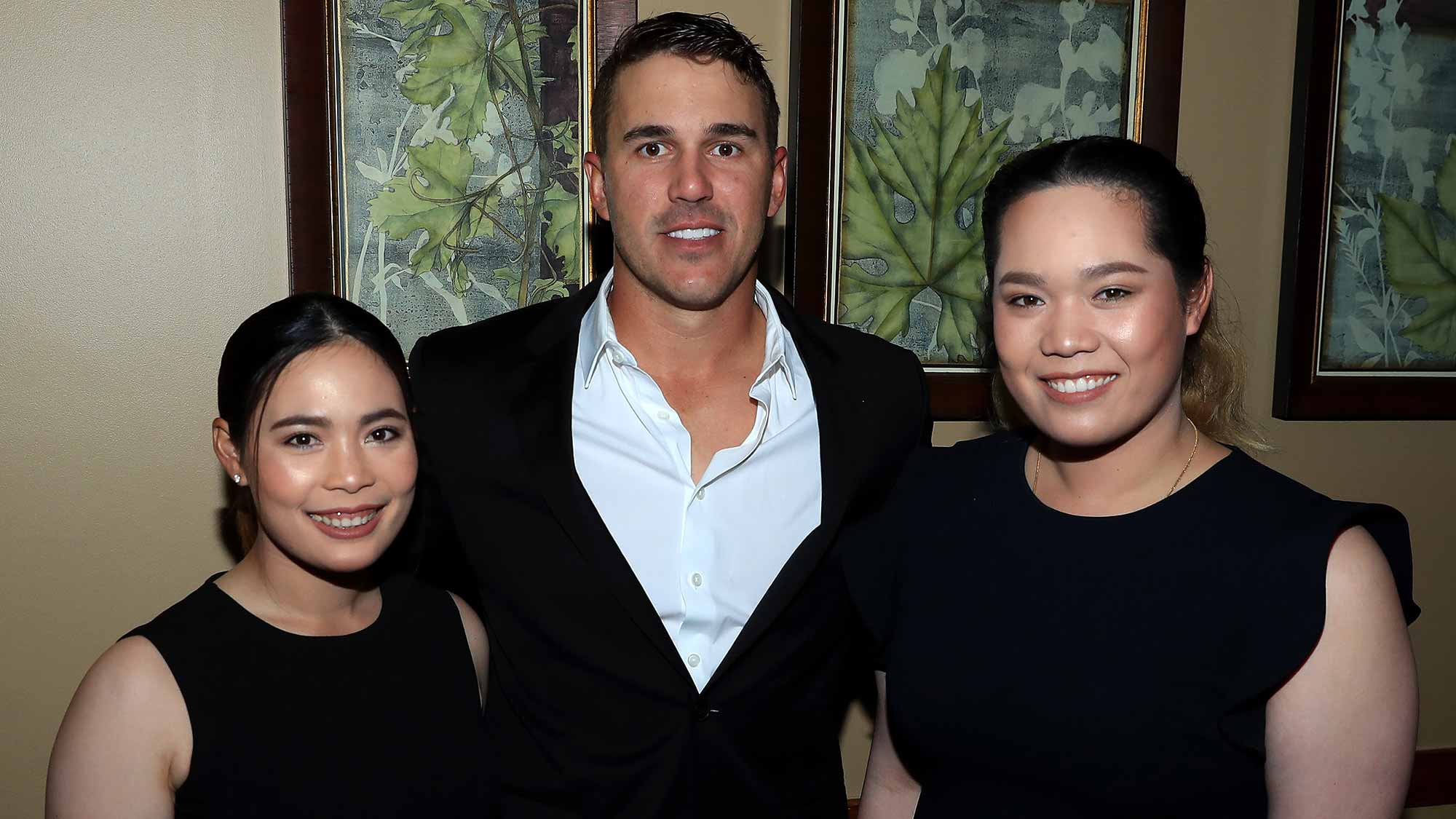 "I am so honored to receive this award from you all, and I am so grateful for all the support you have given me and for women's golf," Ariya said during her acceptance speech. "It means so much to us, so thank you so much. Just to be in the same room with Bernhard Langer, Brooks Koepka and Tiger Woods is just unbelievable and so amazing to me. Thank you so much for that opportunity. It is a very special night for me to be here, to be honored. It is a night I will never forget."
Earlier in the day, the Jutanugarn sisters lapped up the fun-filled, family atmosphere of the Masters Tournament's Par 3 Contest in the company of fellow Thai golfer Aphibarnrat, six-time major champion Nick Faldo and rising Spanish star Jon Rahm.
Ariya and Moriya have known Aphibarnrat since they were children, and they have made the most of every opportunity that comes their way to support one another throughout their professional careers. Ariya caddied for Aphibarnrat during last year's Par 3 Contest and on Wednesday it was Moriya's turn before the Thai trio combined to provide the highlight of their afternoon at Augusta National when they all hit tee shots at the par-three ninth hole at exactly the same time.
Ariya stood on the left side of the tee, Aphibarnrat in the middle and Moriya on the right before they struck their shots in unison to spark loud cheers and ripples of laughter from the watching galleries on a picture-perfect day of glorious sunshine in Augusta. Ariya hit a pitching wedge from 115 yards to three feet for a tap-in birdie while both Moriya and Aphibarnrat made par.
"I had already hit in the Par 3 Contest last year, so I thought let Mo hit it," Ariya told LPGA.com. "But then Nick Faldo said, "How about you guys just hit at the same time?' So we said, 'Good idea.' And we all hit at the same time.
"All I know is that Kiradech was going to use 50-degree, Moriya was going to use a nine-iron so the only thing I had was a pitching wedge. So I had to hit it. I did a warm-up so the pitching wedge was fine. It was so much fun in the Par 3 Contest, and really special for us to spend time with Kiradech."
Ariya caddied for Aphibarnrat during the 2018 Par 3 Contest and Moriya ended up wearing the white caddie jumpsuit on Wednesday after Aphibarnrat had kept both sisters guessing as to who would get the final nod.
Moriya told LPGA.com: "It's been a couple of weeks of me asking Kiradech and texting him, 'Am I caddying for you?' And he was like, 'Well both of you. Just come and you will find out.' I ended up caddying for Kiradech for the nine holes but we all walked together. It was a lot of fun."