WOBURN – Bronte Law has a lot to think about, but she's doing her best not to think about them. This weekend, Law is in position to have a run at her first major title, in her native England, while also trying to earn a captain's pick from Catriona Matthew in order to play in her first Solheim Cup.
"It's easy to get caught up in that stuff and worry about, you know, this and that," Law said. "Doesn't matter what ranking you are or where you are. Like it's golf, isn't it? So, [I'm] trying to push that aside and just go out there and play good golf that I've been playing recently."
Through 36 holes of the AIG Women's British Open, Law is handling the pressure like a seasoned champion. But Law is just a third-year member on the LPGA Tour, who only won her first event on Tour in May. And yet, she finds herself in position to win her first major championship at the AIG Women's British Open, where she opened with rounds of 70 – 67 to sit in a tie for fourth, five-strokes back of the lead.
"Winning majors is why we play this game," Law said. "This is my first opportunity to set me towards that path."
A victory on Sunday would be next natural step down a path which has groomed her for this moment. As an amateur, she competed in the Curtis Cup representing Great Britain and Ireland and won the English Women's Amateur Championship by 16 strokes. Twice Law made the cut as an amateur in the AIG Women's British Open, including the last time the championship was staged at Woburn in 2016. And, she went on to play college golf at UCLA where she holds the record for career wins with seven.
"Playing in college was a huge factor of my growth as a player," Law said. "Being patient and trusting my ability and knowing that I'm good enough out here is something that can go a long way."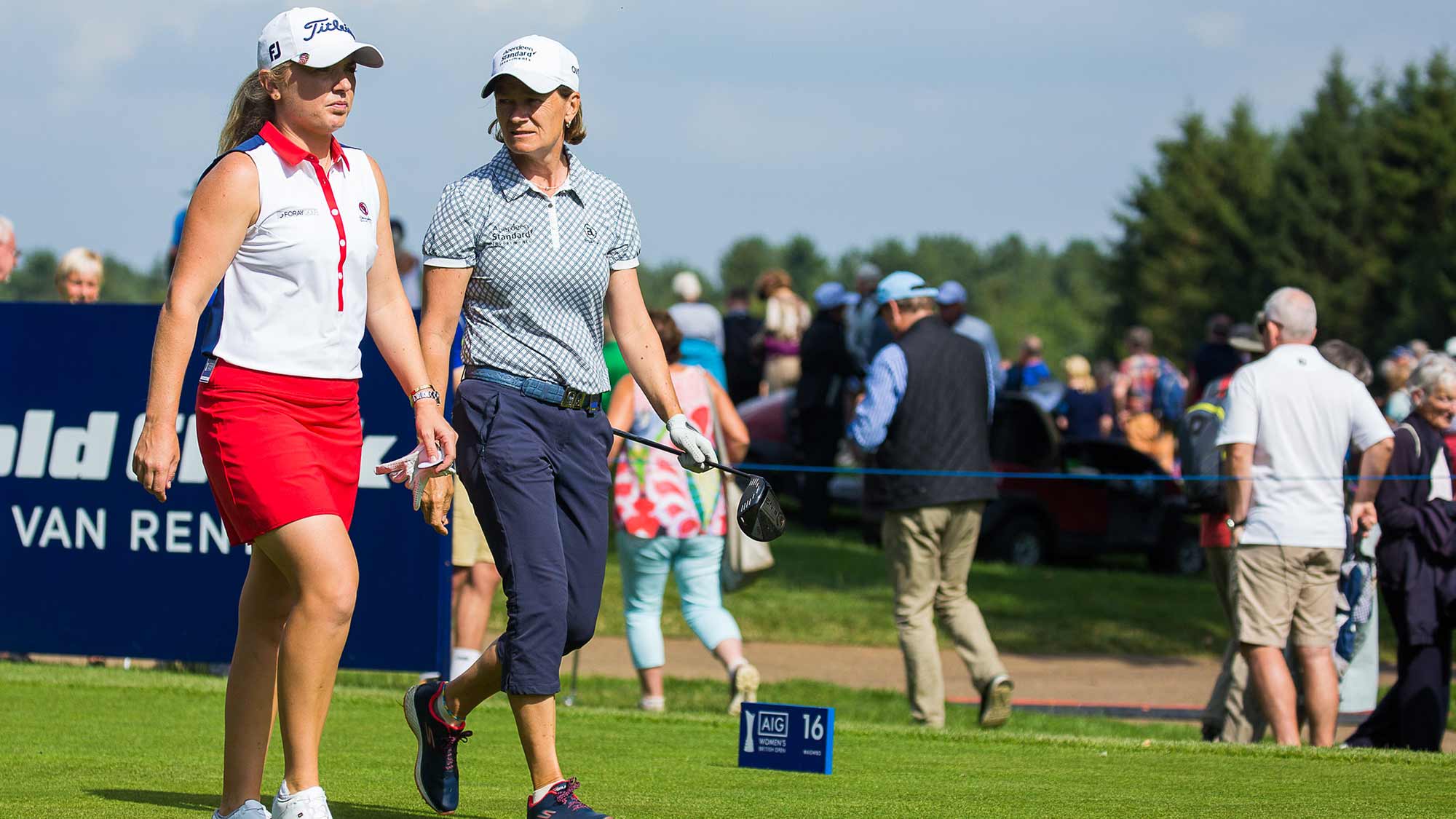 What Law already knew she proved to the world in May at the Pure Silk Championship at Kingsmill where she won for the first time on Tour. Her victory put her on the radar of Catriona Matthew, the captain for the European Solheim Cup Team. Because Law competes primarily on the LPGA Tour, she hasn't competed in enough Ladies European Tour qualifying events in order to make the team through points or the Rolex Rankings. Instead, she'll need to rely on a pick from Matthew in order to make the team. As fate would have it, Law was paired with Matthew during the opening rounds of the AIG Women's British Open, where she undoubtedly impressed the captain with a bogey-free performance through 36-holes.
"It's like when you're younger at school and you're in front of the teacher so they can keep an eye on you. Felt a bit like that," Law said. "With it being a major, the goal is to play well and it's not so much I'm worried about Solheim it's that I have a job to do."
By focusing on her job, a Solheim Cup selection could take care of itself. But Law is trying not to think about that.