Being recognized as the most-successful athlete from your homeland ever to play your sport on a professional level is an incredible honor, but it is also a daunting burden to put on the shoulders of a 21-year-old. Yet everything about Brooke Henderson screams that she's up to the task of lugging that burden around the golf course.
Henderson arrived at Magna Golf Club in Aurora, Ontario, this week as not only the defending champion of the CP Women's Open but also as the Canadian golfer with the most professional wins in history.
In a sports-passionate country that embraces achievement, Brooke is beloved and respected, strange words to use for someone so young.
Yet they are words very well earned.
When Henderson won the LOTTE Championship in April, she tied Sandra Post, who won eight times on the LPGA, as well as Mike Weir and George Knudson, who had the same number of victories on the PGA Tour. Her victory in June at the Meijer Classic put her alone on top.
"Just an incredible feeling," Henderson said about the Meijer win, which came appropriately on Father's Day since her only coach has been her father, Dave. "There's been so many talented players come before me from Canada. I'm happy to break through the record and just to be a part of history is pretty sweet."
The recognition Henderson has received in Canada indicates the stature she's achieved there. After her victory at the Meijer, Prime Minister Justin Trudeau tweeted: "Historic win Brooke, congratulations! Keep making us proud."
And since 2015, Henderson has been Canadian Female Athlete of the Year three times. That's impressive in a country that has world-class female athletes in hockey, skiing, curling and other sports.
"It's so special to have that support from back home," Henderson says. "People really reached out and been so kind."
Anyone who thinks Henderson might not be able to handle the glare of the spotlight has simply not been paying attention. While mild-mannered, she has never been afraid of a fight and never intimidated by a big stage. The polite aggression with which Henderson and her caddie-sister Brittany attack a golf course shouts of her confidence.
When she turned pro late in 2014 at 17, Henderson's petition for an exemption to the LPGA minimum age of 18 was denied. She played LPGA events in 2015 by Monday qualifying and on sponsor exemptions, finishing third at Swinging Skirts, one stroke behind Lydia Ko and Morgan Pressel after setting the 36-hole scoring record.
When Henderson won the Four Winds Invitational on the Epson Tour in June 2015, she was granted membership on that tour. In August, Henderson Monday qualified for the Cambia Portland Classic which she won by eight strokes and was immediately granted LPGA membership less than a month shy of her 18th birthday.
Henderson's victory at the 2016 KPMG Women's PGA Championship, picking up her first LPGA major at the age of 18 at Sahalee Country Club, was indicative of what was to come. She attacked the tree-lined fairways boldly with her driver while most sought to avoid the towering pines with lesser clubs.
Henderson is a woman who, if she doesn't have a checklist of accomplishments, is at least aware of them. They matter to her. The victory at LOTTE meant she had won on the LPGA every year since 2015 and the Meijer victory was her second of the season for the fourth consecutive year.
"I think it's so cool to keep the streak alive of two wins a year since 2016," she said. "The tour is so strong and so many talented players. That's really meaningful as well. Hopefully I can put myself in contention the rest of the summer and see if I can do it again."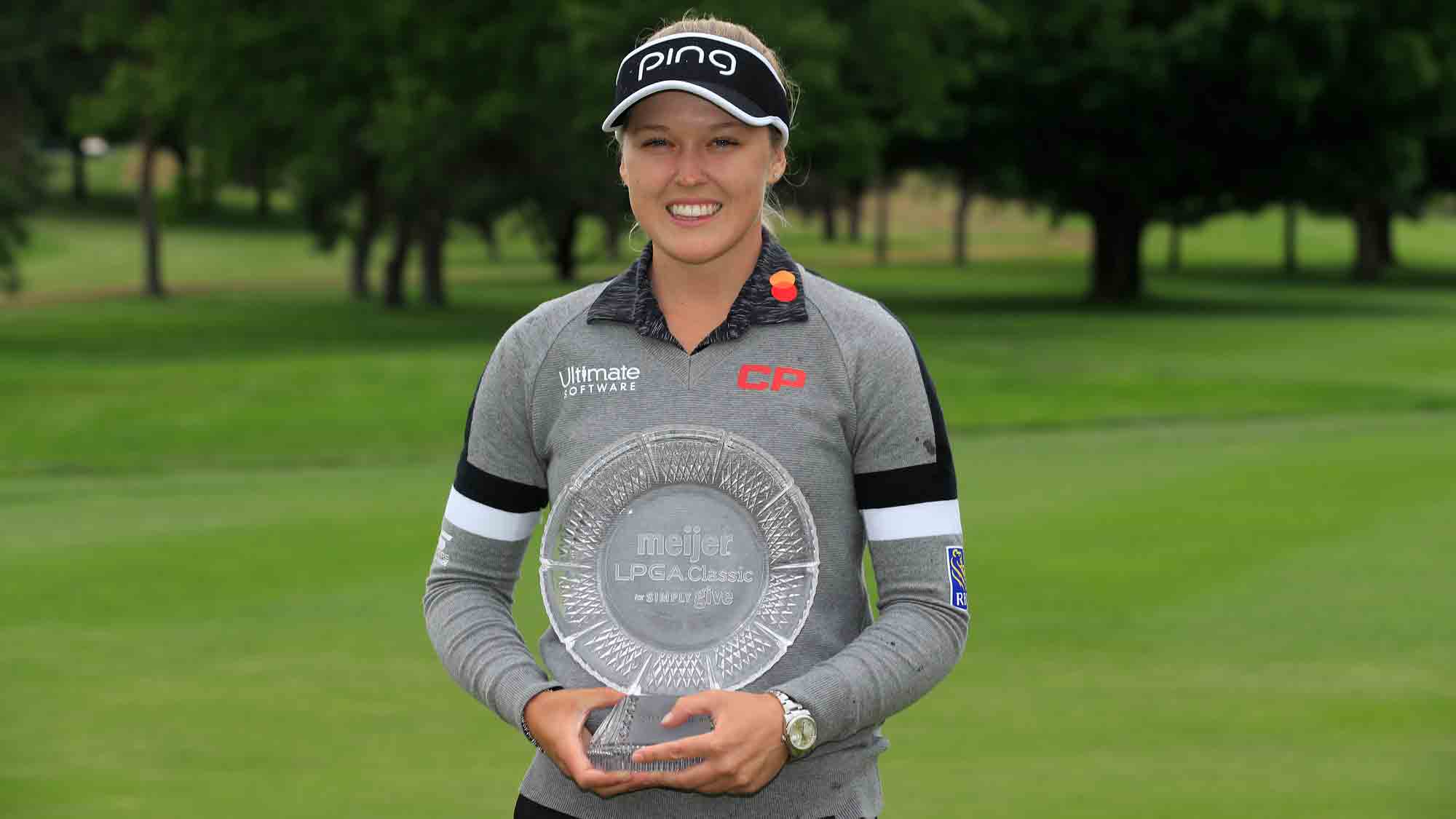 Talented and intriguing characters populate the pages surrounding Henderson in the history of Canadian golf. Beyond Post, Weir and Knudson, there is Marlene Streit, 85, the most successful Canadian amateur. She gained entry to the World Golf Hall of Fame in 2004 and is the only player to win the Canadian, U.S., British and Australia Women's Amateur Championships.
And then there is Moe Norman, who died in 2004 at 75 and is an almost mythic figure. Called "Pipeline Moe" because of how straight he hit the ball, Norman has 55 professional events but none on the PGA Tour. A victim of bullying because of his shyness and odd attire, Norman made only a brief attempt at the PGA Tour before returning to Canada.
When Henderson won the CP Women's Open last year at Wascana Country Club in Saskatchewan, it was an emotional experience because it was her first LPGA victory in her home country. Now she returns to the CP Women's Open as the face of Canadian golf, not just now but also in the history books.
Seemingly, Henderson regards history as just another challenge to be attacked. And it feels very much like the Brooke Henderson chapter in the history of Canadian golf is far from finished in the writing. The next installment comes this week in Magna Golf Club.