PONTE VEDRA BEACH, Fla – Growing up in Chinese Taipei, Wei-Ling Hsu would hear she was too short and too skinny to play professional golf. At 5 feet 2 inches tall, she is a few inches shorter than the average player in her home country. Hsu remembers the painful rejection of sponsors who would simply look at her, say 'good luck,' turn their backs and walk away.
It made Hsu work that much harder to prove that she could make it as a professional.
"When I was an amateur, not many people support me," Hsu told LPGA.com. "But after a couple times I played well in the LPGA, they definitely feel differently when I'm back home."
C.T. Pan grew up two hours away from Hsu in Chinese Taipei and endured a similar scrutiny at 5 feet 6 inches tall. Their smaller stature is something they have bonded over and laugh about now, as they both make a living playing professional golf on the LPGA and PGA Tours.
Wednesday, the pair reconnected at THE PLAYERS Championship, where Hsu went inside the ropes with her compatriot and got a chance to putt on the famous island green at the par 3, 17th hole at TPC Sawgrass.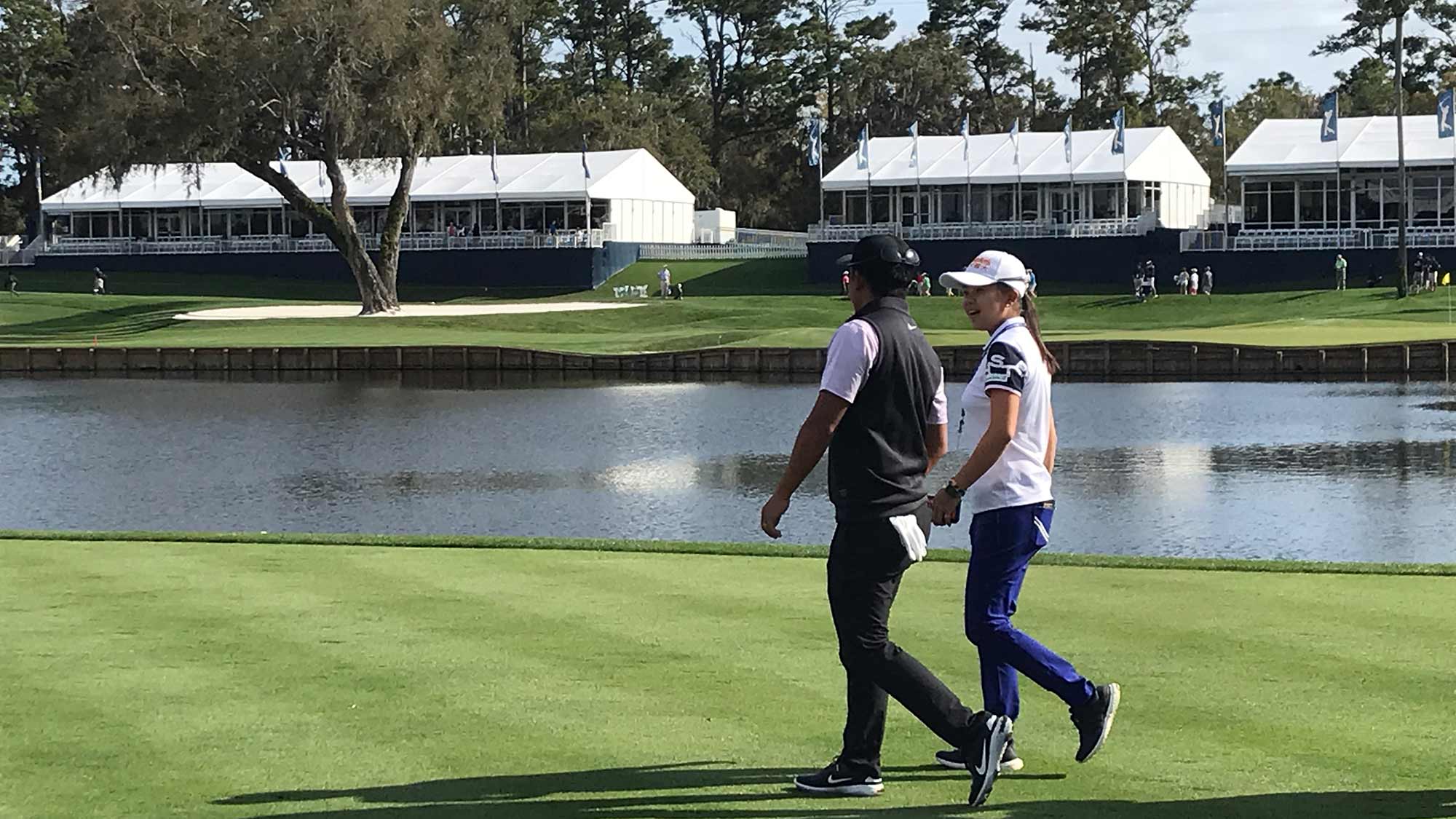 Pan and Hsu are working together to grow the game back home. For the last four years, Pan has hosted a junior camp for the top male and female golfers in their home country. In 2018, Pan invited Hsu to help lead the camp as an instructor and mentor.
"That's a very cool experience for me," Hsu said.
She worked closely with the females attending the camp, answering questions and sharing advice about how to best pursue a career in professional golf. Hsu recalls having to make a similar decision as a junior and the options for females differing greatly from those of her male counterparts.
"I have to tell them the truth," Hsu said. "These are the challenges they're facing."
Many female golfers opt to turn professional straight out of high school, rather than playing college golf, as most of the men choose to do. Pan moved to the states to attend IMG Academy and played for the University of Washington. Hsu's path to the professional ranks was much different. Her father, Chenmin, taught her to play at the age of 7 and by the age of 15 she knew she wanted to pursue golf full-time. That was the last formal schooling Hsu received.
"I just tell my parents I really want [golf] to be my job. They really support me at that time."
By the time Hsu was a teen she knew her competitors and had nearly beaten them all. Before a tournament even started, she already knew what each player would shoot. She needed a bigger challenge.
"It was so easy," Hsu said. "I don't get that much of a challenge as an amateur, so I kind of became lazy and felt bored."
As a teen, Hsu turned professional and began honing her skills on the Symetra Tour. At the age of 18, she won the 2013 Credit Union Challenge. The following year, she finished inside the top 10 on the money list to earn her card to the LPGA Tour. The desire to be able to keep up and compete with the best players in the world has been a strong motivator for Hsu, who admits, at times, to being complacent and lazy.
"When you get to the States you see so many different people in the world," Hsu said. "You recognize where you're not strong enough."
Recognizing her weaknesses drove Hsu to work harder, proving to herself, and the doubters back home, that she has what it takes to compete on the biggest stage in the women's game. In 2018, Hsu recorded the best season of her career. She nearly won for the first time on Tour at the Pure Silk-Bahamas LPGA Classic where she finished runner-up. She added three more top 10s in 2018, including a top 5 at the U.S. Women's Open. Hsu finished the year ranked 31st on the money list and crossed the million-dollar mark in career earnings.
Wednesday, Hsu and Pan signed a pin flag with THE PLAYERS Championship logo emblazoned in the center. The proceeds from its sale will go to growing the game back home in Chinese Taipei. In April, Pan is getting his own AJGA event. The C.T. Pan Junior Championship will be played over Easter weekend in Houston and Pan has hired a team to bring nearly a dozen juniors over from Chinese Taipei to attend. Given Hsu's recent success, it won't be long before she's hosting her own event.
"If you play golf, you know who she is," Pan says about Hsu's growing popularity back home.
While Hsu's path to the professional ranks didn't include college, she shown to juniors back home in Chinese Taipei what it takes to succeed. No matter how short or skinny they might appear to be.