WOBURN - Karen Stupples has seen it all when it comes to the AIG Women's British Open, having competed in the championship 14 times, winning it in sensational fashion at Sunningdale in 2004 and then covering the event as a television analyst in recent years for both Golf Channel and the BBC.
Yet even she was taken aback by the massive crowds that swarmed across the Marquess Course last week at Woburn Golf Club where 20-year-old Japanese surprise package Hinako Shibuno, who is nicknamed 'Smiling Cinderella', eventually emerged triumphant by one shot in fairytale style after pocketing five birdies after the turn.
Tournament organizers couldn't have scripted it much better for the first two rounds as England's defending champion Georgia Hall, Woburn member Charley Hull and Rolex Rankings No. 22 Bronte Law all played their way into contention with some inspired play in front of their home fans. Heading into the weekend, all three players were in the top 10 and their heavyweight presence at the top of the leaderboard after 36 holes was a key factor in attracting huge galleries to Woburn for the whole week.
"I makes me feel proud to start with that English women's golf is coming to the forefront on the world stage because all three of them are quality players and they deserve to get recognized as such," Stupples told LPGA.com. "And to be able to do it in front of their home crowd and their home fans is always a very special thing, for a player to know that everybody is out here to support you. It's very much like when Ariya Jutanugarn plays in Thailand or Sung Hyun Park plays in Korea, they are the firm favorites and they are going to get the crowd support. And everybody around the London area - from south, east and west - have all come on board and have filled these fairways and you know, they've five, six people deep in places. It's been very impressive to see."
Asked if she had ever seen galleries as large at a Women's British Open, Stupples replied: "They're definitely up there with some of the biggest I have ever seen. The last time we played at Woburn, in 2016, the crowds were pretty big as well. Certainly at Sunningdale in 2004 the crowds were pretty intense as well. When I was playing, I remember the galleries being pretty thick coming up the 18th fairway so that was very special too. They generally come out to support women's golf here at Woburn. It's an easy location to get to and the tournament have done a fantastic job in putting on great facilities for the fans in regard to parking, concessions and food where everything is dotted about the course. They've put on a great spectacle here."
The only blemish in the week-long script for tournament organizers - from an England perspective - was the fact that Hull, Hall and Law all faded out of contention in the final round. Hull closed with a 76 to share 24th place while both Hall, after a 73, and Law, after a 78, ended up in a share of 35th.
"They all performed well over the first 36 holes, and that certainly set a great tone for the week," said Stupples. "When you think about Georgia, she said how comfortable she feels that she's at home. Bear in mind that she still lives here in the UK so she just goes over to America to play golf and then comes back home to the UK. She wasn't a player that played college golf like Bronte Law. Charley, the same way. I think if you played college golf, it gives you a little heads-up on what LPGA Tour life is going to be like. So I think that Bronte has a slight advantage in just every-day life on the LPGA Tour but when they all come home, it's a level playing field for the three of them."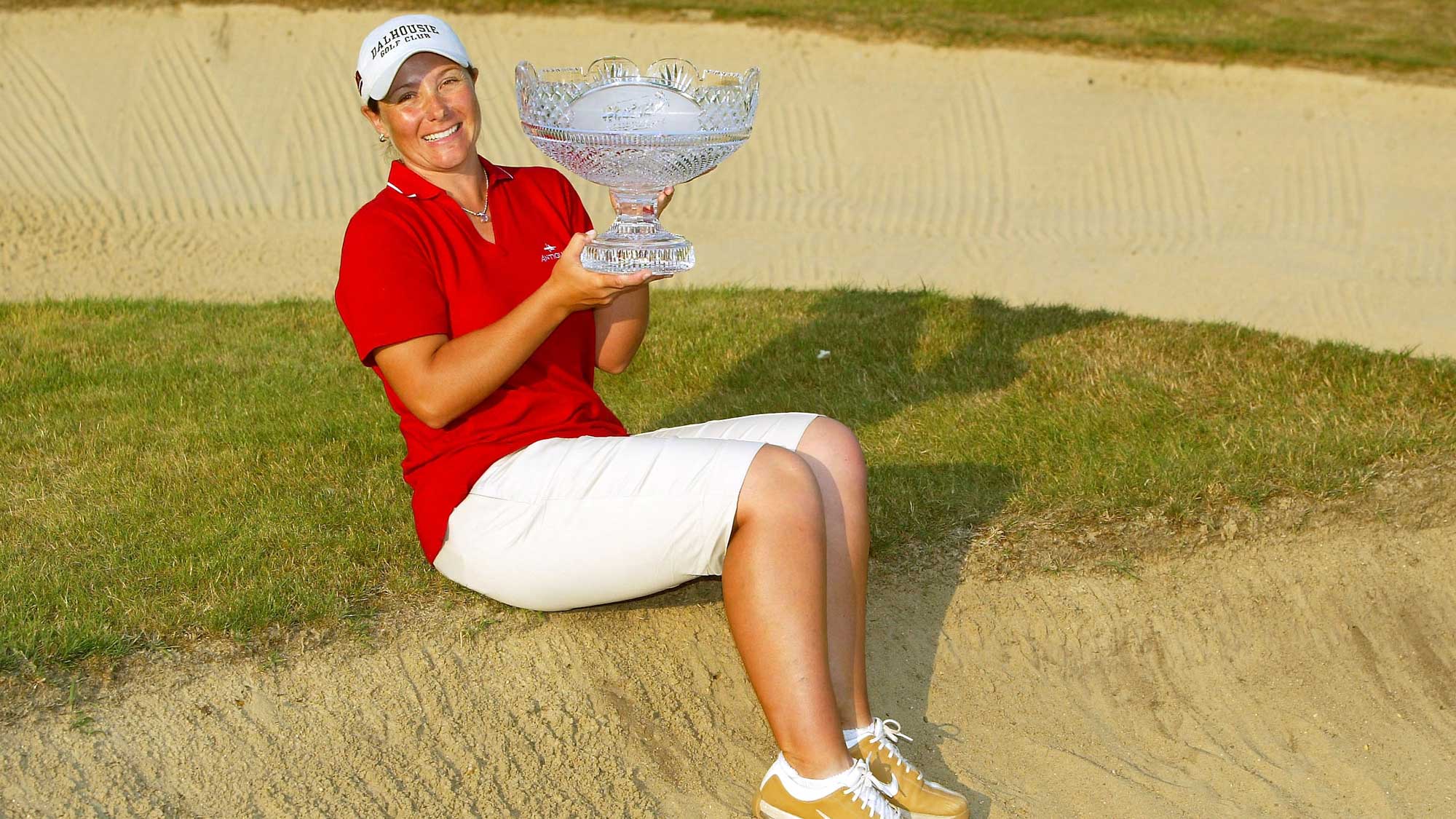 COMBINED ENGLISH CHALLENGE
Asked if she could recall a time when the top three players in England, or even Britain, had all played well in a major championship for at least the first two rounds, Stupples replied: "No, I really can't remember too much of a time that way. Laura Davies was obviously a big influence for us but she was just a bit older than I was and she was just starting to fall off before I was able to play well. And Alison Nicholas the same thing. And then there was 13 years between when Penny Grice-Whittaker won here (in 1991) and then when I went ahead and won. And then there was 14 years between myself and Georgia (winning at Royal Lytham last year). But now there is a bigger nucleus of English players that are just ready to come out and play well now. And I think part of that is going over to American college and part of that is from 2012 when the English Ladies Golf Association joined the English Golf Union, the men's side. They pooled resources and combined and I think that's really helped the English game."
Stupples still has vivid memories of the crowds that watched her Women's British Open victory in 2004 at Sunningdale, where she became only the second player ever to record an albatross at an LPGA Tour major championship. She began the final round in spectacular style with an eagle and an albatross on the first two holes.
"That week was quite amazing to me," said Stupples. "The fans were obviously out there to watch the best women golfers in the world. Annika (Sorenstam) was playing. Lorena Ochoa was big on the world stage at that point too and it was very special to me. I wasn't the focus of the big crowds early that week because I was not really that well-known and people weren't really paying much attention. But to see my family and friends and everybody like that that I know from growing up were there to watch me play was great.
"But then as the week went on and I stayed at the top of the leaderboard - and especially on Sunday - there were a lot of fans to start with and then as I hit the 15th green, all of a sudden everybody was there. It seemed like the whole of the golf course was with my group. I was in the second-to-last group and I did think at one point that the guys behind me had to feel like they were an island on their own in the final group because everybody was with my group."
Stupples, who competed regularly in the Women's British Open from 2001-14, also has strong memories of Hall's victory in the championship last year at Royal Lytham where she walked the final 18 holes in her role as an on-course television analyst.
"It was pretty surreal because when you are playing in that final group and you're in the moment of playing tournaments, you obviously somewhat notice the large crowds but you are so focused on what you are doing," said Stupples. "For me to be walking around inside the ropes watching Georgia do it, it really kind of jogged my memory. It reminded me of everything that I had seen in 2004 but really not thought about when I was playing. To hear the cheers of 'Come on Georgia!' and the cries of support from everybody watching her was really spectacular, watching people with English flags walking around, just knowing that every step Georgia took there was somebody telling her, 'Come on, you can do this! You've got this!' It was just so impressive to see. Everybody was there 100 percent for her."