It was an informal and very conversational setting for the World Golf Hall of Fame Class of 2019 as they held a Q&A session inside the World Golf Hall of Fame & Museum on Monday in front of friends, family, media, Hall of Fame volunteers and several dignitaries from the golf world.
Jan Stephenson, a 16-time winner on the LPGA Tour, spoke of the goose bumps she felt on being told she was an inductee for 2019 and discussed what items she might include in her locker. Billy Payne, Chairman of Augusta National Golf Club from 2006 to 2017, sparked loud roars of laughter when he readily admitted he was the worst golfer among the four inductees up on stage.
Retief Goosen reflected on the very special honor it was for him to become the fourth South African to be inducted into the World Golf Hall of Fame, emulating the achievements of Bobby Locke, Gary Player and Ernie Els. Dennis Walters, an elite golfer who was paralyzed from the waist down at the age of 24 after being involved in a golf cart accident, related the magical moment when he received a phone call from golf legends Jack Nicklaus and Gary Player, who then told him that he, too, was a Hall of Fame inductee.
Stephenson, Payne, Goosen and Walters - along with American professional golfer and teaching instructor Peggy Kirk Bell, who died in 2016 at the age of 95 - represent the 2019 Class who will be inducted into the World Golf Hall of Fame at the Sunset Center in Carmel-by-the-Sea in California on June 10, during the week of the men's U.S. Open Championship.
On Monday, however, the four living inductees got the chance to get together for the first time at the World Golf Hall of Fame & Museum where they shared stories from their stellar careers and discussed plans for their joint June induction after being treated to a private tour of the Museum.
"When you come here and you look at the history of the World Golf Hall of Fame and know that you are going to be added to that, it's really overwhelming," said Australian Stephenson, a three-time major champion who was the LPGA Tour's Rookie of the Year in 1974. "It's something you always dream of and the few times that I was passed over (as an inductee), I thought it was never going to happen. So when it did, it actually means more now because I really thought it was never going to happen.
"I am really enjoying figuring out what I'm going to put in my locker at the Hall of Fame and what I'm going to have to leave here. There are so many memories and so many memorabilia and of course everyone says to me, 'You had better do the bathtub and the golf balls.' So of course that will have to be one of the pictures that I leave here! It's all really exciting and the goose bumps just don't go away. I am really happy to be here."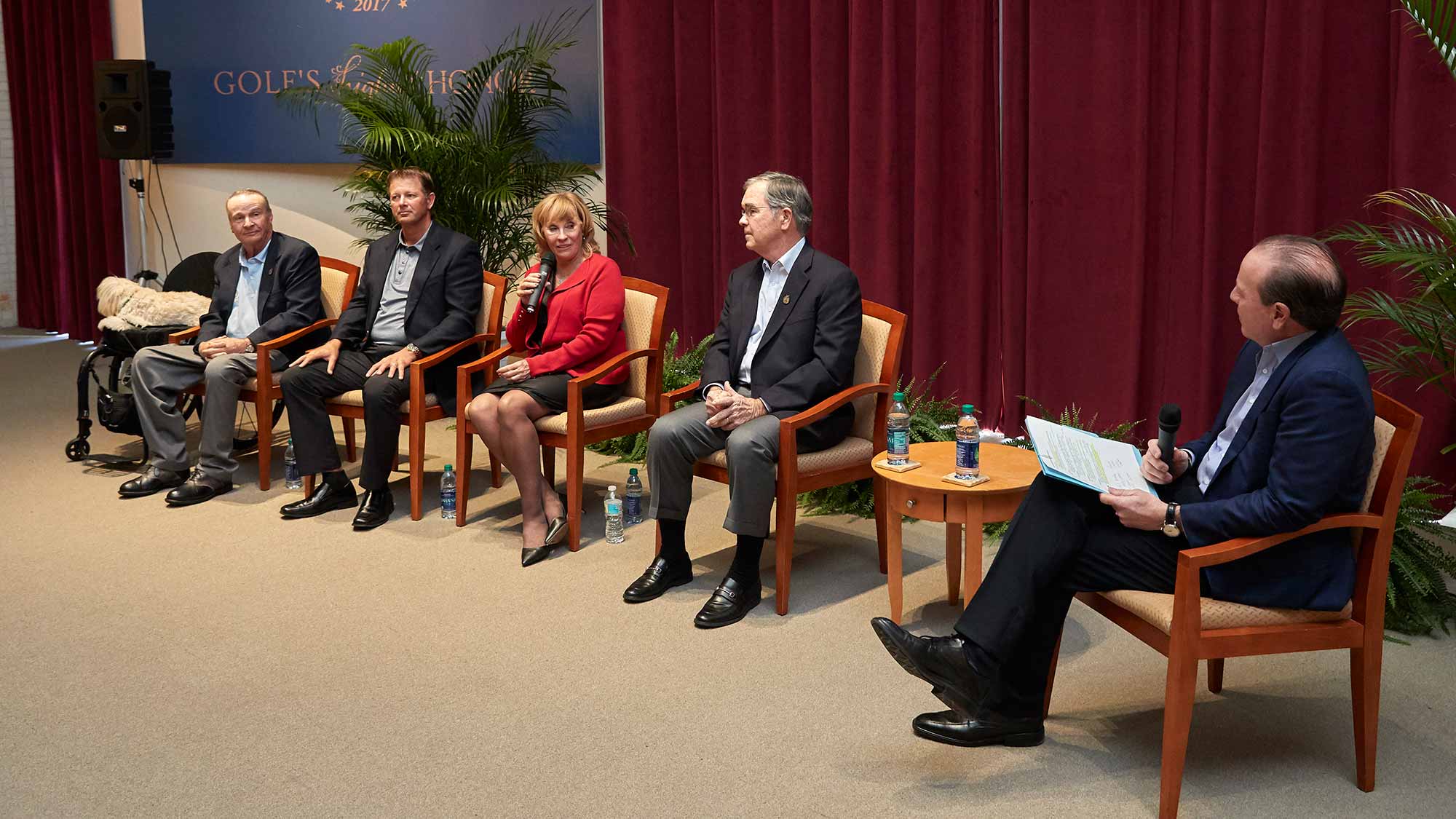 A PHOTOGENIC PLAYER
Stephenson was a photogenic player on the LPGA Tour who became well known for a photograph taken of her for marketing purposes in which she posed in a bathtub covered up only by golf balls. She was a richly talented golfer who carved out a dazzling record as an amateur in her native Australia before turning professional in 1973, winning the Wills Australian Ladies Open later that year and then switching her focus to the LPGA Tour in 1974.
"When I first came out on the LPGA Tour, I thought it was going to be a lot easier because I had it pretty easy in Australia," smiled Stephenson. "But of course going up against those players from that Golden Era - you think of Amy Alcott, Beth Daniel and Betsy King -- there were so many and they were all such good players. It was great to have huge galleries but it was really hard to win because there was so much talent out there. If you broke through and won against them."
Goosen, who will try his luck on the senior Champions Tour after celebrating his 50th birthday this Sunday, is a twice, former U.S. Open champion who has won 33 tournaments worldwide. On Monday, he was awestruck by his very first visit to the World Golf of Fame.
"It gives you goose bumps walking around here and seeing what people have done for the game of golf and in the game of golf," said the athletic South African who is nicknamed 'The Goose'. "A lot of names I don't even recognize and obviously a lot of them I do. To be a part of all this is a great honor. I can't wait for the June induction to come around and get it over and done, and get my crystal trophy! The next few months is going to be exciting too leading up to it. I really can't wait."
Following in the footsteps of Locke, Player and Els makes his 2019 induction even more special. "To come to the same place as those three guys, it's a great honor," Goosen said. "I have known Ernie since I was 13, 14 years old. We've been friends since. Gary I have known since I was about 21. Bobby Locke unfortunately I never met but those are great names for South Africa, and I am very proud to be part of the South African Hall of Fame and the World Golf Hall of Fame. I hope it does a lot for the game of golf back in South Africa."
Payne, who oversaw a number of significant achievements at Augusta National including the introduction of female members and the creation of the Drive, Chip & Putt National Championship with the United States Golf Association and PGA of America, injected humor into Monday's Q&A session with his opening comments.
"It's pretty obvious that I am the worst golfer here," he smiled, with Stephenson, Goosen and Walters all seated to his right. "We have had a lot of fun with that. A lot of my friends have bantered me about the way I play golf. You can imagine the fun I had when I called them up and said, 'Guess who is the newest member of the World Golf of Fame?' It was delightful and I am truly honored to be a part of this family."
Walters, who has dedicated his career to sharing life lessons and inspiring fans and disabled golfers of all ages through golf clinics and special performances at more than 3,000 worldwide appearances, described the moment when he finally learned he had made the World Golf Hall of Fame.
"I never thought I was getting in and so I didn't have anything positive to say," said Walters. "And they called me and said, 'Hi Dennis. It's Jack Nicklaus here and Gary Player here.' And I am thinking this has got to be good news. They're not going to call me up and say, 'Hey, nice try.' And they were advocates for me. So when I got that call, I can't walk but I thought that I could fly.
"For every person who makes this journey to the hallowed grounds of the World Golf Hall of Fame, they have a story to tell but I think mine is a little different because when I was laying in a hospital bed 45 years ago, I honestly never thought I was getting out of that bed. And I said, 'If I get out here, what could I possibly accomplish? I don't think I could do anything.' But when I did get out of that bed, I made up my mind that I would never give up and I was going to try to figure out a way that I could play golf. And so I did it and here I am! This whole thing is just magnificent."