PONTE VEDRA BEACH, Fla – Moulton-Branch Elementary is a two-hour drive north of TPC Sawgrass, but it might as well be a world away.
Tuesday, 26 students made the trip from Valdosta to Ponte Vedra Beach to attend THE PLAYERS Championship. For most, it was their first time attending a professional golf tournament. For all, it was their first time meeting Brittany Lincicome.
Moulton-Branch Elementary is a Title 1 school, which means 40 percent of the children who attend the school come from low-income families. But what the students lack in resources they make up for in enthusiasm. Nearly every student's hand shot up in the air at the opportunity to ask Lincicome a question.
"Who inspired you to play?"
"What do you like about golf?"
"Who is your hero?"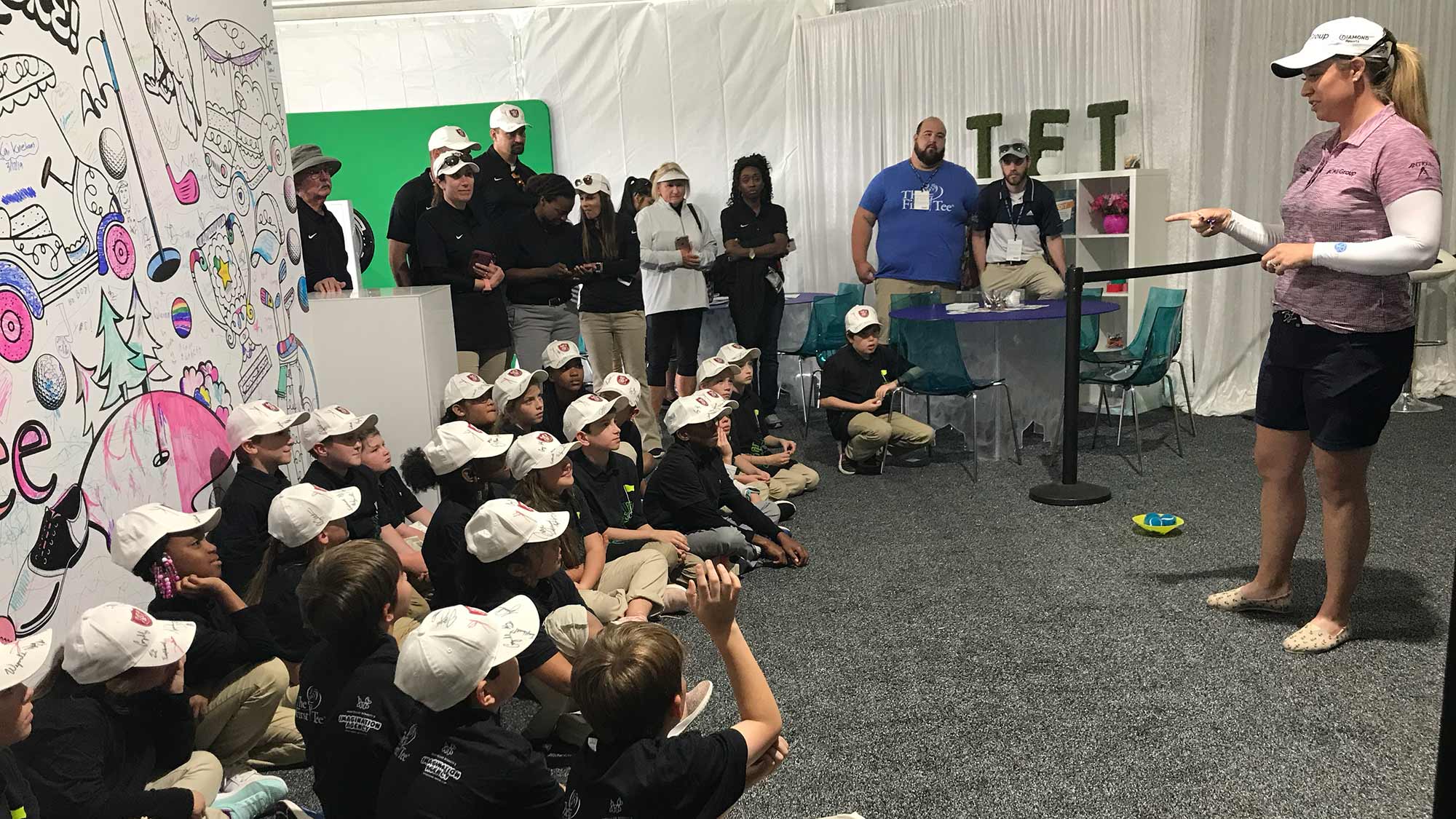 Those were just a handful of the questions that the students asked Lincicome as they sat nestled at her feet inside the Kids Zone Presented by The First Tee at TPC Sawgrass. It was a unique opportunity for the students who participate in The First Tee National School Program, which teaches children to play golf during PE class. Their interest in the game led to the creation of an after-school program, held once a week, to further develop their skills and passion for the game.
In addition to answering questions, Lincicome took part in a putting contest with 11-year-old, Nariyan. Like the long-hitting Lincicome, Nariyan has gravitated towards one particular area of the game: hitting driver. Nariyan just started playing the game in the last year and was overwhelmed at the opportunity to go head-to-head with a professional golfer.
"It was scary, but I mean I tried my hardest," Nariyan said afterwards. "I'm glad I got to have that opportunity to go with somebody [like that]. That's a big deal."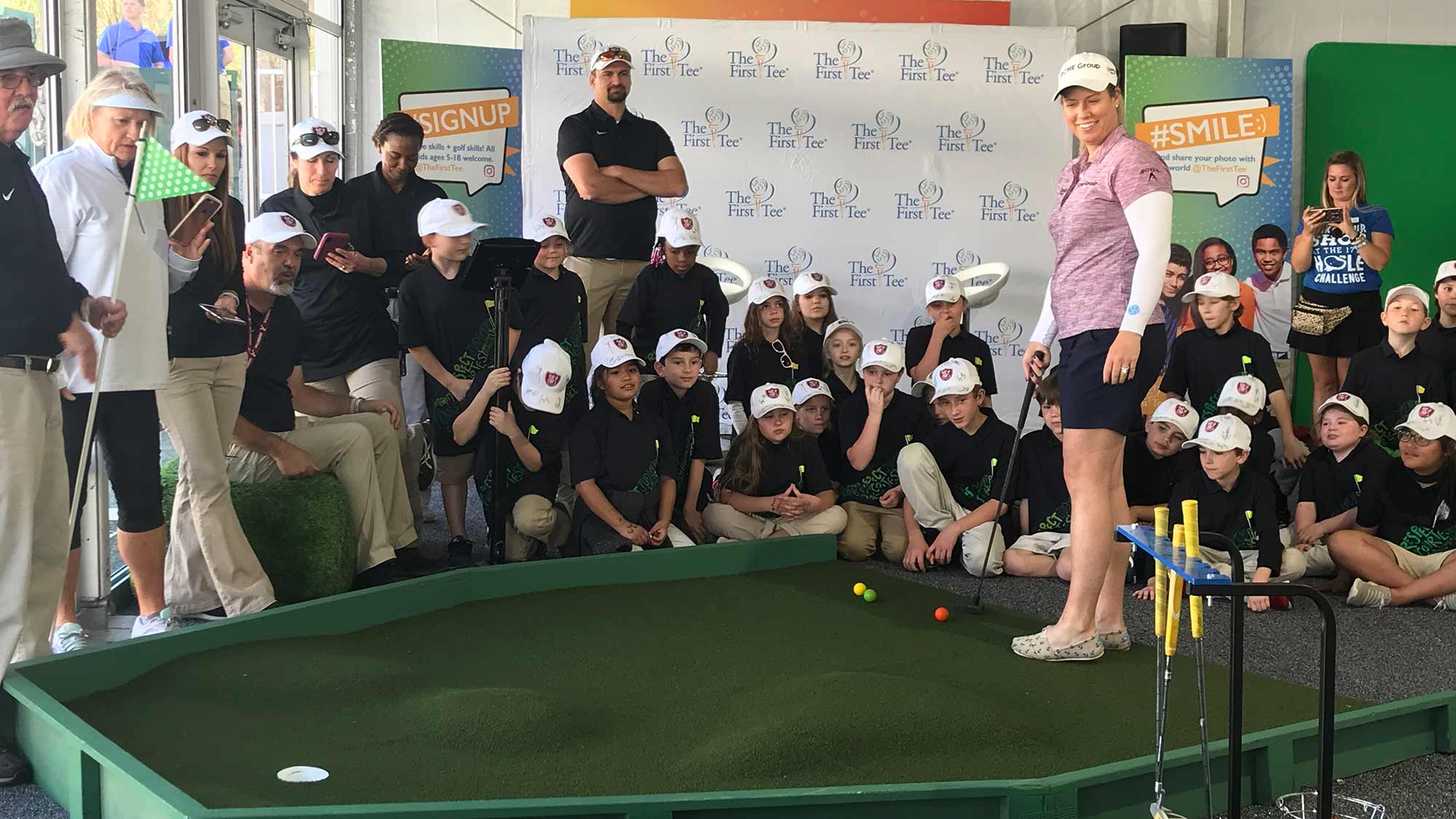 Growing up in St. Petersburg, Florida Lincicome didn't have a junior golf program available to her as a young girl. Instead, it was her father who took her out to a nearby course, where all the holes played less than 100 yards, that she learned to play. Even at night, under the bright lights, Lincicome would practice with her father.
"I just remember how expensive it was and how my parents had to sacrifice a lot to be able to get me to play the game of golf," Lincicome told LPGA.com. "No child should ever not be able to play the game because it's so expensive."
The First Tee is an organization that has worked to make the game not only more affordable but accessible to junior golfers. A decade ago, Lincicome adopted her local chapter of The First Tee in St. Pete and donated her winnings from the Founders Cup during the first year of the Tournament in 2011. Year after year, Lincicome continues to raise money for the chapter through her annual charity golf tournament.
"We give the kids clubs and provide funds for parents who can't afford it," Lincicome said. "Helping kids is what it's all about and helping leave the game better than when I turned pro. I feel like the future is in good hands."
On their two-hour bus ride home to Valdosta, the 26 students from Moulton-Branch Elementary couldn't stop talking about getting to meet Lincicome. They were bursting with excitement as they basked in the experience they shared. Tuesday morning, this group of young students began a journey to a world far from the one they've known back home in Georgia. But that world soon became reality, and one they're eager to continue to be a part of.