The top 60 players in the Race to the CME Globe standings for the 2019 LPGA Tour season are set. The sixth CME Group Tour Championship, held in Naples, Fla., will crown the Race to the CME Globe Champion, who will receive the largest first-place prize in women's golf history, a $1.5 million winner's check.
This is the last weekend before the season-ending celebration. Here is a look back at some of the statistical achievements and records set in 2019.
Player Talent
Players from more than 30 countries and regions were represented on the LPGA Tour with events contested in 12 different countries and regions. The average age of LPGA winners is 24.5, which continues the trend of young champions in this decade. Sixty-two percent of the wins recorded in the last five years were by a player aged 25 years or younger. Nine players have won six or more LPGA Tour events since 2015.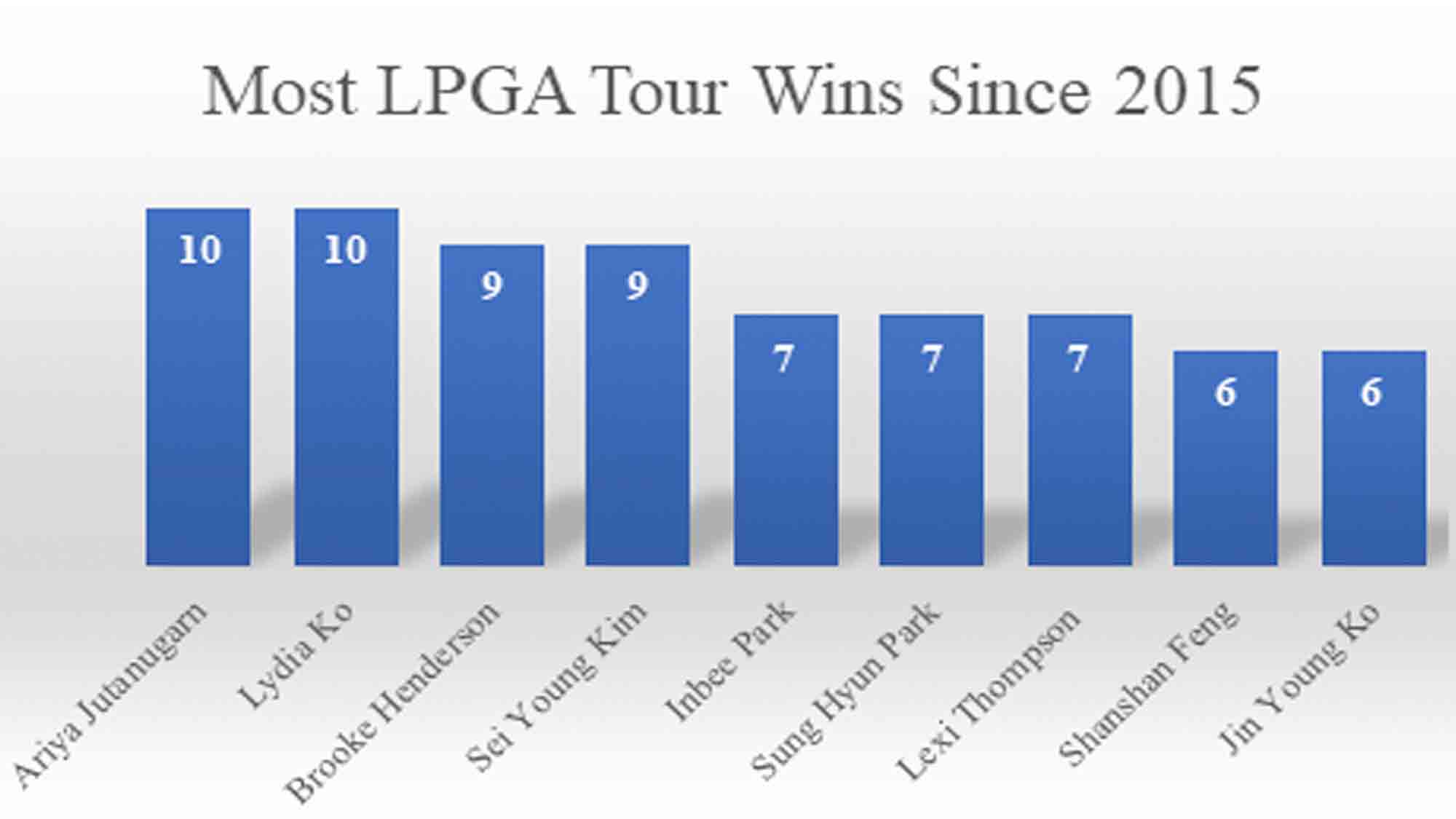 Youthful Presence
A rookie has won one of the five LPGA Tour major championships in each of the last four years. Jeongeun Lee6 won the 2019 U.S. Women's Open following in the footsteps of fellow Korean Sung Hyun Park, who accomplished the feat two years prior and has now recorded seven wins in three years. LPGA Tour rookies have won 18 official events since 2014. Since 2014, 46% of the wins on the LPGA Tour have been recorded by players who have joined the Tour in the last six years.
Standout Player
Jin Young Ko's performance this season has been remarkable as she accumulated top-five finishes in 10 of her 21 starts. Ko recorded her four wins in 2019 after she finished either runner-up or third the previous week. Ko has scored under par in 60 of her 77 rounds this season for a 69.052 scoring average. No player this year has hit more greens in regulation than Ko, which led to a streak of 114 consecutive holes played without a bogey. That record began at the third hole of the third round of the AIG Women's British Open and continued through the eighth hole of the third round of the Cambia Portland Classic.
Ko can join Lorena Ochoa (2007, 2008), Yani Tseng (2011) and Ariya Jutanugarn (2018) as the only players to win the Vare Trophy, Money Title and Rolex Player of the Year in the same season while ranked No. 1 in the Rolex Women's World Golf Rankings during the season-ending event.
Eagles
Ariya Jutanugarn rewrote history when she recorded her 19th and 20th eagles at the Buick LPGA Shanghai to pass Laura Davies for most eagles in a season. Jutanugarn has recorded 22 eagles with one event left in the 2019 season. Davies' old record of 19 was set in 2004. Carlota Ciganda has tied Davies with 19 eagles in 2019. Ciganda recorded nine eagles on the Aon Risk Reward Challenge holes, one more than Jutanugarn, which led to her becoming this year's winner of the $1 million bonus.
Scoring Averages
Nine players currently have scoring averages below 70 with three more players – Amy Yang, Sei Young Kim and Ariya Jutanugarn – within two one-hundredths of that mark. A record 12 players had scoring averages below 70 in 2017, so that could certainly be matched next week.
Jin Young Ko is in good position to earn the lowest scoring average of the season and win the Vare Trophy. Ko holds a large lead – three tenths – over Hyo Joo Kim in scoring average. Kim needs to be 22 to 23 strokes better than Ko at Tiburon Golf Club. For the record books, Ko needs to be 1-over par or better in all four rounds at the CME Group Tour Championship to give her the lowest scoring average by a Korean player in LPGA Tour history. Sung Hyun Park currently holds that record with an average of 69.2471 recorded in 2017.
Average Driving Distances
Anne van Dam is currently driving the ball an average of 284 yards, 25 yards farther than the average LPGA Tour driving distance of 259 yards. Maria Fassi is the only player other than van Dam who has averaged more than 280 yards per drive for the season. Van Dam and Fassi will make LPGA history in 2019 as only two other players have ever ended the season above this mark – Joanna Klatten in 2016 (281 yards) and Karin Sjodin in 2006 (284 yards).
Angel Yin ranks fourth in average driving distance at 279 yards.
Money Title
The top 10 players on the 2019 LPGA Official Money List have a chance at the money title at the CME Group Tour Championship. Jin Young Ko leads Jeongeun Lee6 by more than $720,000. There are several scenarios for Ko to win the money title. If Jeongeun Lee6 wins the season-finale, she wins the money title. The other eight players who trail Ko must win and are dependent upon Ko's finish at the tournament.
Are you ready to watch the event unfold as talent and heart take center stage in pursuit of greatness? Let the journey continue. Drive On.