In 2003, McDonald's launched their "Put a Smile On" advertising slogan.
In one of the commercials, a group of kids is sitting bored at a museum. Ronald McDonald, the then mascot of the fast food company, appears. With his positive energy, he puts a smile on the kids' faces.
The children interact with the museum with great enthusiasm, enjoying their time far more than they would have without the mascot's energy.
The campaign also had incredible foresight, as it embodies the philosophy of one of the LPGA's best players 16 years after its debut.
As Ariya Jutanugarn looks to defend her Pure Silk Championship and US Women's Open title, you can always catch her putting a smile on.
Jutanugarn Finds Her Joy
Jutanugarn made her debut on the LPGA Tour in 2015. After her up and down rookie season, including 10 consecutive missed cuts, the Thai native took a step back. She reflected on her emotions at the end of the season with her sister Moriya.
"We were thinking, we need someone to help, because I knew it was nothing about my swing. I hate it, I can't do it anymore because I'm so scared, so worried. I cry on the course every day."
Knowing that was no way to sustainably go about playing on the LPGA Tour, Jutanugarn realized she enjoyed how Ai Miyazato approached the game of golf. The nine-time LPGA winner was always happy, and rarely got mad on the golf course.
That led her to find Vision54 shortly before the Founders Cup in early March of 2016, who Miyazato was working with at the time.
Vision54 is a golf school founded by Lynn Marriott and Pia Nilsson in Scottsdale Arizona. Marriott and Nilsson are both former professionals turned teachers, who focus not only on technical, but the overall approach and human skills needed to play a player's best golf on the golf course. Their core philosophy is that eventually, in competitive play, a player will shoot a 54, as the technical skills multiplied by human skills translates to on course performance.
Marriott and Nilsson have worked with four former world number one players, and nine major champions at Vision54.
When Jutanugarn came to them, Marriott was shocked, "When we first saw her hit a golf ball, I thought, 'How have you not won on the LPGA Tour yet?'"
Jutanugarn took part of Vision54's three-day golf school, where Vision54 introduces their concepts to potential new students. Nilsson explained that any player who comes to the golf school gets a vision of their big picture.
"If you play golf, it's a big puzzle. We help players figure out the pieces of the puzzle. Most of them know some things about their technique, but they don't know other skills they need to play good golf on the golf course. We really help them figure out what is missing in order to play well."
They introduce human skills to their students, where a player fails to recognize why he or she didn't strike a ball purely. Vision54 identifies that while mishits show up in technique, it's not always the techniques fault that causes a mishit.
An example they provide is when a golfer is between clubs. If a player is between a 6 and 7 iron and are still indecisive with their decision over the ball, the mishit and technique flaw is correlated with the indecisiveness, rather than the swing itself.
Instead of asking Jutanugarn to go win an event, or find x number of birdies in a tournament, they give her process goals. A process goal from Nilsson and Marriott highlights a focus on something that one of their students may be lacking recently. They range from having strong body language after a follow through, to dedicating 10 minutes of stretching that the student should be doing each day.
Vision54's lessons on human skills helped crack the code for Jutanugarn. In just three days, it had changed her life.
"My caddy was so surprised. He was like, what's wrong with you? Something wrong? I showed up as a totally different person, totally different personality."
While the lessons didn't pay off immediately in Phoenix, they would five events later. Jutanugarn rattled off three consecutive wins.
She won her first event by one shot at the Yokohama Tire LPGA Classic in May, featuring a then career best 63 in the third round. Jutanugarn then won by one shot at the Kingsmill Championship two weeks later. A third win came the following week after separating from Jessica Korda and Christina Kim, who were both one shot behind her heading into the final round, to win by five shots at the LPGA Volvik Championship.
Finding her joy paid off in spades.
The Battle of Emotions in Golf
Armed with happiness and focus, Jutanugarn found near immediate success. Marriott explained, "The enjoyment piece is also so much tied to performance. For a tour player, this is your livelihood, but you should enjoy your livelihood."
The 10-time career winner boils down her happiness on the golf course to a simple creed, "I go out, fight, do my best every day, and focus only what I'm feeling. I want to feel good, just focus on that."
Jutanugarn has her own process to reorient herself when she is deviating from focusing on happiness as well. "I know that that (in order to play well), I have to feel good first. I have to be proud of myself first. I have to be happy with what I'm doing with first."

It's her pin point focus on one positive emotion that lets her play her best. And that's due to the amygdala, responsible in the human brain for emotional processing, only letting humans feel one emotion at a time.
Mathew Park, a sports psychologist at Relationship365 who works with LPGA and PGA Tour players, focuses in on this one fact with his athletes. "I teach clients that it's imperative to focus on what you want to create. The brain focuses on whatever the mind focuses on," he explained to LPGA.com.
He then runs them through this thought exercise.
"If I tell you right now, don't think of a blue elephant. You can think of anything else but a blue elephant.
"Immediately, the brain registers blue elephant."
The human brain fails to process the terms don't, do not, or avoid. This translates to the negative self-talk that permeates throughout golfers. When a player focuses on don't miss the green, do not hit it in the hazard, or avoid the out of bounds right, it's the only thought the brain can generate at the time.
The example Park brings up highlights the constant yin and yang battle of emotions for players.
Current World No. 1 golfer Jin Young Ko finds her positive emotions on the course in those she cares about, "Just thinking happy, and think about parents, family, dogs, that's happiness."
Ko, like Jutanugarn, has had to teach herself how to adjust her mindset in golf to be kinder to herself. She explained the evolution of her self-talk to LPGA.com that "I have to hit great shot, two or three feet. That's really pressure. Now? It's just missed shot. Ok. I missed shot. I'm not done."
Tiger Woods faces the same issue on the golf course. The 81-time winner on the PGA Tour is known for his 10-yard rule, a post shot routine. After any shot Woods hits, he gives himself 10 yards walking away from the shot to hold on to whatever emotion he is feeling. Once he passes 10 yards, he lets go, and is honed in on his next shot.
It's a battle that extends outside of the sport of golf as well.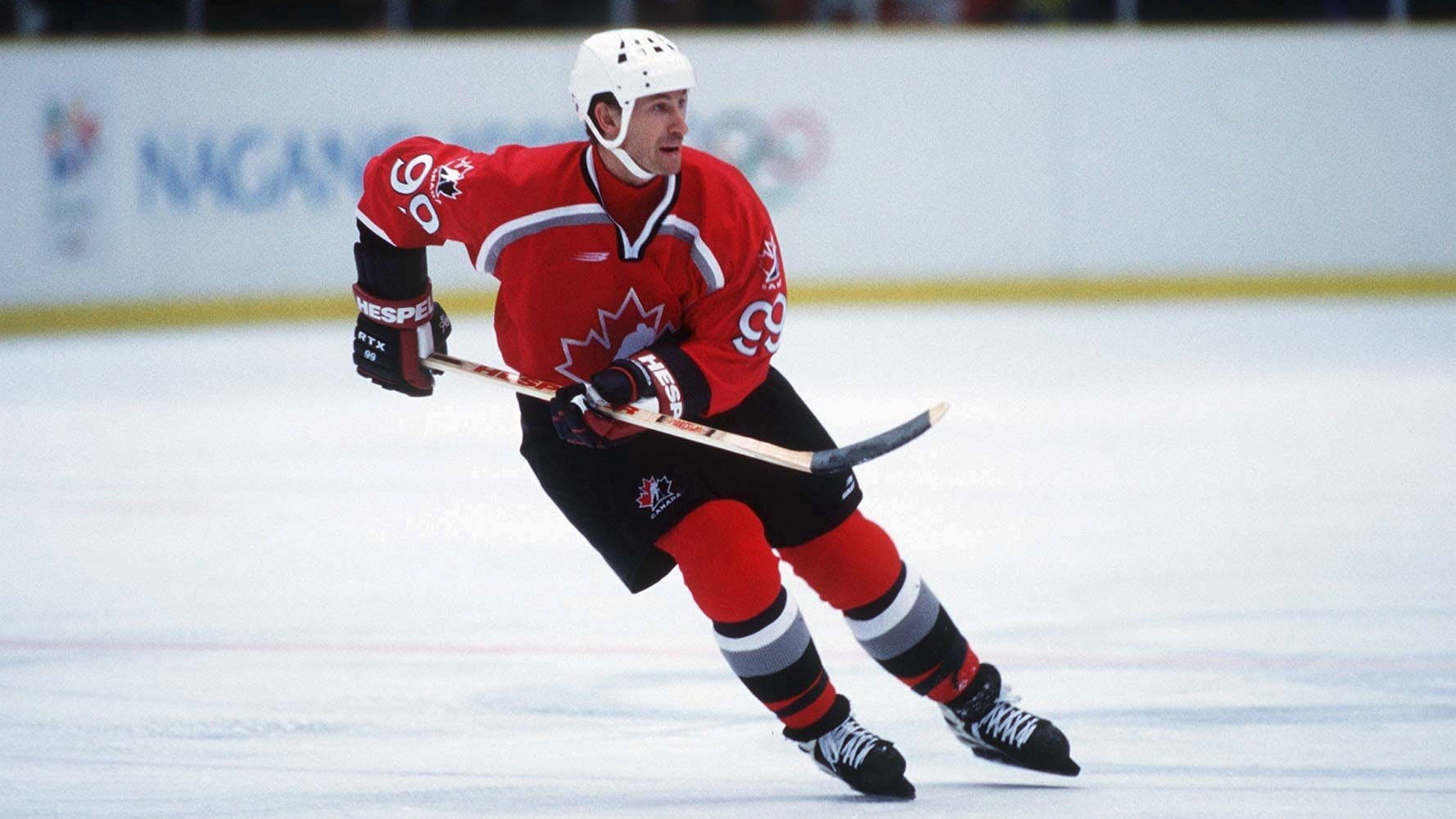 The Philosophy of Joy of other Greats
Steve Kerr is the Head Coach of the Golden State Warriors. He played in the NBA for 15 years, winning five rings with the Chicago Bulls with Michael Jordan and the San Antonio Spurs with Tim Duncan. He brought a culture of joy to the Warriors with great effect, as they've won three of the last four NBA Championships. They also have advanced to a fifth consecutive NBA Finals, the first team in the NBA to do so in 53 years.
During his time with the Bulls, who won six out of eight titles from 1991 to 1998, Jordan was known for his fierce competitive nature. The head coach of the Bulls, Phil Jackson, also known as the Zen Master, worked to balance that out with his team. Kerr explained, "Finding the balance of working at your job like the fate of the world depended on it versus having the awareness that it's just a basketball game, and how do you find that balance, was a big part of the Bulls culture."
Kerr's experiences informed his focus on establishing a culture of joy when he arrived to the Warriors as head coach. Kerr wanted to remind his players of how they first discovered the game, "A reminder of why we love this game, and why we're doing this, is really important. It sort of brings out the child in us, and when you love something, you tend to do it better," Kerr told LPGA.com.
Wayne Gretzky won four championships and nine Hart Memorial Trophies during his time in the NHL, the most MVP awards won by any player in the history of the league. Gretzky turned to his competitive nature to naturally let his career achievements come to him. "I loved playing each and every day, competing was all that I could hope for. Winning was icing on the cake," Gretzky told LPGA.com.
Serena Williams has 23 tennis grand slam titles to her name. After dealing with a blood clot in her lung in 2010 that nearly took her life, Williams returned to the court in 2011, and less than two years later reclaimed her No. 1 spot in the world. She told makers.com in an interview in September of 2018 with her new found appreciation for her sport, "I started playing better because I wasn't so uptight, playing loose and free like you have nothing to lose."
William's philosophy was one that was shared with Jutanugarn. The philosophy was tested once Jutanugarn climbed the mountain and became the World's No. 1 Golfer for the first time in 2017.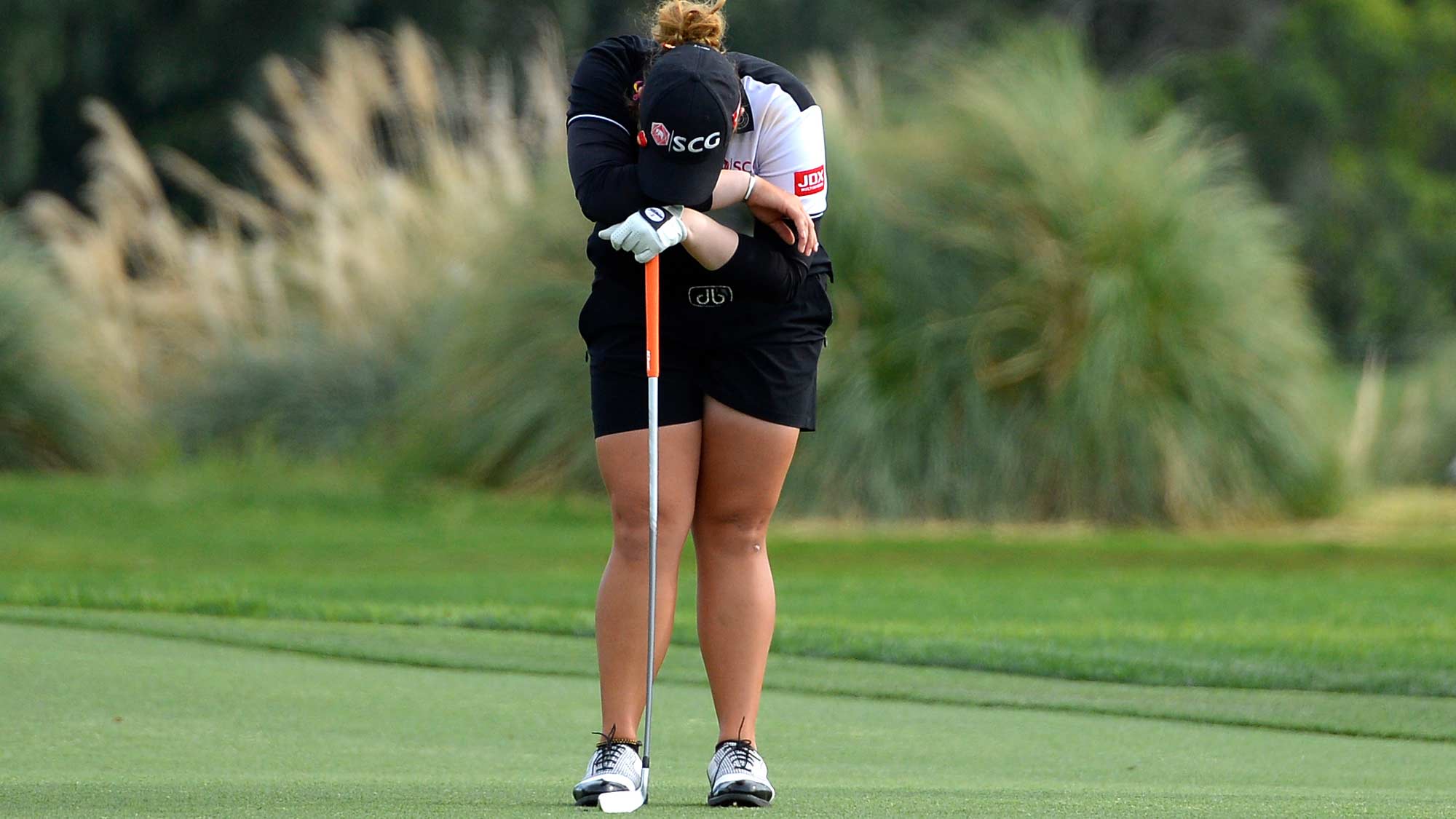 Jutanugarn's Pressure of Being the World's Number One Golfer
Jutanugarn surged in 2016 from the 62nd ranked player in the world to 2nd place at the end of the season, winning five times on the year. It included her first major victory at the Ricoh Women's British Open in July, which was the first major ever won by a player from Thailand, and a win at the end of August in the Canadian Pacific Women's Open.
The 2016 Heather Farr Perseverance Award recipient broke through to the Rolex World Rankings no. 1 spot in June of 2017, with her sixth career victory at the Manulife LPGA Classic.
With the ranking came extra pressure for Jutanugarn. "That time is one of the worst in my life. Because I feel I can't do this anymore. I feel like, whatever I did, it'll never be good enough, because they think I'm number one."
More media attention came to Jutanugarn with her stellar play. It's why she was so averse to talking to the media with her meteoric rise, "I felt all they talking, they only talk about outcome. They not gonna ask me what I'm feeling, how you're feeling right now, do you feel good with your position, are you happy about your life?"
It's a burden that Gretzky dealt with when he was on the rise in his career. "All of a sudden it seems like it happens overnight, the media and the attention flips from you're chasing that guy to you're the one being chased. All of a sudden you're the one being targeted, and you better be ready to play."
With the additional scrutiny from media and fans knocking down her joy, her time at the top was fleeting like a shooting star. She was only No. 1 in the world for two weeks. She missed five of the next eight cuts, along with a WD, after her victory at the Manulife LPGA Classic. Her swing thoughts became hyper focused on outcome, that she should make every putt, and hit every shot in the fairway.

It went away from her focus with Vision54.
"Lynn and I, we want to stay away from being a coach of players with scores in my head, to a list of possibilities. There's no way to predict," Nilsson explained.
With Jutanugarn's string of missed cuts sending her back to ninth in the world, there was no way to predict if she would return to the top. She found the winner's circle at the final event of the 2017 season, the CME Group Tour Championship, setting herself up for her dominant 2018 campaign.
Mentally recharged, Jutanugarn came out of the gates in 2018 with her game on fire. She had three victories, hoisting trophies up at the Kingsmill Championship in May, the U.S. Women's Open Championship Conducted by the USGA in June and the Aberdeen Standard Investments Ladies Scottish Open in July. Her rediscovered consistency resulted in eight other top 10 finishes, propelling her back to the number one spot at the end of July 2018.
Jutanugarn took valuable lessons from her first experience as the world's best player, "After I became number 1 again, I feel like, you know what, I just have so much fun. I learn that no matter my ranking is, I still can be proud of myself, I still can be happy. I have to separate my life and golf."
Park discusses the necessary separation of life and golf for athletes to deal with the immense media pressure. He calls the concept the booth, named after Clark Kent's ideal location to change into Superman.
"A lot of people think Clark Kent's alter ego is Superman. But in reality, Clark Kent is Superman's alter ego. He transforms into Clark Kent to adjust to human life because that's not who he is. We need to transform ourselves and have a separation of the person who's out on stage, in the media and playing in competitions, and the person who's at home," Park explained.
Having realized the necessary process of separating her performing self to her personal self, Jutanugarn was knocked off the number one spot three weeks later after Sung Hyun Park won the Indy Women in Tech Championship. It was not nearly as drastic a fall, as Jutanugarn dropped to second place and regained the no. 1 spot two months later at the end of October. Her second-place finish at the Buick LPGA Shanghai propelled her back to the top. Jutanugarn remained as the Rolex Women's World Rankings No. 1 golfer until the end of February 2019.
She had found the nirvana that Vision54 preaches, her ideal performance state.
Why Jutanugarn Smiles Before Each Shot
Vision54 teaches students about finding their optimal performance state. As described by Nilsson, "Number one, number two, and number three, is to be done thinking. There's no more cognitive thinking to do, you're just an athlete hitting a shot."
Kerr describes the Warriors players at their best in very similar terms. "If you can achieve that state of being where you're not thinking, you're just doing what you've trained your body to do all these years, you're not thinking about repercussions, you're not thinking about results, you're just immersed in the action, there's no better feeling."
Park talks about a similar ideal state for his athletes. "You love the activity of playing, of teeing it up, if you can bottle that and put it in front of you as your goal for each day, regardless of the result, you've won, you've really been able to capitalize on that day. Often times, the outcome comes naturally when we allow ourselves to get lost in that process."
To help get to that performance state, Jutanugarn developed the pre-shot routine of smiling before stepping up to the ball. "You know, some days we wake up, we grumpy, we feel bad, we not going do anything right. But then we know, when we have that feeling, we not going be able to hit a good golf shot. So that why we have to create a good feeling before the shot."
Park focuses on the science of smiling with his clientele as well. "Smiling can produce the same amount of brain activity as eating 2,000 bars of chocolate. There's these studies done, even when you forced a smile, and held it for a period of time, it increased the persons mood, increased self-esteem, and increased boost of emotions associated with smiling."
When a player has mastered finding the performance state, it translates to the golf course. "Players will say, my swing feels better, my ball striking is better, but I didn't do anything to change my swing. I'll say, that's good. Implicit changes have happened without you having to think about it," Marriott tells her students.
Jutanugarn showed the mastery of her understanding of the performance state on her final approach shot at the CME Group Tour Championship in 2018.
The Lessons of Joy Applied
Sitting in the fairway at the par 4 18th with an 8 iron in hand, Jutanugarn had the CME Globe Trophy all but wrapped up. She approached the ball, and at 0:10 in the video above, she backs off.
Jutanugarn broke down the decision to her coaches after the round. Marriott explained that "She had stepped into that shot thinking this is my last full swing of the season. Before, she didn't have that awareness that would interfere with her performance."
Nilsson added, "She realized I need to come back to actually be present to what I'm doing."
She refocused, smiling again at her target line at 0:17, and steps up to the ball. With the same club waggle, she executes, knocking it over the top of the ridge to set up a birdie on her final hole of the season at the Tiburón Golf Club.
As Billy Kratzert exclaimed to call her putt on the ESPN telecast, "What a way to finish."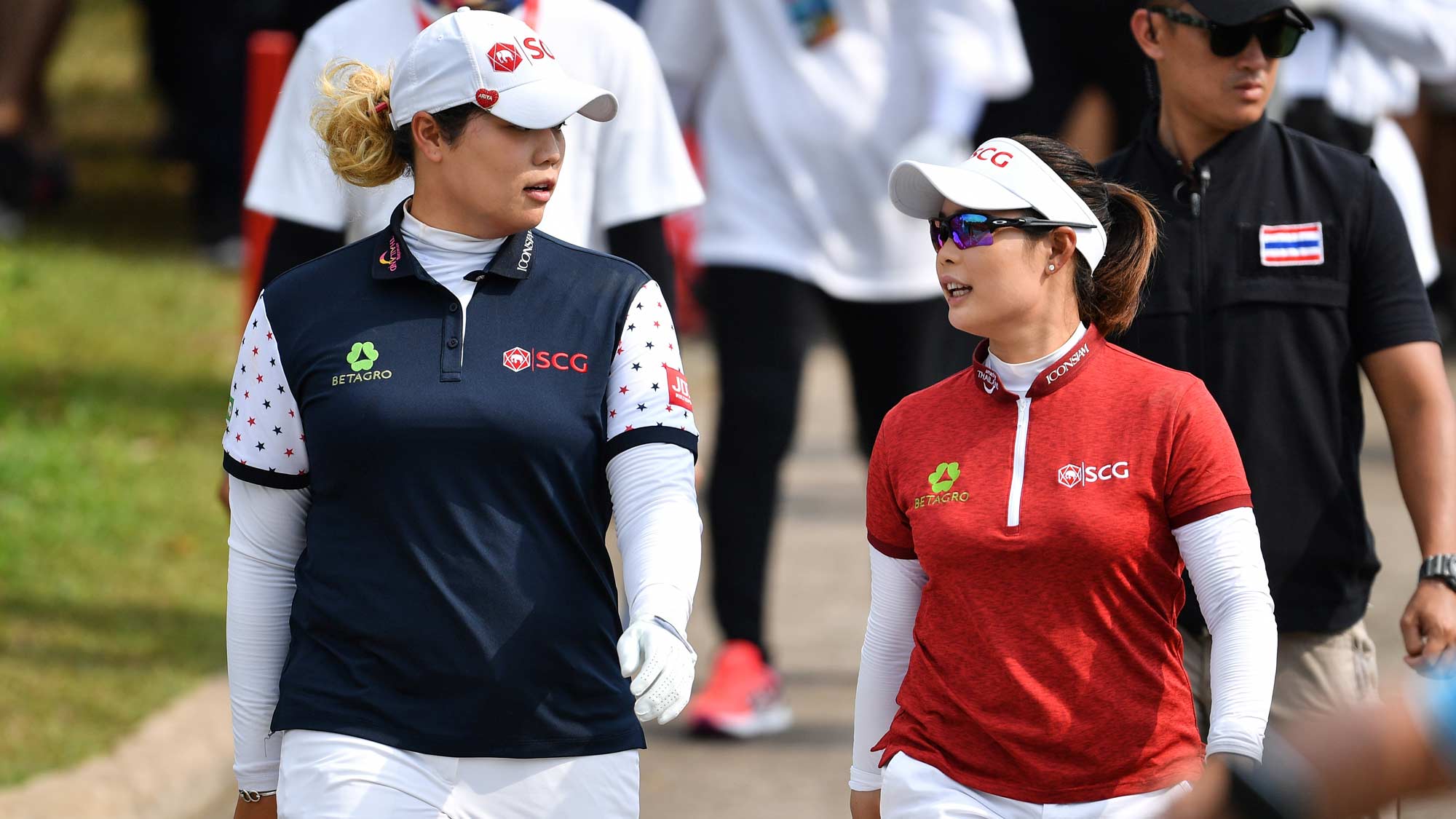 Where Jutanugarn Goes From Here
As dominant as her 2018 season was, winning the Race to the CME Globe, Rolex Player of the Year, The Vare Trophy, and Rolex ANNIKA Award resulting in her being ranked fourth on ESPN's most dominant athletes of 2018, the start of 2019 hasn't been sung to the same tune for Jutanugarn.
Jutanugarn has had two top 10s in ten events so far. Focusing on results has creeped back into her mind, as she explains, "This year I've been thinking about the outcome so much. But then we have to work on that. We have to come back and go ok, what's going to make me proud?"
The things that makes Jutanugarn proud of herself is her shield to the negativity that she sometimes finds on the golf course. Her foundation that she launched with Moriya last year brings her pride. Being a good daughter, a good sister, a good person, brings her pride. Inspiring the kids of Thailand brings her pride.
She's able to refocus when she turns to those. "To be able to play on the LPGA, I'm grateful, I always feel like I belong here. Why I keep thinking about the bad stuff, because I have the best life I could ever ask for?"
It's her strength in herself and her increased maturity, as noted by Marriott and Nilsson, that let Jutanugarn process her less than expected of herself level of play to start the year.
It's heard in the resolution of her statement when media members ask about her returning to the top, "I don't know, and I don't have to care because I have to take care of myself, come back to myself, and I know my outcome is gonna be great."
Entering the time of year where she has found the winners circle the last three years, Jutanugarn keeps one focus in mind as she heads into her title defenses.
Keeping a smile on.