Players to Watch
Jin Young Ko- Ko returns to the fold after taking the Shoprite LPGA Classic off. The Rolex Women's World Rankings No. 1 golfer comes in with eight consecutive top 25s. Ko finished T16 and T21 result in her last two starts at the U.S. Women's Open and the Pure Silk Championship, respectively. The two-time winner this season is making her second appearance in Grand Rapids, where she finished T13. She improved over every single round last year, carding 70-69-68-67 to go from 40th after the first round to a top 15 finish.
Minjee Lee- Lee comes in to Michigan off a pair of top 15 finishes, keeping herself within striking distance of becoming the first Australian to become the world's No. 1 golfer. Lee returns to Michigan for the first time in three years. She has played twice at the Meijer LPGA Classic, in 2015 and 2016. Her best finish was her last appearance, where she opened up at 67-67 to sit in 6th place after the second round. The momentum slowed heading into the weekend, resulting in a T25 finish.
Sung Hyun Park- Park rebounded from a poor stretch of play in Charleston with a T12 finish at the U.S. Women's Open. Prior to her recent downswing in play, Park had seven consecutive top 25 finishes dating back to the 2018 Swinging Skirts LPGA Championship. Park returns to Meijer for the first time since her rookie season in 2017, where she finished T13. Park had a monster 62 on moving day at Blythefield Country Club, which is her best round since she joined the LPGA tour and matches her first round LPGA KEB Hana Bank Championship performance in 2015.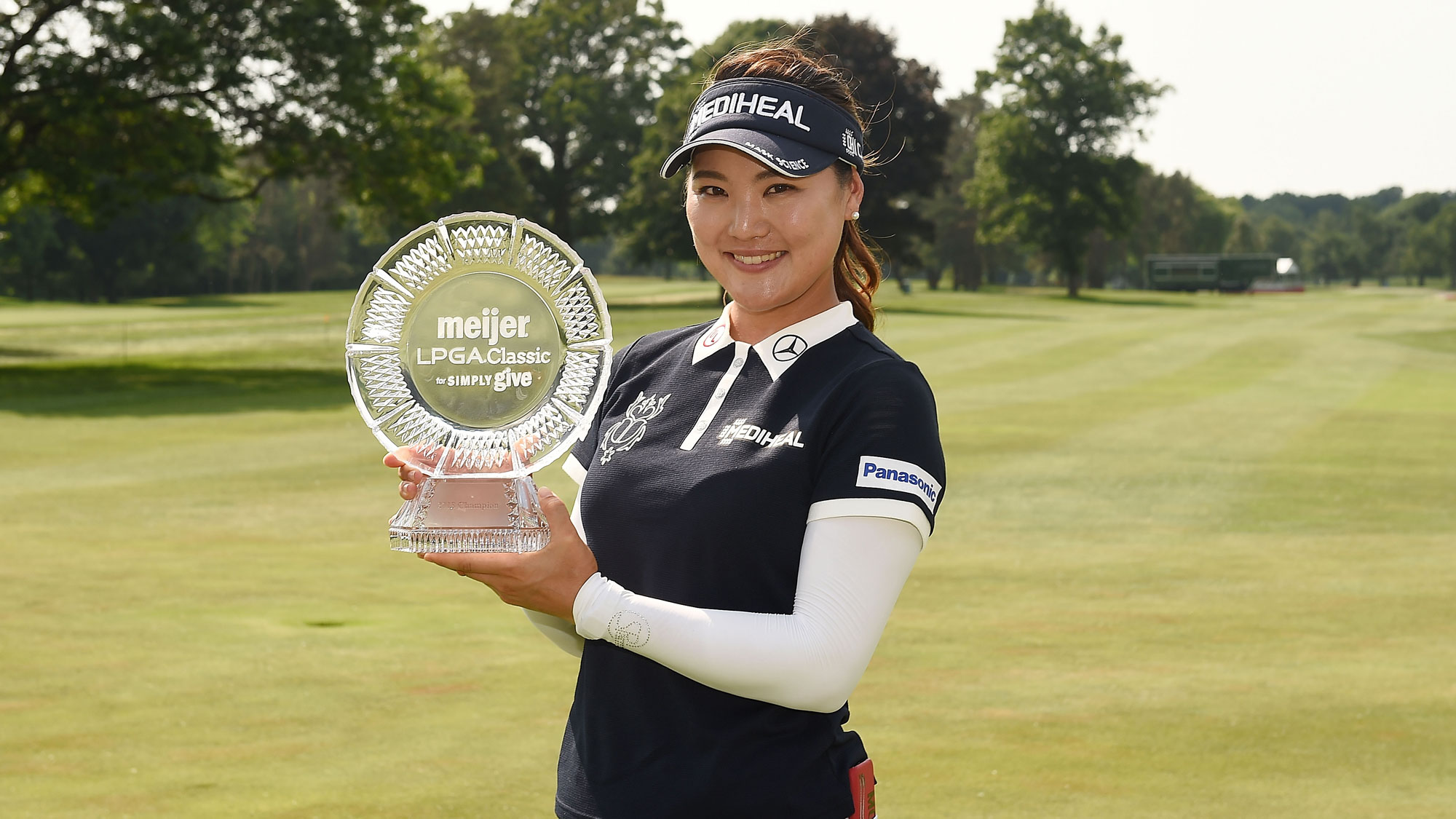 Defending Champion So Yeon Ryu
So Yeon Ryu returns to the sight of her last LPGA victory on an upswing, with a (-2) 70 on the Sunday of the U.S. Women's Open moving her to a T2 finish at (-4) for the major. She has two top 10s in her last four starts, including a T9 finish at the LOTTE Championship in April.
That streak may likely extend with the ownage Ryu has in Grand Rapids. Outside of her victory last year, she finished in 4th place in 2015, and 6th place in 2016 in her two other appearances at the Meijer LPGA Classic. In addition to her strong play, Ryu has made her impact off the course as well, donating $100,000 to the Meijer Simply Giveprogram shortly after her victory.
Quotable
"I was incredibly calm when I started the day," Ryu said. "I thought this might be my day. My putting turned out to be really great."
-So Yeon Ryu on her victory last year.
AON Risk Reward Hole- 17th Hole
This 400-yard par 4 doglegs from right to left and possible reward awaits the bold player who challenges the right side of the fairway off the tee to set up a shorter approach shot into the green. However, the trees on the right loom large and can block any shot that is too short off the tee or that strays too far right. A great risk-reward hole.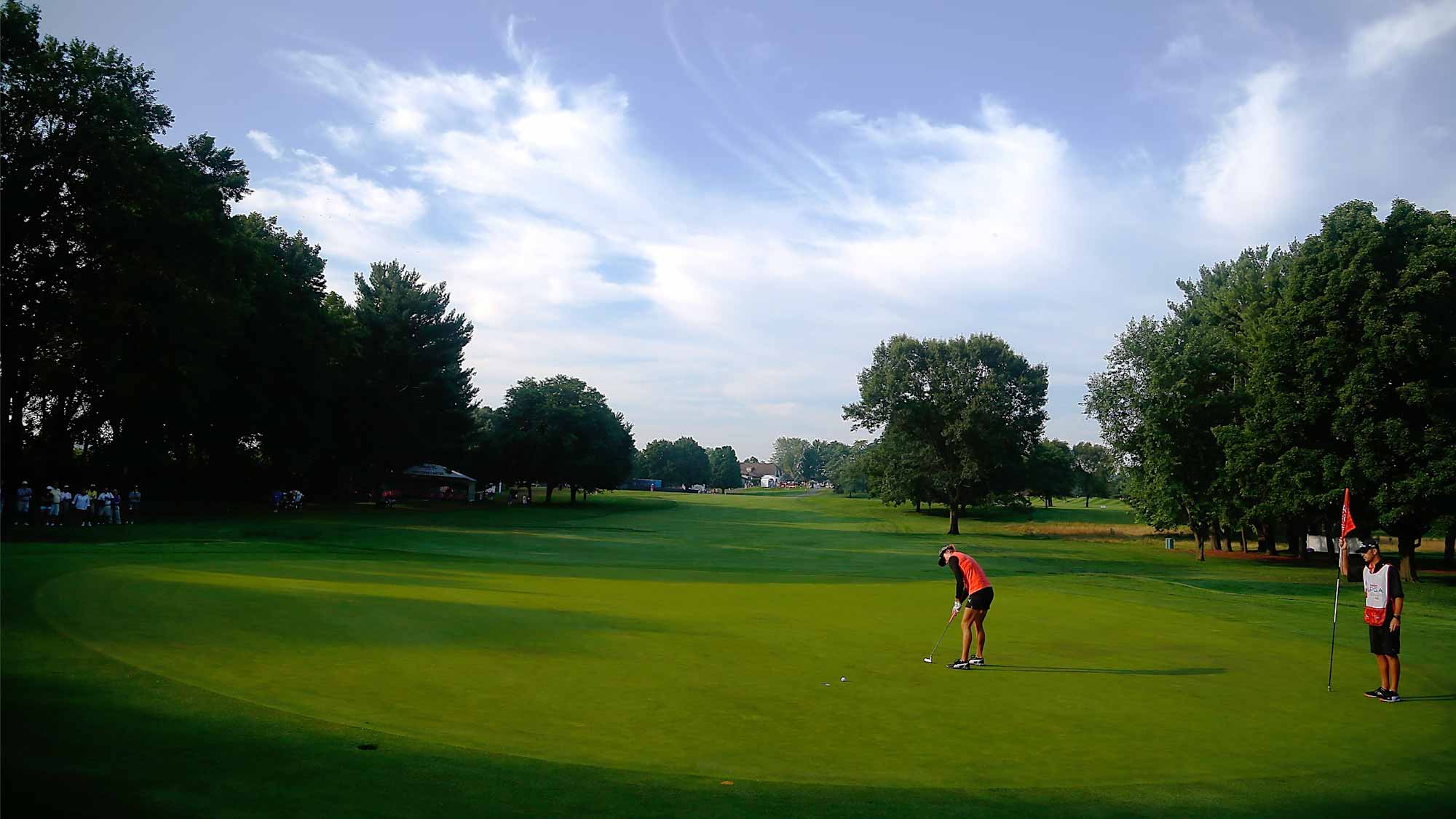 Numbers to Know
$2,000,000- The purse for the Meijer LPGA Classic.
6,624- The yardage this week, just shy of over 400 yards longer than last week in New Jersey.
4- Past champions in the field this year: So Yeon Ryu, Brooke Henderson (2017), Lexi Thompson (2015), and Mirim Lee (2014).
2- Number of playoffs in the history of the tournament. In 2014, Mirim Lee beat Inbee Park with a birdie on the second playoff hole. In 2016, Sei Young Kim beat Carlota Ciganda with a birdie on the first extra hole.
(-21)- So Yeon Ryu's winning score last year, the lowest tournament score to par in the tournament's history.
About This Week
It's week four of the LPGA's 12 week stretch of consecutive tournaments. Play will air on the Golf Channel starting on Thursday, June 13th. The first and second rounds will air from 12:30-3:30 P.M. EST. On Saturday, June 15th, play will air from 1:00-4:00 P.M. PST. On Sunday, June 16th, the final round will air from 2:00-5:00 P.M. PST.