What do you do when the time comes to walk away? Where do you go when the window closes on a career you dug out of the lonely dirt of countless driving ranges? Where do you go in the morning when there's no reason to watch the sun rise on a putting green? When your days as a tour player come to an end, what's next?
For Brandi Jackson, who played both the LPGA Tour and Symetra Tours from 2004 through 2010, the answer to the 'what's next?' question was profound. She realized her calling was helping girls through the game.
"Being in that (LPGA Tour player) career, in general, it's really all about you," Jackson said. "Your schedule, your practice, what you eat, when you sleep, everything is about you and your golf game. Because of that, you struggle with balance in life.
"My goal was always to play professional golf and I geared everything I did toward that. But once I started my own business, it changed my mentality on relationships. Everything changed. Completely."
Jackson's business, Brandi Jackson Golf, is a college consulting firm. She works with young girls who aspire to play golf at the next level. She meets with the families, evaluates skill levels, talks about the college experience and helps match girls with the right institutions.
Those are the mechanics of her business – help a kid write a college resume, counsel a family on what schools fit their daughter's skill level and academic desires, recommend some tournaments the girl should play and make an outreach to the coaches.
But what she really does is much deeper.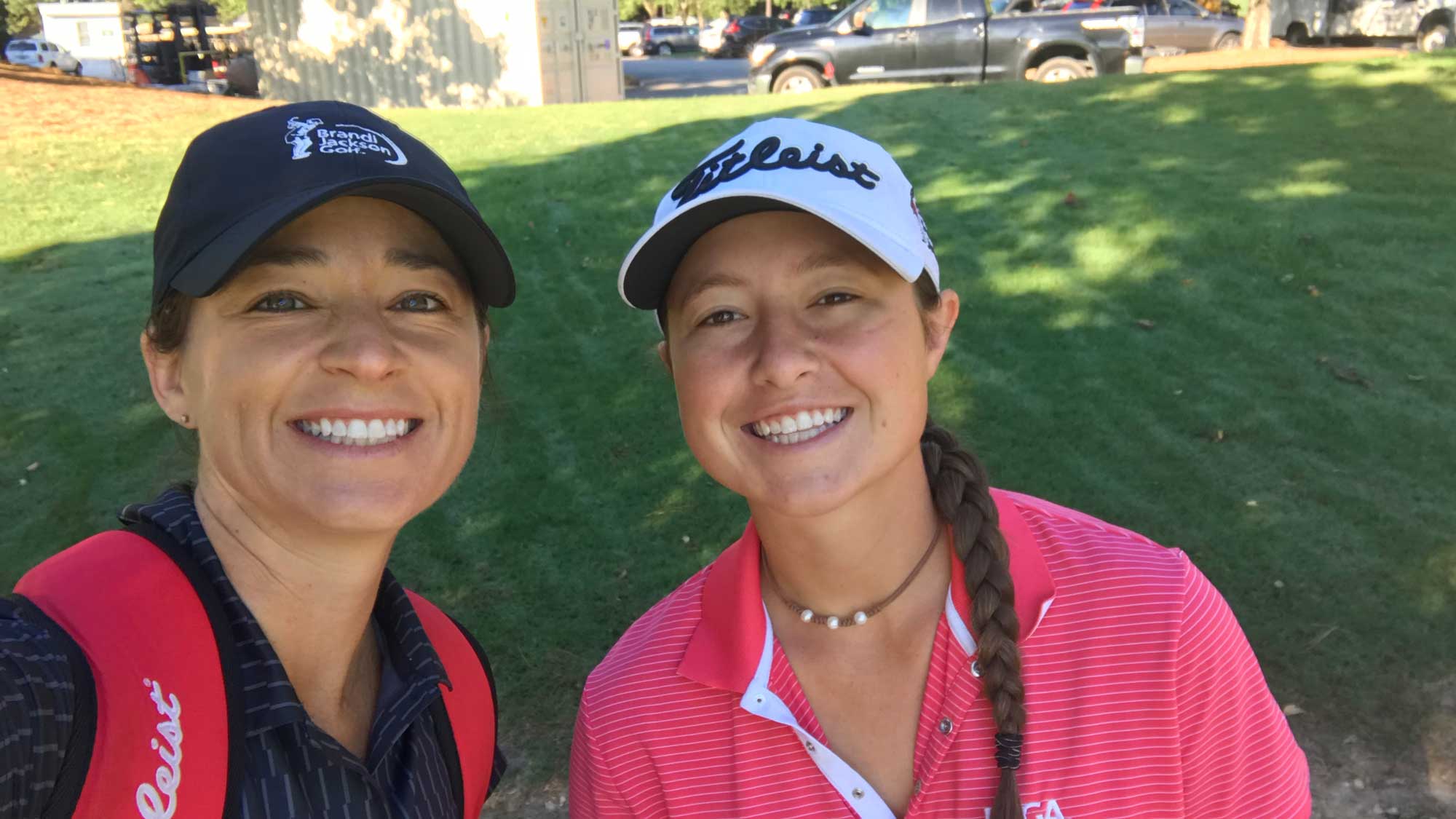 Jackson lifts a crushing emotional weight off the families she helps. She brings fathers to tears of joy and helps girls make the first and most important decision of their adult lives.

"The families I work with need step-by-step instruction about the process," she said. "These are bright, caring people but a lot of times they're just lost. And they have a lot of anxiety. Some (parents) are so scared that they underestimate what their daughters can do. Sometimes it goes the other way and a girl would be a lot happier and fit a lot better in a smaller, more relaxed (college) environment but the parents are pushing them to a Division I program or a larger school. Of course, they mean well. They only want what's best for their daughters. But in so many cases, they don't know what they don't know.

"I get asked questions like, 'What tournaments should she play?' And my favorite answer to that is, 'It depends.' I understand the frustration with that because parents want a roadmap. Well, there is a roadmap, but it has many, many different roads. I have to look at the family's financial situation, the girl's goals, where they want to go, what they want to study, what they want out of their entire college experience, not just golf. It's all very situationally based."

For most families, Jackson becomes a rescuer, someone who shines a light on a dark, murky process.

She knows the feeling. A college standout at Furman University, Jackson finished runner-up at the 2002 U.S. Women's Amateur and qualified for the LPGA Tour through Q-School in the fall of 2003. She didn't know what tour life was going to be like or what the next step entailed. The pit-in-the-stomach fear felt by the families she helps now is what she felt entering the unknown arena of tour life.

"I played eight years, technically," she said. "I played the LPGA Tour in 2004 and up until 2o1o I bounced back and forth between the LPGA and Symetra Tour. I played one event in 2011 but that was so my niece could see me play. By then, I wasn't really playing regularly anymore.

"It was hard, sure. All I had ever wanted was to play professional golf. Everything I had done since I was young had been in pursuit of that dream. Once it was over, yeah, I had to think hard about what to do."

Jackson dabbled in teaching, specializing in helping girls with their short games. She did some public speaking and played in pro-ams. She also worked with young girls in the LPGA*USGA Girls Golf program. But, it was her relationship with the Peggy Kirk Bell Girls Golf Tour that changed her. Seeing the girls on that tour, hearing their stories, watching them chase the dream Jackson had lived not that many years before, drove her not just to form Brandi Jackson Golf but to change her life from one where every action was about her into one based solely on serving others.

"The year I started my business was the start of the 10-year growth curve in women and girls' golf," she said. "Of course, there are girls who want to play college golf but who can't find the right fit. It was a great time to focus on girls and the opportunities out there.

"Some people think only girls who aren't great players need what I do, but that is not the case at all. I can't tell you how many players I see who do not know how to put a resume together, who do not know how to write a cover letter.

"I talked to a girl recently who had no idea about Furman, didn't know who had been there and what the history of the program was all about," she said. "Granted this girl is young but she's in golf and a pretty good player. You just forget that not everybody is as immersed in this stuff as we are. Every year there is a new group that starts, a new group of girls and parents who need educating."

Jackson has placed well over 100 girls in colleges, girls who call and write her often to offer thanks. She still plays occasionally but is much more content caddying for one of her girls than hiring a caddie to carry her own bag. Her life has been transformed. And she couldn't be happier.

"Sometimes, girls feel like they're selling themselves short if they don't go to a big DI school," Jackson said. "They don't realize that if they settle in to a good school and a good program where they can play, they will get better that way.

"I recently helped place four girls that I started working with two years ago and all four ended up at really good schools with DIII programs because academics were very important to them," Jackson said. "I feel like I opened their eyes, and found the right fit for them. It was a great process."