As the USGA and LPGA celebrate girls in the game during this week's U.S. Women's Open, it's important to remember that, at its core, the game is not about competing in major championships. In fact, from its inception, LPGA*USGA Girls Golf has promoted inclusion and the advancement of deeper and richer values like character and integrity, making friends on the course, and gaining a level of comfort and confidence in a new environment - lessons that go far beyond the game.
But there are also plenty of role models for those girls who dream of playing at a higher level. Alumnae from LPGA*USGA Girls Golf litter the field at this week's U.S. Women's Open. Among them is one of the hottest players in the game right now, who is still a teenager and not that far removed from her days at Girls Golf of Walnut Creek in California: Yealimi Noh.
Noh finished tied for second last week at the Volunteers of America Classic in Dallas with two past U.S. Women's Open champions, Inbee Park and So Yeon Ryu. The rookie also finished third at the Cambia Portland Classic in September.
"I'm really excited because it will be my first U.S. Women's Open ever," Noh said about her upcoming week at Champions Golf Club. "I'm excited to see what challenges will be there."
Other LPGA*USGA Girls Golf alums know the challenges that await them this week. They've been here before.
For example, Brittany Lincicome has been playing in 18 U.S. Women's Opens since she was 17 years old. The most senior Girls Golf alumna in the field this week, Lincicome arrived for her practice round on Monday and got a surprise on the first tee. Her husband, Dewald Gouws along with their daughter Emery, a future Girls Golf member, announced Brittany via video on a large screen behind the first tee.
Lincicome has long been a supporter of Girls Golf. "It was just a great chance to be around girls my own age at the golf course," she said. "That was the biggest thing. It wasn't about competing or who could hit the ball the best. It was about having fun with other girls around golf."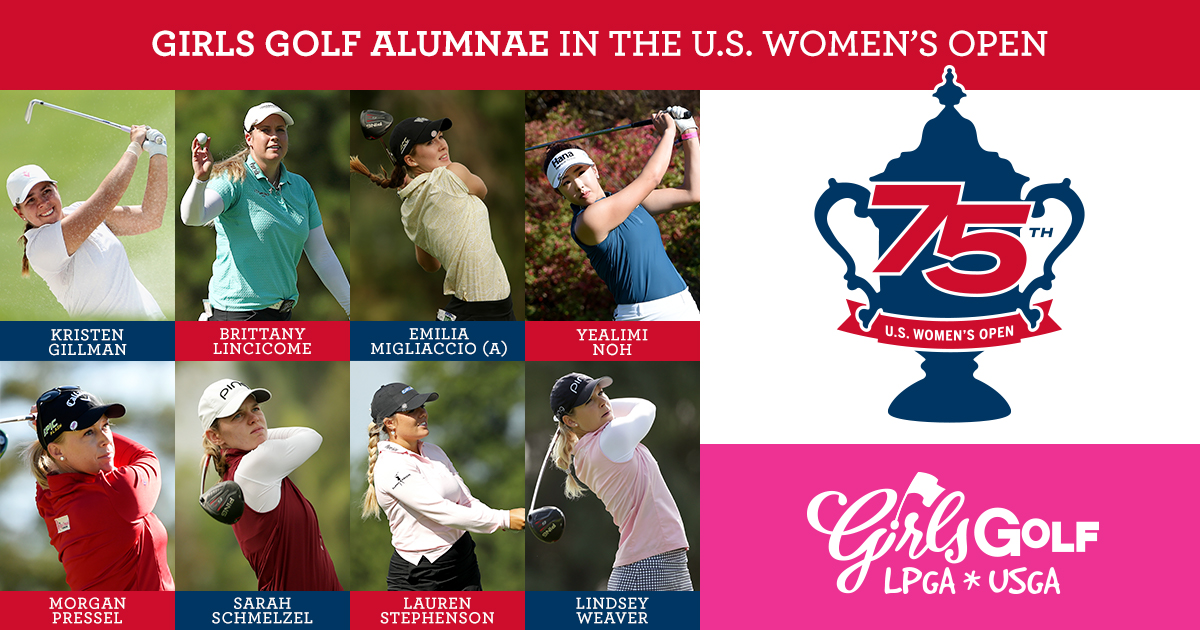 Major champion Morgan Pressel, another Girls Golf alum, is also in the field along with a contingent of younger, former Girls Golf members who hope to make the U.S. Women's Open their first official win. Kristen Gillman, a native Texan who was a member of LPGA*USGA Girls Golf of Austin, has played well throughout 2020, as has Lindsey Weaver, an LPGA*USGA Girls Golf of Phoenix alum who made a great run at another major, the AIG Women's Open, earlier this year.
Lauren Stephenson (LPGA*USGA Girls Golf of Winston-Salem) and Sarah Schmelzel (also from the LPGA*USGA Girls Golf of Phoenix program) would love to have breakout weeks at this championship.
An amateur alum is also in the field, Emilia Migliaccio from LPGA*USGA Girls Golf of Winston-Salem.
By any measure, it is a great representation. But the heart of LPGA*USGA Girls Golf is not in Houston this week. It can be found in the more than 500 sites around the country where devoted professionals create comfortable environments for girls to enter and enjoy the game.
So, beyond the players in the field this week, how is LPGA*USGA Girls Golf doing? Like most things in golf, the answer can be found in the numbers.
In 2010, 5,000 girls engaged with the program. Last year, that number was 90,000. And in 1995, only 15% of all junior golfers were girls. Today, that number is 36% and moving up.
Inroads have been made in diversity and inclusion as well. Twenty years ago, only 6% of girls in golf were racial minorities. Today that number is 1 out of 3.
So, cheer for your favorite players this week at the 75th U.S. Women's Open. Cheer for the history of this championship and the greatness of our game. Cheer for Champions Golf Club and its continued legacy. Also, cheer for the young girls who came up through LPGA*USGA Girls Golf who will have their names announced on the first tee; girls who grew up to fulfill their dreams.
And cheer for the young girls at home watching this championship. May what they see this week inspire them all to believe.