When you've had a junior and college golf career like Ana Paula Valdes, peers try to forecast all the big things ahead in your life.
But no one predicts that you will save a life.
Since graduating from Clemson University in May where she was one of the best players in Tigers' Women's Golf history, Valdes planned on entering the LPGA Q-Series this fall, but coronavirus forced her to change course. Instead, she made her professional debut at the Texas Women's Open and then decided to get some experience under her belt in the Women's All Pro Tour, an official qualifying tour for the Epson Tour (winners on the WAPT get a one-event exemption into a Epson Tour event). Instead of taking a break the week of the WAPT tournament in Bella Vista, Arkansas, the stars aligned, and Valdes decided to go.
When you've had a junior and college golf career like Ana Paula Valdes, peers try to forecast all the big things ahead in your life.

But no one predicts that you will save a life.

Read the full story about @pauvaldes19's heroic moment here ⬇️ https://t.co/5rrbmmqi23

— LPGA (@LPGA) July 8, 2020
"I was actually debating on whether I should go play that week or not because that would've been my fourth week in a row," said Valdes. "I'm just lucky that it all turned out the way that it did. I'm telling you, it's amazing that we made it there at that exact moment."
After playing a practice round with her boyfriend, Alberto Doniga, giving a friend a ride, and picking up takeout, the couple decided to eat their meals on their host family's porch. Almost immediately after starting to eat, they heard what sounded like a tree breaking. That's when Valdes saw a woman barreling down a hill in a golf cart toward a lake.
"I didn't even think twice, I just started sprinting towards the lake," said Valdes. "I saw that the cart had crashed against a tree and the lady had been thrown into the water."
Valdes, 23, searched frantically for the woman in the body of water; then she finally spotted her face down. A wave of emotions overwhelmed her.
"My heart stopped; all these wild thoughts went through my mind," said Valdes. "But it was happening so quickly that I just decided to jump in and swim her way. I finally got to her, but I had to pull her up onto my chest because it was pretty deep and I was like 'you're fine you're fine,' but she wasn't fine, she was unconscious."
Valdes started applying pressure to the woman's chest until she coughed up the water and took a deep breath. Shortly after, Valdes' boyfriend and her host family were running down the hill. Once help came, the woman was taken to the hospital where she underwent surgery.
Due to many factors, Valdes decided to withdraw from the tournament that week.
"The adrenaline and everything that my body went through, I just wasn't feeling right," said Valdes. "I was so tired and sore, and I wasn't comfortable in my own body. I was very distracted."
She was confused about these emotions. She just saved someone's life. Why did she feel this way?
"I actually met her two daughters," said Valdes. "I guess that's when everything sunk in in terms of the extent of what I did. I saw the look in their eyes. They were so grateful and emotional."
Now, about two weeks later, Valdes has a new outlook.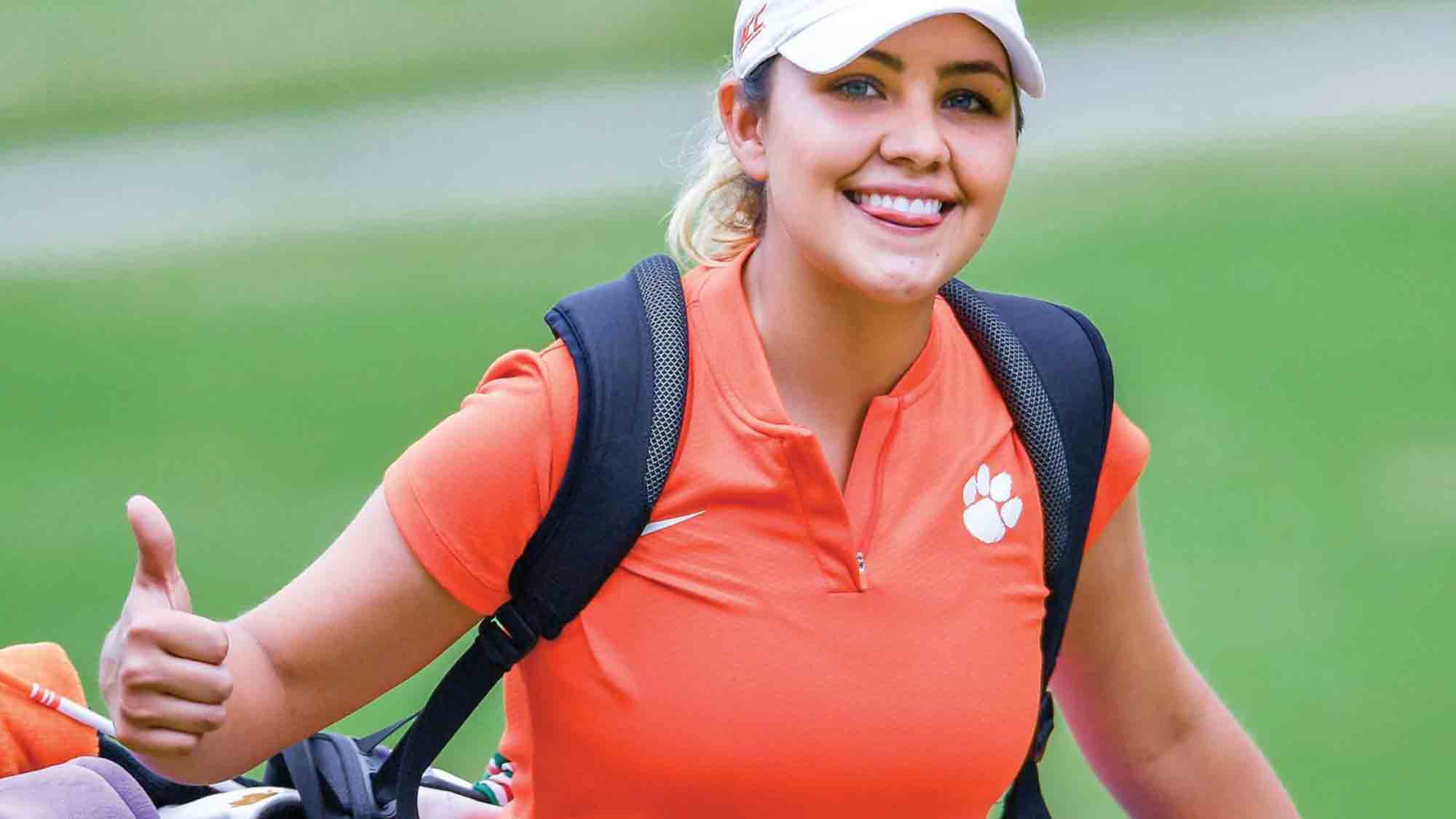 "I was struggling with golf. I had been taking it too seriously, and I was frustrated that I wasn't posting the results that I wanted," said Valdes. "This put things into perspective. Life can come and go in a matter of seconds. I literally get to play golf for a living. I'm so grateful for what I get to do – I just need to go out there and enjoy it like I always have."
The one word Valdes uses to explain herself is lucky. Lucky that she was able to be there in that exact moment and lucky that she saved someone's life. Lucky that it rebirthed a passion she's had for as long as she can remember.
It was in a phone call to Mary Bea Porter-King when it occurred to her that she was lucky. Porter-King saved the life of a boy who was drowning in 1988 at a tournament. Thirty-two years later, that act of timing and heroism remains in the lead paragraph of almost every story written about Porter-King.
Valdes said she noticed an unsaved number was calling her one day, and when she picked up the call, she heard Porter-King's voice.
"She was just telling me how proud of me she was, and I just couldn't believe it," said Valdes. "She said great things will come my way and that I should feel good about it but that it was normal to feel the way I felt right after. She said that we are the lucky ones because we got to be there at that moment."
Valdes doesn't know why or how this life-changing moment fell into her lap; all she knows is that she's grateful.
"I'm here for a purpose, and I just want to live to the fullest," she said. "I just need to enjoy the process and be grateful for what I have, who I have, what I am, and everything surrounding me."