In normal times, this week would mark the playing of the LOTTE Championship, the LPGA Tour's annual stop at Ko Olina Golf Club on Oahu, Hawaii, sponsored by Korean multinational conglomerate LOTTE. But with the event postponed due to the coronavirus pandemic, it's time to look back at past championships.
While there have been plenty of great shots and fantastic finishes, one of the most anticipated aspects of the LOTTE Championship is the winner's celebratory hula dance. Just as writing a victory speech before you win is bad karma, no players practiced the hula prior to signing their final scorecards. That has made for some fun and interesting moves on the 18th green.
Here is a look at some of the best interpretative hula moments from past LOTTE Championships: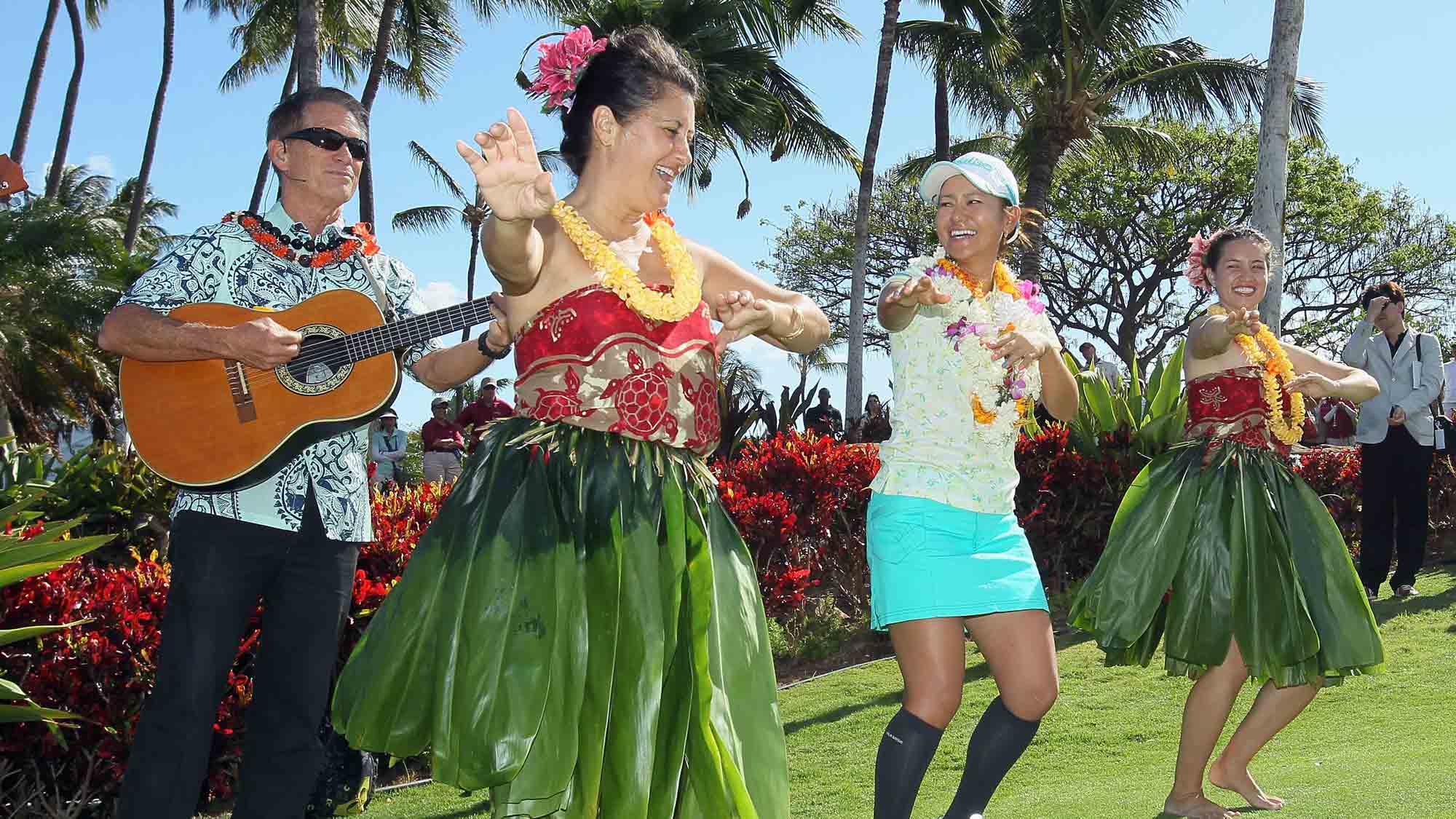 2012
In the inaugural playing of the event, Japan's superstar and former world No.1 in the Rolex Rankings, Ai Miyazato birdied three of the last six holes in blustery conditions to capture the title by four shots over Meena Lee and Azahara Munoz. It was the eighth of Miyazato's nine career LPGA Tour victories. Buoyed by a putting tip from her father three weeks earlier, Miyazato needed only 53 putts in the final two rounds.
She aced the hula as well, dancing like a pro without ever losing her infectious smile.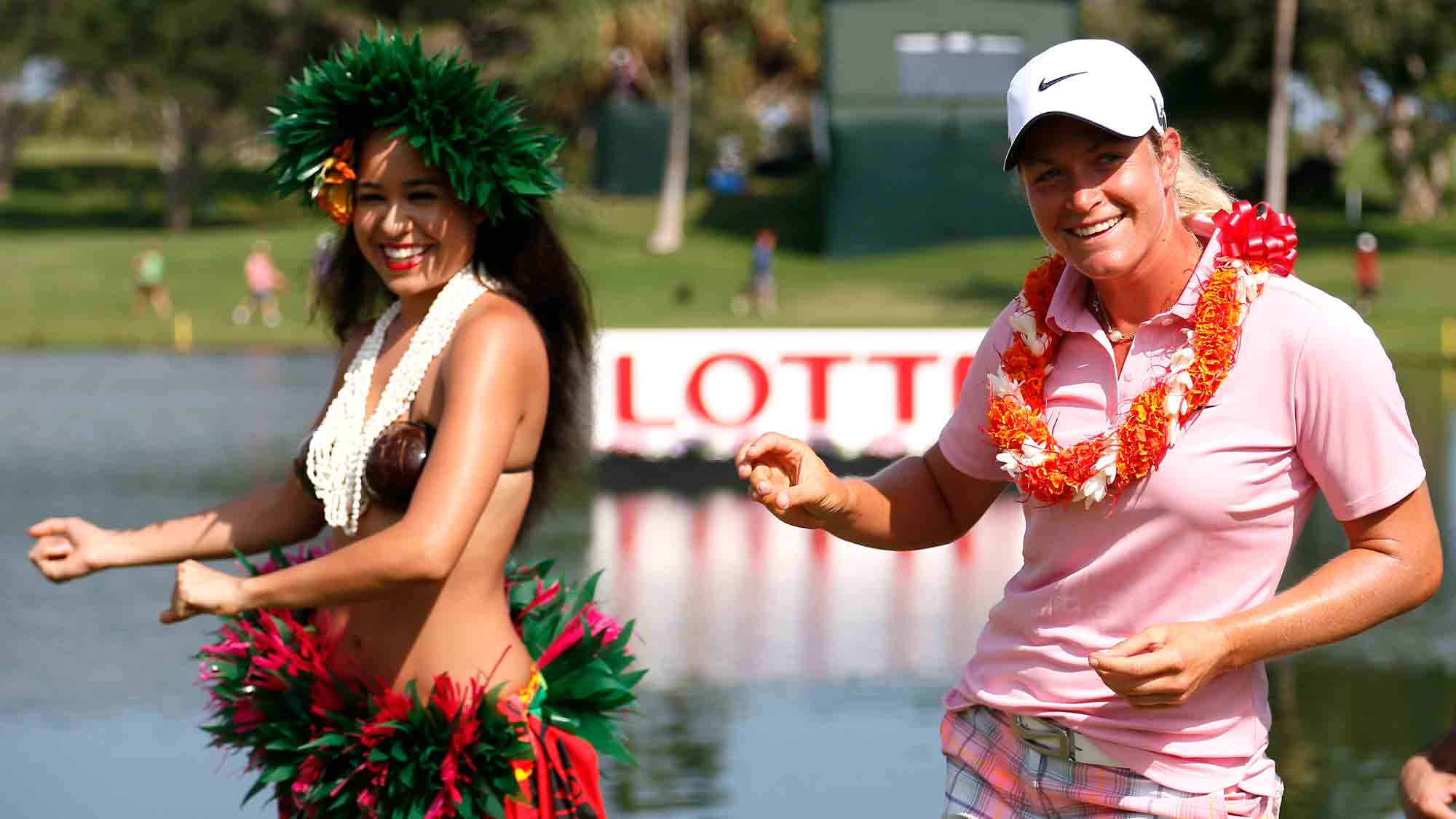 2013
Suzann Pettersen had to put all negative thoughts behind her after bogeying the final hole in regulation to tie Lizette Salas and force a sudden-death playoff. Not that Pettersen had a bad final round that Saturday afternoon (the LOTTE has always been a Wednesday through Saturday event to accommodate Korean television and players' travel schedules). The Norwegian closed with a 5-under-par 67. But Salas went out early and fired a tournament-record 62, including a nine-hole stretch in the middle of her round she played in nine under par.
When Pettersen bogeyed 18 to tie Salas at 19-under, the two headed back to the 18th tee for a playoff. But, the second time was a charm for Pettersen. A solid par was enough for her 11th LPGA Tour victory.
Afterward, she needed just a little coaching before finding her groove with some solid dance moves.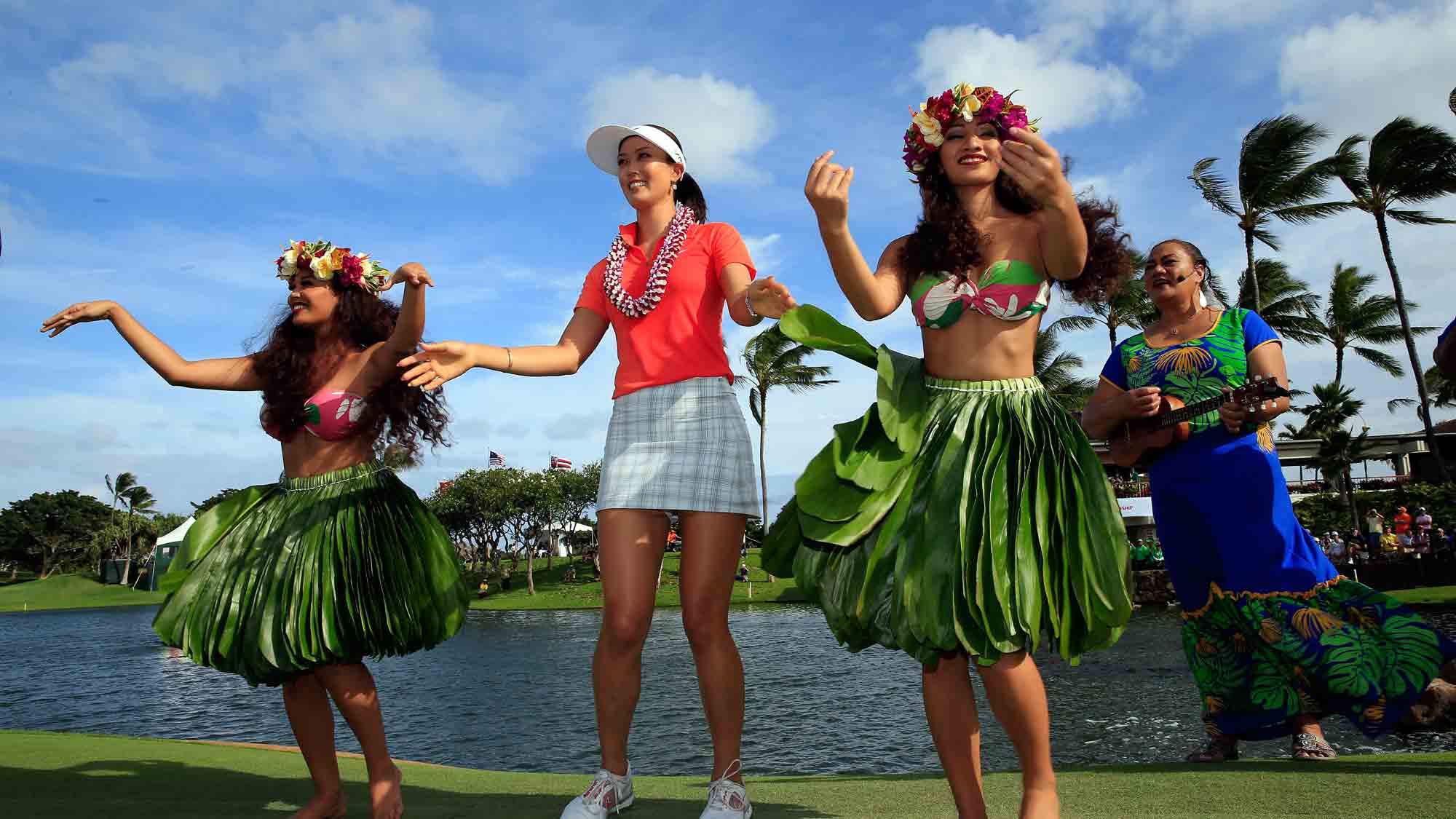 2014
There has been no more popular winner of the LOTTE Championship than hometown favorite Michelle Wie, who shot a final-round 67 on her home course for a 14-under-par total and a two-shot victory over Angela Stanford. It was Wie's third victory and her first on U.S. soil. Later that summer, she would win her first major championship, the U.S. Women's Open at Pinehurst #2.
Afterward the LOTTE Championship victory, Wie showed her native Hawaiian skills with some veteran hula moves.
2015
One of the most thrilling endings in LOTTE Championship history came when rookie Sei Young Kim chipped in for par from the edge of the water on the final hole to finish 11-under and tie Inbee Park.
A few minutes later, with the sun large and bright behind the 18th green, Kim holed out from the fairway on the 18th hole from 155 yards to win the playoff. It was the shot of the year and one of the most memorable finishes on the LPGA Tour.
Afterward, Kim did her best to keep up with the hula professionals on the green she had just mastered.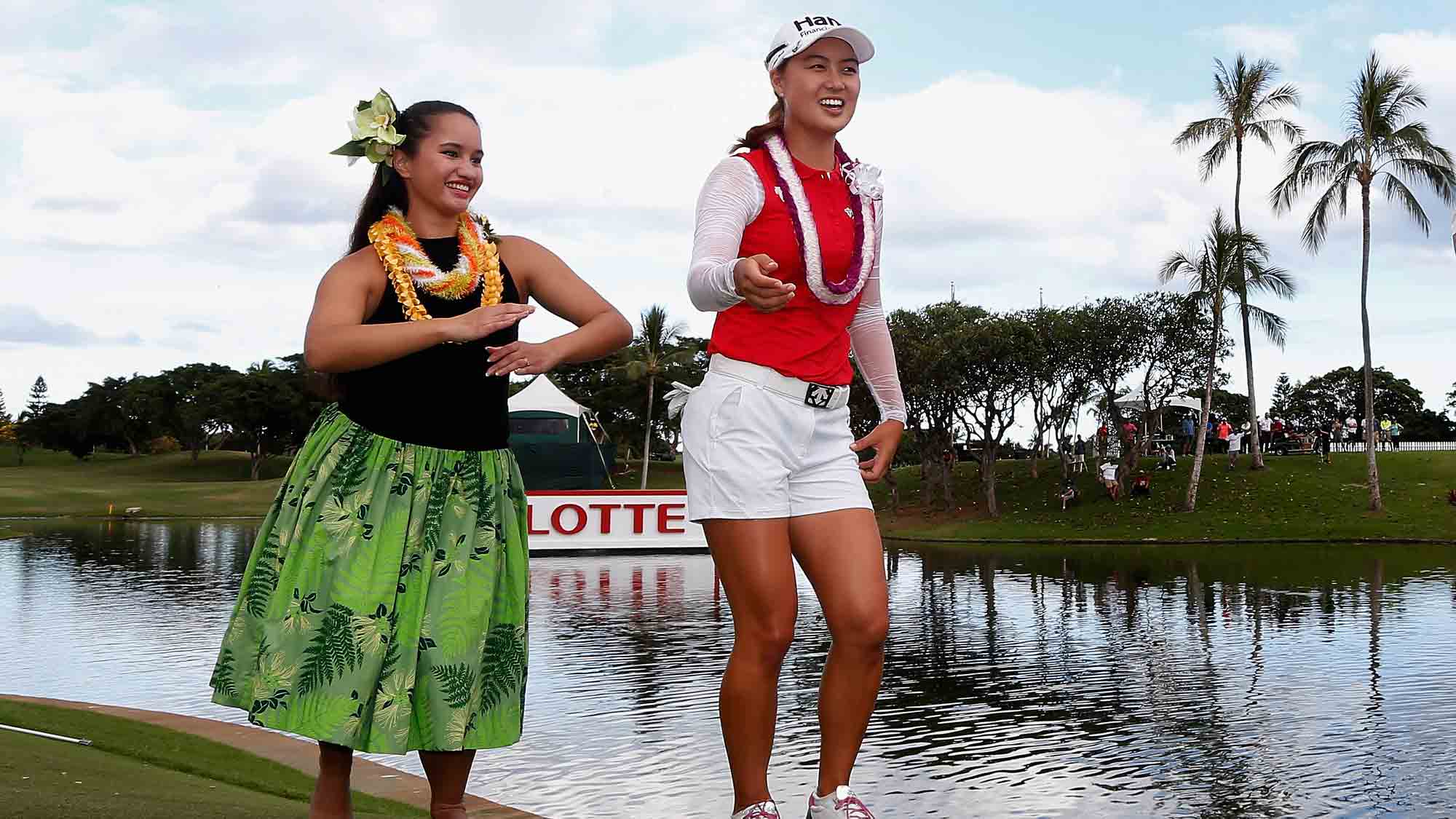 2016
Minjee Lee, just 19 years old at the time, made up a five-shot deficit in the final round, shooting a 64 in April 2016, including a back-nine 30. She posted a 16-under-par 272 total, which was good enough to overtake third-round leader Katie Burnett and hold off In Gee Chun. It was the second of Lee's five LPGA Tour victories to date.
She had a slightly less deft touch dancing afterward, but she had a great time following the lead of the native hula experts.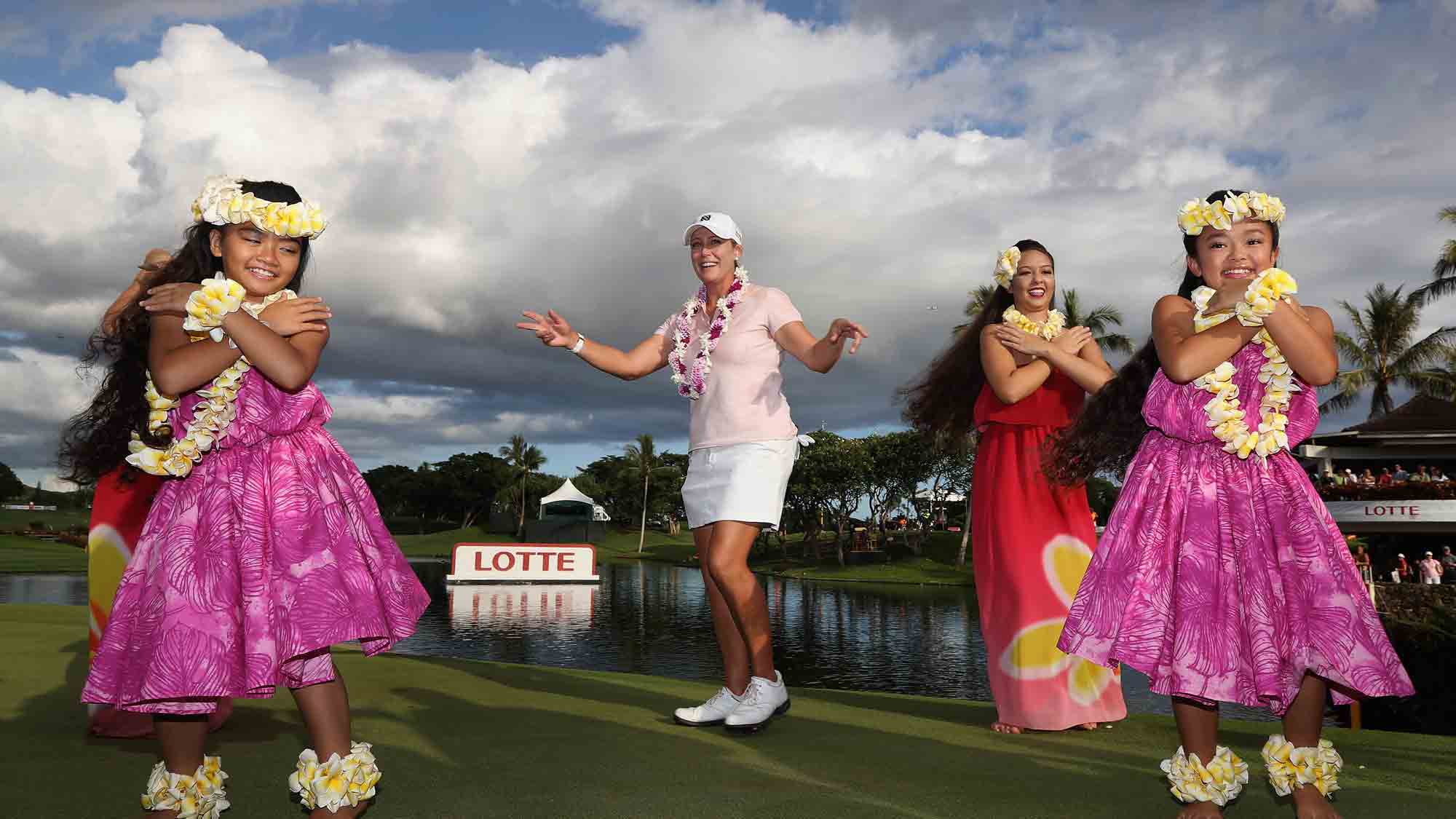 2017
Five months after knee surgery and two years removed from her last LPGA Tour win, Cristie Kerr came roaring back in style, firing a tournament record 20 under par, including a final-round, bogey-free 66 to win her 19th career title.
"Experience is huge," Kerr said after capturing the LOTTE Championship by three shots over Lydia Ko, In Gee Chun and Su-Yeon Jang. "Very few players are lucky enough like I am to have a career as long as I've had and to be competitive as long as I've been competitive. Having that experience and being competitive, it's an advantage."
Kerr wasn't quite as experienced in the hula, but she held her own in the dance category.