With the LPGA
Tour
scheduled to return
in late
July, players who competed in last week's Energy Producers, Inc. Texas Women's Open and 2020 CoBa
nk Colorado Women's Open
had a chance to
prove that they are ready to
restart
the season with their game
s
in full swing.

The Texas Women's Open title went to France's Celine
Boutier
at -14. The winner of the 2019 ISPS
Handa
Vic Open, who now makes her home in Dallas,
fired
three consecutive rounds in the 60s
, including a second-round 64 and a final-round 67 that featured an eagle on the penultimate hole.
The tournament was conducted at Old American Golf Club, which also hosts the LPGA Tour's Volunteers of America Classic.

"I'm over the moon. I could not have expected the week to go better
," said
Boutier
to local media.
"
I wasn't really sure how the week was
gonna
go because I haven't played competitively in a while. I'm super excited with the way I handled all three rounds and the way I handled myself today with the nerves and everything."
Dallas native Cheyenne Knight, winner of the 2019 Volunteers of America Classic, finished second at -11, with fellow Texa
n
Kristen Gillman rounding out the top three at -5.

After giving birth in January, Brittany Lang finished seventh at the Texas Women's Open, her first competitive outing since welcoming baby Shay into the world. As if being a mother with a newborn wasn't
enough
to be happy about, Lang told LPGA.com that getting to play close to home at Old American Golf Club made the week even more special.

"The tournament was positive [and] was an awesome event that was very well run," said Lang, winner of the 2016 U.S. Women's Open. "I got to play the LPGA tournament course, stay at home, compete and do something different. I had a blast and was so happy to play."

The event was also a great reflection of her days before turning pro. "It was cool to be around so many young golfers who are hungry and starting their careers," said Lang. "It made me reflect on how far I've come."
In Colorado, second-year LPGA Tour player Jennifer
Kupcho
captured her first professional title at the Colorado Women's Open, held at Green Valley Ranch.
Kupcho
, who lives just 20 miles from the host venue, shattered the tournament scoring record by five strokes, finishing at -16 for a three-stroke victory over two-time LPGA Tour winner Carlota Ciganda. Kim Kaufman and Bailey Tardy tied for third at -11, while University of Colorado alumna Jenny Coleman finished fifth at -10.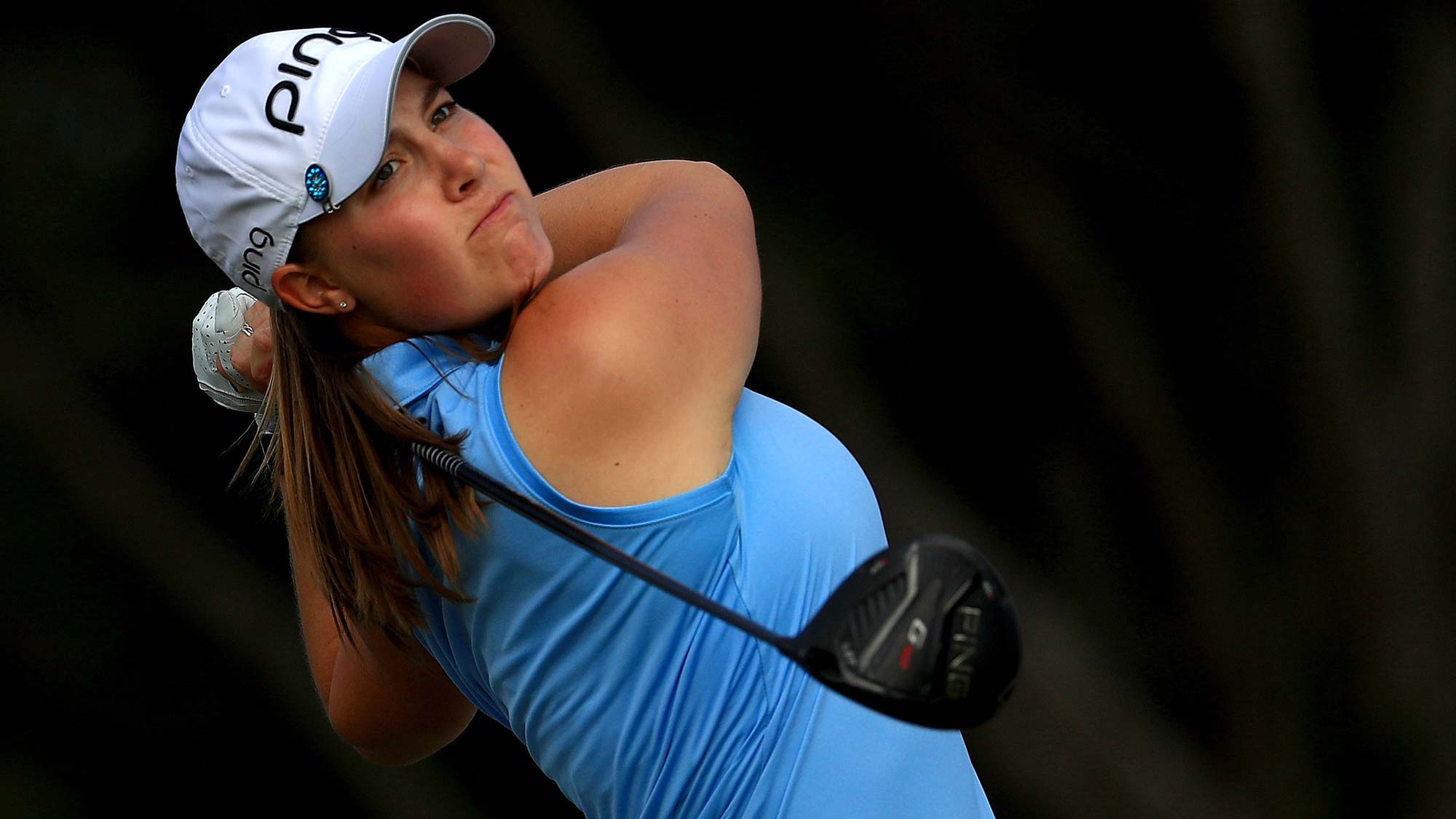 "It's definitely really emotional,"
Kupcho
said to tournament officials after her round. "I was nervous coming down the final stretch. It's all the feelings you get when you're winning something big and you know what it means."
With the many precautions taken to ensure social distancing and proper safety standards, competitors relished the opportunity to compete again.

Kaufman recalled
, "It was for sure a positive event. The event is fantastic. It's very well run with a great purse. I am happy to see it have one of its strongest fields ever this year. I finished in a tie for third so I would say my performance was satisfactory. I try and take something positive away from every event I
play
and this was no exception. I made a lot of birdies and putted very well so I left feeling good about those things.
"
Similarly, LPGA and Epson Tour professional Rachel
Rohanna
enjoyed not only seeing some of her friends on the
tour, but
competing again. Even if it meant different rules in compliance with COVID-19.
Rohanna
said, "
Yes it was a positive memory
.
It was a different experience and the first time in the Colorado Women's Open and I really enjoyed it.
We had an attendant at every flag and were require
d
to take carts! I
kind
a
loved it! We also wore face masks if we weren't playing or practicing.
I got to see Ashli Bunch, Jenny Coleman, Kim Kauffman
and
Jillian Hollis. All are pretty good friends, and it was great playing with Kim the last day.
"


For some newer faces, it was a prime opportunity to see their games alongside the best in the world. Valentina Haupt, a native of Chile who recently graduated from the University of Southern Mississippi, was the highest ranked non-LPGA Tour professional at the Texas Women's Open and received an exemption into the 2021 Marathon Classic presented by Dana.

"
This event was for sure a positive memory for me. Everyone at the event was so kind despite the situation and they really allowed us to just go out there, have fun, and not have to worry about any of the other stuff.
The exemption means a lot because it will be my first time playing on the LPGA Tour," she said after her tie for fifth at -2. "I've never played in such a tough field before this week and it was a great experience overall and I'm really excited to receive this exemption."