In August 2015, a 17-year-old took on the Monday Qualifier at the Cambia Portland Classic with nothing to lose and everything to gain. The young Canadian, hot off a win at the Four Winds Invitational on the Symetra Tour, had her eyes set on her dream – a chance to play against the best in the world as an LPGA Tour member.

She arrived in Portland hungry for the ultimate prize, with no inkling of the history she was about to make.

That young woman was none other than Brooke Henderson, who went on to record an impressive 21-under 267 score to win by eight strokes, becoming just the second Monday qualifier to notch a victory on Tour.

The average score to par for the players who finished the event was 4-under, a 17-stroke differential from Henderson. And just twelve players finished in double digits under par at Columbia Edgewater Country Club that year.

Henderson was granted a waiver to get LPGA Tour card, even though she wasn't yet 18. There was no doubt she was ready to drive full speed ahead with her career.

And she hasn't let off the gas since.

Henderson followed up her initial win with more of the same. She successfully defended her title in Portland the next year as well as capturing a major at the 2016 KPMG Women's PGA Championship. She captured the LOTTE Championship in Hawaii in back-to-back seasons (2018 and 2019). Henderson has won twice in each of the last four years with an average score to par of 16-under in those wins. She also became Canadian's winningest professional golfer with her victory at the 2019 Meijer LPGA Classic.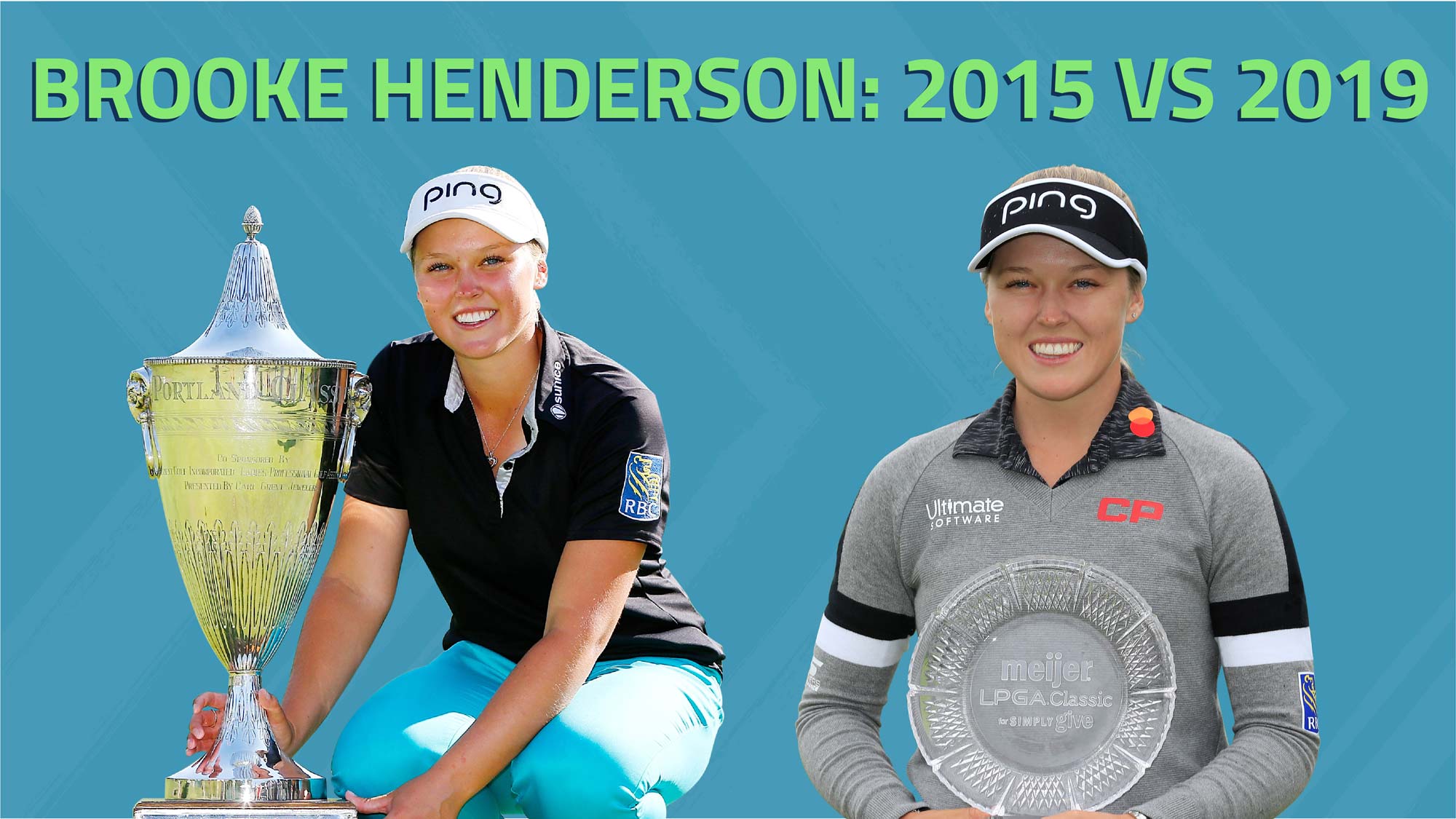 To understand her meteoric rise among the LPGA Tour ranks, look at her record-breaking scoring statistics. In just a few years on Tour, she's delivered some of the strongest performances we've seen in the last decade.

Sub-Par Rounds
Brooke Henderson is the only player to have two LPGA Tour seasons with at least 80 rounds scored under par (the equivalent of 20 four-round events), recording these totals in her first two full seasons on tour. Henderson's record of 83 rounds in 2016 and 80 rounds in 2017 sit as second and third best for the greatest number of sub-par rounds in a single season on Tour, only two rounds behind Stacy Lewis and her 85 in 2014.

Most Sub-Par Rounds – LPGA Tour Single Season
85 Stacy Lewis 2014
83 Brooke Henderson 2016
80 Ariya Jutanugarn 2018
80 Brooke Henderson 2017
77 Moriya Jutanugarn 2017

Henderson has also led the LPGA Tour in sub-par rounds in three of the last four years, with her average of 70% of rounds played under par from 2016-19 the highest percentage amongst Tour players who have played all four of these years.

She is one of three players to average at least 70% of rounds played under par during this timeframe, along with World No. 1 Jin Young Ko averaging 74% in two seasons and fellow major champion Jeongeun Lee6 averaging 73% during her rookie season in 2019.

Brooke Henderson
Sub-Par Round Ranks – LPGA Tour
2016 1st
2017 1st
2018 5th
2019 1st

Rounds in the 60s
Brooke Henderson not only scores rounds under par at a high rate, she ranks among the best at recording them below 70. In the last four years, Henderson ranked no lower than third on tour in this statistic and topped the tour in 2019 with 52 rounds in the 60s.

Brooke Henderson
Rounds Below 70 – LPGA Tour Season Ranks


Rank
2016 43 3rd
2017 46 3rd
2018 45 3rd
2019 52 1st

In 2019, she recorded a career high percentage of rounds scored at 68 or better at 37.76%, with her average in the last four seasons a notable 30.19%.

Scoring
Brooke Henderson's distance off the tee allows her to reach several greens in two and set up opportunities to score birdies or better. Henderson has always been one of the top scorers on par-5s since she joined the tour and led the tour in 2017 averaging 4.58 strokes on these holes.

Brooke Henderson
Par 5 Scoring – LPGA Tour Season Ranks

Rank
2016 4.66 7th
2017 4.58 1st
2018 4.63 4th
2019 4.59 3rd

Over the last four years, Henderson has also been steady on the par 4s and par 3s with an average of 3.97 strokes and 3 strokes, respectively. She recorded her lowest averages on par 4s and par 3s in 2019 at 3.95 and 2.99.

The last three years her scoring average has been below 70 each season. Henderson's lowest scoring average came last year at 69.551, which ranks among the top-20 in LPGA Tour history.

Golf continues to advance as this generation of players moves the game forward. We can only imagine what the next decade will bring in terms of scoring performance for Brooke Henderson on the LPGA Tour.