DAYTONA BEACH, Fla., Dec. 2, 2020 – LPGA*USGA Girls Golf announced today that Charlaine Hirst, the Site Director of the Whispering Pines, N.C. chapter, has been selected as the recipient of the 2020 Sandy LaBauve Spirit Award, the most prestigious honor bestowed by LPGA*USGA Girls Golf.

Hirst, an LPGA Class A Professional also known as 'Coach Chip,' will be presented with the accolade during a virtual LPGA Professional Rolex Awards ceremony on Jan. 28, 2021.

"I am so grateful to be part of the Girls Golf family," said Hirst. "I am blessed to be able to share my love of golf with the next generation of young golfers and engage them to develop a passion for the game that has given me so much. Thank you to Sandy LaBauve for your vision, your #DriveOn mindset and for empowering the next generation of young ladies."

Named after the founder of LPGA*USGA Girls Golf, the Sandy LaBauve Spirit Award honors an individual who has gone above and beyond to inspire the lives of juniors through their passion and dedication to empowering girls through golf. LaBauve was an LPGA Teaching Professional in Phoenix, Ariz. and mother of two daughters when she founded Girls Golf in 1989.

"Charlaine Hirst is the perfect award recipient for 2020," said LaBauve. "More young girls throughout the Pinehurst area are playing golf than ever before because of her efforts. She has encouraged parents and club members, as well as community leaders, to join together and grow the game, and she deserves recognition for her passion to lead. I am grateful to have role models like Charlaine in the LPGA inspiring and mentoring girls through golf."

In every lesson, Hirst integrates the Five E's of LPGA*USGA Girls Golf. From her focus on sharing her love of the game (energize), to warming up (exercise), life lessons (enrich) and how to face adversity to come back stronger (empower), Hirst engages as a positive role model and leader. She is also a member of the Girls Golf Expert Committee that helps the LPGA Foundation Headquarters Team with conducting webinars, providing best practices and sharing experiences with new and established Site Directors.
"I have two daughters [Sophia and Emma] who have been enrolled with Coach Chip the past two years and their appreciation of the sport, personal confidence and encouragement of others is evident from Coach Chip's classes," said Hunter Miller. "These traits resonate from the beginning of the class to the end, where a firm handshake met with eye contact is instilled—something COVID has altered to 'air fist bumps' from a distance that the girls like to throw across the practice areas.
"Coach Chip is involved with more than golf as she teaches the girls that charity and working for others is just as rewarding as sinking a putt. She's an advocate for pet rescue and supports the local community by collecting donations for Caring Hearts for Canines. This subtle act demonstrates both the person and program that Coach Chip teaches each week."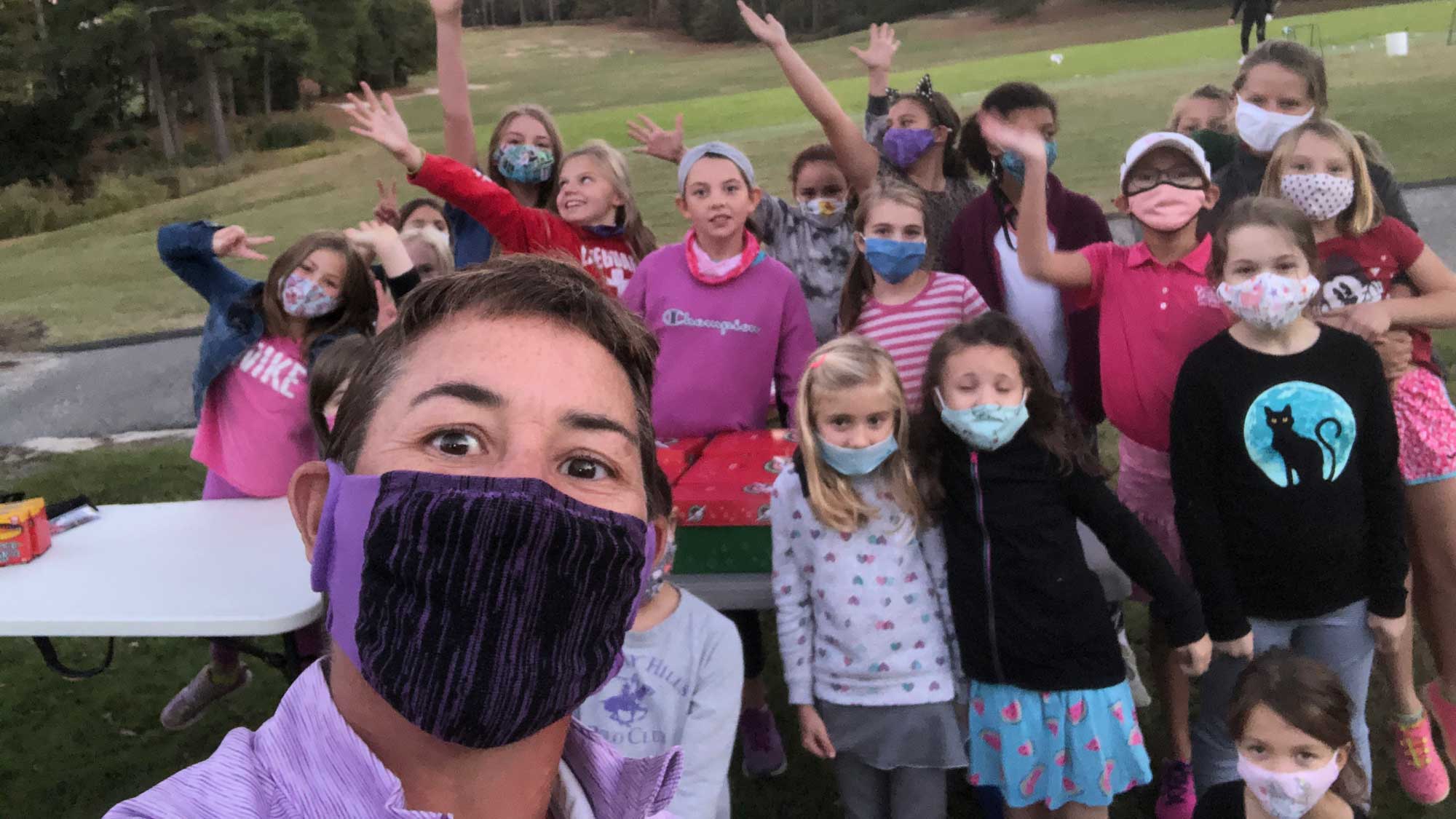 ABOUT THE LPGA TOUR
The LPGA is the world's leading professional golf organization for women. Founded in 1950 and headquartered in Daytona Beach, Fla., the association celebrates a diverse and storied membership with more than 2,300 members representing more than 30 countries. With a vision to inspire, empower, educate and entertain by showcasing the very best of women's golf, LPGA Tour Professionals compete across the globe, while the Epson Tour, the official development and qualifying tour of the LPGA, consistently produces a pipeline of talent ready for the world stage. Additionally, LPGA Professionals directly impact the game through teaching, coaching and management.
The LPGA demonstrates its dedication to the development of the game through The LPGA Foundation. Since 1991, this charitable organization has been committed to empowering and supporting girls and women through developmental, humanitarian and golf community initiatives, including LPGA*USGA Girls Golf, the LPGA Women's Network and the LPGA Amateur Golf Association.
Follow the LPGA on its television home, Golf Channel, and on the web via www.LPGA.com. Also, join the social conversation at facebook.com/lpga, twitter.com/lpga, youtube.com/lpgavideo, and on Instagram @lpga_tour.