To this day, 19 months and two professional seasons later, Maria Fassi still gets it. In airports. On street corners. At the checkout line in the grocery store. "I'm still surprised and overwhelmed when I'm walking around, not on the golf course, and random people say, 'Hey, we watched you at Augusta,'" Fassi said on Wednesday, about 20 hours before the first groups of the Masters teed off on the same hole she played in April 2019. "It's amazing, really, more than a year later that it continues to happen. People really enjoyed watching us play that week. I think it helped get both Jennifer (Kupcho) and my name out there."
Those who witnessed the inaugural Augusta National Women's Amateur recognized immediately that it was something special, something breathtaking and historic. And not just having women competing at the home of the Masters for the first time, although that would have been enough to bring tears to many eyes. The event was made even more impressive because of Fassi and Kupcho, who put on a display that no one saw coming. Birdie and eagles, fist pumps and massive roars more a full week before Tiger Woods made his triumphant return to major championship glory.
With the second edition of the ANWA (now pronounced "Ann-wah" by almost everyone in the game) canceled until 2021 due to the coronavirus, Fassi and Kupcho remain in the minds and on the lips of everyone who thinks about that event.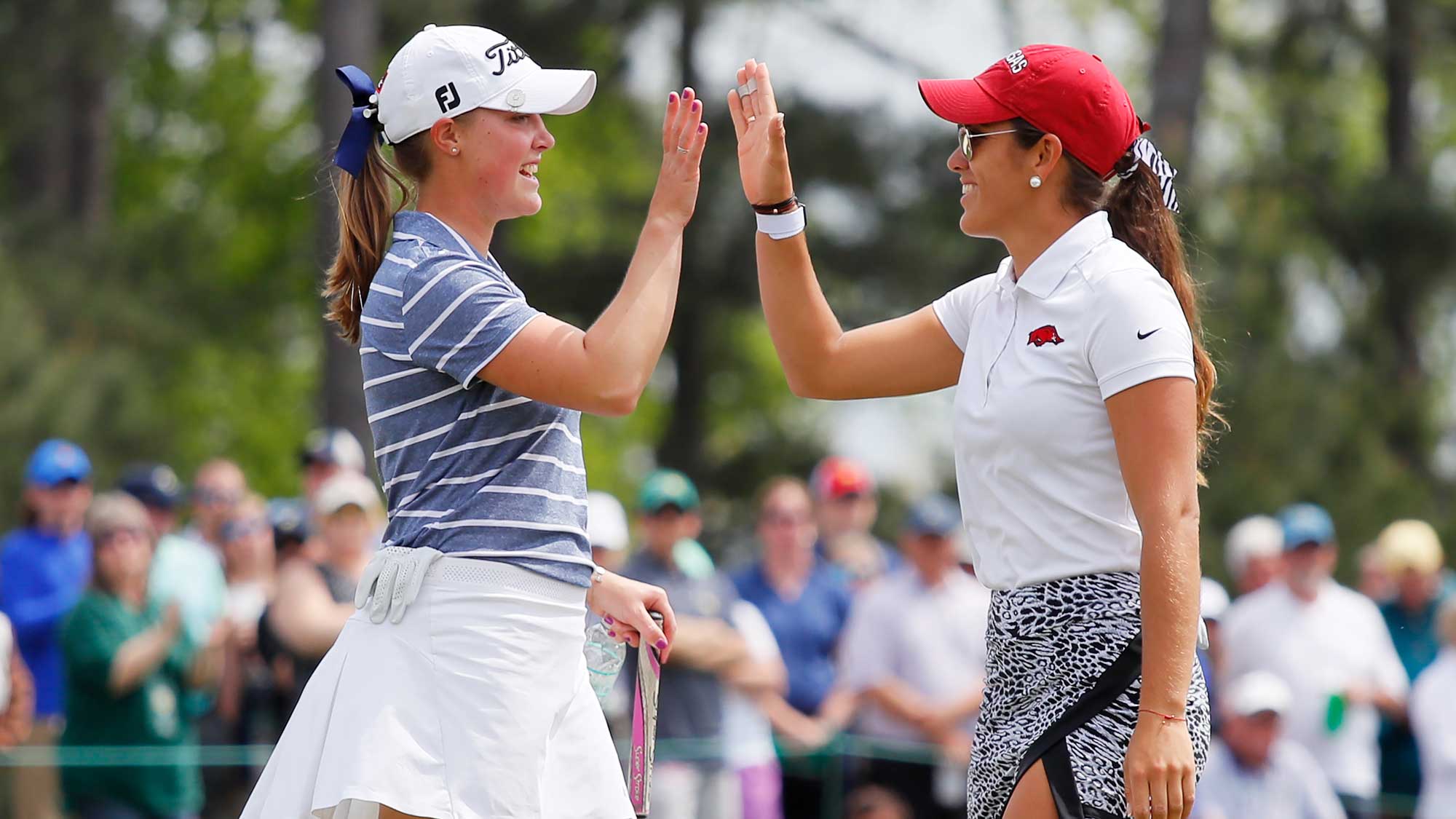 Now, with the Masters played in November, Fassi relishes the memories and the elite club she's in as one of only a handful of LPGA Tour players to have competed at Augusta National Golf Club.
"It has certainly changed the way I watch the Masters," Fassi said. "I've hit shots out there in competition. I know what the greens look like and how difficult certain shots are. It's way more fun watching after playing a competitive round there because you just have a bit of a feel for the different challenges they will face. It's more fun having that course knowledge.
"For starters, the average viewer can't see on tv how slopey the course is. It looks relatively flat on the screen except for a few holes. But the course is extremely slopey. Of course, everyone can see fast greens, but until you're on them, I don't think anyone has experienced greens like that. I don't think tv does it justice – one, how beautiful it is, but two, how difficult it plays."
Fassi has another advantage. She is one of the longest hitters in the women's game. As such, she appreciates the approach Bryson DeChambeau is bringing to the Masters, even if she can't believe it.
"I'm reading about some to the lines that Bryson is taking, and I can't even wrap my mind around it," Fassi said. "I think about how far you're hitting it to even think about those lines.
"Yes, sure, there are some holes where you can almost overpower it. But it's a very fair golf course. If you miss a fairway, you can get it back in play and have a chance to scramble, although it can be really tough when you do (miss the fairway). Hitting it long helps. But you also have to be accurate and be in the right positions and make the putts. This golf course causes you to have everything dialed and in check. You still have to execute.
"But I also believe Bryon will play well. His game is much more than just hitting it far. So, hopefully we'll see something exciting from him."
Fassi also experienced something that players in the Masters did not until this year.
"I don't know if the guys ever played it without fans, even in practice rounds," she said. "The golf course definitely looks different. I got to experience it without fans during a practice round and then (during the final round of the ANWA) in front of 30,000 people. The course looks way different without people. I think it looks harder with no fans out there. That's going to be a challenge for some of them."
Fassi will be challenged as well. Should she make a kitchen run before or after this Rory McIlroy putt? And what if the dog needs to go out?
Thankfully, she has a plan.
"I'll be doing what I do every year, which is have every piece of technology that I own turned into different channels to watch as much golf as I can," she said. "I'll cheer for my friends and hope to see some great golf."
But no matter how many years she watches, and no matter how much times passes, April 2019 will forever be a benchmark in her career and in her life.
"I think there is a definite before and after," Fassi said in a reflective tone. "There is before that week (in Augusta) and after that week. I keep finding out as more time goes by how life-changing that week was for me and for everyone out there watching."
Then, after a pause, she said, "I'm incredibly grateful to have had the opportunity to play. I'm so grateful for the chance to compete the way we did."