In 2004, Karen Stupples won the AIG Women's British Open, becoming only the third English player behind Laura Davies and Alison Nichols to win a major on Tour.
Then, for 14 years, a drought, Stupples' win at Sunningdale but a memory as each major championship opportunity came and went.
That is, until Georgia Hall brought the rain.
"It was just amazing, I remember it like it was yesterday," said Hall. "Having all those crowds support me through the week, every day, especially on the weekend; it really gave me a lot of confidence. "
Not only did she have confidence on her side, but she had her dad, Wayne.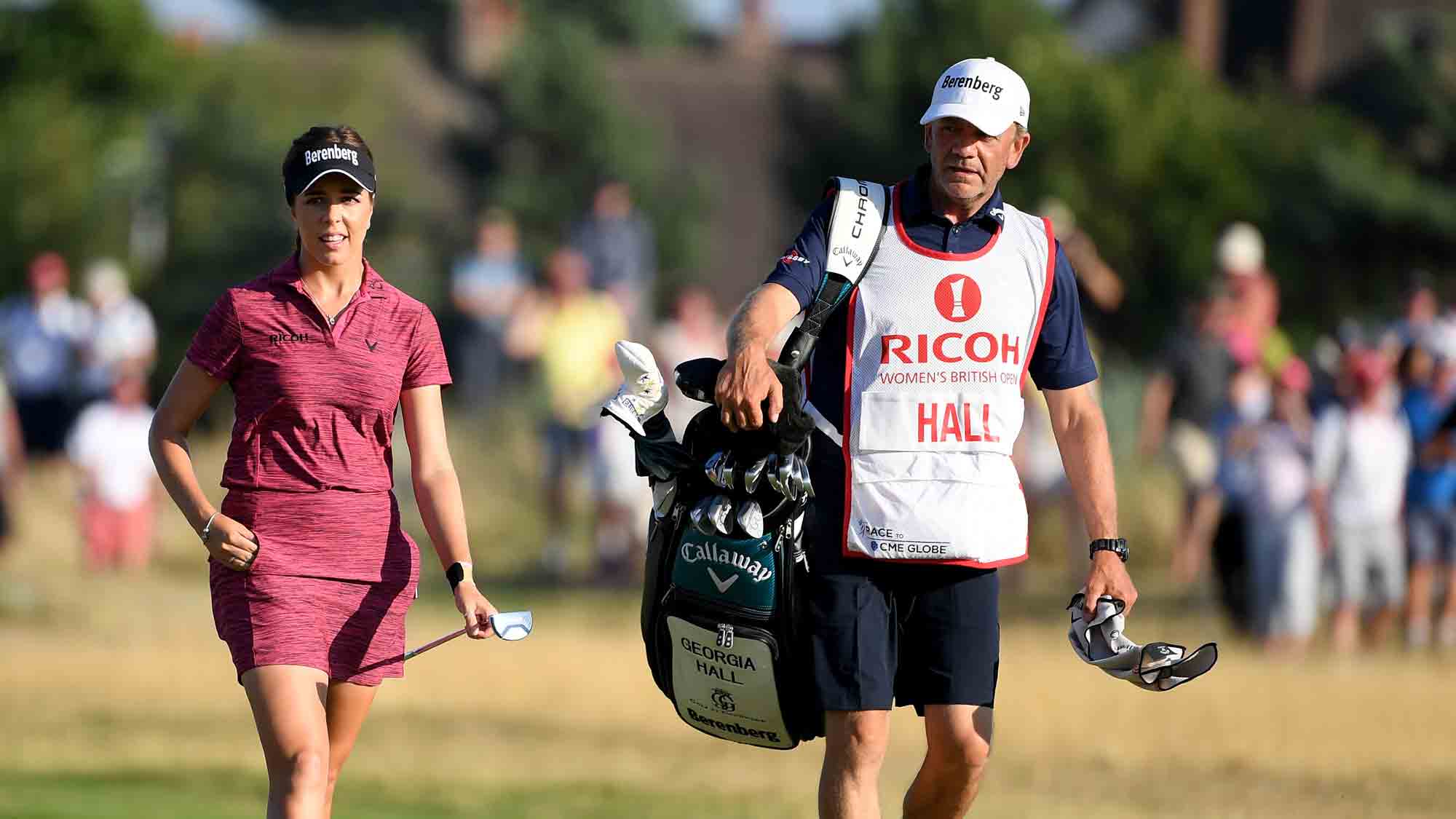 A shot behind leader at the day's start, Hall, a 2018 Tour rookie, emerged as a major champion with her dad on the bag after sinking numerous long putts in the final round of the 2018 AIG Women's British Open. Seconds after finishing on No. 18, Wayne and Georgia embraced, tears streaming down their faces, as they basked in a moment she had waited her whole life for.
"To win at home, not just in Britain but in England, where I'm from, was extra special," said Hall, a native of Bournemouth, England. "It was a bonus for me to have my family see me win my first major title."
The victory wasn't only Hall's first career major, but her first title as a fresh member of the LPGA Tour. Her coronation, with her father by her side. The man who had coached her growing up, who was more than one of her greatest companions on the course.
Soaking up the hometown-like crowd and cheers as she walked up the 18th fairway at Royal Lytham & St. Annes, fans and family admired the talented and dedicated Hall on the course. But she and Wayne only had one thing on their minds: winning.
"When you've dreamt about something since you were little, you do kind of dream about lifting the trophy," said Hall.
During a tournament that probably felt like a dream for Wayne as well, the pair didn't want to discuss nerves. Even before the final round, Georgia stated that the two stayed in separate hotel rooms, which she explained was probably best for them both.
"The night before we could really be separate, and he was probably talking to my mom all night so that the next day he could really keep that away from me," laughed Georgia. "I'm sure on the last few holes he was nervous; we never actually spoke about it while we were playing."
Reminiscing on Georgia and Wayne's win on Father's Day weekend only seems fitting. The life-long dream of family coming to fruition, after years of sacrifice and practice. To be able to hold the trophy with the help of father is a memory Georgia said she'll continue to look back on through her career and life.
"It was just an incredible week, a great golf course and a day I definitely won't forget."