In honor of the LPGA Tour's 70th Anniversary, the LPGA's Senior Manager of Statistical Research Amy Mills goes in-depth on different statistics, players and records thanks to decades of data.
There's no shot in golf more special or more relatable than the ace. It starts with a skillful swing from the tee, and no matter how the ball's struck, it finds the bottom of the cup so that the play may attest to a "1" on the card. It is a rare feat but one every player from the average weekend amateur to the No.1 player in the world knows is out there, one great shot or good hop away.
The LPGA Tour has tracked holes-in-one by players in competition over the past three decades. Within the last decade, Acer's partnership and support of the LPGA has further elevated these cherished moments for players and fans with Acer's #AcedIt campaign.
As we celebrate the LPGA Tour's 70th anniversary throughout 2020, here is a look at some of the more fascinating statistics surrounding holes-in-one on Tour.
For starters, an astonishing 620 holes-in-one have been recorded by LPGA Tour players in official events since 1992, the first year that complete data was compiled. Ten players have recorded at least five holes-in-one in official LPGA Tour events in that time, with Meg Mallon leading the way with eight aces in a span of nine seasons. Vicki Fergon, who played the LPGA Tour full time from 1977 through 2003 had 7 holes-in-one in an 11-year stretch from 1992. European Solheim Cup captain Catriona Matthew has made 6 holes-in-one along with Karrie Webb and Charlotta Sorenstam, while a couple of the Tour's active and popular players, Brittany Lincicome and Morgan Pressel, have both recorded five aces since they joined the tour in the mid-2000s.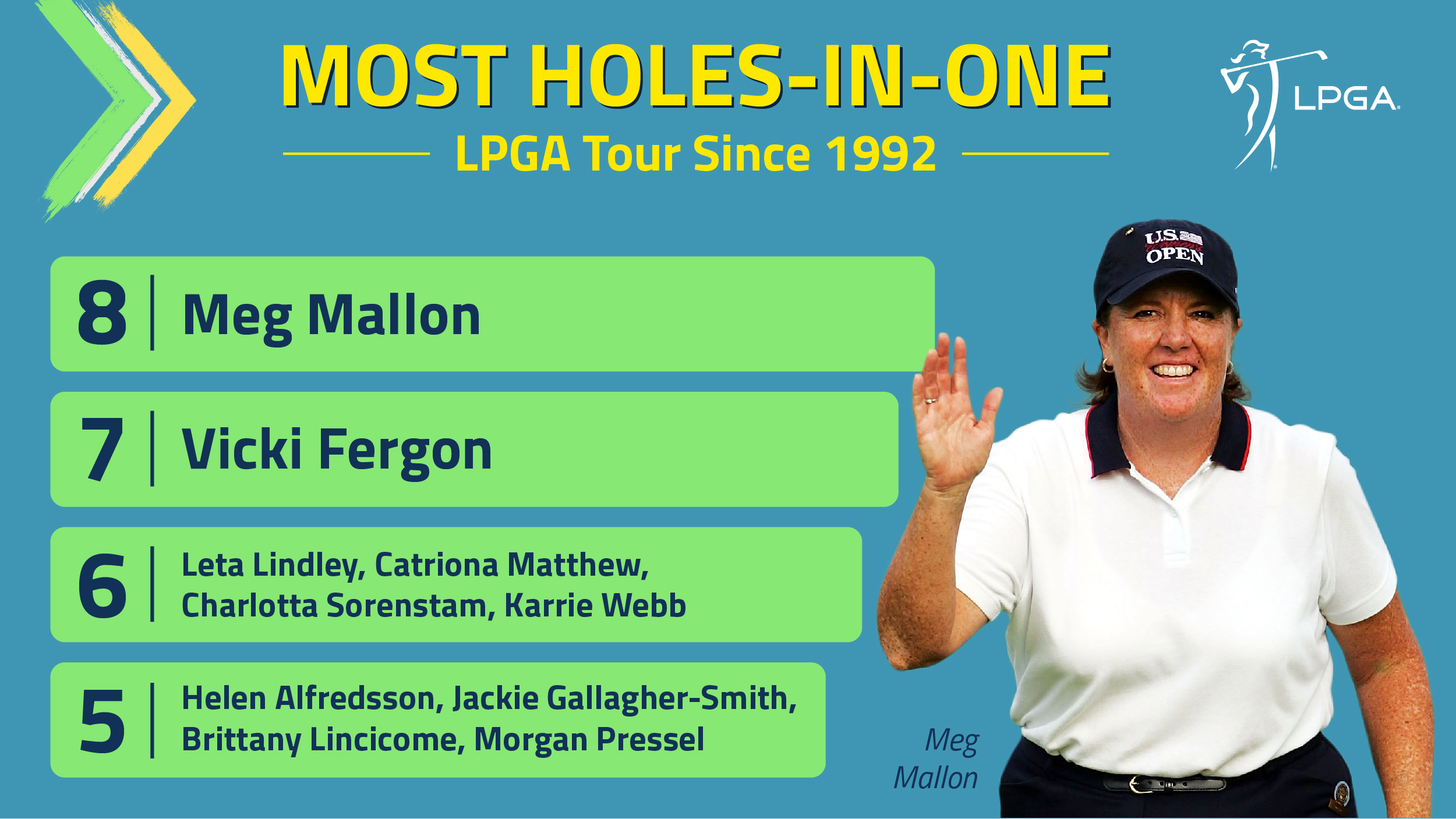 Most Holes-in-One
LPGA Tour Since 1992
Meg Mallon - 8
Vicki Fergon - 7
Leta Lindley - 6
Catriona Matthew - 6
Charlotta Sorenstam - 6
Karrie Webb - 6
Helen Alfredsson - 5
Jackie Gallagher-Smith - 5
Brittany Lincicome - 5
Morgan Pressel - 5
Five courses have seen at least 15 holes-in-one recorded. Highland Meadows Golf Club in Sylvania, Ohio, host site of the Marathon Classic, leads the way with 23 holes-in-one in competition.
Most Holes-in-One – Single Course
LPGA Tour Since 1992
Highland Meadows Golf Club, Sylvania, Ohio, Marathon Classic - 23
Corning Country Club, Corning, New York, Corning Classic - 19
Columbia Edgewater Country Club, Portland, Oregon, Cambia Portland Classic - 15
Dinah Shore Tournament Course, Mission Hills Country Club, Rancho Mirage, Calif., ANA Inspiration - 15
Tres Marias Residential Golf Club, Michoacan, Mexico, Tres Marias Championship - 15
Most Holes-in-One – Tournament
LPGA Tour Since 1992
Marathon LPGA Classic - 23
Cambia Portland Classic - 22
CP Women's Open - 21
ShopRite LPGA Classic - 21
LPGA Corning Classic - 19
There have been eight aces on the par-3 sixth hole at Highland Meadows Golf Club, the most on a single hole on the LPGA Tour since 1992.
Tammie Green and Natalie Gulbis have both recorded two holes-in-one on the same hole of an LPGA Tour event - Green on the par-3 eighth hole at Meridian Valley Country Club during the second round of the 1993 and 1996 Safeco Classic, and Gulbis on the par-3 second hole at Columbia Edgewater Country Club in the 2004 and 2013 Safeway Classic.
The hottest season for holes-in-one was 1999 when 37 were recorded. The most at a single event occurred that year as well, with six holes-in-one at the 1999 Mercury Titleholders Championship.
In 2019, four holes-in-ones were recorded on the par-3 15th hole during the first round of the Meijer LPGA Classic for Simply Give, marking the most holes-in-one in a single round on the LPGA Tour since 1992.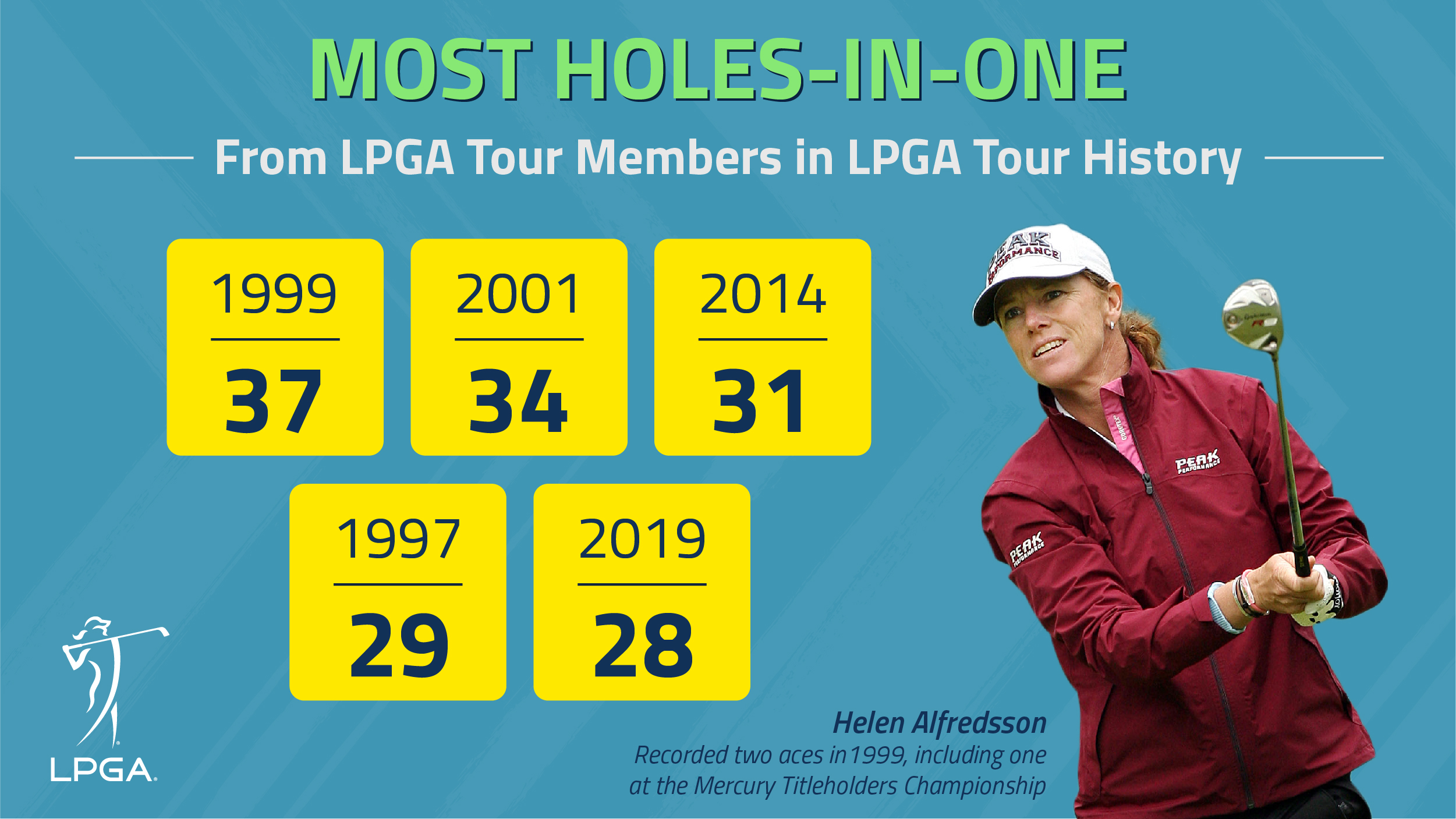 Most Holes-in-One by LPGA Tour Members
LPGA Tour History
1999 - 37
2001 - 34
2014 - 31
1997 - 29
2019 - 28
In 2013, Acer became a tournament sponsor of the ShopRite LPGA Classic presented by Acer. There have been 12 holes-in-one recorded on the Bay Course at Seaview, A Dolce Hotel located in Galloway, New Jersey.
During the 2018 event, four holes-in-one were recorded with one on the par-3 17th hole in each round played. The average distance on No. 17 was 103 yards, and players used either a pitching wedge or 54-degree wedge to hit their shot from the tee.
Holes-in-One at Seaview
2018 ShopRite LPGA Classic
Round/Hole
Vicky Hurst 1st round, No. 17
Samantha Troyanovich 1st round, No. 7
Daniela Darquea 2nd round, No. 17
Marina Alex 3rd round, No. 17
Aces on Tour have now been made even more special, with those recorded giving back in more ways than one. CME Group has partnered with the LPGA on a season-long charity program for several years, and since 2019, CME Group has donated $20,000 for every hole-in-one on the LPGA Tour as part of the CME Group Cares Challenge – Score 1 for St. Jude.
Last year, a total of 32 aces were recorded by LPGA members and non-members for a $640,000 donation to St. Jude Children's Research Hospital. Proceeds from the program help to ensure that families never receive a bill from St. Jude for treatment, travel, housing or food. CME Group's commitment has provided an additional $80,000 to St. Jude in 2020 with a hole-in-one recorded at each event played.
Through the #Score1ForStJude program, @CMEGroup donated $20,000 to @StJude for every ace made during the 2019 @LPGA Tour season.@CMEGroup donated a total of $640,00 to @StJude this season 👏

Learn more about the impact of @CMEGroup's donation and #Score1ForStJude 👇#DriveOn pic.twitter.com/vrctBPJDgz

— LPGA (@LPGA) November 25, 2019
Through the first four events of the 2020 @LPGA Tour season, four players have recorded an ace: @melreidgolf, @jingyan2803, @celineboutier & @LaurenSteph1.

Translating to $80,000 donated to the @CMEGroup Cares Challenge - Score 1 for @StJude. pic.twitter.com/QFcbs8jsPY

— LPGA Media (@LPGAMedia) March 2, 2020