She bristles at the word "spotlight," even though she doesn't shy away from standing in it, literally or figuratively. Maria Fassi loves being a shining example, a shining role model for female athletes, girls in golf, and for all people in her home country of Mexico where she is one of the most popular figures in sport. But "spotlight" connotes celebrity, at least in her mind. And Fassi isn't out here for the fame.

"As a Mexican, following in the footsteps of Lorena Ochoa is such a big task," the 22-year-old from the state of Hidalgo said. "But it's also a great thing to shoot for. Lorena inspired me and so many others to work hard and chase our dreams. Having her as a role model, not just as a golfer but as a person, has been amazing and has inspired me to want to be that same kind of influence for somebody else. So, I try to be involved in Mexico. Every time I go home, I try to play with the upcoming juniors and keep in touch with them. I think it's cool to find someone who has come ahead of you, someone to talk to and guide you a little bit."

A long-hitting second-year LPGA Tour player with the charisma of a movie star, Fassi hasn't had the 16-month journey into the professional ranks that she expected. After deferring her professional debut until last year's U.S. Women's Open so that she could complete her education at the University of Arkansas – and, in the process, win an NCAA individual championship – Fassi missed seven straight LPGA Tour cuts from late June through the end of September. Then COVID-19 hit and she was forced to spend time reexamining her game.

"I've grown tremendously, even from the beginning of the year until now, even though we didn't have as many playing opportunities as we would have liked," Fassi said. "My game is moving in the right direction. I've had a lot of time to go through both the technical and mental aspects of my game and I've been able to go deep on numerous aspects and really gain a lot of confidence. I'm a lot more comfortable now. Sure, there is still a lot for me to learn. But I think I am a completely different person and a different player than I was when I first came (on the LPGA Tour)."

That work is starting to show. She finished tied for ninth at the Marathon Classic and was one off-kilter Saturday away from contenting for the title. Then she returned to her college home and had a tie for 15th at the Walmart Northwest Arkansas Championship presented by P&G.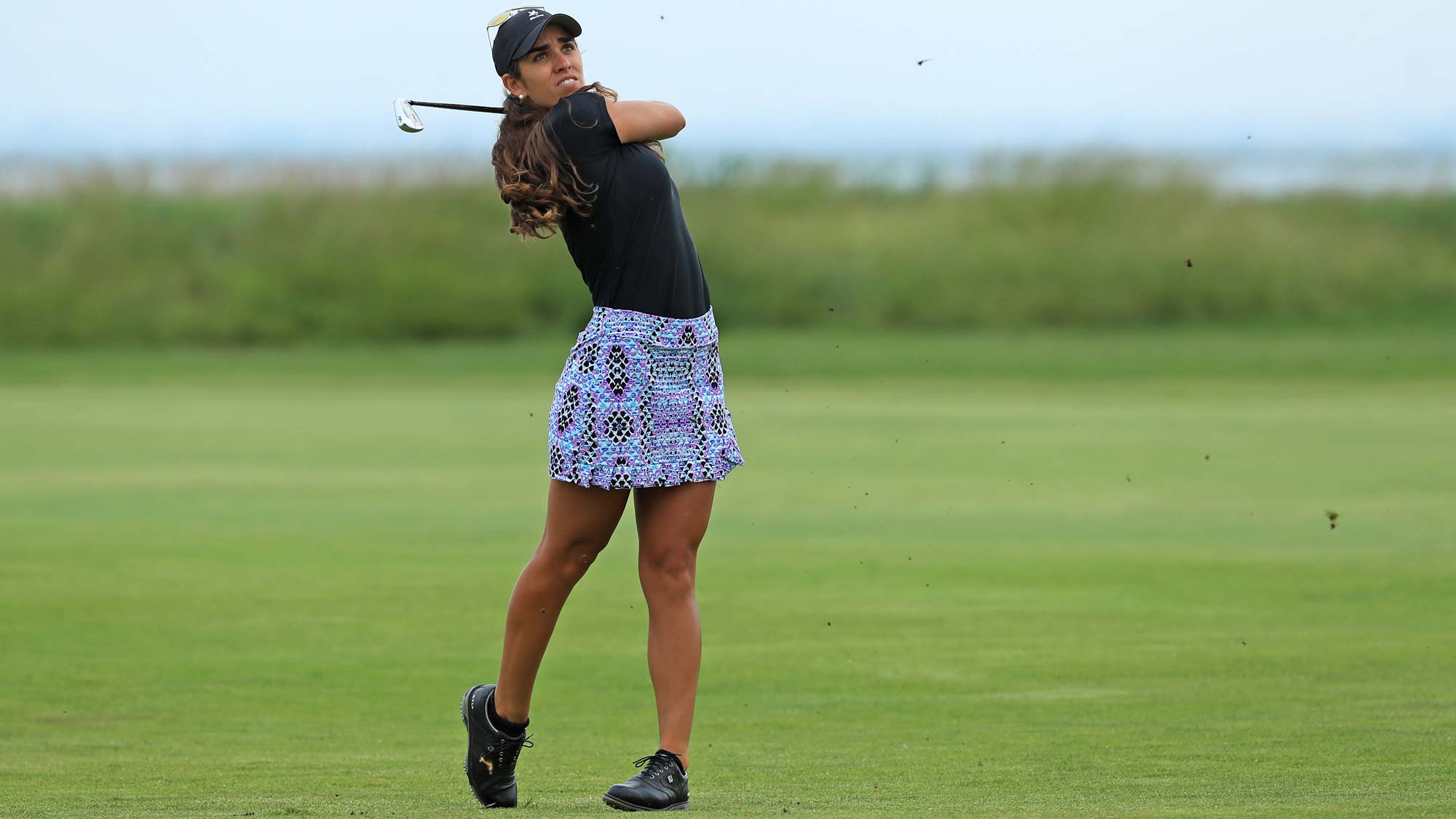 But it is the role and responsibility she inherited from a legend that drives Fassi. "I still follow in the footsteps of Lorena and try to leave my own footprints for others so that they know they have my support," she said.

"I've always been comfortable having people look at me and look up to me. I'm from a very small town in Mexico and I was one of the first people to come to the U.S. with a scholarship to play golf. Not a lot of people there play golf, so from the time I was young, people have followed me and stopped me to talk about what I am doing. Even though it was on a smaller scale, I think I've been practicing that aspect of my life and career for a long time."

She is also advancing the truth that golfers are extraordinary athletes. When you walk past her, you realize that Fassi could pass for a swimmer or a tennis champion or a volleyball player, all of which she was growing up in Central Mexico.

"I played so many sports growing up," she said. "My family is very athletic. Soccer was a big sport in our house. I swam, played tennis, did volleyball and also ran track, pretty much anything competitive, I did it. But golf presented a challenge that no other sport had presented before.

"Yes, I love the team environment, but golf has something that other sports don't. It's a competition with yourself. You are always trying to beat your score from the previous day. You can always improve. The challenge of getting better every day captivated me."

No matter what sport she played or professional path she chose, you get the sense that Fassi was destined to be a champion and a leader.

"Being a role model is a cool thing and, yes, it's a huge responsibility," she said. "I don't like the word 'spotlight,' but I really do enjoy being an example for people, especially little girls, who want to play golf and want to pursue their dreams.

"Hopefully I can be the example that they want me to be."