Players speak often about "the zone" or some variation of it. You hear them say they were "feeling it" or that they were "in the right place" after a good round or a solid week. What fans sometimes miss is the fact that this goes beyond the golf swing. The zone is how you walk, how you breathe, how you think and what you feel. It's the confidence to know you are good enough to hit the right shots at the right time, no matter who is climbing the leaderboard behind you. It is the ability to embrace the discomfort of a lead, to stare pressure in the face and execute anyway.
Sei Young Kim has all of that and more. From her rookie year onward, she has gotten better as the stage has grown bigger. From her first win in the Bahamas, to her second win in Hawaii that required a chip-in and a hole-out, to the all-time LPGA scoring record she set at Thornberry Creek, to the 22-footer she made at Tiburon in Naples to capture the richest prize in women's golf at the CME Group Tour Championship, Kim's zone seems to expand with the size of the moment.
That brings us to the KPMG Women's PGA Championship. Kim arrived at Aronimink in suburban Philadelphia for this 2020 major championship with 10 LPGA Tour wins, making her the winningest player in the women's game without a major title. The pressure was on. But you would have never known it by listening to her.
"I just want to take each shot one at a time and just keep focus and the results will follow," Kim said at the time. "Coming into this course, the first feeling I had was it was a long course. But I was confident with my long-iron game, so I knew I was going to play well knowing that I had confidence.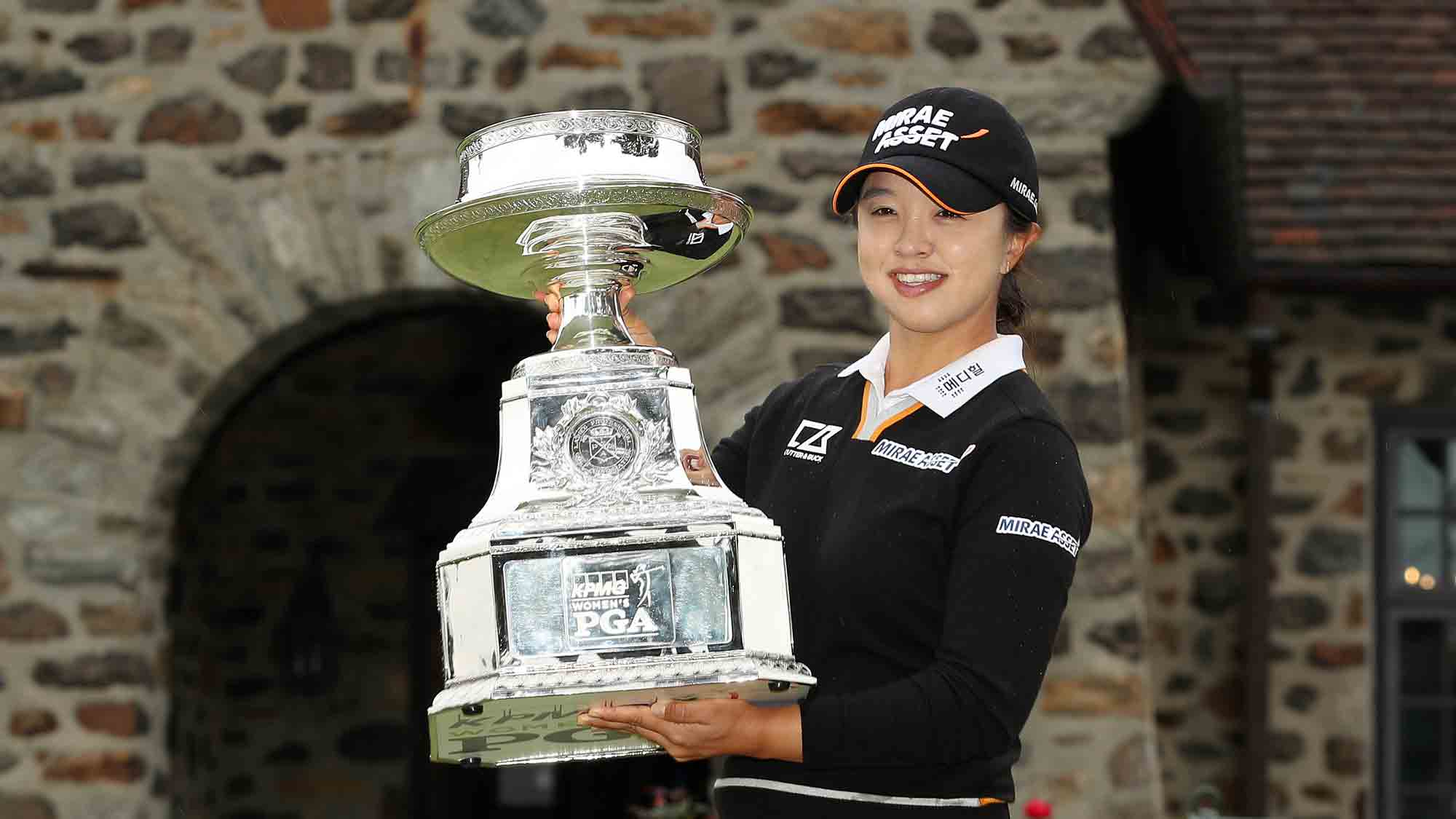 She has been home in Korea since the win but is heading back to the U.S. to play in the Pelican Women's Championship. Because of quarantine restrictions, she wasn't able to celebrate her major victory in the way she would like. But reflecting on it, she had to be happy with the process that led to the win.
"When I'm home not playing, I do a lot of image training," she said. "I just try to keep composed. I guess that's turned into good results. I'm just going to stick to my routine."
"I can look at her and tell where she is," said Paul Fusco, the caddy who has been on Kim's bag since her first LPGA Tour event. "And when I looked at her (at the KPMG), she was right there, right where she needed to be."
Fusco didn't say the word "zone" but that is exactly what he meant.
"She's been working on knowing and believing that her game is good enough and that playing her game is good enough to win anywhere," he said. "At Aronimink, she knew what he had to do, she knew what she wanted to do and she did it, to the point where she didn't ask me much, which was great. I kept telling her, 'You're self-sufficient. You need me a little but not a lot. I give you the information, but you need to process it. The decision needs to be yours.' And she did that. I'd give her a number and she grabbed the club and went. And putting, where we always work together, she might have asked me twice all that week to step in on putting. She knows what she's doing."
Like all players, Kim tried to say that she treats majors like every event, sticking to the process, working on the routine. But that is self-talk that no one believes. And Kim admitted her win. "It was a major that I really wanted," she said. "I'm so very excited and happy that I got it done."
It wasn't easy. Despite rounds of 71-65-67 and a front-nine 32 on Sunday, Kim found herself fending off a charge from LPGA Hall of Famer Inbee Park. "I knew that Inbee was going to play great, but I had to just focus on my game, one shot at a time."
"We saw scoreboards," Fusco said. "We knew where Inbee was. She was making birdies but (Sei Young) was making birdies behind her, too, so we were always two or three (shots) ahead."
Kim shot 63, and according to Fusco, "She didn't miss a shot. She missed the green on 7, but she chipped it to like a foot and got up and down. That round reminded me of Johnny Miller at Oakmont, that final round. It was as close to perfect as you can get."
Miller shot 63 at the 1973 U.S. Open to win but he didn't start Sunday in the lead and, in fact, finished long before the final group. Kim did.
As Kim walked up to the final green on Sunday, victory in hand, Fusco put his arm around her, congratulated her and said, "You did what you set out to do. You did everything you've been working on."
Kim smiled and said, "Yeah. Now, I want to play like this every week."
"I feel the pressure every week but especially in a major championship," she admitted immediately after the win. "I've felt pressure every time I've played in one, and I feel it in the players' eyes when I come to a major championship. Everybody is really eager to win this one. So again, it's nice to get it done."