Like many companies in the midst of COVID-19, SParms (Sun Protection arm sleeves), an Australian sun protection apparel company was facing a crisis in the wake of the pandemic. The company was faced with the decision to pack up and close for an indefinite period of time or contribute to the societal need for help.
SParms chose the latter.
SParms, a brand whose core vision is to influence society on a more sustainable and "protective" apparel choice felt compelled to do something to help ease the burden of the shortage of face masks by designing and manufacturing face masks for everyday wear.
These face coverings, made solely for appropriate daily use and precautionary measures, were an innovative aid to a global situation. Mimi Lee, the director of SParms said it took about six weeks, from design to creation, to launch their first face mask. And in the decision to start creating masks, SParms wanted to center their launch and campaign around enabling the community to share and donate masks around the world by making a good quality face mask at the most affordable price point.
Early June, SParms launched the Mask Share Program as a charitable component during the global coronavirus crisis. The masks for sale are not only half off during the month of June, but customers can also choose to donate masks to different charities through the company's website, with SParms then matching the number of donated masks.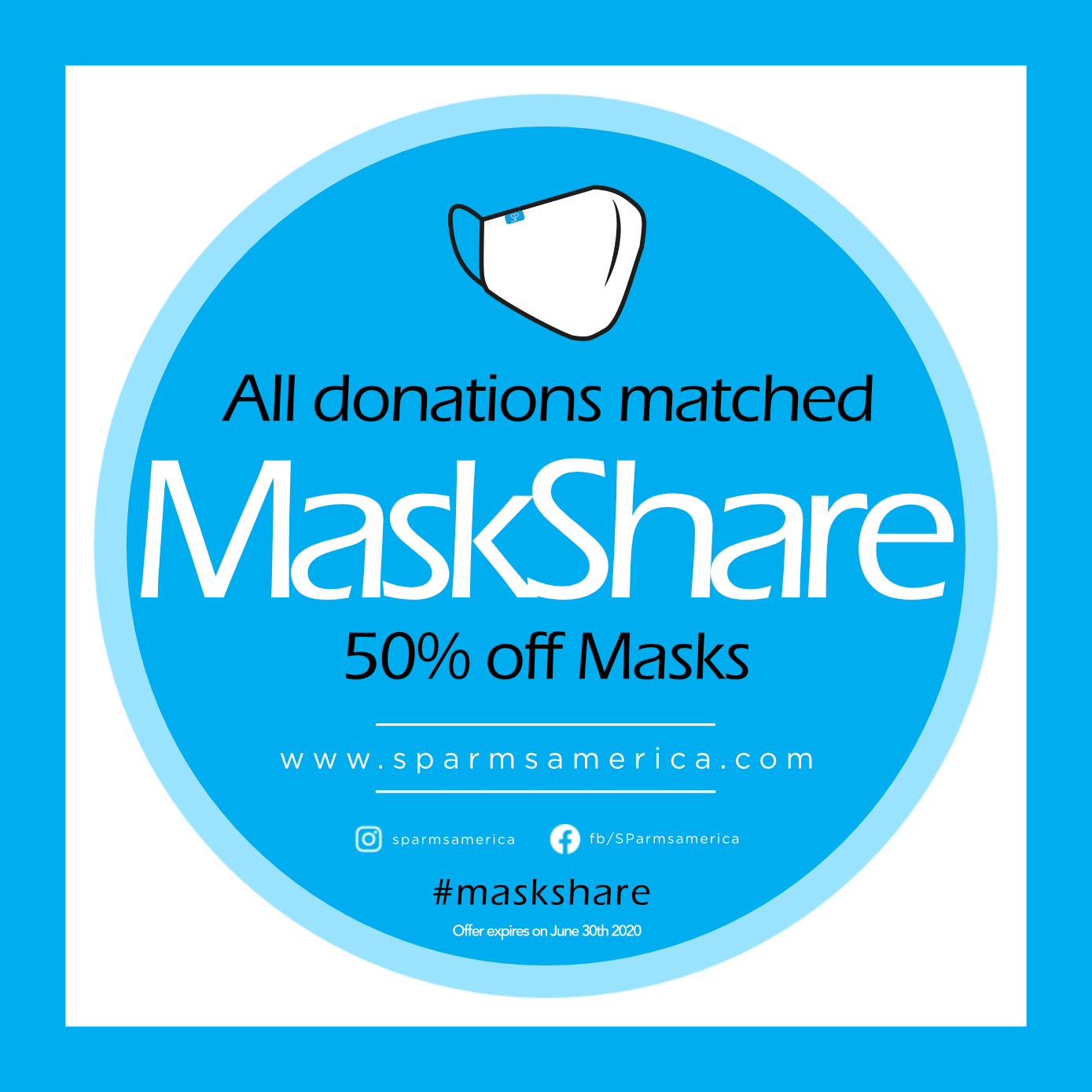 Lee said in order to spread word of the campaign, she reached out to her LPGA Tour player friends and ambassadors, to an overwhelming answer. "The response was simply incredibly positive. Everyone wanted to help," she said. "So many LPGA professionals have contributed to the campaign, and are donating masks to their respective charities."
Players with specific assigned charities include Amy Olson, Brittany Lincicome, Sandra Gal, and Cheyenne Knight. Olson recently delivered her first shipment of donated masks from the campaign to her charity of choice, the New Life Center, a homeless shelter in Fargo, North Dakota that has programs dedicated to providing people with a second chance through meals, safe shelter and a variety of opportunities.
Thank you so much for including me in this 💗. I think it's so wonderful. https://t.co/RWQqBJpl9f pic.twitter.com/zUZt0Kzaej

— Brittany Lincicome (@Brittany1golf) May 25, 2020
Many other players have also contributed to the campaign, appearing with their masks on social media. There were even supporters from overseas, including Ayako Uhera from Japan, making donations to support her fellow LPGA friends.
Two players particularly passionate about SParms' Mask Share Program's mission are Angel Yin and Lizette Salas. The U.S. duo teamed up to support the program, spending hours of their own time to create educational content for the general public on the masks and the donation campaign. Yin and Salas both agreed they saw the program as a wonderful way to give back to those who need it most.
"Not everyone has the luxury to be able to have masks to use and we heard about this project," said Yin. "We really want to help out. We both have our own stories and reasons why we want to help."
"They have truly been inspiring to work with and it's been an incredibly humbling experience for us as a business to be able to create something so quickly with two very able and reputable golfers," said Lee. "From this experience we realized how our top golfers are not only excellent athletes but truly hard working and forward thinking, passionate individuals striving for excellence in everything they do and support. Their passion for success in whatever it is they do, is truly admirable."
Yin and Salas' selected the Downtown Women's Center as their charity of choice for the Mask Share Program, a decision the women did not take lightly.
"We were looking through several organizations, and Angel and I came to agreement on the Women's Center because it's the only organization in L.A. that distinctively is for women and helping them and who have experienced homelessness, who have come from unstable backgrounds," said Salas. "As female athletes, our goal is to not only to empower women to pick up the game or that are playing golf, but people in our community."
The Downtown Women's Center works to assist women and their families by providing a safe environment with services like shelter, meals, and therapy in the Los Angeles community. Like Olson, Yin and Salas were also able to drop off their first shipment of donated SParms masks to the Center in person. Though they couldn't tour the facility due to COVID-19 precautions, Yin and Salas said it was still an eye-opening and humbling experience, thanks to their charitable efforts.
First mask donation drop off done ✅ thank you to @LizetteSalas5 and @angelyinlol leading the way!! Another delivery coming shortly @DWCweb. If you would like to participate with Angel and Lizette - go to https://t.co/Qvq4H817ai to make your donations! pic.twitter.com/noVBeeEcA0

— SParms (sun protection arm) sleeves (@SParms_Official) June 2, 2020
"We hope with this (donation), they'll be able to give out masks to these women who are limited in resources," said Yin.
The two LPGA Tour players are also teaming up with Jaback Group, to participate in a competitive challenge match, against Alex Cotraviwat and Cyrus Wu. Jaback Group will be matching the amount of donated masks made by Salas and Yin towards the Downtown Women's Center.
"There are many different ways people can help. We're trying to create awareness. We're trying to set the example for others to follow our lead and help, not only through our organization, but in their communities," said Salas. "Anything and everything goes a long way."