Amateurs Rose Zhang and Gabriela Ruffels are certainly making the most of their exemptions into the 2020 ANA Inspiration. Zhang, who won last month's U.S. Women's Amateur over Ruffels, holed out from 150 yards for eagle at the par-4 fourth on Saturday and heads to the final round at -8 overall, tied for seventh.
"I'm super satisfied with how I played. Starting in the front, I wasn't exactly hitting the ball where I wanted to, so I had to make a lot of clutch par putts," said Zhang, who tied for 60th in the 2018 ANA Inspiration after winning the ANA Junior Inspiration. "After the eagle hole-out, which I didn't expect, I started getting a little bit of momentum and overall, I'm just super satisfied with how I played."
Ruffels captured the 2019 U.S. Women's Amateur title and came so close to successfully defending before falling to Zhang. The University of Southern California senior, who heads to Sunday's final round in a tie for 14th at -6, knows that she's showed her best at the amateur level, and now this is her chance to learn so much more playing alongside the world's best professionals.
"It was a great experience at the U.S. Am, all the pressure and expectation, and I handled it pretty well," said Ruffels, who hails from Australia but currently lives just 20 miles from Mission Hills in Indian Wells, Calif. "This is a different stage, best in the world out here, so it's just a great experience and I'm always trying to learn as much as I can."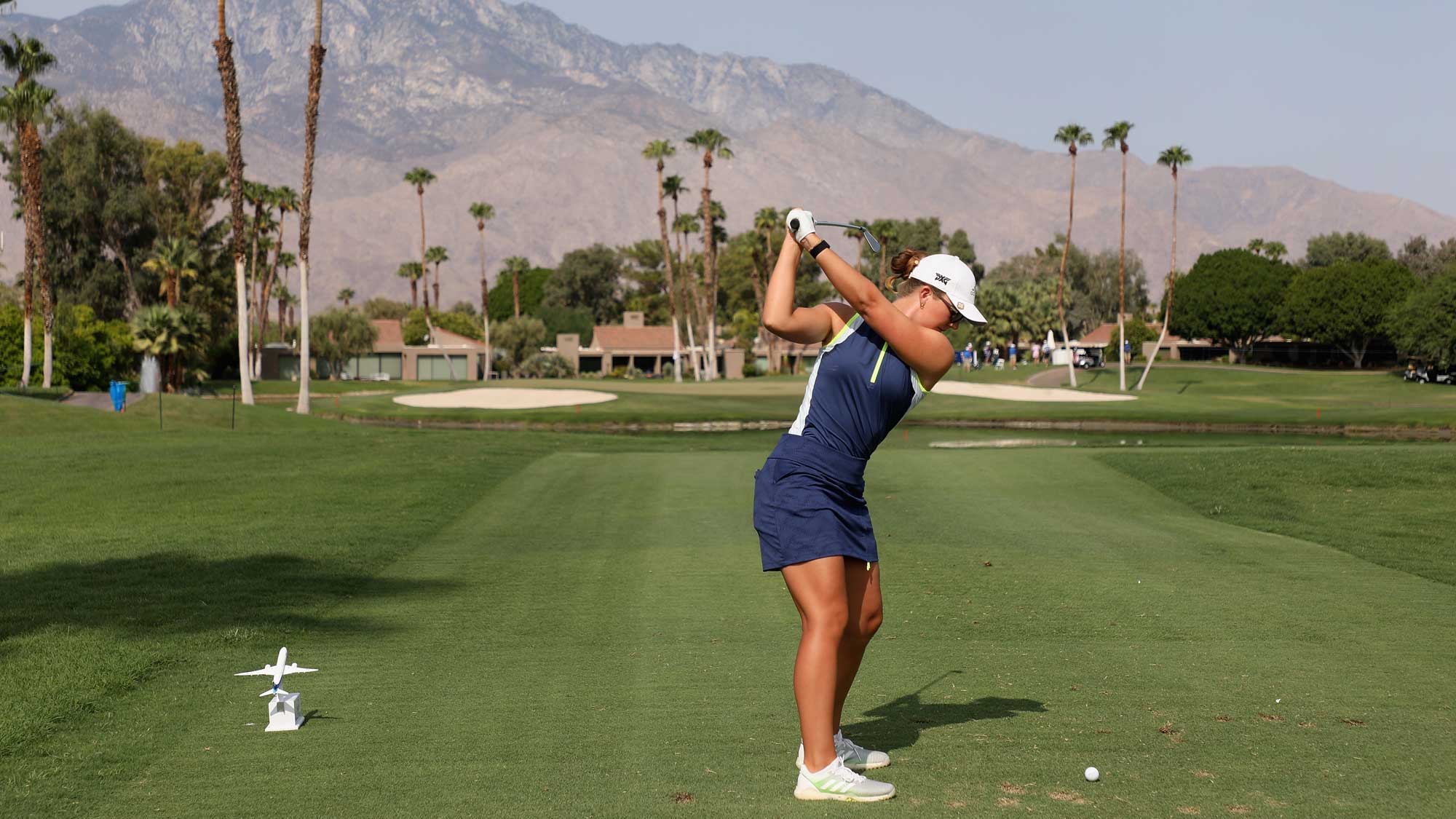 ACE FOR LINNEA STROM
Linnea Strom made the sixth hole-in-one of the 2020 LPGA Tour season, acing the 161-yard eighth hole with an 8-iron.
"I had just had (a double bogey) and a bogey and my caddie just told me, okay, let's restart and start over," said Strom. "I was just trying to hit a good shot and it was actually a perfect shot. Hit it right at the pin and just landed a little short of it and rolled in. I couldn't see it. But Cristie (Kerr) saw it, she said it went in, so that was nice."
For that ace, CME Group will donate $20,000 to St. Jude Children's Research Hospital, which is leading the way the world understands, treats and defeats childhood cancer and other life-threatening diseases. The 2020 season has now seen six aces, for a total of $120,000 donated to St. Jude Children's Research Hospital.
"That was actually the first thing I thought of when I made a hole-in-one. I was like, oh, my God, I'm going to raise some money," said Strom. "So that's very nice, and obviously feels very good to do something good for them."
Strom ultimately shot an even-par 72 on the day and is tied for 28th at -3.
PLAYER NOTES
Rolex Rankings No. 9 Brooke Henderson (68-71-65)
Her 54-hole 204 is her lowest 54-hole score at the ANA Inspiration; her previous best was 214 in 2019, when she ultimately tied for 17th
She hit 10 of 14 fairways and 14 of 18 greens, with 26 putts
This is Henderson's sixth season on the LPGA Tour; she has nine career victories, including a major win at the 2016 KPMG Women's PGA Championship, and has won twice for the last four consecutive seasons
This is Henderson's fifth event of the 2020 LPGA Tour season; her best finish is a tie for fourth at the Diamond Resorts Tournament of Champions
This is Henderson's sixth appearance in the ANA Inspiration; her best finish is a tie for 10th in 2016, and she has never missed the cut
Became the winningest Canadian golfer in the history of the LPGA and PGA Tours with her ninth career win, coming at the Meijer LPGA Classic for Simply Give
Represented Canada in the 2016 Summer Olympics in Brazil, finishing T7
Thursday, Sept. 10, was her 23rd birthday
Rolex Rankings No. 3 Nelly Korda (66-67-71)
She hit 11 of 14 fairways and 15 of 18 greens, with 32 putts
This is Korda's fourth season on the LPGA Tour; she has three career victories, most recently at the 2019 Taiwan Swinging Skirts LPGA
This is Korda's eighth event of the 2020 LPGA Tour season; her best finish is a tie for third at the Walmart NW Arkansas Championship
This is Korda's sixth appearance at the ANA Inspiration; her best finish is a tie for 13th in 2018
A member of the 2019 U.S. Solheim Cup Team, posting a 3-0-1 record
With sister Jessica, is one of three sister duos to both win on the LPGA Tour, along with the Jutanugarns and the Sorenstam
Nelly and Jessica's parents, Petr Korda and Regina Rajchrtová, were both international tennis stars and younger brother, Sebastian, is a professional tennis player
Rolex Rankings No. 101 Katherine Kirk (72-67-67)
Her second- and third-round 67s are her best career rounds at the ANA Inspiration; her previous best was 68 in the second round in 2019
She hit nine of 14 fairways and 16 of 18 greens, with 30 putts
This is Kirk's 17th season on the LPGA Tour; she has three career victories, most recently at the 2017 Thornberry Creek LPGA Classic
This is Kirk's seventh of the 2020 LPGA Tour Season; her best finish is a tie for seventh at the Walmart NW Arkansas Championship presented by P&G
This is Kirk's 13th appearance in the ANA Inspiration; her best finish was a tie for eighth in 2009
A two-time member of Team Australia at the UL International Crown (2014, 2018) with a 2-3-1 overall record
Graduated from Pepperdine University with a degree in Sports Administration
Works with Betsy King's "Golf Fore Africa" charity
Rolex Rankings No. 12 Lexi Thompson (70-67-69)
She hit 10 of 14 fairways and 17 of 18 greens, with 31 putts
This is Thompson's ninth season on the LPGA Tour; she has 11 career victories, including the 2014 ANA Inspiration
This is Thompson's sixth event of the 2020 LPGA Tour Season; her best finish is a tie for seventh at the Diamond Resorts Tournament of Champions
This is Thompson's 11th appearance in the ANA Inspiration; she won in 2014 and has four other top-10 finishes
Has won an event in each of the past seven seasons, the longest active streak on the LPGA Tour
Ranked in the top 10 in several key performance categories on the 2019 LPGA Tour, ranking fourth in greens in regulation (76.06%) and fifth in average driving distance (275.96)
A four-time member of the U.S. Solheim Cup Team (2013, 2015, 2017, 2019) with a 5-4-6 overall record
Represented the United States in the 2016 Rio Olympics, finishing T19
A three-time member of Team USA at the UL International Crown (2014, 2016, 2018), posting a 7-3-1 overall record
Rolex Rankings No. 94 Mirim Lee (70-65-71)
Her 54-hole 206 her lowest 54-hole score at the ANA Inspiration; her previous best was a 213 which she has done four times
She hit nine of 14 fairways and 15 of 18 greens, with 32 putts
This is Lee's seventh season on the LPGA Tour; she has three career victories, most recently at the 2017 Kia Classic
This is Lee's third event of the 2020 LPGA Tour season; she missed the cut at the Gainbridge LPGA at Boca Rio and the Walmart NW Arkansas Championship
This is Lee's seventh appearance in the ANA Inspiration; her best finish is a tie for 11th in 2015
In 2019, finished 12th on Tour in eagles made with nine
Has three victories on the KLPGA Tour, coming at the 2013 KG-Edaily Ladies Open, 2012 Korean Women's Open and 2011 S-OIL Champions