Amy Bockerstette appears to have no idea how much she inspires. Earlier this spring, the 22-year-old LPGA*USGA Girls Golf alumna from Phoenix, Arizona became the first person with Downs Syndrome ever to compete in a collegiate championship. She is also believed to be the first student-athlete with Downs Syndrome to earn an athletic scholarship to any college or university.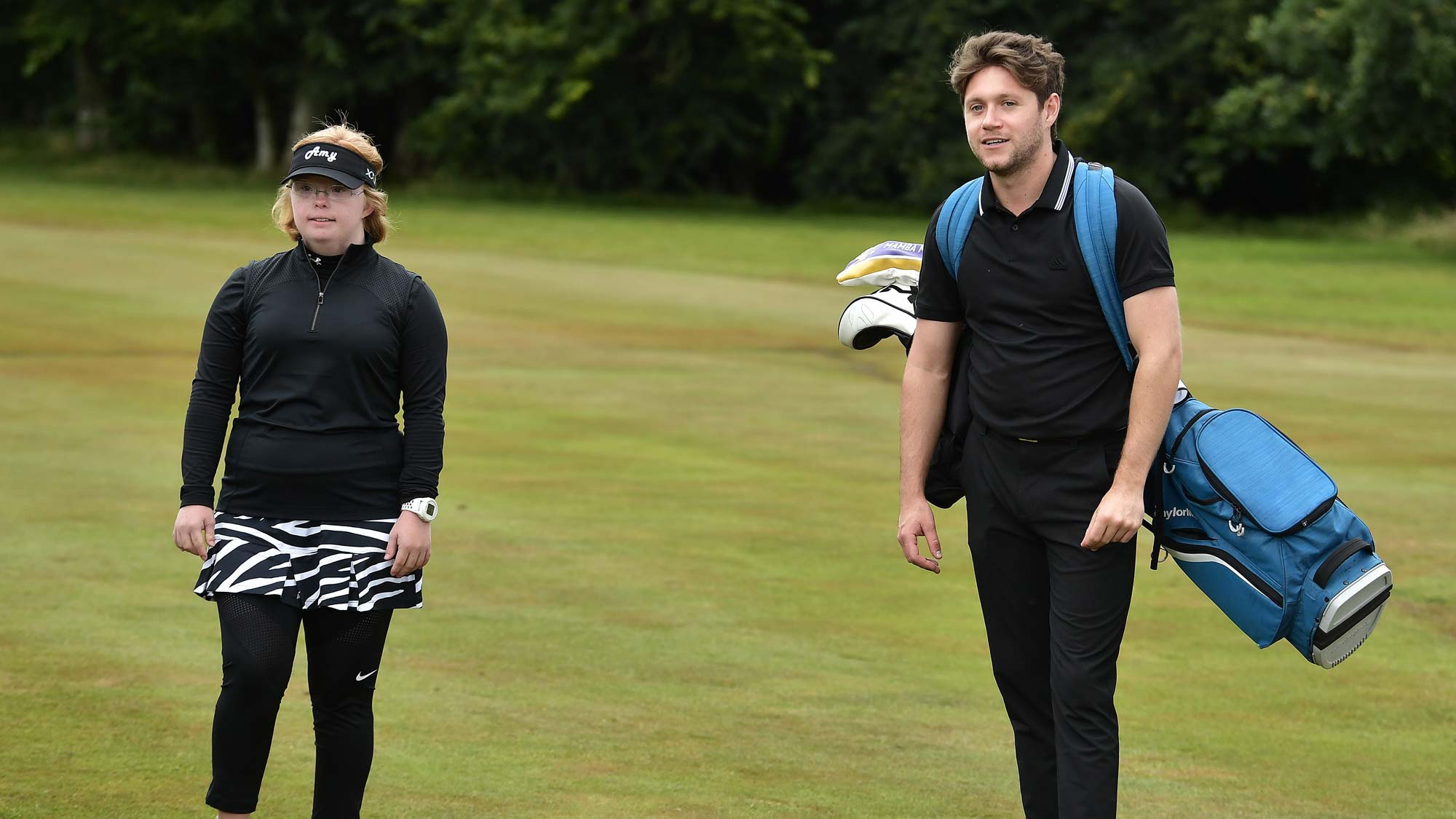 If you are unfamiliar with Amy, all of this began after she burst into the public consciousness when a video of her making par on the 16th hole at TPC Scottsdale alongside major champion Gary Woodland went viral. Since then, Amy's spirit and enthusiasm have caught the eye of national media and millions of sports fans around the world. She has been on almost every major broadcast network and her life has become a shining example of the positive influence those with special challenges provide to all of us.
The moving moments continued this week after Amy received a special invitation from one of her idols. In another viral moment, Niall Horan, a former member of the band One Direction and the founder of Modest! Golf, reached out to Amy and requested her presence at this week's ISPS Handa World Invitational.
Amy, you got this! @amygolfsndances @World_Inv_Golf #WorldInvitational pic.twitter.com/Smd0gFpkax

— The European Tour (@EuropeanTour) July 26, 2021
The Bockerstettes took Horan up on the offer and flew to Northern Ireland for the first-annual event. Amy not only got to meet Horan but played a few holes with him in the pro-am.
"Meeting Amy was brilliant," Horan said. "She was just a bundle of joy is the phrase you'd use. We've flown her over from America, and she seems to be having a great time.
"She's just superstar, and the whole -- when she went viral the first time, it was outside of golf. She kind of broke the barrier of just a golf story. It was a real sporting moment. Hopefully we can make more memories for her this week."
"I got this!"

The moment that @NiallOfficial and @LPGA-@USGA #GirlsGolf alumna @AmyGolfsNDances finally met in person at the @ISPSHanda @World_Inv_Golf 🥺💖#LittleGirlsBIGDreams pic.twitter.com/6zuJmu7d9I
— LPGA*USGA Girls Golf (@LPGAGirlsGolf) July 28, 2021
Two days Amy will never forget 💖

After meeting her hero @NiallOfficial last night, today @amygolfsndances got to play in the Pro-Am with the Tournament Ambassador.#WorldInvitational pic.twitter.com/W47TwarTXi

— The European Tour (@EuropeanTour) July 28, 2021
Pure joy 🥰@AmyGolfsNDances teeing it up with her new best friend @NiallOfficial 💖

📸: Tristan Jones/LET pic.twitter.com/miFyOKb49s

— LPGA*USGA Girls Golf (@LPGAGirlsGolf) July 28, 2021
Completing her dream week, Amy struck the opening tee shot in the ISPS Handa World Invitational, the first tri-sanctioned event between the European Tour, the Ladies European Tour and the LPGA Tour in the Northern Hemisphere.
"In 2019 when Amy made the par with Gary Woodland on the 16th hole at TPC, Niall responded on Twitter with, 'I love this.' So, Amy, being a huge Niall Horan fan, seized the moment," Amy's dad Joe Bockerstette said.
Amy's mom, Jenny, then jumped in and finished the story. "She tweeted to Niall on her account and said, 'Would you play golf with me sometime, I'm your biggest fan,' or something like that. His fans happened to see that reply on Twitter and they kept going at him: 'Niall, you've got to play with her, Niall, Niall,' and they kept re-tweeting and forwarding this to him. And he responded with, 'Yes, Amy, I would love to play golf with you sometime, I'm your biggest fan,' or something like that. So, it's been two and a half years in the making."
"He was supposed to do a U.S. Tour last year and we were hoping to see him on the Tour," Joe said. "We had some plans in the works. He was coming through Phoenix so we likely would have seen him there. Then, of course, that got canceled in March. And this event (the 2020 ISPS Handa World Invitational) got canceled.
"In the spring, in May, Amy's college team went to nationals and she got quite a bit of media attention from that and Niall's partner, Mark McDonnell, reached out to me like the week after nationals and started the dialogue about possibly coming here. It took a lot of logistics and a lot of preparation and we didn't actually finalize plans for probably two weeks ago, probably. It was very last minute before things fell into place that she could come.
"And then a week ago Monday Niall surprised Amy on Zoom with the invitation to come."
Amy beamed at the memory, just a week old and everything that has happened since. "I loved it," she said. "I loved hitting my first tee shot at the opening. I had so much fun. Also, Niall was proud of me. It was fun."
It was also another milestone for golf and another adventure in the inspirational life of Amy Bockerstette.