The eight LPGA and PGA Professionals who will be competing in the 2021 KPMG Women's PGA Championship were decided earlier this week at the PGA Women's Stroke Play Championship at PGA Golf Club in Port St. Lucie, Fla.
With last year's LPGA Professionals National Championship canceled due to COVID-19, the top eight finishers at the PGA Women's Stroke Play Championship earned spots in the third LPGA major of the year to be held June 24-27 at Atlanta Athletic Club.
Those LPGA and PGA Professionals are Sandra Changkija (LPGA/PGA) of Kissimmee, Fla.; Samantha Morrell (LPGA) of North Kingstown, R.I.; Ashley Grier (PGA) of Glen Falls, Pa.; Alisa Rodriguez (PGA) of Austin, Texas; Stephanie Connelly-Eiswerth (LPGA) of Fleming Island, Fla.; Allie Knight (PGA) of Knoxville, Tenn.; Joanna Coe (PGA) of Lutherville, Md.; and Moira Dunn-Bohls (LPGA) of Tulsa.
Changkija, an LPGA Professional and former LPGA Tour player who is also working on her PGA certification, earned top honors with a bogey-free, 3-under 69 in the final round. She began the final round with a one-shot lead and later cruising to a five-shot victory over fellow LPGA Professional Samantha Morrell. Changkija finished as the only player under par at 4-under 211.
"My goal was to hit fairways and greens, and hopefully roll in some putts, and I was able to do that," Changkija said to PGA of America. "I know my routine is a good routine and my course management helped me today.
"I've played in a couple KPMG Championships, and I think they are always good, tough courses. I've never played the Atlanta Athletic Club, but I like Georgia courses that are hilly and tree-lined."
Learn more about the four LPGA Professionals who will be competing in the 2021 KPMG Women's PGA Championship: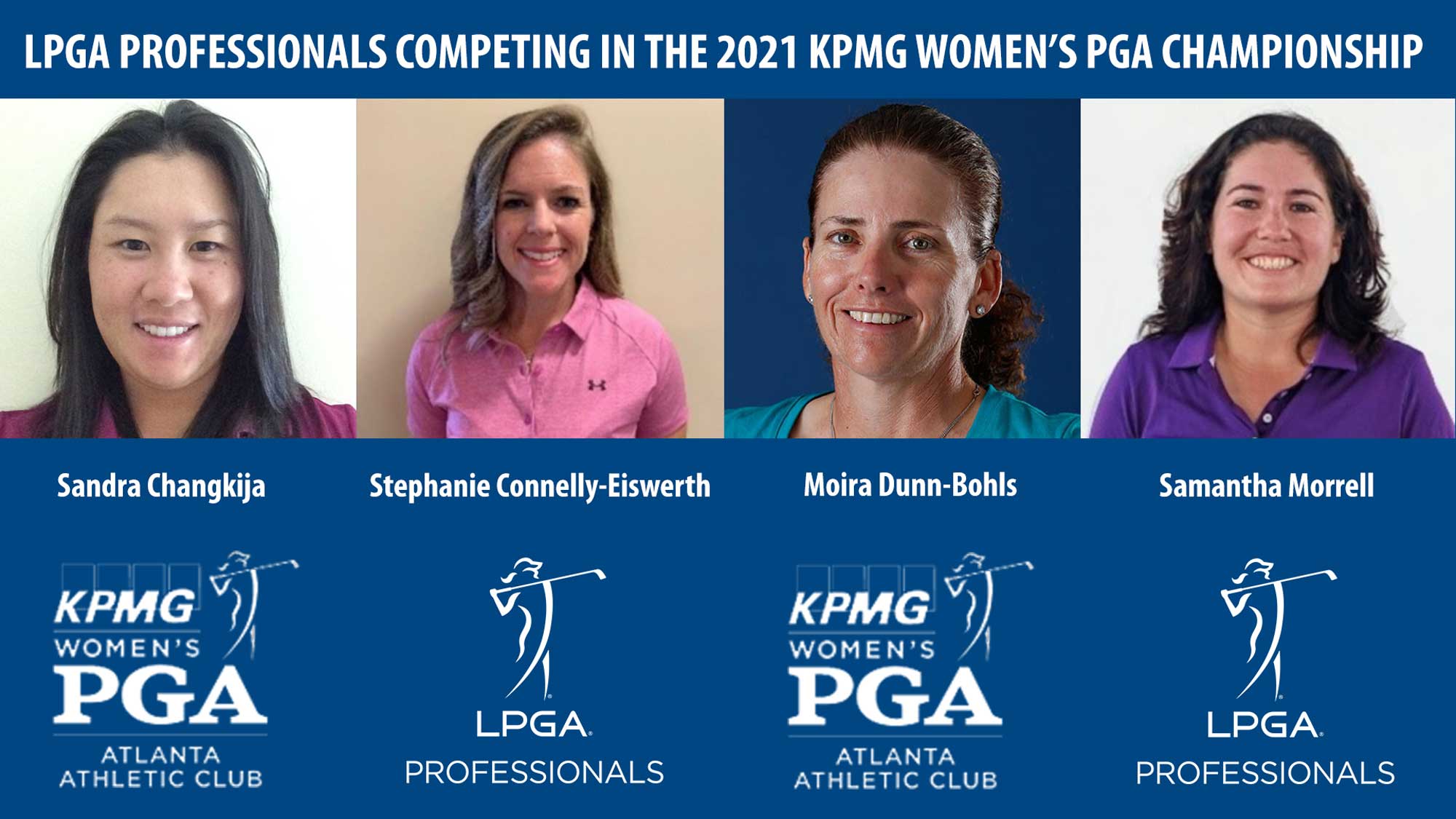 Sandra Changkija enjoyed a successful collegiate career at Nova Southeastern University, where she recorded 16 individual wins, is the only four-time NCAA Division II Player of the Year (2008-2011), a four-time Division II All-American First-Team selection (2008-2011) and was the 2010 and 2011 Sunshine State Conference Female Athlete of the Year. Changkija turned professional in 2011, competing on the Epson Tour where she finished tied for fifth at the South Shore Championship and Vidalia Championship. She qualified for the LPGA Tour on her first attempt, completing her rookie season in 2012 and recording four career top-10 finishes. Changkija is currently employed at Walt Disney World Golf operated by Arnold Palmer Golf Management as an LPGA Golf Professional. She anticipates on completing the PGA program by the end of the year.
Stephanie Connelly Eiswerth was born and raised in Pasadena, Md. and started playing golf at the age of 5. She is currently the University of North Florida Assistant Women's Golf Coach. She played professionally on the Epson Tour from 2009-2016 after playing collegiate golf, which she started at The Ohio State University and then finished her college golf career at the University of Central Florida (UCF). She had multiple top finishes on the LPGA FUTURES Tour and the Epson Tour. More recently she won the 2018 and 2019 LPGA Professionals National Championship. Eiswerth will be playing in her third straight KPMG Women's PGA Championship.
Samantha Morrell is currently teaching at The Milbrook Club in Greenwich, Conn. and the Wilderness Country Club in Naples, Fla. She graduated from Old Dominion University where she played collegiate golf. She has won the 2010 New England Women's Amateur Champion. In 2011, she won both the Rhode Island Women's Golf Association Amateur Champion and the Lady Pirate Intercollegiate Champion. Sam won the 2013 Bucknell Women's Golf Invitational Champion and in she won the 2018 MET PGA Women's Stroke Play Championship. This will be Morrell's second time competing in the KPMG Women's PGA Championship, after competing in last year's event.
Moira Dunn-Bohls had a successful amateur career, winning titles at the 1989 New York State Junior Girls Championship, the 1992-94 New York State Women's Amateur Championships and the 1992 Women's Western Amateur Championship. In addition, she was runner-up at the 1993 Doherty Championship. She was named a Second-Team All-American from 1993-94 while a member of the Florida International University golf team and was a 1993 Academic All-American. Dunn-Bohls turned professional in August 1994, qualifying for the Tour at the LPGA Final Qualifying Tournament, where she tied for 20th to earn exempt status for the 1995 LPGA season. Her LPGA Tour career spanned over two decades and included 23 career top-10 finishes, with a victory at the 2004 Giant Eagle LPGA Classic.