Ryann O'Toole sits in solo third at Gainbridge LPGA at Lake Nona Golf & Country Club at -8, thanks to the two consecutive 68s. She said it's an indicator of the grind and hard work from this past offseason and made an early goal before this week's event that turned into a stealthy prediction.
"My sponsor I'm staying with, Holiday Inn Club Vacations, he asked me, he was like, 'What do you think you need to shoot every day?' I said, 'If I could shoot 4-under every day I feel like I could give it a good run.' I checked the first day off the box, so see what tomorrow does," said O'Toole after her first round on Thursday.
Keeping true to her word, the American repeated the score on Friday and said keeping the momentum and staying patient will be keys for final two days ahead of her.
"I just went out and stuck to my same plan as yesterday. Just commit to every shot. Couple pins out there still to avoid. Kind of have to play smart and let the birdies come," said O'Toole. "I think I need to clean up the bogeys tomorrow, that will be probably my goal for tomorrow. Other than that, just trying to do fairways, greens, and stay patient."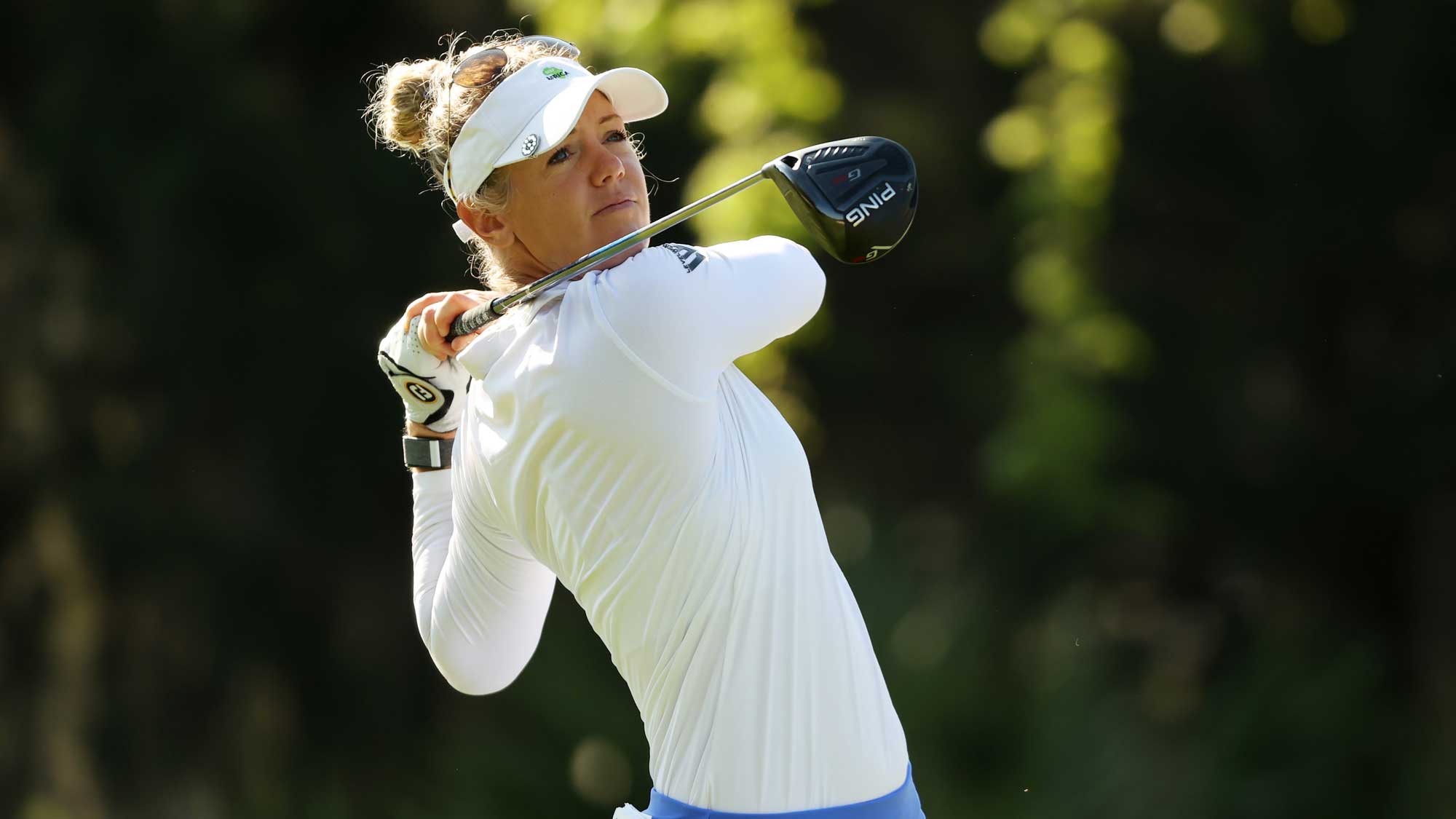 Amy Olson Seeing Eagles Off and Making Them on the Course at Gainbridge
Although Amy Olson started off her second round at Gainbridge LPGA slower than she had hoped, the North Dakota native managed to shoot a 69 to sit five strokes off the lead. What helped pick that momentum up was some luck and skill on the ninth hole, where she recorded her first eagle of 2021.
"I started really slow today. I had a bogey early and then just a ton of pars, and then having the eagle on 9 right before I made the turn, I think gave me a little bit of energy. I started giving myself a lot of opportunities," said Olson. ""I hit a really good drive off the tee. For whatever reason it sets up where I want to hit it a little further left off the tee than I should, and today I picked a line and trusted it and it got all the way to the bottom of the hill. I had 204 yards to the front of the green, little downwind. Pulled my hybrid and landed about a yard short; rolled up to about 12 feet and then rolled it in for an eagle."
Adding onto her high spirits after two additional birdies on Nos. 16 and 17 was seeing a family of bald eagles as she neared the end of her round, bringing her day full circle.
"I saw two bald eagles and two baby bald eagles in a nest. I think it was on the 16th tee, or maybe 15th tee," said Olson. "In a nest above, so started singing the National Anthem, of course."