One of five players in a tie for third after the first round of the Amundi Evian Championship at 5-under, Emily Pedersen used two eagles to shoot 66 and sit just one shot back of the lead through 18 holes.
She closed each of her nines with an eagle, the first on the par-5 9th and the second a 25-foot bomb on the par-5 18th.
"It's great to finish on a high note, and I'd say that was a high note," said Pedersen, who hit 16 greens in regulation and 11 of 13 fairways on Thursday. "My game was really solid today, and I found something in the putting that I've been struggling with for a while. I'm really happy with the day."
The four-time LET winner in 2020 pointed to a technique in her putting that truly made all the difference in round one. It's something Pedersen has changed at various times throughout her career, but the Denmark native has found a way that is comfortable and most importantly, working.
"At the beginning of the year, I was doing left below right, then I changed to right below left. Then last week, I changed back to left below right. I'm thinking that's the key," said Pedersen, who used 31 putts around Evian Resort Golf Club. "Last year, I was putting left below, and at the beginning of this year I thought I was going to change it and putted right below, then it didn't work out. Last week, I was like, let's go back to what we know and obviously it worked out really well."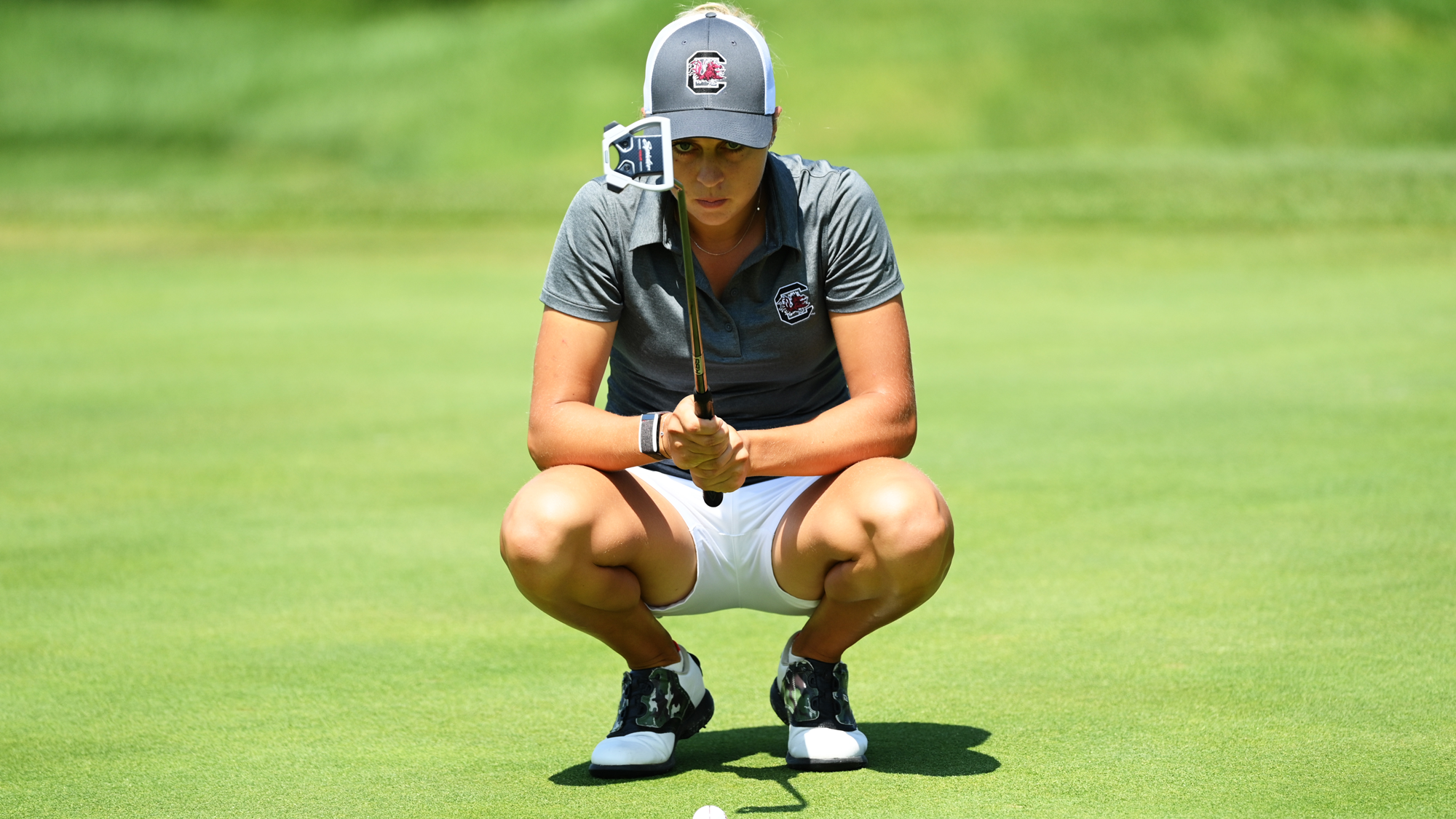 Pauline Roussin-Bouchard Preparing for the Bigger Picture
At the 2019 Amundi Evian Championship, amateur Pauline Roussin-Bouchard opened with zero birdies and an 87. Today, the Frenchwoman began her second appearance in the major with four circles on the scorecard en route to a 3-under 68.
"I tried not to pay a lot of attention to the score but the birdie on No. 2, it was my 11th hole, was pretty funny since I played to the area I wanted to be on, ended up a little long and holed a very long putt," said Roussin-Bouchard, who hit 14 greens in regulation on Thursday. "Playing in front of the French public is special, as well. It's just something I like."
It's also something she doesn't get to do very often. Roussin-Bouchard recently completed her sophomore year at the University of South Carolina, claiming four individual medalist honors along the way for the Gamecocks. She entered the week at Evian Resort Golf Club as the No. 6 player in the Women's World Amateur Golf Ranking.
Since she last competed in the Amundi Evian Championship, Roussin-Bouchard has gained a wealth of experience through several prestigious tournaments. She made the cut and finished in a tie for 46th at the 2020 U.S. Women's Open, shared third at the Augusta National Women's Amateur in April and set the SEC Championship and South Carolina 54-hole scoring record (199) to claim the 2021 title.
"I learned a lot that helped me for the U.S. Women's Open and I kept learning to be prepared for these tournaments. Also learned so much in Augusta," said Roussin-Bouchard, a native of Toulon along the southern coast of France. "It's just details and facts that I identify and then I learn from and apply.
"I really upped the way I've been practicing in South Carolina. It's a structure that I love and the way I practice, the way I get prepared for tournaments whether collegiate or a U.S. Women's Open, I'm going to practice as much as I can and the best way I can to be prepared because I have a larger picture and a further purpose. I think about that when I play."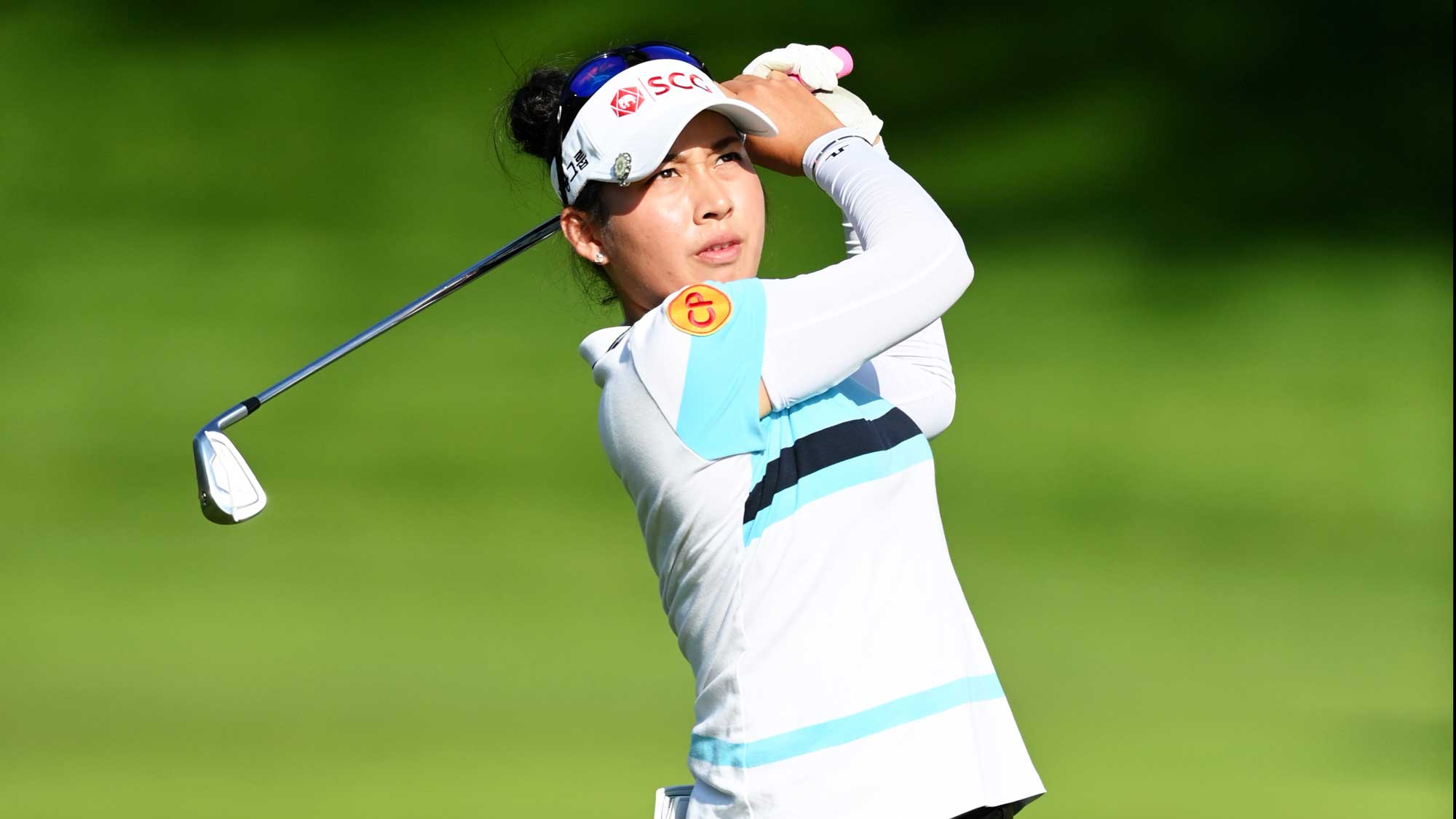 Thitikul Giving Many Reasons to Remember the Name
Atthaya Thitikul finished runner-up at the Honda LPGA Thailand in early May, one shot back of winner Ariya Jutanugarn. Last month, she won the Tipsport Czech Ladies Open, her third career victory on the Ladies European Tour (LET). Now, competing in the Amundi Evian Championship for the second time, Thitikul is one shot back of the lead in a major following an opening-round 66 at Evian Resort Golf Club.
"I think this course suits me right now," said Thitikul, who signed for a bogey-free, 5-under par in the first round. "I just take it normal and play as I played it before in practice rounds, something like that. This course, you have to find the fairway then it will be easier to get to the pin. Not really any different [from a normal event]."
The first time Thitikul played this major championship in Evian-les-Bains, France, was 2014 when the Thai sensation was just 14 years old. She finished in a tie for 64th. Thitikul has been at this week's host venue since, last month as a matter of fact when she tied for sixth in the Jabra Ladies Open.
Despite the solid finish, Thitikul notices plenty of differences in her game now that she is back on familiar turf.
"I wasn't really playing well in Jabra, but I know the course well and just where to go," Thitikul said. "I think my driver [is the strongest aspect of my game], but not before. In Jabra, my driver was the worst. I kept working on the driver a lot and I think it's my strength, the club that I like.
"It was a great opening round and before, I was not really comfortable with my putting. Today, I rolled it well and will continue to do it better."