"I had the greatest time in my life."
Simi Mehra was the first woman to put Indian golfers on the map and bring awareness of the game to a fifth of the world's population. Mehra left her homeland when she was in her early twenties to pursue the game and blaze an untouched trail, becoming the first Indian player on the LPGA Tour. Despite difficulties and roadblocks, Mehra could not describe her time on Tour better: It was, indeed, the greatest time of her life. But it was also an opportunity for her to break free of cultural expectations and examine her own life.
"I was really excited and looking forward to going because my mom was like, 'It's time for you to get married.' So, she started showing me pictures and I was like, 'Wow, I need to figure something out really fast.'"
Mehra struck a deal with her mom. If she won every amateur event she played, then Mehra could decide on what her next steps would be. She qualified for the LPGA Tour in 1996 and made her debut the following year.
"The first time it hit me was when we were at the locker room in Oahu, Hawaii," said Mehra. "I saw Nancy Lopez's locker and a couple of lockers down was my locker. We had no cell phones then. But I just looked at it, took a mental picture and I was like, wow."
Nancy Lopez was Mehra's role model. She said to her mother, "She's going to know me one day." Her mom laughed it off, but the determined golfer made it happen. Nancy Lopez, did indeed, come to know Mehra well.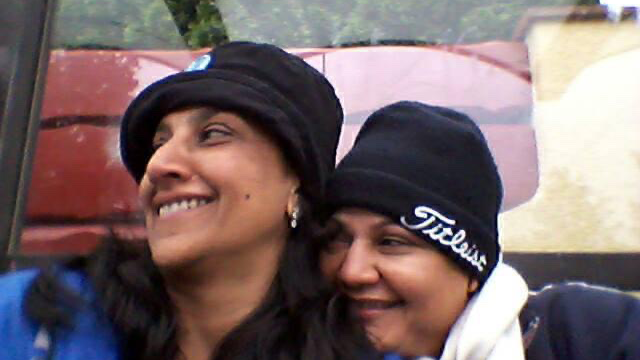 But while the Hall of Famer became one role model, another person in her life, Seema Sobti, surpassed every level of inspiration Mehra could've ever imagined.
"She's a star," said Mehra, talking about her partner Sobti. "You'll never come across someone like her. You see this tall, skinny, dainty, very sweet, smiling woman. But she's hard-core, man. She's been able to pull out some crazy stuff."
The two met when Mehra was 16.
"She came to India, was playing golf and got married," Mehra said of Sobti. "I was still an amateur kid. We became friends and we've been friends ever since."
Years later, Mehra was the first person to come out as gay in an Indian newspaper.
"Eight years ago, like 2012 or 2013, I came out in the national news as a gay person with my whole family."
Sometime later, Mehra and Sobti's friendship flourished into something more.
"Our relationship was like an Indian movie," said Mehra laughing. "Like a full-on romance with everything you can imagine from, you know, the ex-husband locking you in the house, to the cops getting called, like, everything that you can throw into a drama. It was a real dramatic movie."
They overcame that drama, but the adversity was not over. Mehra was not playing at the time. She was in India trying to grow the women's game through the Women's Golf Association of India, a tour that she created, when she got news that put everything in life on hold.
"My partner got diagnosed with cancer four years ago and it was an instant stop," said Mehra talking about Sobti. "I stopped anything to do with golf. My priorities changed. She had Stage 3 breast cancer. So, we went through the entire mastectomy and six months of chemo."
Sobti was clear for about nine months until they received the heart-wrenching news. The cancer was back and this time, Stage 4. Countless doctor visits and conversations later, they decided to take a different approach.
"We went with this ancient medicine where all it teaches you is that your body has something called killer cells and you need to wake them up and they fight everything for you," explained Mehra. "You don't feed your body sugar and saturated fats because those killer cells will just go into hibernation and then you just leave your body open to anything and everything. So, we changed our diet. We changed our lifestyle. And she's had two CAT scans, and they are completely clean."
Still cancer-free, Mehra says her partner is a fighter. More than a fighter, she is her true role model.
"It's not easy to do," she said. "No, not at all. And, you know, she fought through everything, man. She's a real trooper."
Although Mehra understands the purpose of celebrations like Pride Month or Women's History Month, she wants to celebrate the things she's proud of every day. Whether it's how much she's been able to grow the women's game in India, making it on the LPGA Tour, her relationship with her partner, or even her mom.
"It's like when people put up posters of, you know, 'Happy Mother's Day,' I'm like, I worship my mother every day," said Mehra laughing. "So good luck with that"
All she knows is that after watching Sobti survive the fight for her life and being by her side every step of the way, Mehra has a whole new standard of the "greatest time in her life." Because it is where she is at this very moment. In the now, with her soulmate.