She took it hard. Pauline Roussin-Bouchard, the 21-year-old from the seaside resort village of Carqueiranne, France, led Q-Series for seven and a half rounds, putting up the kinds of consistent numbers that had veteran Tour watchers sitting upright and paying attention. The closest she came to a round outside the sixties was a 69 on opening day in Mobile when the nerves felt like lightening in the Alabama air. After that, Roussin-Bouchard appeared to be on cruise control, posting one ridiculous round after another: 67-66-65 to close out week one, and then 68-68-67 after moving northeast through the pine-strewn countryside to Dothan. Through 134 of the most grueling holes in golf, she was 34-under par.
That's when she spit the bit. Roussin-Bouchard played the last 10 holes two over – she posted a 72, 32-under par for the week, finishing one shot behind Na Rin An in an event where the difference between first and twentieth is, for all practical purposes outside of pride and potential sponsorships, meaningless. It would have been hard to tell Roussin-Bouchard that. She was distraught on the final green and could barely look up as she marched into scoring, despite her friends patting her on the back and congratulating her for earning an LPGA Tour card for 2022. After a few moments spent cooling off, the Frenchwoman said, "At least I didn't do this in the final round of a major."
That is the kind of personality LPGA Tour fans can look forward to seeing next season. Born just one day after the Fourth of July, Roussin-Bouchard is a firecracker, gregarious and charismatic, the kind of woman who will juggle golf balls and tell jokes as she's waiting on a tee box and then zone in on a target like a sniper. That analogy isn't far off. She enjoys going to the gun range on her off days. She will also strap on boxing gloves and spar a few rounds with anyone who doesn't mind taking a jab to the nose.
"Not typical, no," said University of South Carolina head women's golf coach Kalen Anderson, who recruited Roussin-Bouchard to Columbia and mentored her development for two years. "But it's explosive and powerful. She's an impressive athlete all around. You look at what she does in the gym, she's like a ninja warrior. She's a freak in the gym. This isn't just superior talent on the golf course. You see her lifting weights, jumping, she's leaping heights that normal athletes just don't do. She gets into the gym with our baseball athletes and she's doing box jumps higher than most of them can. Some of the guys will say, 'I'm not jumping next to her.'"
You can see the athleticism as Roussin-Bouchard rips a drive. But then you also see a sense of goofiness as she dances down the fairway.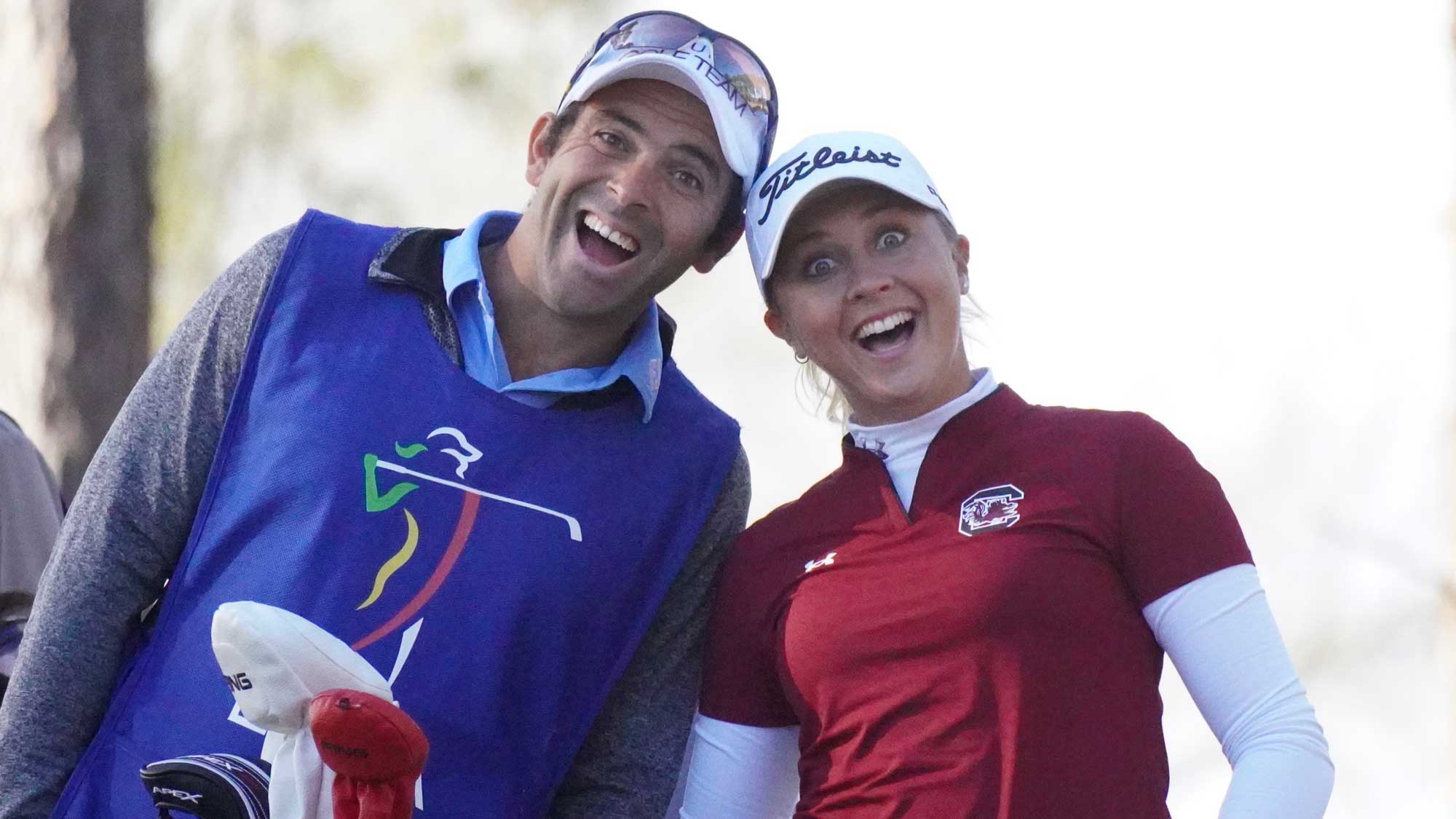 "High energy and highly organized," Anderson said in describing the 2021 Southeastern Conference Player of the Year. "There is a purpose to her practice every single day. She's a special player in that sense. I've seen a lot of great players come through our program and a lot of great players when I coached at Duke. But there is an organization and purpose to everything she does that is beyond anything I've seen. I put her with the best of the best. She loves what she does. And it's contagious. You want to be around that and be around her."
Puggy Blackmon, who was director of golf for South Carolina when Roussin-Bouchard arrived called her, "A generational player." He then offered some heady comparisons. "I put her in the David Duval, Phil Mickelson, Tiger Woods category in that she is a generational talent. Like them, she came fully formed. You can see the future with her and it's a good one."
Anderson agrees to an extent. "She's always had the talent and the drive," the head coach said. "But she has matured emotionally quite a bit over the last few years. She has learned to handle her emotions on the golf course. She's also had to define some things in her game where she needed to get better. And she's gotten after that. There's always been that work ethic on top of the talent. So, she's always had kind of a Tiger Woods or David Duval talent level and then she had the purposeful work on top of that."
Anderson will have an opportunity to see more of that development. Roussin-Bouchard, who agreed to stay at South Carolina for two seasons when she was originally signed, is still in school. She still lives in Columbia and works on her game with the rest of the team. She's even volunteering as a student assistant coach.
"She's a competitor," Anderson said. "She's still learning and growing. There are still emotional things going on and she can still get better there. But she knows it, and she works on it. The good thing is, she can go 31 or 32 under. She wants to win everything that she enters. That's one of the most amazing things about her.
"My assistant coach and I agree that she will probably win in her first year. She's still growing. She's still learning. But there's a lot that is already there."