You've seen them working. If you watch the LPGA Tour, you have no doubt watched Canadian Alena Sharp and her caddie Sarah Bowman talking out the details of wind direction and carry yards, discussing club and shot selections and working out reads on the greens. Bowman isn't out front. She's not a celebrity caddie like Jim "Bones" Mackay or Steve Williams. "If you know about the caddie and not the player, something's out of whack," Bowman said. But for her player, Bowman is far more than a caddie, just as, for Bowman, carrying Sharp's bag is far more than just another job.
The two were married last November 23rd. As they celebrate their first Valentine's Day since tying the knot, Sharp and Bowman took a few minutes to reflect on their life journey so far, and on why 2020 was the right time to exchange vows.
"We'd been talking about getting married for a couple of years, but something would always come up," said the 39-year-old Sharp, who is entering her 15th season on the LPGA Tour. "It's like, 'Oh, Kim Kaufman is getting married now, so let's wait until next year.' So, we kept putting it off. Then the pandemic hit. But last year with all the crazy things going on with politics, we were afraid (our marriage option) might be taken away. So, Sarah surprised me and proposed right before we left for Shoprite.
"(The wedding) was kind of spur-of-the-moment. We put it together in about a month," Sharp said. "The date, November 23, would have been Sarah's parents' 60th wedding anniversary so that was really important, really special. We also did it in our backyard (in Arizona). We went really small, had a caterer come in and set up some tables. A few of our friends came and Sarah's sister flew in from Maryland. Our Toledo (Ohio) housing mom came down. But that was it. Everybody else was on Zoom. It was around dusk because Arizona sunsets are pretty amazing.
"Our therapist (Donna Diebe) married us. I've been seeing her for 10 years on and off for confidence issues and family stuff. She's just very positive and full warmth and caring. The energy she has is amazing. We've known her a long time and she did a great job with the ceremony."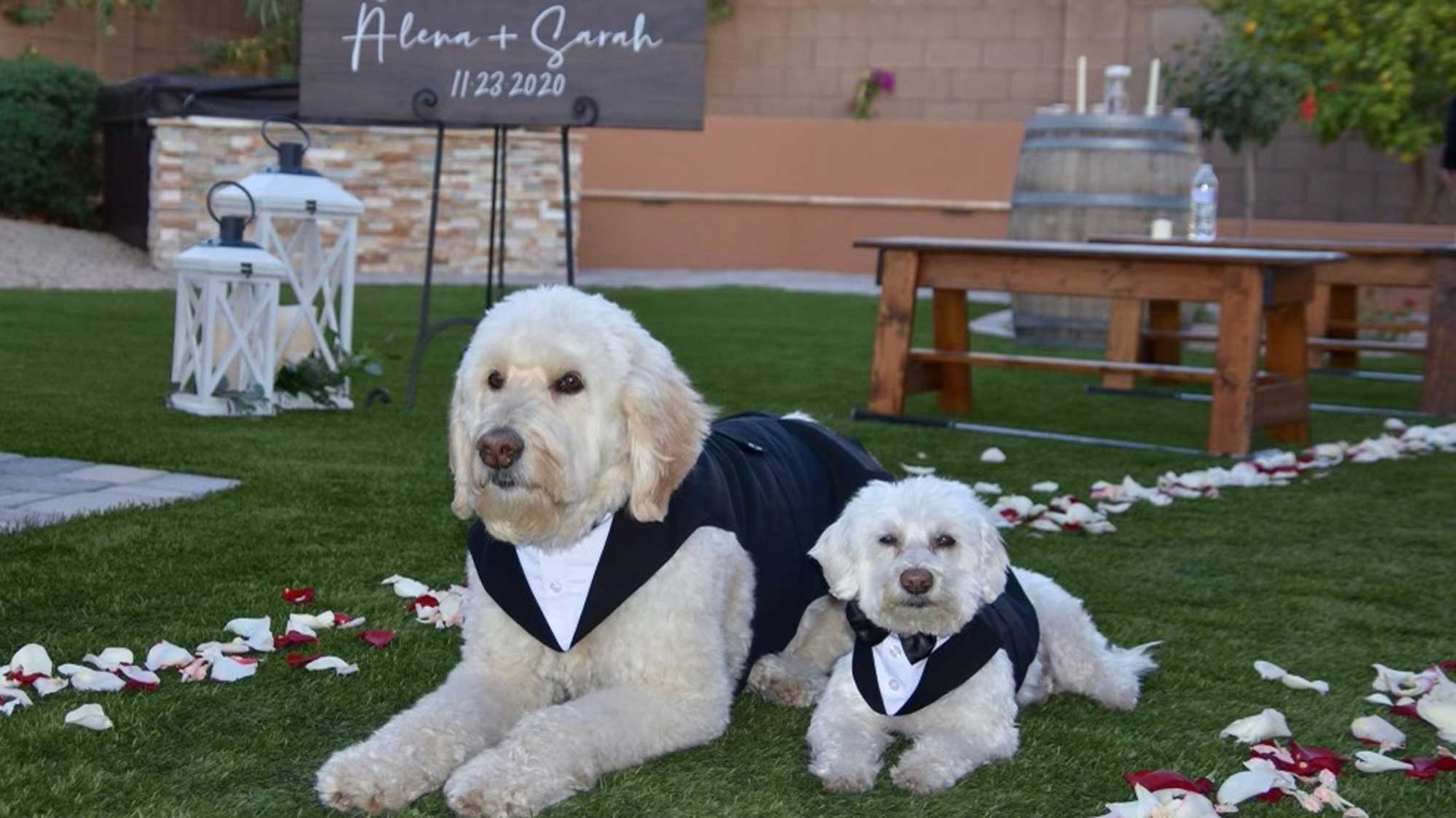 The couple's goldendoodles acted as the wedding party. And while they hope to have a larger celebration once COVID settles, they appreciate the intimacy of their ceremony and acknowledge that they will always have a wedding story to tell.
They met playing recreation hockey, a sport that is not for the faint of heart at any level. Growing up in Ontario, Sharp had been strapping on skates since before she had shoes. To find a fellow traveler in Bowman was a blessing.
"I grew up in a small town outside of Pittsburgh playing soccer, basketball, and competitive ski racing," Bowman said. "We lived about 10 minutes from a ski resort called Seven Springs and I was there every (winter) day after school and on the weekends."
Bowman moved to Colorado where her activities expanded to mountain biking and rock climbing, anything to keep the adrenalin pumping. "I'd played golf growing up, but not a lot," She said. "We lived about 30 minutes from Laurel Valley and my dad played so I spent some time with him on the cart (as a kid). But then when I moved back home to help when my mom got sick, I started playing more golf because it was a quiet place to go with my dad."
Bowman's parents played a role in her decision to caddie. At the time she met Sharp, Bowman was transitioning out of a neuropsychology research lab and was about to embark on a Ph.D. in clinical psychology.
"We met when I was searching for a caddie," Sharp said. "So, I had her come out to a Epson Tour event (the Gateway Classic) at Longbow Golf Club (in Mesa, Ariz.) in 2014 and we won. I really wasn't getting along with the guy who was caddying for me. So, Sarah was coming out to Hawaii anyway and I was like, 'Why don't you caddie for me the next three events and see if you like it.' She did and we've been out there together ever since."
With a clinical psychology background but no caddie experience, Bowman took some time working out the mechanics of her new arrangement.
"I had some of my caddie friends help her out with caddie etiquette, like when to rake bunkers and who holds the flag – little things that players don't pay a lot of attention to," Sharp said. "But she's gotten really good at reading greens. She comes to my lessons and has become really knowledgeable about my swing and chipping and putting. It's good having her eyes out there. If I miss something, or fail to write it down, she's always taking great notes. It couldn't have worked out better."
"With my parents, I saw the give-and-take that it takes to make a healthy relationship," Bowman said. "My mom helped my dad through law school when they were younger. Later on, when my mom went back to work in intervention education, I saw my dad take a backseat and let her flourish.
"The decision to caddie was a perfect storm at the time," Bowman continued. "I had been immersed in academia. But I was also at a crossroads when Alena asked about making the 'three-week plan.' That turned out to be perfect. If I was going to make a major change in my life, I needed to make sure it was something I was enjoying."
Then she paused for a second before saying, "We all have our times in life when we are the one behind, the one supporting the other person. Then, later, those roles eventually reverse."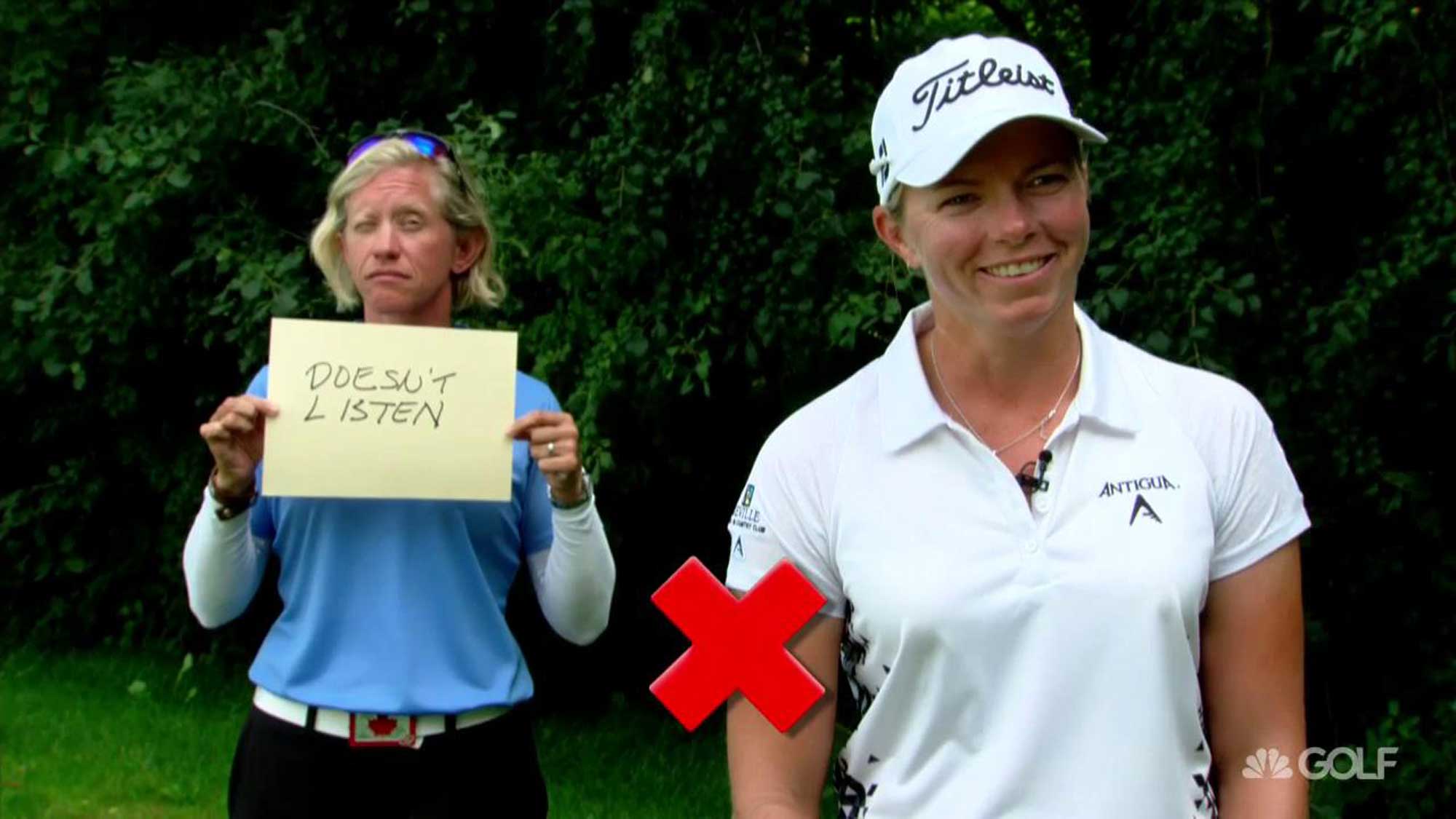 For now, the newlyweds spend all their time together, striking a balance between work and home life. "It works for us because sometimes we don't mind sitting together in silence," Sharp said. "We don't talk about golf 24/7. When we're not at the golf course we don't talk about work. And our dogs are a great distraction.
"I think it's the chemistry we have and how well our personalities blend. It doesn't work for everybody, but it works for us."
Then, for a moment, it was Sharp's turn to pause.
"I'm so glad it works because I can't imagine traveling without Sarah," she finally said. "I just can't imagine her not being there."