The line at the door of the LPGA's club repair trailer typically starts on Tuesday during tournament weeks.
Greeting those players with equipment needs is LPGA Club Technician Paul Boehmer, who might handle 30 repairs during a "slow week" and up to 100 during a tournament when club equipment needs keep the Texan busy.
Fortunately for Tour members, Boehmer and the LPGA's repair trailer are present at every domestic LPGA Tour event and at several tournaments each year on the Symetra Tour. The trailer provides such services as club regripping, reshafting, checking lies and lofts, and adjusting swing weights, as well as sometimes repairing damaged clubs during travel.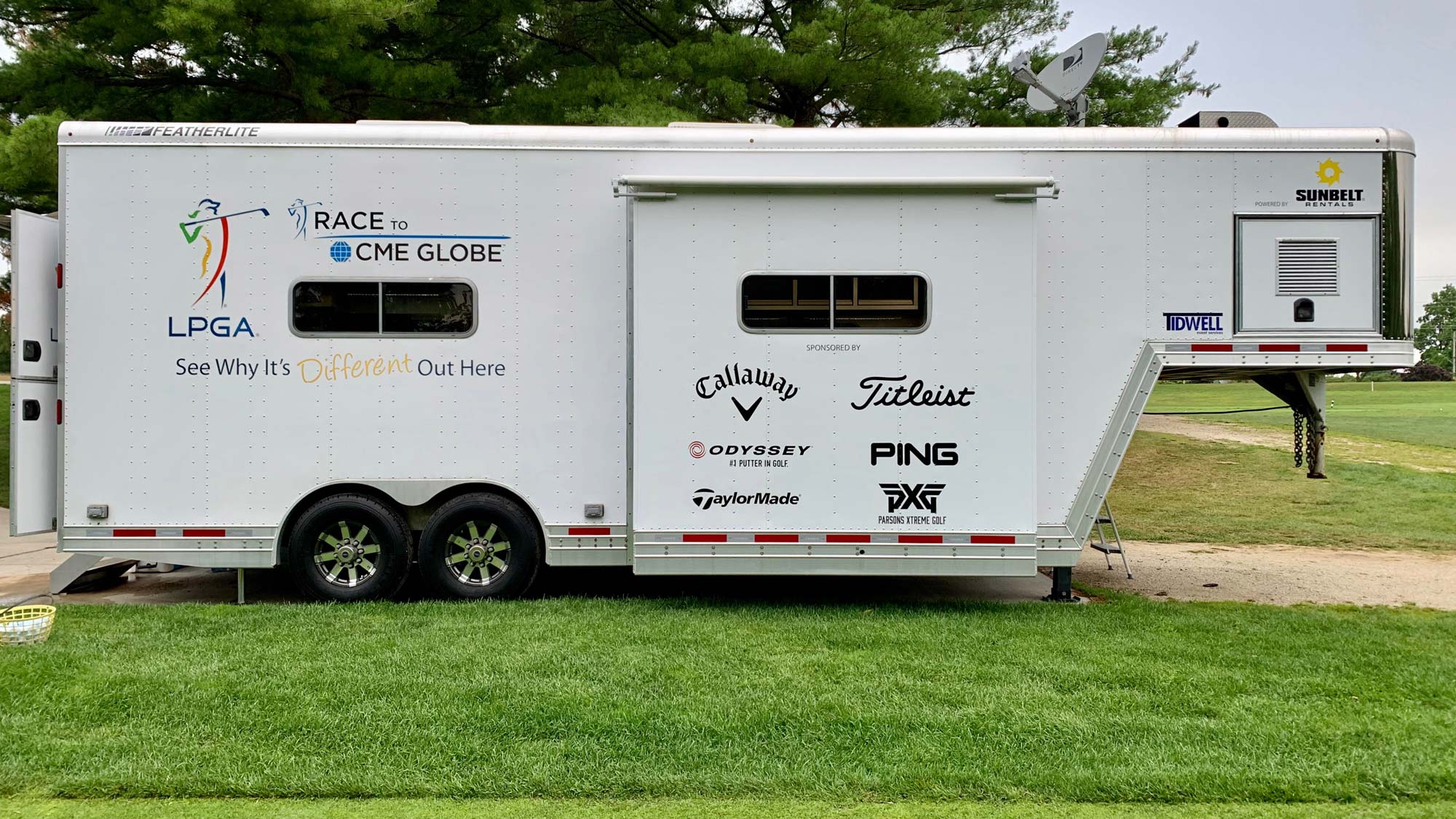 "The trailer out there is like a M*A*S*H unit for emergency situations," said Boehmer, who has headed up the LPGA's club repairs since 1999. "For me, it's mostly about the maintenance of players' equipment. But I've fixed golf bags, re-spiked shoes and have worked on pretty much anything that has to do with golf equipment."
Six companies serve as sponsors for the LPGA's club repair trailer. Contributing key funding each year, Acushnet/Titleist, Callaway Golf, Cobra Puma, Ping, PXG and TaylorMade provide the resources for the LPGA Tour to offer this mobile service to players. The companies also stock the trailer with club components of their product to keep their contracted players performing at their best.
"The monetary support for keeping the repair trailer on the road is huge," said Boehmer. "It's critical for us to keep rolling since this is the only tech trailer on our tour right now."
But the companies provide more than funding for on-the-road tech service. Product representatives from the respective companies travel with the tour to support the equipment needs of players and to advise the touring pros on upgrades to the products they are using.
The repair trailer – which measures 30 feet long with two pop-out extensions offering Boehmer 45 square feet of extra workspace – also serves as a rolling storehouse for each sponsoring manufacturer. The sponsoring equipment companies have drawers, lockers and a cubby hole in the club shaft bin for shafts designed to work with their clubheads.
"The strategic value of the club repair trailer is immeasurable, as it's our tour van on site at each event where we can fix any issues at hand," said TaylorMade LPGA tour representative Glenn Muncrief. "The trailer is extremely predictable, and always clean and open for business. I've worked with Paul for 20 years and the trust we have in each other to dial in specific specs for these top players is mandatory."
The Acushnet Company, maker of Titleist and FootJoy products, has supported the LPGA's club repair van since its earliest inception 27 years ago. Smaller trailers traveled with the Tour prior to the upgraded trailer that now serves as the LPGA's hub of equipment repairs.
Longtime LPGA tour rep Ann Cain has worked closely with Boehmer for years, delivering Titleist and FootJoy products to sponsored players each week and servicing the company's equipment on the road.
"It has been a successful relationship due to the respect, great communication and teamwork Paul and Ann have for each other," said Todd Harris, Acushnet's Director of Leadership Promotion. "Successfully supporting these players with our equipment gives them the opportunity to perform at the highest level in competitive golf."
Boehmer recalls a time in the not-so-distant past when he struggled to get the most current equipment in his repair trailer. Sometimes, he had to accept his "second choice" for the club components he could offer LPGA Tour players.
"There were times when the LPGA Tour wasn't really a priority. But now it's getting to the point where I'm making decisions about which products we want out there on the road," he said. "I want to keep the best-of-the-best equipment in the trailer and now we're seeing more interest by companies that want to be out there with us."
Those top-tier companies not only keep Boehmer's travel-trailer bins full of shafts, grips and clubheads, but he is now hearing more from company club reps who are interested in working with LPGA Tour players and getting their products into the hands of players on the women's professional tour.
"It's not just about the clubs," said Boehmer, who has a log of player club specifications dating back 22 years. "It's about the people."
Christian Pena, Ping's Director of Tournament Players, appreciates the LPGA repair trailer's role in helping his company "service our players on a daily basis" and to "fine-tune" their Ping equipment wherever the tour plays.
"We pride ourselves in supporting women's golf around the world and this is an extension of that support," said Pena. "With 23 contract staff players on the LPGA and many more using our equipment, the club repair van allows us to provide top-level service to them that would otherwise not be possible."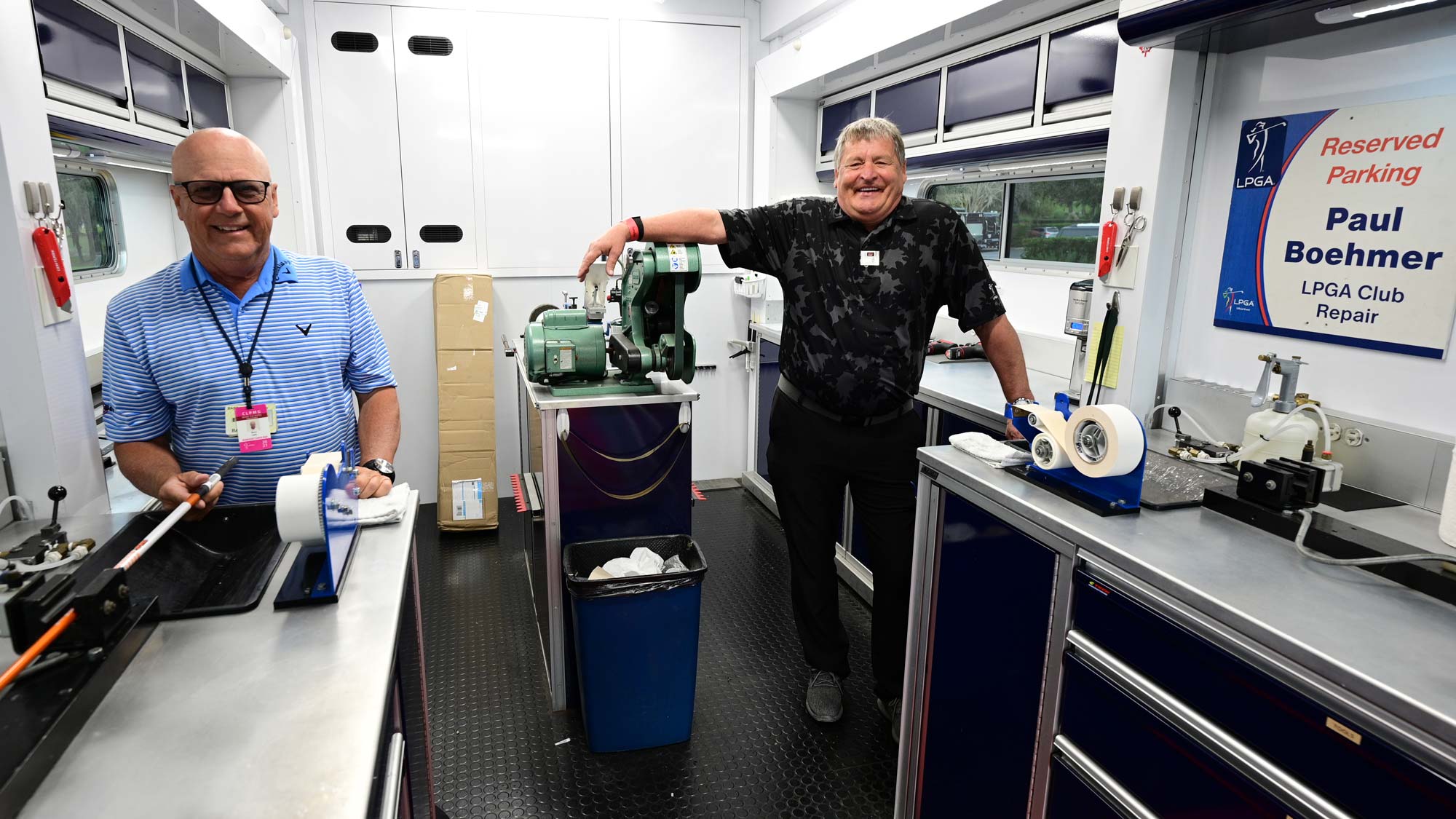 LPGA Club Repair Technician, Paul Boehmer (right) and Callaway's LPGA Tour rep Barry Lyda
In order to provide continuous service, Callaway's fulltime LPGA Tour rep Barry Lyda attends all of LPGA's domestic events as well as the majority of the international events – delivering new product and making sure his company's clubs are "dialed in" for the large number of weekly Callaway users.
"Players need to have full confidence in their clubs and ball at all times and having access to the LPGA club repair van is an important component to help us accomplish that," said Bjoern Kreutzer, Callaway's Senior Manager of Sports Marketing.
"Paul Boehmer has a wealth of club-building knowledge and he is a great resource for both players and equipment reps, alike," Kreutzer added.
Boehmer has watched the LPGA's club repair program grow and improve throughout his 22 years of traveling with the Tour. While he's there to take care of simple fixes, he's also there to sometimes remind players that it "might be time" to regrip some clubs or to recheck the lies and lofts of their clubs for optimal performance during competition.
He and the various equipment company reps often compare notes to come up with solutions for players' needs. Sometimes a simple club tweak makes the difference between top 10s or unpredictable performance.
"It's all about creating a comfort level for our players in knowing that if there is a problem with their clubs, it can be fixed right there," Boehmer said.
"We certainly appreciate everything the manufacturers do to keep us rolling," he added. "It's a huge effort on everybody's part and it just keeps getting better."