Velocity Global, the Official Global Work Platform of the LPGA Tour and the Ladies European Tour (LET), is proud to sponsor the Velocity Global Impact Award. This honor will celebrate players who have helped to grow the sport of golf and to inspire the next generation of athletes to have a positive impact on the world.
Throughout each season, the LPGA and LET will celebrate players and their efforts in giving back to the world and their local communities off the golf course. Toward the end of each season, the LPGA will produce a list of nominees, and the Velocity Global Impact Award Committee will name three players as Award finalists. Each finalist will be featured in a docuseries-style content piece sharing their personal story and impact on the game. The winner will be determined through a combination of a fan vote and voting by the committee, and will be announced annually on International Women's Day, March 8.
Angela Stanford – Shining Brighter Than Ever In Fight To Cure Breast Cancer
She never loses sight of the mission, even when the news at home can seem overwhelming. Angela Stanford's mother, Nan, passed away March 9 after a battle with breast cancer that dated back to 2009. In the 13 years of Nan's battle, the Stanford family and countless friends from the LPGA and her Texas home, rallied around the matriarch. She was, for the entirety of her life, Angela's biggest fan and supporter.
Knowing what families affected by cancer go through and the hardships it places on children, the LPGA Tour veteran and major champion created the Angela Stanford Foundation in 2012. It provides scholarships to kids in Texas whose families have fallen victim to this devastating disease.
"We've been giving scholarships for, this is our 10th year," Stanford said. "Every year in the spring we put our scholarship applications out. The deadline is always April 1. We have a committee that goes through them in May and we do the interviews during that time."
It's Texas kids going to Texas schools, but the impact is global. As Stanford said, "These kids graduate and they go out into the world and impact their communities, and hopefully they give back in ways that have a much bigger impact."
She summed up the foundation and its impact perfectly when she said, "We're in a great spot financially. I've always said we are a boutique foundation. We have not had any major corporate sponsorship dollars. It's been people in the Fort Worth area or connections that I've made throughout the years. But we've done very well. We have people who are committed and have big hearts. We just keep doing what we've always done, helping kids and making a difference."
Many athletes have foundations. Almost all make an impact for a few years. But few have had the staying power of the Angela Stanford Foundation. "I think the lasting power has a lot to do with my stubbornness," she said. "The same is true with me playing on tour for so long. I get so stubborn about things and I want to do it right."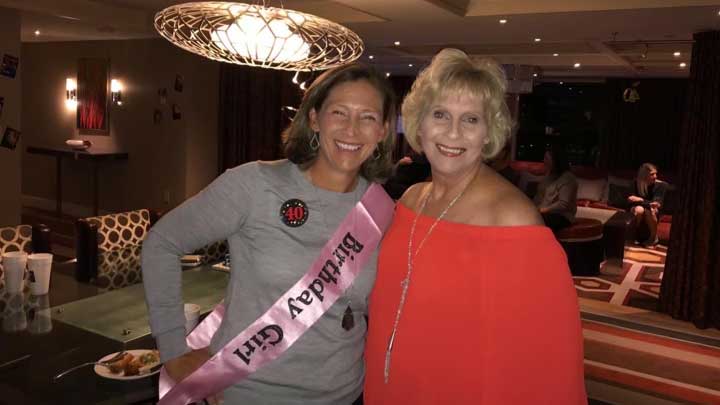 Just a few months before her mother's death, Angela announced a specific partnership with the Lobular Breast Cancer Alliance (LBCA), an organization dedicated to raising awareness for the type of cancer that Nan valiantly battled. Angela recorded PSAs for the LBCA, sharing her mother's story and calling to additional attention to finding answers to curing this relatively unknown form of invasive breast cancer: "I think it's important for the Lobular Breast Cancer Alliance to just keep pushing, because hopefully down the road it gives somebody else hope."
Stanford was recently named the assistant U.S. captain for the 2023 Solheim Cup. She will be helping her good friend and captain Stacy Lewis as the match is contested in Andalucia, Spain, next September. She continues to be an active member of the LPGA Tour, but she is also deeply dedicated to working with her foundation and finding that hope that is so crucial to the millions of people fighting the battle with breast cancer.
"I understand that (foundation fund raising) is a lot of work. We won't have the (fundraising) golf tournament forever. One of the goals when I started the foundation was to have enough money in the bank that we could give scholarships into perpetuity," Stanford said. "I hate asking for things. That's always been the one thing I struggle with the most. So, I want to get the point where we don't need to have the golf tournament and we have an annuity that funds scholarships into the future.
"Look, I get it. A while back I was talking to the executive director of the Ben Hogan Foundation and he said, 'The one thing you've got going for you is you're still playing.' I understand that there's a draw around that. It makes it a lot easier to get girls to come in and play when I'm out there with them and I can ask in person.
"I try not to ask a lot of their time. But I do try to ask people in person. I don't want to send them a text. There have been situations where I've had to do that, but it's much better if I can ask them face to face. So, I understand that now, the years when I'm playing, are the years when we want to make the most for the foundation, funds that will continue to provide scholarships now and into the future."
The funding mechanism is now, today, in the present moment. But the foundation's impact will extend for decades.
"It's been rewarding watching the kids graduate and become a part of society," Stanford said. "I believe the entire purpose of this has been to give people hope. My dream is that someday when those young people graduate, they can say, 'Somebody helped me. Now I want to give back. I'm going to help somebody else.'
"That would be the best thing that could happen, and the most lasting thing we could do."