After winning her third LPGA Tour event, the Dana Open presented by Marathon, Mexican Gaby Lopez recognized once again the support of her family, friends, and coaches. She also elaborated on her mental work and struggles.
"Sometimes the biggest win is not winning over the field. It is winning against yourself and getting out of the way. It is overcoming those fears, overcoming those battles, those doubts, because you don't believe in yourself, and you are in a hard stretch," said 28-year-old Lopez, currently number 39 in the Rolex Women's World Golf Rankings.
"The biggest win is being able to recover from two injuries I had at the beginning of the year," added Lopez about her recovery from a neck injury and tendonitis on her wrist. "That sets you back and you start doubting even more if you can come back with more speed and consistency."
She came back physically and mentally stronger to earn her first victory since January 2020. Following a journey of recovery along with her team and her longtime coach, Horacio Morales, has never doubted Lopez's potential.
"You set an example as a person, as a professional and as a friend. You are the pride of Mexico. I am delighted to have walked the path with you and that you let me help you on this journey," said Morales in his congratulatory message to his oldest pupil.
In fact, Morales has become an institution and an essential component of the engine that propels women's golf in Mexico. In addition to coaching Lopez, Morales also works with four of the six Mexicans in the Epson Tour: Fernanda Lira, Regina Plasencia, Ingrid Gutiérrez, and María Balcazar.
"This is the training base for them," said Morales describing his avant-garde studio at Club de Golf de Chapultepec, in Mexico City, where he tirelessly learns and applies new technologies and theories. "We work with the experts who have inspired me," adds Morales, once a young aspiring professional golfer under the wing of Rafael Alarcon, Lorena Ochoa's renowned coach.
"When I traveled to tournaments with Alarcon, he used to have these long phone conversations with Lorena about attitude, commitment to the shot, positive mindset, visualizing. Lorena was number one and I never made it past 1,000 in the world, so I became a coach," remembers Morales about his initial exposure to mental work in golf.
Those conversations with Alarcon launched a decade of exploration into the mental side of golf and sports in general, from the work of Pia Nilsson and Lynn Marriott with Vision 54 to interactions with world champion boxer Canelo Alvarez, an avid golfer and applied golf student. Canelo told Morales about his mindset during his legendary victories with a broken hand.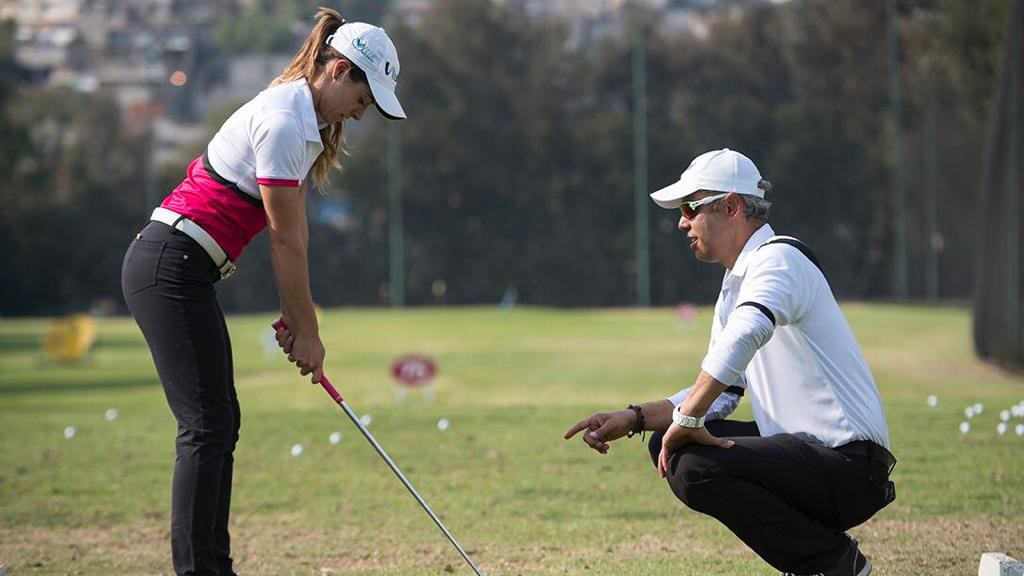 As he keeps learning, these days Morales has not one, but two psychologists from different backgrounds working with his players. On the one hand, Claudia Rivas, the first woman psychologist in Mexican soccer and credited by the Club Puebla fans with the mental strength and revival of their team, brings the female perspective and her understanding of Latinas' strong emotions.
"We work on controlling the emotions on the golf course, particularly the reactions," said Morales about what Gaby Lopez described as "staying quiet and patient, getting rid of all the drama." This taming of the reactions has been a winning formula for Lopez and a product of her work with Rivas and Steve Yellin.
"I pretty much reset my whole kind of mental game. I spent some time with Steve just creating more quiet moments and quiet spaces out there so I can flow a little bit more," said Lopez about her preparations for the Dana Open with Yellin, creator of Fluid Motion Factor and the other mental coach helping Morales' players.
"The mental coaches help them do the things they need to know themselves better, deal with anger and anxiety, stay present. However, at the end of the day, the technical and mental aspects are connected. You don't hit the golf ball with your head," clarified Morales with a smile.
He explained, for instance, how the technical work on shot dispersion is a very important mental tool for his players. "Knowing their percentages on the course and recognizing their margin of error increases and accelerates their tolerance and acceptance during competition," said Morales, always willing to accept responsibility for their mistakes.
"The most important job of a coach is to make them realize things by themselves. Like they say in sports in Mexico, when they win, they are the good ones, and when they lose, the coach is the bad one," added Morales, who is still celebrating Gaby Lopez's third victory on the LPGA.