OHIO NATIVE TAMMIE GREEN GRABS EARLY LEAD IN U.S. SENIOR WOMEN'S OPEN
Ohio native Tammie Green put on an early first-round show for the midwest fans at NCR Country Club on Thursday. The 62-year-old from Somerset fired a 5-under 68 on the club's South Course in Kettering, Ohio to take the early lead in the U.S. Senior Women's Open.
Green, a seven-time winner on the LPGA Tour, major champion and one of the original Epson Tour graduates, played college golf at Marshall University, just across the Ohio state line in West Virginia. Two of her tour victories also came in Youngstown, Ohio.
"Our farm adjoined a nine-hole public course, Perry County Club," Green said of her roots in the Buckeye State. "Actually (PGA Tour player, the late) Jerry McGee, who is Mike McGee's father, who's married to Annika (Sorenstam), grew up on the same golf course. Real proud of that. We've got a lot of friends out here today following me, family, and so it feels like home."
The home-game feel led Green to a bogey-free round. She had one birdie on the front at the par-5 5th hole and four consecutive birdies on the back starting on No. 13.
"I was proud of the way I held it together," Green said. "I did get a little tired on the back side. It's just a stamina thing, I guess, as you get older and some of the hills were getting me a little bit out of breath. I had to kind of stop, take it easy and go forward. But my caddie did a fantastic job. We stayed in the game, on the same page, and we got it done today."
Sweden's Catrin Nilsmark and American Leta Lindley each fired 4-under, 69s to rest a shot back after day one, while 2019 U.S. Senior Women's Open champion Helen Afredsson and 2021 United States Solheim Cup captain Pat Hurst carded matching 70s to sit in a tie for fourth at -3.
Defending champion Annika Sorenstam shot an even-par 73 on day one in Dayton and Catriona Matthew, two-time victorious European Solheim Cup captain playing in her first U.S. Senior Women's Open, opened with a 1-under par 72.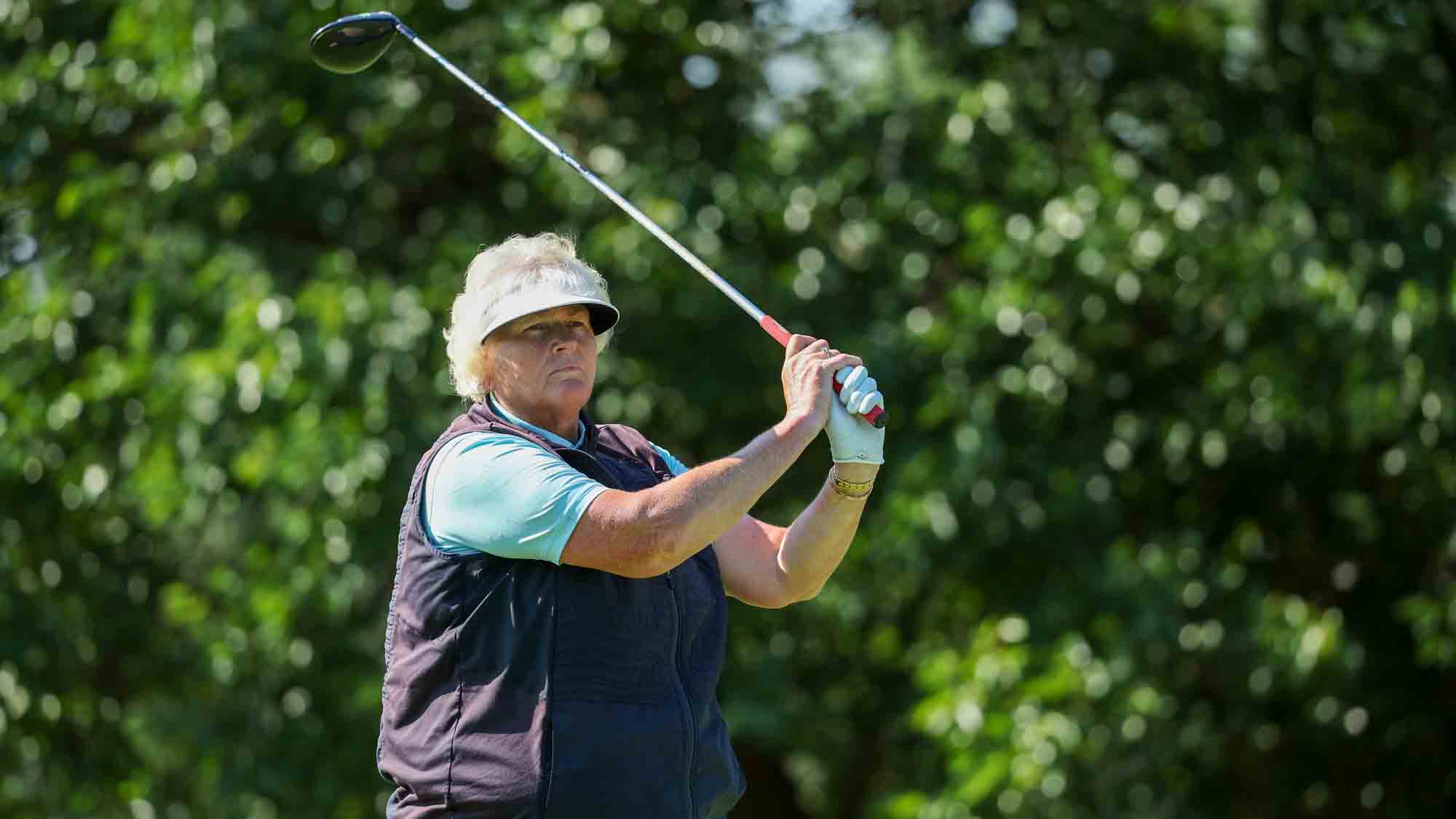 INJURED DAVIES GRINDS OUT OPENING 71 ON SOUTH COURSE
Fighting injury just like many of her beloved Liverpool footballers, Dame Laura Davies battled her way to an opening 2-under 71 on Thursday at the U.S. Senior Women's Open in Kettering, Ohio. The 58-year-old has been dealing with a bruised achilles tendon since the AIG Women's Open earlier this month, withdrawing from the ISPS Handa World Invitational presented by AVIV Clinics after the first round as well as pulling out of last week's Aramco Team Series - Sotogrande on the LET. But the inaugural Senior Women's Open champion is looking for more from her game than what she saw on her back nine on day one, and she's far from using the pain she's in as an excuse to throw in the towel.
"You just gotta crack on, haven't you? You either give up or you carry on. I'm not complaining about it," said Davies, who made five birdies and three bogeys on day one. "It is what it is and I'll just get on with it. And if it beats me, it did in Ireland. I had to withdraw in Ireland and then withdraw from Spain, but I think I'd crawl around just to get this one in because it's obviously a tournament I really look forward to now."
After starting her day with a par on the tenth, Davies was off to the races at NCR Country Club's South Course, carding three consecutive birdies from Nos. 11 to 13 and recording another on the par-5 16th to turn in 32. She cooled slightly on her closing nine, notching one birdie and three bogeys on holes two, six and nine to post 71 and sit in the top-10. While she wasn't happy to finish the day with a bogey on the last, Davies still gave her game a lot of credit and is trying to mentally ready herself for the physical challenge the next three days will provide.
"It was a definite day of two halves, but overall have to be quite pleased," Davies said. "It will be hard work coming in those back nine holes because it's very hilly. I hit a really bad tee shot up 6, the par 5, and had to climb up a really steep hill and jabbed my left knee. It's all related to one injury which causes other stuff. It's not an excuse; I can swing. It's walking that's hard; it's not swinging that's difficult."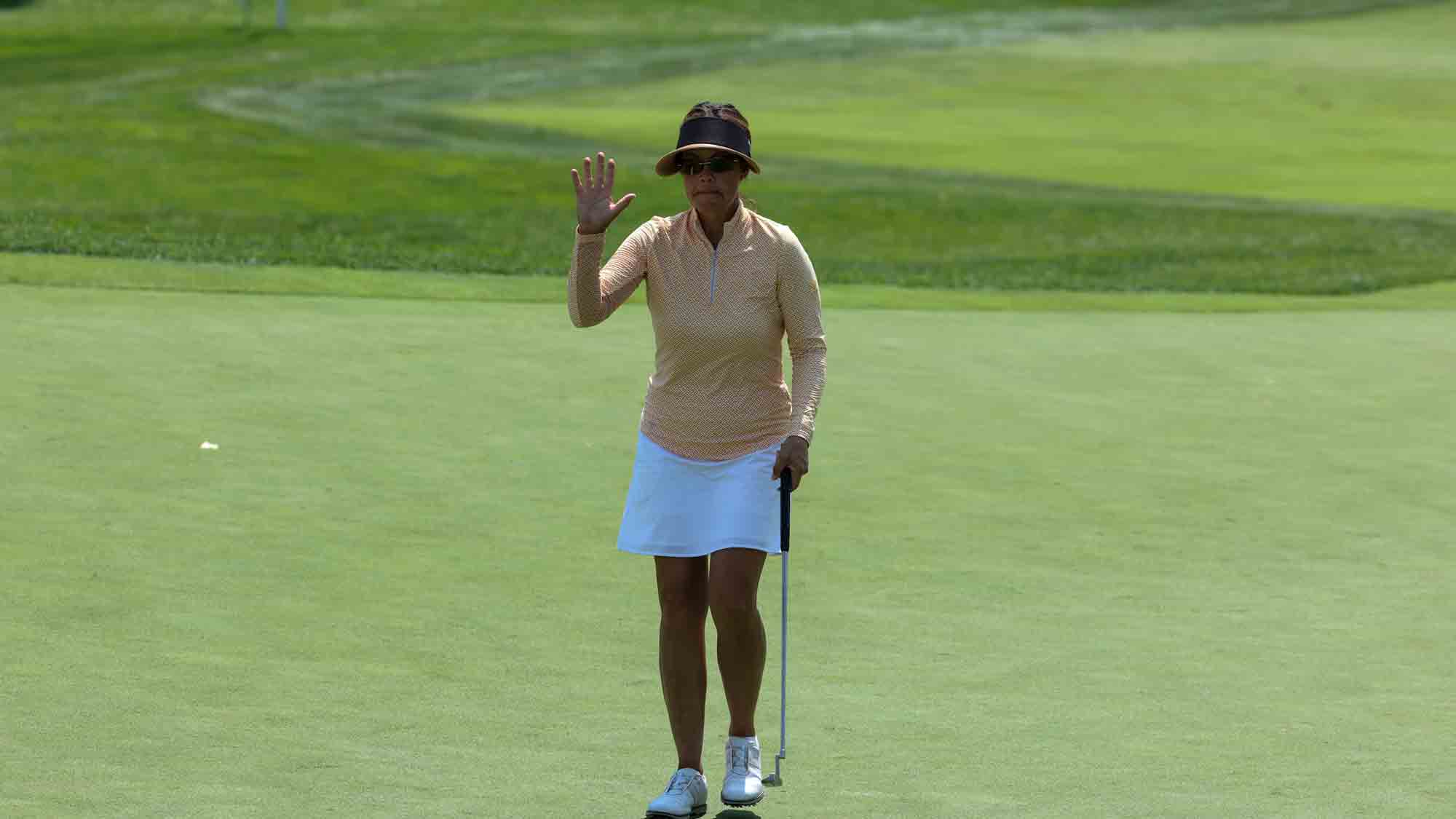 LETA LINDLEY LOVING CHANCE TO COMPETE AT U.S. SENIOR WOMEN'S OPEN
First-time participant Leta Lindley was shocked when the first-round pairings for the fourth edition of the U.S. Senior Women's Open hit her inbox on Tuesday afternoon. Her name was listed next to that of three-time U.S. Senior Women's Amateur champion Lara Tennant and 72-time LPGA Tour winner and defending champion Annika Sorenstam. Lindley wondered what good karma got her into that pairing until she finally made the connection.
"First I looked and I said, 'What did I do to deserve this pairing?' And then started to deduce that it was all Arizona Wildcats," said Lindley, who was a four-time All-American during her time in Tucson. "Annika and I came into Arizona as freshmen and Laura was just leaving as we came in, but I knew of her. Coach always spoke so highly of her, so I was really thrilled to meet her as well as several other Wildcats here this week that came before me and paved the way."
On Thursday at NCR Country Club, Lindley showed no signs of nerves while playing with golf royalty, carding a 4-under 69 in her Senior Women's Open debut. After starting par-par, she birdied the third and then rattled off three in a row on holes eight through ten. The par-4 12th saw Lindley make her only bogey of the day, but she bounced back quickly from the dropped shot with a birdie on the 13th, parring in to sit in a tie for second behind leader Tammie Green.
"I hit the ball solid today, just one or two squirrelly ones, and then when I was a little bit off I was able to get it up and down," said Lindley whose lone LPGA Tour win came at the 2008 LPGA Corning Classic. "I really putted well today, rolled the ball nicely, and just felt calm and relaxed and felt really good about my game today."
It's been ten years since Lindley's last start on the LPGA Tour and nowadays she spends most of her time teaching at Old Marsh Golf Club in Palm Beach Gardens, Florida. But having just turned 50 on June 1st, she prepared hard for this event, working out with a trainer to strengthen her lower body and doing her best to get as many competitive reps as possible before teeing it up at NCR. Through one round, that hard work seems to be paying off and Lindley plans to keep enjoying this major moment, relishing the chance to once again compete professionally.
"I remember watching the first one and sitting there and seeing the interviews with JoAnne (Carner) and Hollis (Stacy) and what it meant to them, and I got teary-eyed," she said. "Even talking about it now, this just means so much. I never thought I'd be playing at this season of my career. I thought my golf clubs were going to be hung up, I was going to be bowling or doing something else. It was really teaching that brought me back to the game, and I just feel so honored to be here."