Velocity Global, the Official Global Work Platform of the LPGA Tour and the Ladies European Tour (LET), is proud to sponsor the Velocity Global Impact Award. This honor will celebrate players who have helped to grow the sport of golf and to inspire the next generation of athletes to have a positive impact on the world.
Throughout each season, the LPGA and LET will celebrate players and their efforts in giving back to the world and their local communities off the golf course. Toward the end of each season, the LPGA will produce a list of nominees, and the Velocity Global Impact Award Committee will name three players as Award finalists. Each finalist will be featured in a docuseries-style content piece sharing their personal story and impact on the game. The winner will be determined through a combination of a fan vote and voting by the committee, and will be announced annually on International Women's Day, March 8.
In Gee Chun, Spreading the Light
On the Saturday of her first major tournament in the United States, then-20-year-old Korean In Gee Chun was driving to a rental home when she stopped to admire a field full of fireflies. She was just four shots behind the leader, Amy Yang, and felt energized by the unexpected cheering and embrace of the local fans.
"On Sunday she became her own firefly and fed from the energy of the fans. Like the main actress in a movie, she smiled and waved, focusing on sharing the joy of her final round," recalled Won Park, her longtime coach. That joy produced three birdies in her last four holes to win by one stroke at the 2015 U.S. Women's Open at Lancaster Country Club (LCC), a breakthrough win that earned her immediate LPGA Tour status.
"After winning, I wanted to be a light for the people in Lancaster and give back to the community," said In Gee, proud founder of and generous donor to the In Gee Chun LCC Educational Foundation, which provides scholarships for employees, their dependents, and caddies to further their educational goals.
"She never focused on herself. She is focused on giving and building relationships, from golfers to caddies, to employees and members of LCC," said Jody Kegel, who In Gee considers an American grandma. "She lives with us when she comes to Lancaster, and she likes being part of the family taking part in cooking and loving our dogs."
To understand In Gee's journey, you need to know the story of her childhood. As a young In Gee was honing her golf skills on a rudimentary mat, her parents lost everything and were busy running a food stand for construction workers trying to make ends meet and recover from debt. "I grew up in a poor family and got a lot of help," said In Gee.
"It was amazing to see her improvement when we started working together," said Park, an essential part of In Gee's support system for the last 11 years. "She is a very rational person and very good at critical thinking. She needs to be fully understood and have things fully explained," added Park, who can't help but smile about their endless technical discussions.
In Gee's love of knowledge and education even spawned one of the funniest nicknames in the game. Park lovingly dubbed her Dumbo, likening her unbelievable curiosity to that of a baby elephant.
"I am curious about everything, including people. That's why I worked hard on my studies and my English. I want to communicate better with more people," said In Gee. So it's no surprise that In Gee chose empowering the LCC family through education as the main focus of her philanthropic efforts in Lancaster.
"She cares about education so much and wants to be able to make that possible for others. I think that is just really selfless," said Camille Zapata, a host at LCC and one of the 10 current recipients of the scholarships, along with her brother Christian, a banquet server who is studying Speech Pathology at Penn State University.
"Having the scholarship made it possible for me to transfer to a different school that's actually a little bit more expensive," said Camille, who is now doing a double major in Political Science and International Relations at Boston University thanks to a $10,000 annual grant from the In Gee Foundation. "It is great for your studies, but it also makes you appreciate your job and the work you do at LCC."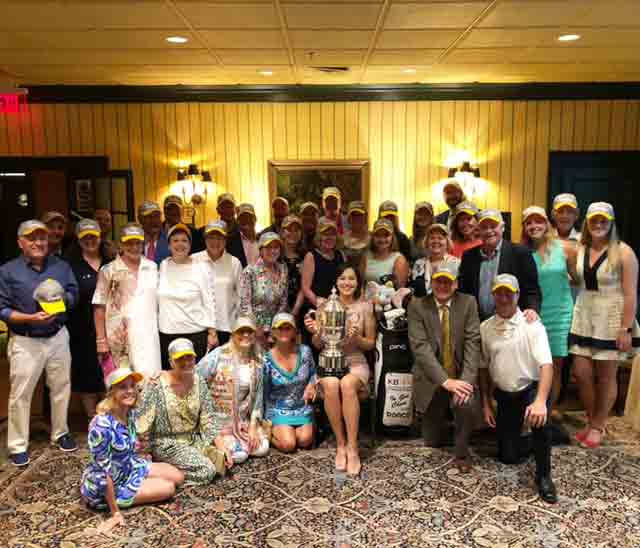 "It is a huge deal for the staff and their dependents. We have close to 20 applicants this year and we try to give some level of financial aid to all of them based on their merits and their needs," said Garth Sprecher, the Foundation President. "And we are getting to the point where graduates are starting to come back."
Nathan Schell, the new Assistant Grounds Superintendent at LCC, is a prime example of LCC reaping these long-term benefits. Schell, who benefitted from the scholarship, graduated from Penn State with a degree in Turfgrass Science and Management.
"There is not enough light shed on the golf industry as a potential career path. The scholarship gave me a great opportunity," said Schell, who was working 20 hours a week while studying and did an internship at Congressional Country Club, located outside Washington D.C.
"It has been great to receive all the letters of appreciation from the recipients. I want to transmit to them the same passion I have on the golf course and in life. The Foundation is a good motivation for me when I have a hard time," said In Gee, who has managed to illuminate her own dark times through golf and generosity both in the U.S. and Korea. In 2016, she used that motivation and passion for education to pass her final exams at Korea University, where she launched the In Gee Chun's Student Social Responsibility Activities Program with a $100,000 annual donation.
After having won eight times in 2015 - including five major titles across the LPGA, Japan LPGA and Korea LPGA Tours - the program in Korea and her initial $10,000 donation for scholarships in Lancaster were just the beginning of her giving-back journey.
"She was very motivated to give her mother and her father a great life and she has done that," said Dean Herden, her caddie in 2015, who is now back on her bag after a few years apart. "She maintains the fact that being happy will allow you to play good golf and she has stuck to that theory."
"I feel like I have a second home and I like to be part of the community," said In Gee, who stays in touch during the year and asks how the members of the club and the scholarship recipients are doing. "I always try to stay happy and keep things simple in my golf and my life."
The LCC membership and staff are already preparing for In Gee's imminent visit to her annual fundraising event and the return of the U.S. Women's Open to Lancaster Country Club in 2024, where she will spread her light again over her American family and community, and the recipients of her scholarships. Lancaster is committed to welcome her again "with 10,000 fireflies and local chocolate kisses."