CLIFTON, NEW JERSEY | The pictures couldn't have been more perfect, a sky so blue it looked like a Vermeer painting, with the perfect amount of nip in the spring New Jersey air. A smattering of people gathered around the first tee at Upper Montclair Country Club at 7:00 a.m. on Thursday morning, not a huge crowd but more than expected for that time of day.
They gathered for what everyone hopes will become a tradition, another way to honor the past. Nancy Lopez marched onto the tee box with the same confidence she displayed at the height of her Hall of Fame career, driver in hand, her steely eyes focused on a target somewhere downrange. The 48-time winner and four-decade ambassador for the LPGA Tour doesn't play much anymore. Knee problems and 65 birthdays have transformed one of the game's all-time greats into a casual golfer. But when the big moments arrive, the competitive juices kick in again and Lopez rises to the occasion.
This time she was called upon to honor the LPGA's 13 Founders by hitting the ceremonial first tee shot at the Cognizant Founders Cup. After being announced, Lopez striped a drive with the same deliberate high-handed swing that was the envy of men and women golfers for three decades.
Those who watched Lopez in her heyday said, wow, nothing's changed. Those who had never seen her hit a shot said, "That swing looks like Collin Morikawa."
Right after hitting the first shot, Lopez pointed to the sky and said, "That was for you, Shirley," referencing LPGA Founder Shirley Spork who passed away on April 12, leaving 88-year-old Marlene Hagge as the last surviving Founder.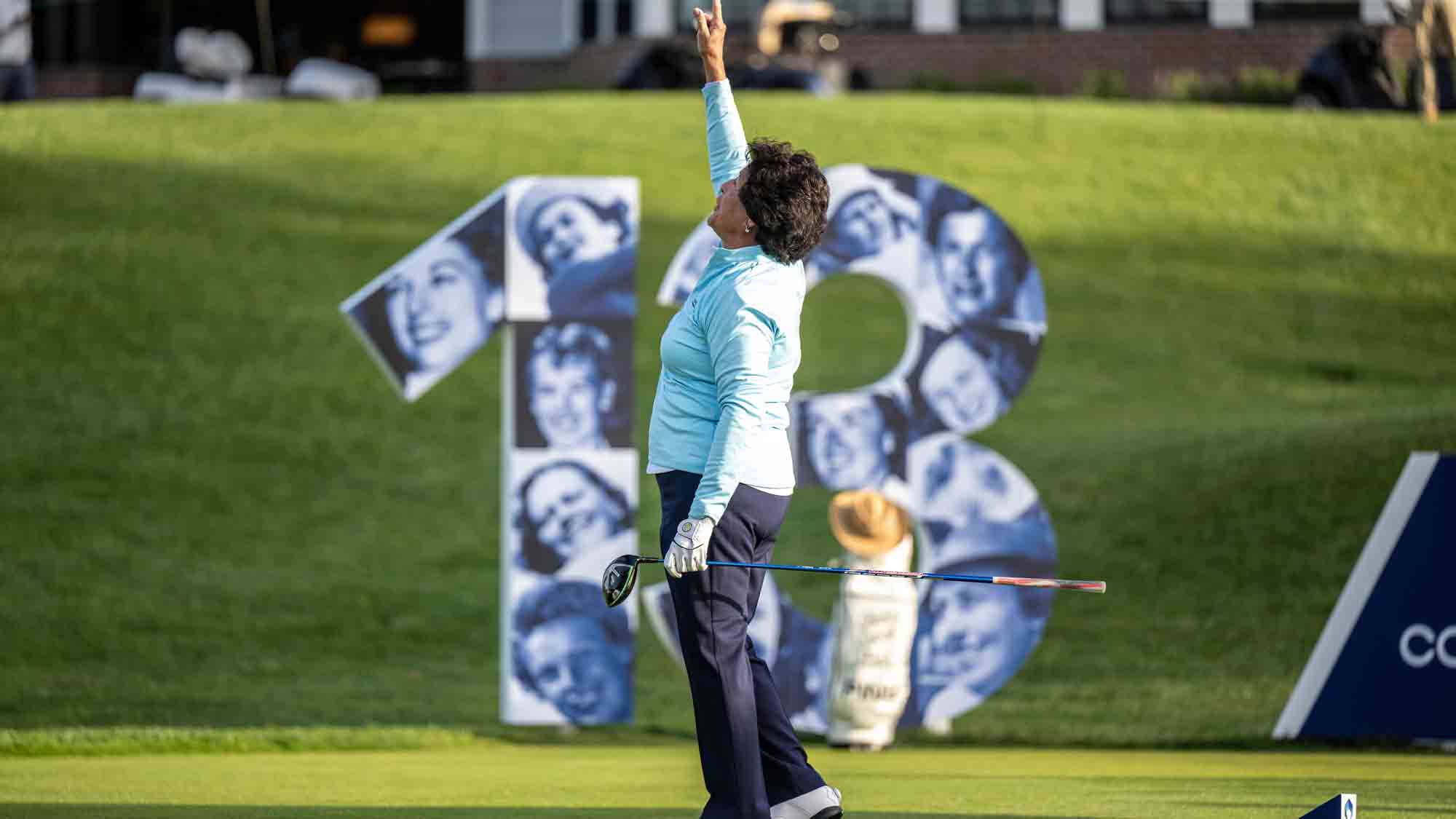 Hagge doesn't travel, but Lopez, who was the face of the women's game throughout the 70s, 80s and 90s, continues to be a presence at many LPGA Tour events. She is also more than familiar with this golf course. Lopez won the 1979 Coca Cola Classic at Upper Montclair in a 5-way playoff that included Hollis Stacy and a 44-year-old Mickey Wright who played in sneakers all week. "I remember every shot," Lopez said of that victory, although the whens and wheres become fuzzy when you've won so many times.
"That was the last time Mickey had a chance to win," Lopez said, looking into the distance, as if seeing an old friend in the morning glow. "I'm going to walk out a little later and see the 7th. It was the 16th when we played. Mickey and I both birdied there to move on and the rest (of the players in the playoff) made par." Then she paused and said, "I remember it like it was yesterday."
Lopez wasn't alone on the first tee this morning. Joining her was 17-year-old Bella Scanapicco of the Jersey Shore LPGA*USGA Girls Golf program. A junior at nearby Trinity Hall, Scanapicco hopes to become a civil engineer, and her future looks as bright as this morning's sky, which Scanapicco pointed to as well after hitting her tee shot in the middle of the first fairway.
It was a heartfelt and emotional moment, one she shared with a legend. Hopefully it's the start of a tradition that will continue on for years to come.