From a distance, it looks like any old yardage book – white leather with black text embossed on the cover. But take a closer look and you'll realize it has a much deeper meaning. There are decorative lines in the colors of the Progress Pride Flag on the front, representing all members of the LGBTQ+ community, and the text reads "Be proud. Be you.", a four-word message of support and encouragement that means a lot to the book's creator, LPGA Tour winner Mel Reid.
"Grant Thornton design thought it'd be really cool to do a yardage book for Pride Month, which we did do last year," Reid said. "This year, we thought we'd just do something a little bit different so we collaborated with both Skratch and Grant Thornton into me helping design the yardage books.
"It was a little bit loud last year. I wanted it to be a little bit more of a quieter, yet powerful message. And this is what we came up with. It's a project that I'm proud of, and I'm really proud to be part of it with Grant Thornton and Skratch."
Reid publicly came out as gay on Twitter in December of 2018 after becoming an ambassador for Athlete Ally, an organization dedicated to creating safe and inclusive spaces for LGBTQ+ individuals in sports. Since then, she's been a role model and an advocate for her community, working hard to make sure people of all backgrounds feel welcome in the golf space, and collaborating on this project with her sponsor Grant Thornton was another way for Reid to continue those efforts in inclusivity.
"There's still a lot of discrimination, especially in the game of golf, and I'm trying to be a voice for a lot of people that feel they don't have a voice even though they do or somebody who's struggling a little bit with their identity or whatever it may be," said Reid. "I do think that golf could be certainly more inclusive. If I'm going up to golf courses and sometimes I feel a little uncomfortable, imagine somebody from a certain background, a certain religion, a certain sexuality or race, think how they're feeling for the first time coming to a golf club. That's a stigma that I want to try and change."
Sharing my story in hopes it will help someone else share theirs. I've always believed in fighting for equality & I'm beyond excited to join the @AthleteAlly team. #BeBrave https://t.co/QCCKERZlD8

— Mel Reid (@melreidgolf) December 10, 2018
Reid's fellow Grant Thornton ambassadors Nelly and Jessica Korda have also carried the yardage book throughout the month of June, a time of year that sees two of the biggest tournaments in the women's game contested – the U.S. Women's Open presented by ProMedica and the KPMG Women's PGA Championship. For the elder Korda, the message emblazoned on the cover really represents the LPGA Tour in its entirety and captures what it means to be a member of a global organization.
"That's kind of one of the cool things about being out (on the LPGA Tour). You'll find just about anyone if you're looking for inspiration. A lot of similar stories, but very different paths," said Jess. "At the end of the day, we're all just trying to be ourselves, be accepted. I've never looked at anyone any different than just for who they are, and that's one of the cool things about being out here. There are so many different personalities every week, different communities represented. That's how it should be. A human is a human. That's how it is."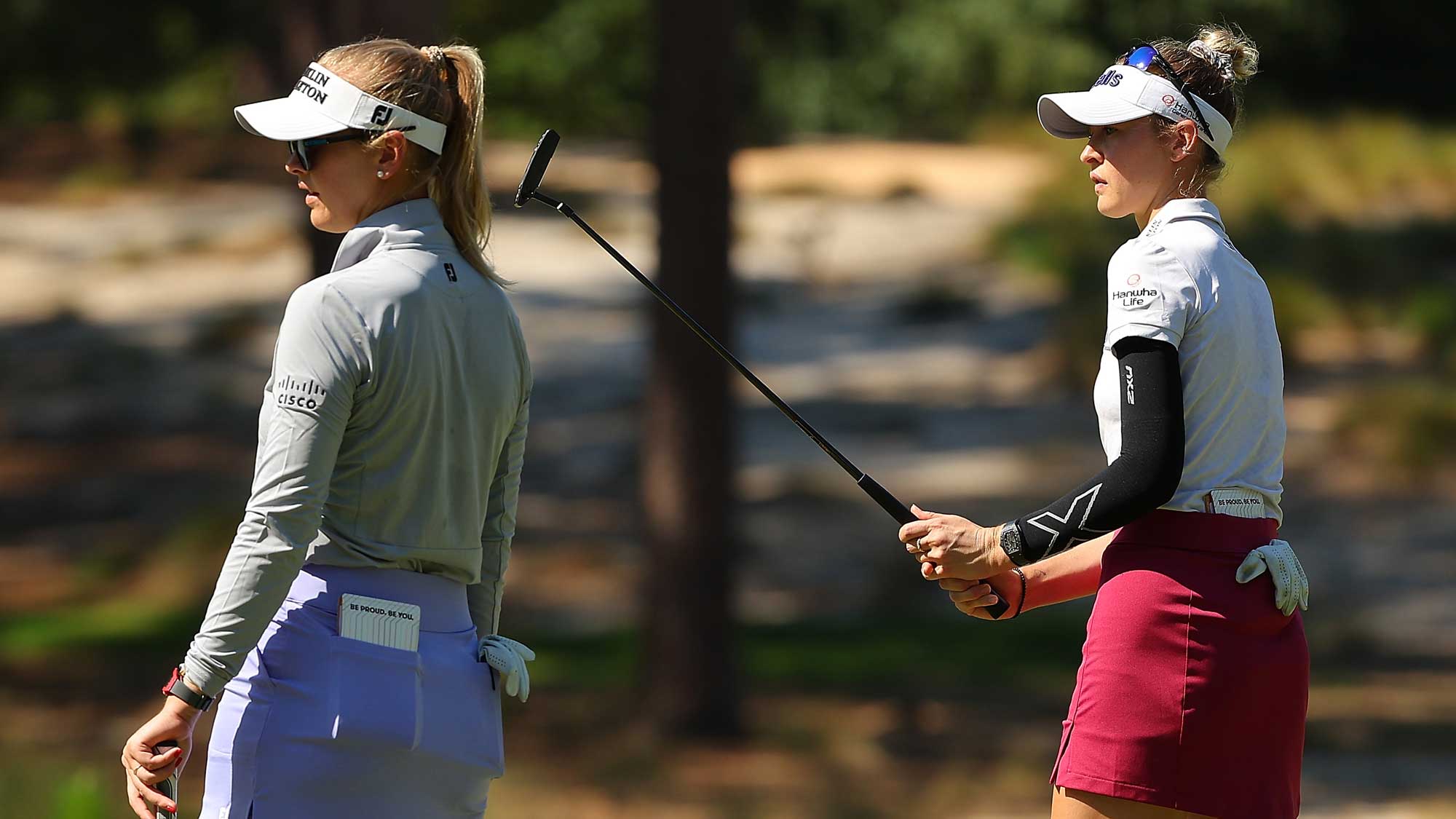 Swede Madelene Sagstrom shares Korda's sentiment and has first-hand experience with how accepting the LPGA Tour can be. Last year, Sagstrom shared her sexual assault survival story for the first time via the Tour's #DriveOn campaign and was met with an overwhelming amount of support from both her peers and the organization. While she considers Pride Month a time to celebrate living freely and being one's true self, Sagstrom thinks it's even more important to show people that they belong and are welcome in all spaces.
"It's important to show that everyone is welcome. Everyone is welcome to play sports and be a part of society and it's so easy to not feel like you belong so I think it's so important to focus on that and make everyone feel included," she said. "It doesn't matter who you are and who you want to be. You can be out here competing against the best players in the world. It's a huge honor to be a part of an organization like that, and I really think that it's wonderful to be yourself out here."
Having that kind of encouragement and allyship week in and week out on Tour is something for which Reid is incredibly grateful. But she's also thankful for how her fellow Grant Thornton ambassadors have embraced this project and its message, proudly carrying the yardage book in support of the LGBTQ+ community.
"The whole team that we have on the Grant Thornton ambassador team are cool people and they've all kind of got behind it," Reid said. "Obviously, Nelly's wearing it and that's a great message for us, but Jess also messaged me straight away saying, 'Hey, I've just seen your pieces. That's unreal. That's really cool.'
"This is what it's about, right? You don't have to be paid to support the community and for the other ambassadors of the Grant Thornton team to support it, and to be proud to be using it is something that we wanted to create. To see them guys kind of get behind it means so much to me, it really does."
As Pride Month comes to a close, the meaning of "Be proud. Be you." won't lose its luster for Reid. It will rather propel her forward as she continues to strive to make the golf community a more inclusive, welcoming space – one step, one shot, one day at a time.
"I've never been one of them people that just wants to take a check and go home and sit around. I've always wanted to use my platform for the greater good. Because I'm in this community, I've seen the harm that it can do. People are still dying just because of who they love. That's not the way the world should work.
"I'm just trying to be a small part in a huge issue that is definitely changing. I want to use my platform to try and help people. At the end of the day, if more people were just themselves, I think the world would be a better place."