CLIFTON, NEW JERSEY | The crowd surprised everyone. And why wouldn't it? Good causes rarely age well because there are so many of them. Generous people always rally around friends, giving, sharing and showing support in times of need. But then the next tragedy comes along. Time and resources stretch thin. No one forgets the original cause, but you can only do so much.
Thank God people like Marina Alex are there to remind us why we give.
On Monday night, the LPGA Tour's latest winner served as unofficial host of the second-annual Saving Grace charity event at 1776 by David Burke and TopGolf Swing Suite in Morristown, N.J., a short jaunt south of Upper Montclair Country Club where the LPGA Tour's best will tee off on Thursday in the Cognizant Founders Cup. The charity function was created last fall by Alex and Golf4Her founder and CEO Christina Thompson to raise funds for Grace Godfrey, the daughter of LPGA Tour veteran Jane Park and longtime Tour caddie Pete Godfrey. Last summer, Grace contracted a virus and suffered a series of seizures that led to brain damage. Her challenges will require special (and often expensive) care for many years. With the help of friends and fellow players like Alex, the LPGA family will always be by the Godfreys' side.
"We were blown away (last) October when we initially started this," Alex said. "Christina is the founder and operator of Golf4Her which is an online women's clothing retailer, and she sponsors me and Jane. She now sponsors Mariajo Uribe. She's sponsored Tiff Joh and Mo Martin for a long time. She helps outfit us with all of our clothing.
"Her heart was broken, as many of ours were, when this whole thing happened with Grace last July," Alex said. "Right away (Christina) was, like, 'I want to figure out what we can do. I want to help Jane and her family any way that we can.' It was her idea to come up with this (event), and I just tried to help any way I could from the golf side. That was getting some of our players in attendance, working with some of the companies -- Ping and Callaway to get donations. And just working with anyone in the golf industry to kind of bring in whatever we could."
The first year was an unqualified success. Renowned chef David Burke opened his new restaurant in Morristown a week early to host the event which attracted hundreds of generous donors and a healthy number of players. In addition to upfront donations, participants engaged in a silent auction and closest-to-the-pin contests with LPGA Tour players.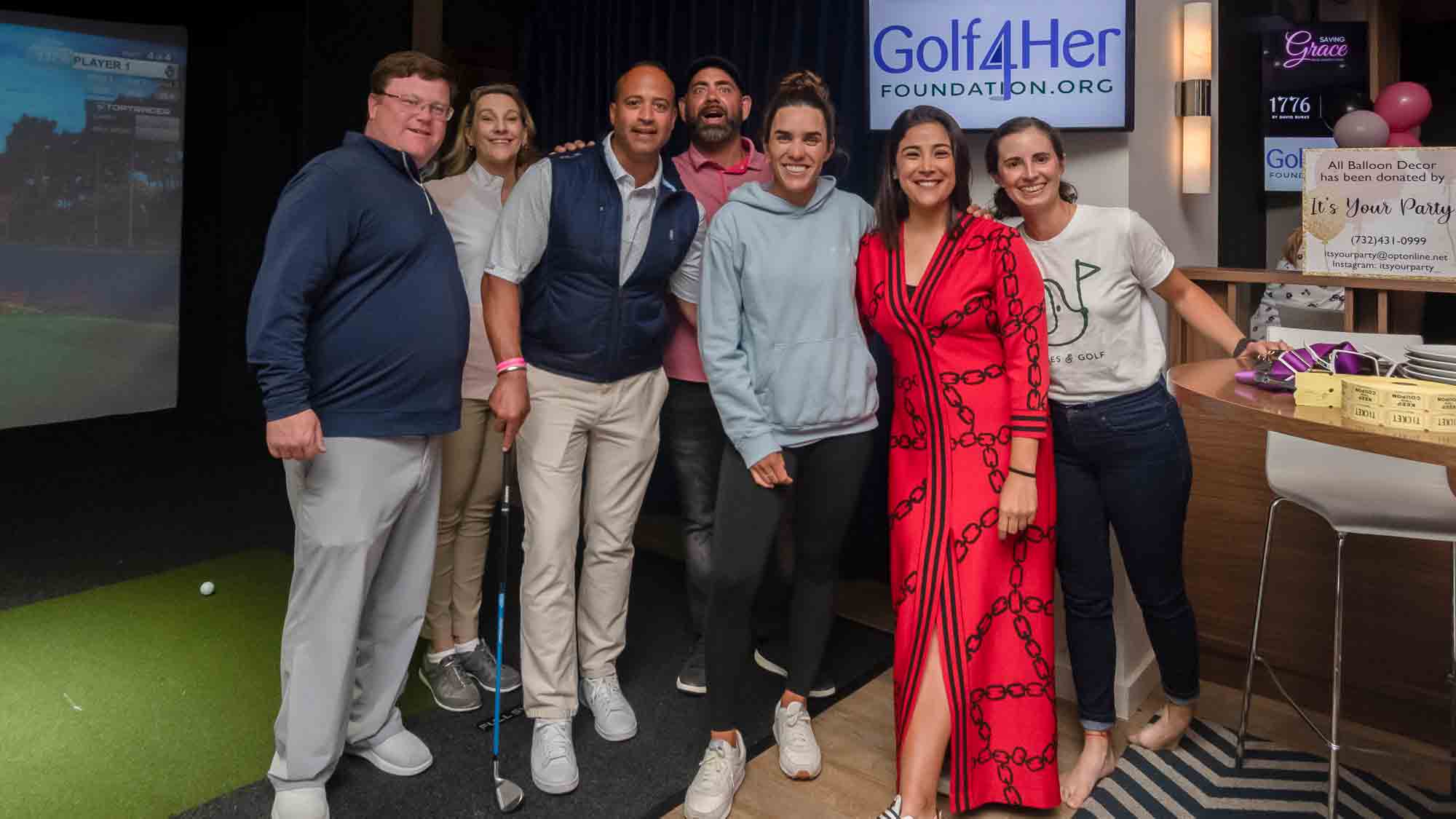 But that was seven months ago. A lot has happened since then. Would people remember? Would the outpour of support be the same in a year of skyrocketing inflation, food shortages and a plummeting stock market? How would the crowd be on a Monday in May with everything else going on in the world?
The answer stunned everyone. The facility was once again packed. Players like Mel Reid, Alison Lee, Bronte Law, Annie Park, Megan Khang, Jaye Marie Green and Brittany Altomare joined the Golf4Her ambassadors and another couple of hundred generous guests who opened their hearts and their wallets.
"I can't tell you how much it means to see all of you here," Pete Godfrey said to the crowd on Monday night. "It means more than you will ever know. And while I'm not much at making speeches, all I can say is thank you, thank you, thank you."
Jane and Grace also made a video appearance where Jane thanked the group and spoke about the many challenges of raising a precious special-needs child.
Later in the evening, Alex took the mic to thank the crowd for not forgetting about Grace and her ongoing needs. "Jane was one of my first and best friends when I came out on tour," Alex said. "It's up to us to keep this family in the forefront."
A day later, reflecting on returning home to New Jersey as the most recent LPGA Tour winner, Alex didn't lose focus. "The main bulk of what we are making (for Jane, Pete, and Grace) as far as what we're giving back is coming from the auction that we had last night -- auction and ticket sales," she said. "Any way that we can make it all come together to give them something is our ultimate goal."
Generosity is an instinct in many. Marina Alex wants to make sure it's not an impulse soon forgotten. So far, achieving that goal might be her biggest win of the year.