Defending champion Annika Sorenstam had to stop Jill McGill from tapping in her short final putt on the 18th green on Sunday at NCR Country Club. The 50-year-old Colorado native had no idea that she had won the U.S. Senior Women's Open in her debut and was about to finish out, until Sorenstam gave her the news and told her to soak in the moment.
"I was going to tap in and she goes, 'No, no, no, mark.' I'm like, 'Why? I'm this far.' She goes, 'You're going to win.' I was like, 'What?' I really had no idea. Just disappointed that I didn't get that first putt closer. So she told me that, and I'm grateful to her. I know she didn't have her best day and she and Mike were super supportive. It was a good day out there."
McGill managed to grind out an even-par round of 73 en route to her first professional win, and with the victory – as well as her wins at the 1993 U.S. Women's Amateur and 1994 U.S. Women's Amateur Public Links – she joins Arnold Palmer, Jack Nicklaus, Tiger Woods, JoAnne Carner and Carol Semple Thompson as just the sixth player to win three different USGA championships. "To be in that company is tremendous," she said. "I mean, one professional win, but I'll take it. That's amazing."
During her LPGA Tour tenure, McGill only finished runner-up twice in her career, once in the 2001 Michelob Light Classic and once in the 2005 Michelob ULTRA Open at Kingsmill, and has 22 other top-10s on her resume. While she was never able to close the deal on Tour, McGill used those past experiences to help her get the job done today and says that although the victory tastes sweet, it's even more special to share this incredible moment with those she loves most – her husband, Patrick; kids Blaze and Bella; and sister and caddie this week, Shelley, who just recently recovered from ovarian cancer.
"I think this (win) is sweeter because I'm able to share it with my kids," McGill said. "My friends back home, they're like, 'Wait, you're going to have them come out? No, don't let them disrupt whatever is going on. You're playing great.' I said, the most important thing to me is that I get to have them be out here with me and see me do something like this, and hopefully it inspires them, regardless of what the outcome is.
"Shelley has always been an amazing supportive force for me in my career. I just love her. She was such a calming force out there. She just keeps going, reminding me of things. Knowing what she went through, and she's still battling a little bit. I don't know what it's like. I've never had chemo, so I don't know what the aftereffects of that are. Anytime you have a scare like that, it certainly puts things into perspective and prioritizes things."
Leta Lindley, another first-timer in this week's field, finished runner-up to McGill after closing with a 1-over, 74. She made just three bogeys on holes five, eight and thirteen and closed with two birdies in her last three holes to post at -2 overall in her first Senior Women's Open appearance. The performance seems to have re-kindled Lindley's love for competitive golf and she says that she just might have to keep working on her game after what she's seen this week in Kettering, Ohio.
"I can remember JoAnne (Carner) was 60 and she was still playing out on the LPGA Tour and I'm thinking, wow, 60," said Lindley. "I don't know if I'm going to be playing golf at 60, but now that I'm here at 50, I think it's within the realm of possibility when I see all the amazing golf being played by my peers that are older than me, so for sure.
Scotland's Catriona Matthew moved into the top-five with her even-par Sunday effort, finishing in a tie for third with 54-hole co-leader Helen Alfredsson. Alfie had a tough day on the South Course, making five bogeys with three consecutive on holes 12, 13 and 14, but she managed to eagle the par-5 16th to post a 3-over 76, enough to salvage a top-three finish.
A trio of multiple major champions finished in a tie for fifth, including Sorenstam, who carded a "flat" 77, after starting the day with a birdie. "I didn't drive it well enough. I've been driving it well coming into this," said the 2021 champion. "I made birdie on the first and felt great and then somehow just my wheels came off. I really can't pinpoint it. It was just difficult to get the momentum."
Dame Laura Davies played with Alfredsson in the final pairing, and at 1 under on the day through her first 11 holes, it looked like she was well on her way to winning her second U.S. Senior Women's Open in spite of the Achilles injury that's been plaguing her all week and the heat exhaustion that began to set in on Sunday. But she made a critical error on the par-4 12th. After driving the ball in the left rough behind a few scattered trees, Davies went for the hero shot on her second and hit one dead-on, sending her ball just a couple of feet beyond the out-of-bounds fence.
Playing her fourth, she tried the same shot again and got the same result, finally taking her medicine and just whacking it out to the fairway on her fifth. Her sixth shot found the green and Davies two-putted for the dreaded "oh-no ocho", a quadruple bogey that took her out of the tournament.
"(It was) about as tough as I've ever known it, I think," said Davies. "The overall week, it just wore me down, and then the heat today. It's just an accumulation. It's three weeks of walking with a hobble, the pressure of a final round. Well, I was going really well until the quad."
Former United States Solheim Cup captain Juli Inkster rounds out the group at +1, carding a final-round 73 to finish in the top-five for the third time in this championship. Sweden's Catrin Nilsmark captured solo eighth with a four-day total of +2 with Michele Redman and Liselotte Neumann rounding out the top-10 at +3.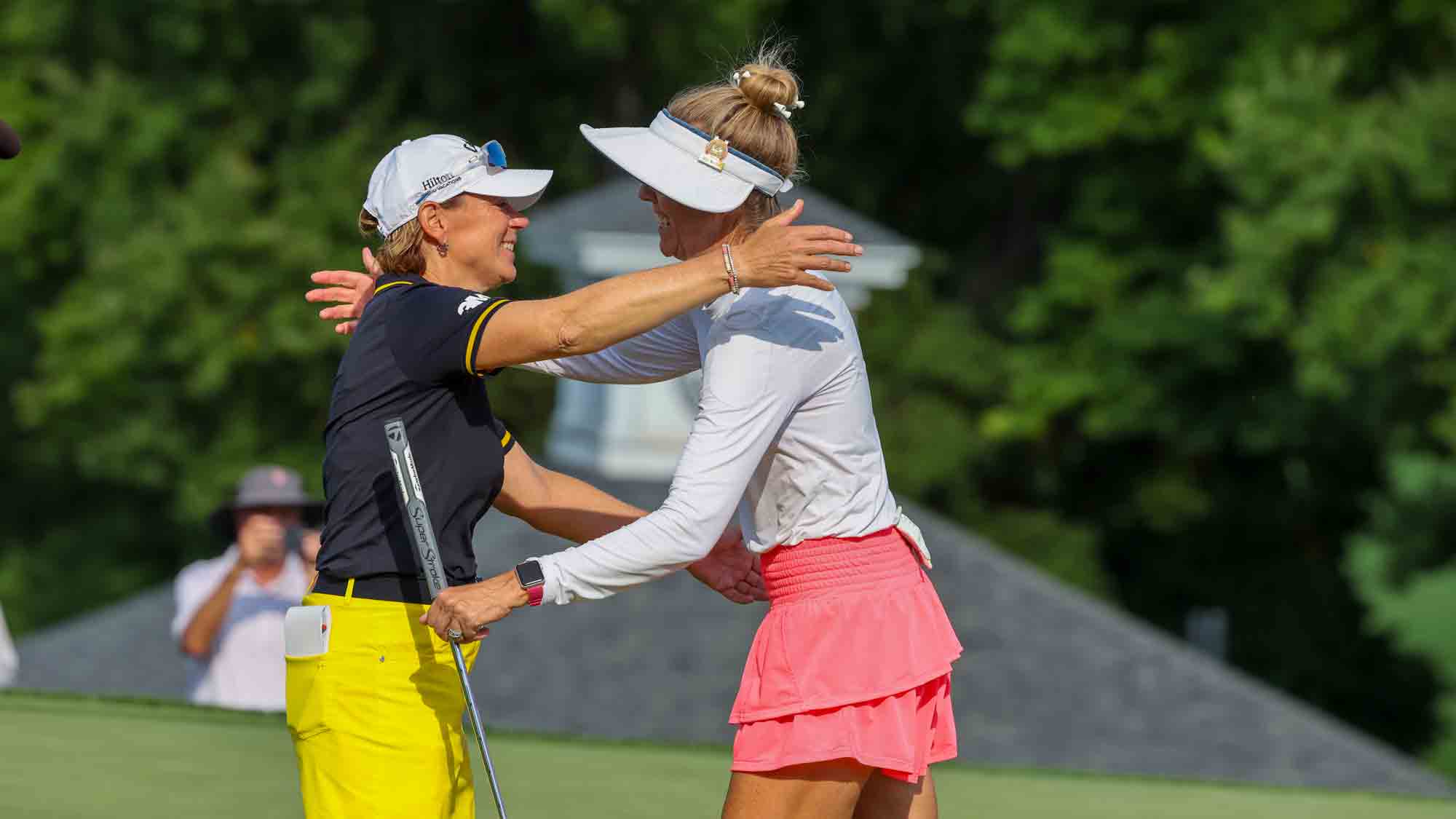 HEARTFELT HUGS FOR A HUGE VICTORY
At the end of the week, only four players broke par. And not a soul cared.
By every measure, the U.S. Senior Women's Open – a huge hit from the first time the event was held at Chicago Golf Club in 2018 – continues to strike the right chord. This year, 50-year-old Jill McGill, who won two USGA championships in the early 90s but never managed a victory on the LPGA Tour, leaped past a plethora of legends to hoist the trophy at NCR Country Club on Sunday afternoon.
While winning is the reason for playing and while the competition this year was as fierce as ever, this event continues to be about so much more. Fans streamed out early in the week to watch 83-year-old JoAnne Carner shoot her age in back-to-back rounds, missing the cut but giving lovers of the game the kind of au revoir they so rarely get from superstars.
To add perspective on how this championship is different, McGill bogeyed the last two holes and still won by two shots over Catriona Matthew, three shots better than Juli Inkster. But when McGill walked up to tap in her bogey (a three putt) at the last, her fellow competitor and defending champion Annika Sorenstam stopped her.
"I was going to tap in and (Annika) goes, 'No, no, no, mark.' I'm like, 'Why? I'm this far.' She goes, 'You're going to win.' I was like, 'What?' I really had no idea. … So she told me that, and like I'm grateful to her. I know she didn't have her best day and she and Mike were super supportive. It was a good day out there."
That tells you all you need to know about the comradery and gratitude this group has and what this championship means. Sorenstam, who came into the week supremely confident, failed to capitalize on a Sunday opportunity but was the first to congratulate McGill, the smile bigger on Annika's face than on Jill's.
Hollis Stacy made the cut again. And while she finished near the bottom of the weekend leaderboard, she raved on social media about how special it was to be around on Sunday at another USGA event.
For all her competitive drive, Sorenstam felt the same. "I was very proud to be defending here," Annika said. "As you know, the USGA puts a great championship together. I've always enjoyed playing in them. Kind of that's where my career started.
"I love the golf course. The support has been fabulous, the weather: everything has been great. I wish my game was a little better, so obviously (I'm) disappointed, but we still got good memories and new friends here this week, memories for the kids and Mike.
"Yeah, we're still smiling."
That could be said for everyone in Kettering, Ohio for this championship.
"It's always great to see your competitors being happy for you," McGill said after receiving a slew of hugs from the field. "I think it's easier as you age, because you realize life happens, and (you realize) those priorities and the importance of things. I mean, it's tremendous when people come up and give you a very heartfelt congratulations."
There were smiles aplenty all week. The competition is important, to be sure. But from a group whose priorities are now defined by age and wisdom, experience and regrets, the heartfelt hugs at the end are what continue to make this championship truly special.