Susie Maxwell Berning Inducted Into World Golf Hall of Fame
After a two-year wait, the time has finally come. On Wednesday, one day after International Women's Day, at a ceremony where dinner tickets sold for $5,000 a plate and offers in the secondary market peaked at five figures, Susie Maxwell Berning will be inducted into the World Golf Hall of Fame.
Berning knows no one is paying that kind of money to see her. The other professional going into the Hall on Wednesday is Tiger Woods. Still, the LPGA veteran won 11 times in a 32-year career, including three U.S. Women's Opens, an impressive resume for any golfer, male or female. Only five other players in history have won the USGA's national women's open thrice. They are Babe Zaharias, Betsy Rawls, Mickey Wright, Hollis Stacy and Annika Sorenstam – heady company for a woman who continues to coach at The Reserve at Indian Wells in the California desert.
"It was so long ago, and then they kept delaying it," Berning said of the induction process that has been two years in the making because of COVID-19 delays. "So, I think there was probably a year when I didn't think much about it. Now the last two months people have come up to me and said, 'Have you practiced your speech?' and this and that."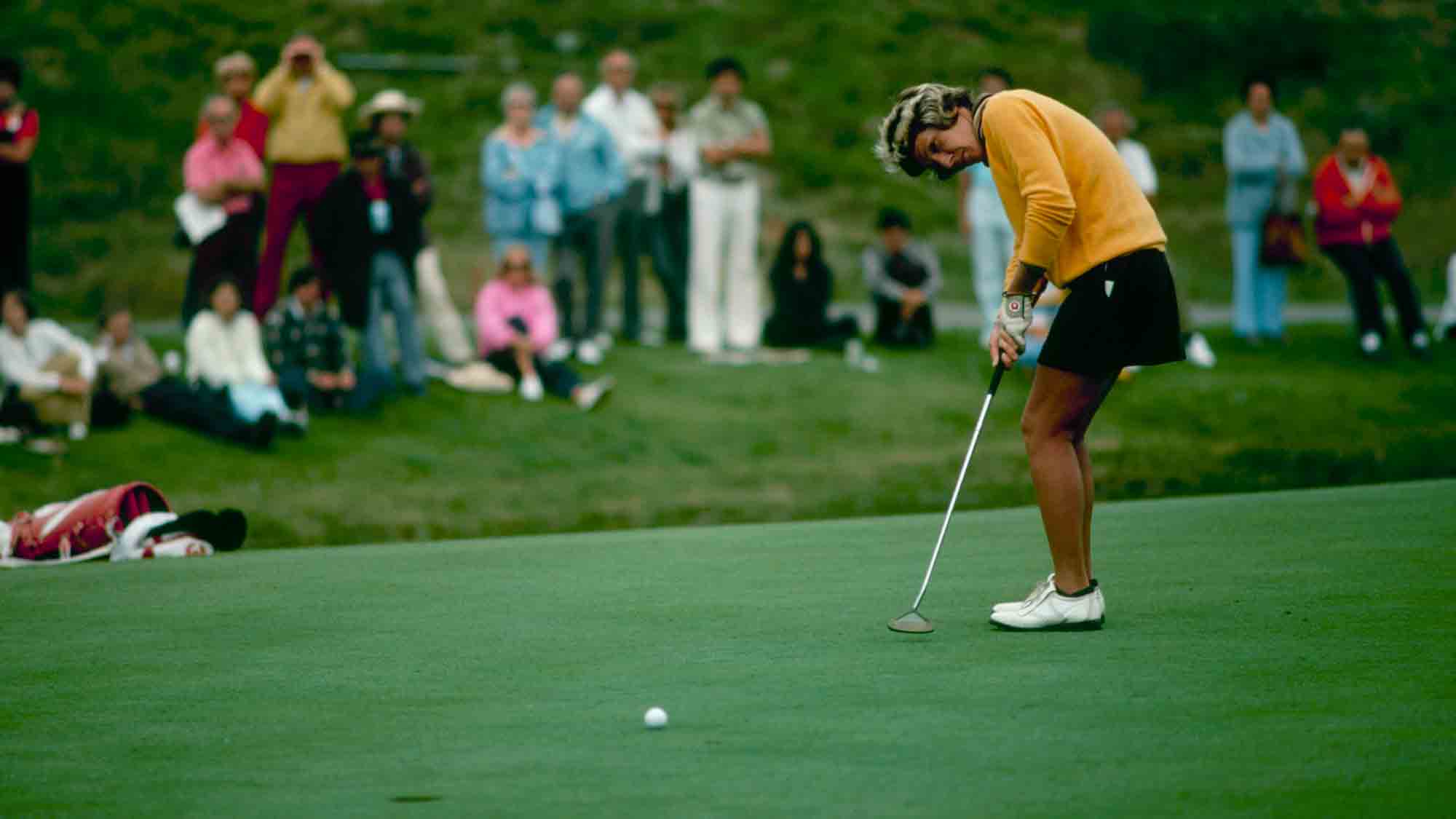 It's unfair to characterize Berning as a part-time golfer. She officially played the LPGA Tour from 1964 to 1996. She was Rookie of the Year and, in 1967, the LPGA's Most Improved Player. In the first three seasons of that career, she played every event. And after hanging up the competitive clubs for good, she became one of the game's most respected teachers.
But like Bob Jones, who went to Harvard and Emory University and then opened what would become one of the world's premier law practices, all while winning 13 major championships, and Jack Nicklaus, who won 18 professional majors and two U.S. Amateurs without missing his kids' graduations, school plays, football games and gym meets, Berning lived an exceptional life outside the ropes as well. And she understood the important things – the things that must always come first.
When she was 26 to 35 years old, when she won seven times, Berning averaged fewer than 13 starts a year. There were other priorities. In 1968, she played just nine events, taking time off to marry her husband, Dale. In 1970, pregnant with her daughter, Robin, she played seven times. And in 1977, pregnant again with her second daughter, Cindy, she played only twice.
"Susie was still playing when I was a rookie on tour in 1979, although it was a limited schedule," fellow Hall of Famer Beth Daniel said. "She started playing a limited schedule early in her career because her husband moved to Hawaii to start a fishing business, so she was traveling in and out of Hawaii, which wasn't easy. She was also traveling with Robin."
This was before the Smucker's Child Development Center, a rolling lifesaver for working mothers on the LPGA Tour. During their careers, players such as Berning and Judy Rankin had to figure out how to be mothers and touring pros on their own.
"I was part of those times when she played so very well," Rankin said of Berning. "We're friends to this day. Susie is not what I would call just a natural golfer. She worked very hard for everything she had. She's always been very interested in the mechanics of the game and all these last years she's been a really wonderful teacher."
Berning won her first major, the Women's Western Open in 1965, in her second year as a pro. A closing 69 was good for a three-shot victory ahead of Marlene Bauer Hagge. Three years later and five weeks into her new marriage, Berning led wire-to-wire at Moselem Springs Golf Club in Reading, Pa., to win her first U.S. Women's Open by three shots over Wright, who already had four Open titles and was the most dominant player in the game at the time.
Berning nabbed her second Open at Winged Foot in 1972, beating Rankin, Kathy Ahern and Pam Barnett by a shot. She remains proudest of that victory because she opened with a 79, the highest first-round score by a winner in U.S. Women's Open history. But she also ushered in a new and elite club – Mothers Who Have Won Majors. Berning was the first. At the time, daughter Robin was 2 years old. Berning played 11 events that year, winning one major and finishing 10th in another. The only other players to join Berning as major winners after becoming moms are Nancy Lopez, Juli Inkster and Catriona Matthew.
One year later, she joined another exclusive club, winning the U.S. Women's Open in back-to-back years. The 1973 victory came at Rochester Country Club where she bested Gloria Ehert and Shelley Hamlin by five shots. Only Wright and Donna Caponi had successfully defended the Open title before Berning did it and only Stacy, Sörenstam, Betsy King and Karrie Webb have done it since.
"I found myself giving more attention and more focus to every shot during a major," Berning said. "When it came time for the majors, for some reason I tried harder. I often asked myself, 'Why can't I try that hard in a regular tournament?' And I don't know the answer to that."
"She was consistent and didn't miss many fairways or greens," Daniel said. "She was never out of a hole, so she was never out of an event, especially a major."
Berning was also active and engaged when it came to the welfare of the LPGA Tour. "Susie was very vocal," Daniel said. "She was always engaged in issues and policies. She was a voice that everyone listened to."
"She was a trailblazer from when she first picked up a club throughout her amateur career, and then made a big splash once she reached the LPGA Tour," USGA Chief Executive Officer Mike Whan said. "I think about the shortlist of individuals – male or female – who have won three U.S. Open titles, let alone four major championships, and understand just how incredible that is. She also shortened her career when she made a decision to walk away to focus on family – something every female professional can empathize with and respect."
"Anybody who has four major championships and three U.S. Opens, I'm very glad to see her get this recognition and I think she's a bit of an unsung hero as far as her ability, the kind of courses she won on," Rankin said. "I'm really happy for her."
Berning blazed trails, set standards and put her priorities in order while crafting what ultimately would become a hall-of-fame career. But there is one "first" that sits a little higher on her shelf than others. It has nothing to do with majors or even victories. It came at the 1989 Konica San Jose Classic, long after Berning stopped playing full time. Robin, then a 19-year-old sophomore golfer at Ohio State, joined her mother in the field. They are the only mother and daughter to compete in the same LPGA Tour event.
Some records stand out more than others.