SOUTHERN PINES, NORTH CAROLINA | No one else could have pulled it off. No one else would have even tried. On Wednesday afternoon, 14 hours before the first tee shots of the season's second major, the U.S. Women's Open, four of the LPGA Tour's most popular players traveled 15 minutes away from Pine Needles to the Country Club of North Carolina. There Ally Ewing, Sophia Popov, Angela Stanford and Sarah Kemp stood on the back of the range for more than an hour giving a clinic to scores of fans.
They talked about their warmup routines, the distances they hit specific clubs, how they configuration their bags, why they carry or don't carry hybrids and how to get a 3-wood off the ground. They took questions, like how you figure out if a driver is right for you, and how to open the face of a wedge to hit a bunker shot. They answered them all with patience and care, as if this it was Monday of an off-week, not the day before one of the most important championships of the year. Topping things off, the heat index hovered around 102 degrees.
You couldn't have picked a nicer foursome. The players involved on Wednesday are unfailingly kind and generous. But not many causes could compel players to break their major-preparation routines. It took a dynamic personality to pull it all together. It took a woman of substance to even make the ask.
That woman was LPGA Hall of Famer Betsy King.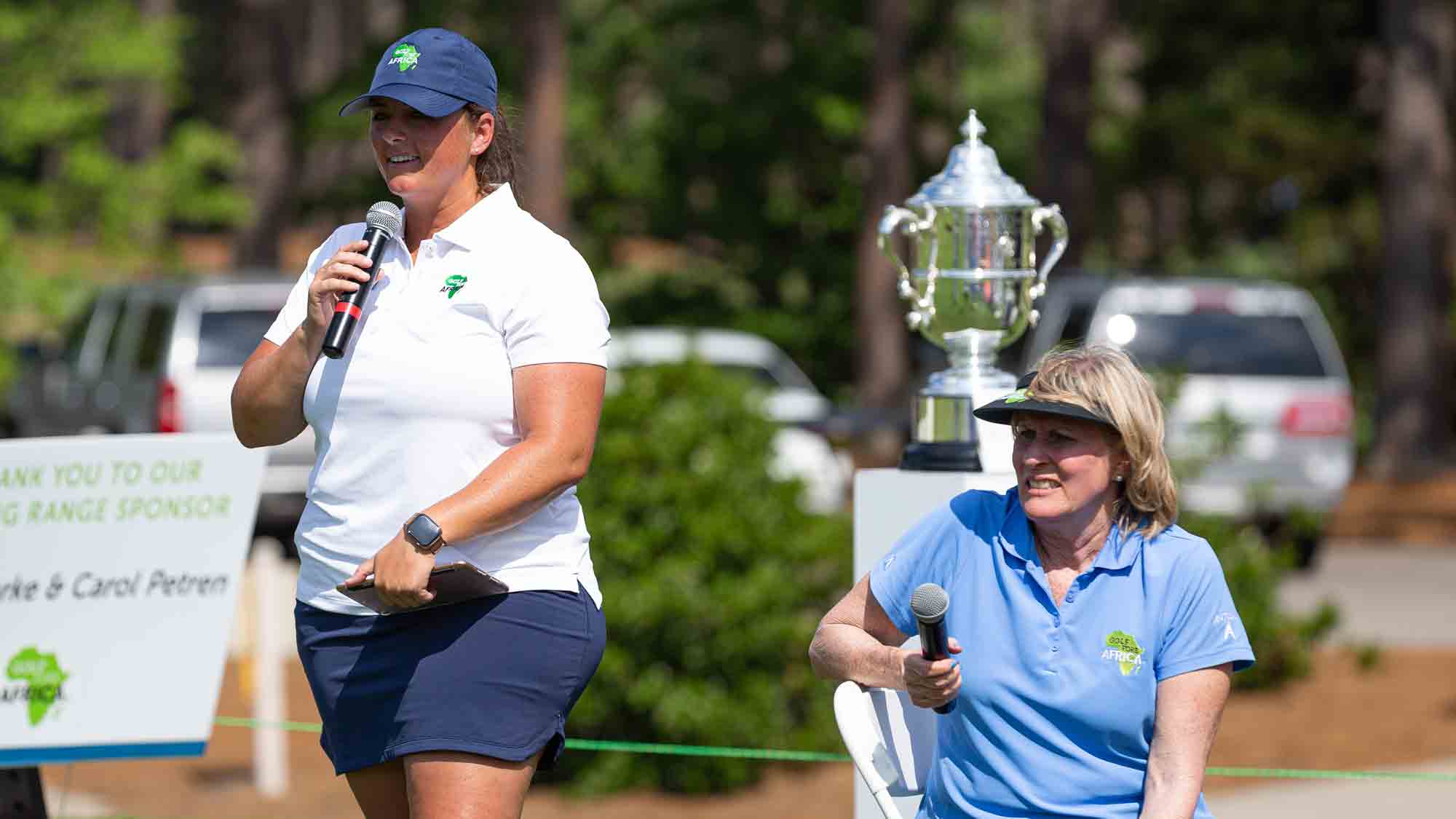 King didn't stand during the clinic. The scars from her most recent knee surgery shone pink beneath the Carolina-blue sky. It annoys her to walk with a cane, although she would never show it, and she fidgeted in the white plastic chair on the range as she asked several questions of the players. But she still towered above everyone. She is the E.F. Hutton of women's golf. When she talks, people listen. And when Betsy asks for a favor, your first instinct is to say "yes."
"She is so passionate and dedicated," Ewing said on Thursday after firing a 3-under par opening around at Pine Needles. "It's hard not to be a part of what she's doing."
What she is doing is a charity called Golf Fore Africa, which King created in 2007 after a life-changing trip to Rwanda, Zambia and Tanzania. There she witnessed, firsthand, the devastating impact the lack of freshwater has on civilization as a whole, and the lives of women and children in particular. She began raising funds through the game she loves for World Vision with the goal of providing clean water to villages throughout the continent of Africa. A hand-pumped freshwater well costs $5,000 and can save the lives of countless children and lift an entire community out of destitution. A mechanized well is $15,000 and can allow girls to attend school and learn to read – girls and women are the ones tasked with finding and carrying drinking water in jars on their heads, sometimes as far as 10 miles. A full-blown water system with a tank, plumping and spigots is $100K.
"Throughout my career, I thought that golf was my life's purpose, why I was put here," King told me a few years ago. "That was wrong. Everything I did before – every tournament I won and every award I received – was a prelude to this. (Golf Fore Africa) is my real mission in life. Everything else has been to prepare me for what I'm doing now."
What she is doing now is the Lord's work. With King's help World Vision has, in essence, rescued the nation of Zambia. In 15 years of relentless work, every person in that country now has access to fresh water. Still, according to the World Health Organization, one out of every four people in the world lack safe drinking water.
King didn't talk about that during the clinic on Wednesday, although there was a dinner in the CCNC clubhouse afterward where she made a compelling and emotional appeal for help.
During the clinic, she invited eight-year-old Autumn Solesbee, winner of her age division the Drive, Chip and Putt at Augusta National in April, to hit a few shots with the tour players.
Then the guests adjourned inside for a dinner and silent auction.
"We stayed in the air conditioning for about 20 minutes and took some pictures," Ewing said. "It's impressive what Betsy does. She's helped save a country. Not many people can say that."