Former LPGA Professionals President Deb Vangellow has seemingly been in a lot of right places at the right time in the course of her golf career.
That serendipity was all that was needed to lay the foundation for a solid three-decade career capped by inclusion into the LPGA Professionals Hall of Fame.
"I'm thrilled and it's very special to follow my colleagues who have already gone into the Hall of Fame, but I certainly didn't expect anything like this to happen in my career," said Vangellow, director of instruction for 15 years at Riverbend Country Club in Houston, Texas.
Vangellow played several sports in high school and was a decent golfer, but she excelled in track and field. The native of Rochester, N.Y., earned a scholarship in track and field at the University of Northern Iowa, where she threw the discus and javelin and played soccer.
"Golf was mostly a summertime sport in upstate New York and it certainly wasn't a big deal for junior girls when I was growing up," she said. "Who would have ever thought I would make a career out of golf?"
After graduating from college, she played on the golf mini-tour circuits in California for about six months, later opting to continue her education at Miami University (Ohio) for a graduate degree in educational leadership/psychology. It was there that some of the pieces of her life began falling into place.
While in graduate school, Vangellow managed some campus facilities at Miami University where housing was being provided for the Golf Digest Golf Schools during its Ohio schedule. She met teaching professionals Charlie Epps, Jim Flick and Dr. Dede Owens, who were there with the school. They asked Vangellow if she would like to help them during the four weeks they were there.
"I certainly was not an instructor, but I assisted with setup and helped the teachers at their stations during the school," said Vangellow. "Foundationally, that was really the beginning and made me think that this was maybe something I wanted to do in my career."
As luck would have it, she was assigned to work mostly with Owens, who saw potential in the 20-something student and encouraged her to build on her golf knowledge and experience. Before the school was over, she even told Vangellow that she "would become the LPGA's National President one day."
Vangellow must have also made an impression on Epps, who wanted to host a golf school in Texas. Epps asked her to come to Texas and work with them in their school during the summer months at Sweetwater Country Club, which is where Vangellow met and connected with former LPGA Tour winner and LPGA Master Life Professional Betsy Cullen, then Sweetwater's Co-Head Professional.
"I was very lucky to make this connection because it was my way into the golf business," said Vangellow, who eventually moved to Texas.
In Texas, she also met and was hired by LPGA Hall of Famer Kathy Whitworth, who was running a Japanese-sponsored "Superlady" project through the Kathy Whitworth Golf Academy. Based at a resort south of Houston, Vangellow and Whitworth coached and traveled around the United States with prospective Japanese women professionals who were gaining tournament experience.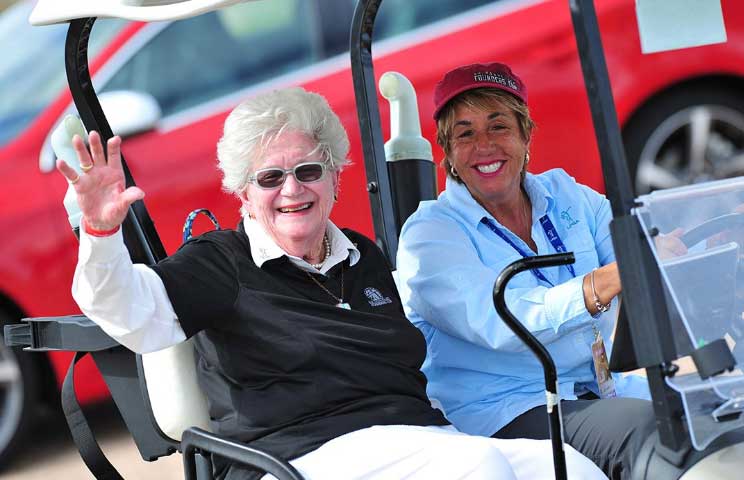 When that project ended, Vangellow settled into the tutelage of Cullen, who recognized a young woman eager for opportunity and guidance with the potential for future LPGA leadership.
Vangellow wanted to focus solely on teaching, rather than running a club, but didn't always understand how the teacher-student dynamic worked.
"I used to think I wasn't doing that well as a teacher because students kept coming back," said Vangellow. "I thought I would teach them and they would go on their way."
Cullen laughed at her young charge, saying, "You don't get it. Just keep doing what you're doing. If they're coming back, they're still getting something from you and most of the time, they're just enjoying the experience."
That allowed Vangellow to relax and to see her role differently. She worked alongside her mentor for 18 years as Sweetwater's Director of Instruction and grew in her involvement in the association. She was named three times as the LPGA Central Section Teacher of the Year (2002, 2009 and 2012) and as 2012 LPGA National Teacher of the Year.
In 2010, new LPGA Commissioner Mike Whan pushed for the LPGA Professionals to take its education program to Korea. Korean golf professionals wanted to get certified in the LPGA's program, so Vangellow made 24 trips to Korea to help get the education program on track there.
"That was a rewarding experience because those professionals were so receptive to our program and were very proud of their LPGA certification," said Vangellow. "We had a translator, but they worked hard to learn English and we worked hard, too."
Vangellow served as national vice president under Dana Rader and later as LPGA President for three years, earning teaching and industry honors along the way.
But her good fortune took a different turn in January 2020, when she suffered a stroke. One minute, she was in a golf cart; the next minute, she was in an ambulance heading to a hospital.
Vangellow had surgery that night. When she woke up 13 days later, she was weak, but alive and entered a stroke rehabilitation center right as COVID-19 restrictions were tightening.
"I had some very lonely times because visitation was limited and they kept us under close watch at the facility," she said. "It was awful, but I got through it."
That health scare only served to make Vangellow appreciate her teaching role even more, currently with students ranging from age 5 to 95.
"I think I found my niche," said Vangellow, winner of the 2021 Rolex LPGA Ellen Griffin Award.
And when she enters the LPGA's Hall of Fame, she will be at the ceremony with Cullen, now 84, who is still teaching and setting an example.
"Betsy has been my great friend and dear mentor for the last 30 years and I'm very lucky to have her in my life," said Vangellow. "It actually feels like we are going into the Hall of Fame."