Fifteen-time LPGA Tour winner Jin Young Ko has set the new record for most career weeks spent at No. 1 in the Rolex Women's World Golf Rankings. Monday, June 26 marks her 159th week in the top spot, surpassing the previous 158-week benchmark set by Lorena Ochoa in 2010. The Republic of Korea native ascended to No. 1 for the fifth time in her LPGA Tour career following her win at the Cognizant Founders Cup on May 14.
"I didn't think I'd break the record to Lorena because I didn't play well today," said Ko after her final round at the KPMG Women's PGA Championship. "But it's really an honor to break (Lorena's) record. I'm very thankful to who supported me and prayed for me."
Ironically, Ko has utilized Lorena Ochoa's long-time caddie, David Brooker, since 2019. Brooker was with Ochoa from August of 2006 to June of 2009 when the pair split after winning 21 tournaments together. Ochoa retired in May of 2010 with 27 career LPGA Tour victories, two of which were major championships.
Along with Ko and Ochoa, Brooker has caddied for several high-profile players, including European Solheim Cup captain Suzann Pettersen, 2004 Chevron Championship winner Grace Park and 2007 Evian Masters champion Natalie Gulbis. But there was always something different about the two players that became world No. 1 while he was on the bag, characteristics that set them apart from his other employers, attributes both mentally and physically that made them great.
"Physically, their golf games are very different. You could say polar opposites. Lorena was very long, like hit it long, made lots of eagles, lots of low rounds. And Jin Young is more like Annika, much more consistent," said Brooker. "They didn't have a lot of similarities in the way they played the game but mentally, the similarities are strikingly similar. Their ability to let the bad moments go is very similar.
"The competitive nature on Sunday afternoons shone through and they won a lot of events because mentally they were the strongest players. So I can see more on the mental side that the similarities were there."
Ko has faced plenty of adversity in recent years, most notably a lingering wrist injury that plagued her for much of the 2022 season, a year that saw her win just one LPGA Tour event, an anomaly for the dominant superstar. This season, she has captured two victories thus far, successfully defending her title at the HSBC Women's World Championship and winning her third Cognizant Founders Cup in four starts in the event at Upper Montclair Country Club in Clifton, N.J.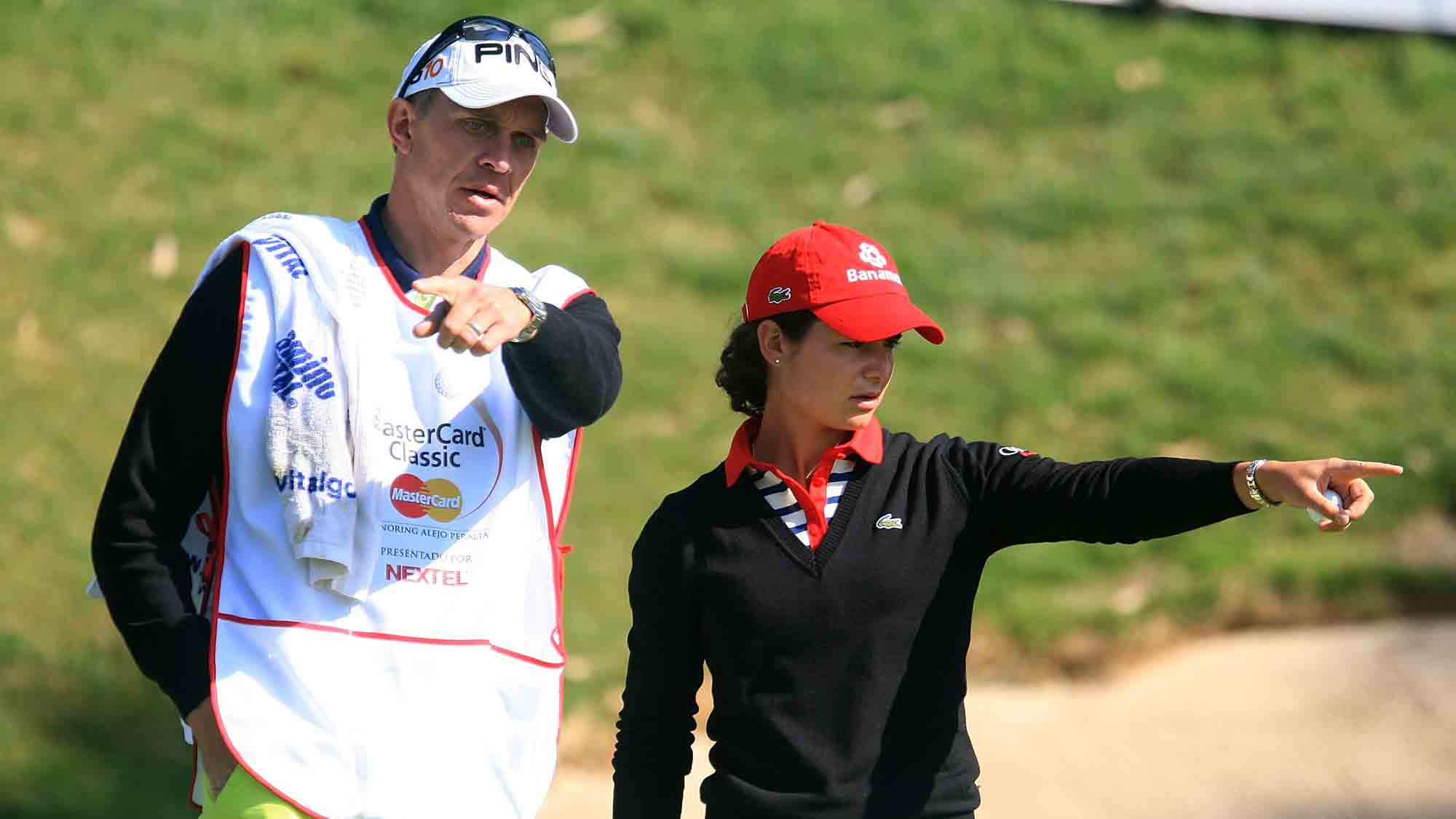 Conversely, Ochoa didn't deal with injury nor face many struggles throughout her eight-year LPGA Tour career, choosing to step away when she was seemingly at the peak of her game. Brooker has been impressed by Ko's tenacity in the hard moments she's dealt with in recent years, and while her career has been drastically different from Ochoa's in that regard, Ko's willingness to just keep fighting through it has stood out to her caddie.
"Lorena never really had to go through (the) injuries that Jin Young has been with her wrist last year," said Brooker. "It's true. Lorena didn't have to handle too much adversity because, I mean, we won 21 times in three years, so it was a lot of really good moments, and not a lot of bad moments.
"Jin Young has handled adversity like you would expect the number one player to handle it – with hard work, just digging dirt and doing everything right off the course also. Just mentally waking up and willing to put in the time and day in day out in the offseason."
And it's that gritty mentality that defines a player, that helps to forecast their propensity for greatness and the trajectory of their careers. Weak-minded players that live and die with each shot don't succeed in professional golf, on the LPGA Tour or otherwise. Ochoa and Ko both possess an uncanny ability to live in the present moment and remain unfazed by the bad shots that are an inevitability in golf, something that Brooker says makes it easy to spot a potential world No. 1 well ahead of time.
"Of course, there's a magical, something different about them," Brooker said. "Mentally they are and were the best. Everyone has bad moments on the weekends, in pressure situations, but their ability to just focus on being present was something that I watched. Really didn't have to coach them too much out of out of adversity. I just knew that they had their full focus on the next shot.
"That's the biggest difference I see when I see that level of player as opposed to those who aren't quite there is just that mentally they're stronger, not only in their own belief in themselves, but also their ability to let bad moments just wash off."
They were also ferociously competitive.
"There was a look in their eye, where they just wanted it, you know, and there was no fear," Brooker said. "You could see just by talking to them."
As she enters into her 159th week at world No. 1, Ko recognizes the magnitude of this accomplishment and how it demonstrates her longevity over her six-year LPGA Tour career. But rankings are just rankings and Ko is much more focused on how she can improve herself and her game, both on and off the golf course.
"I got to this Tour in 2018 and I got world ranking number in 2019 after (Chevron); it's been a long time to be World Ranking No. 1 and I worked really hard and I got a lot of pressure," said Ko. "I think the pressure makes me more strong. The pressure makes me more like better person and better player so I want to get better and better. I will be a better person and a better player."
And Brooker knows that that self-motivation and deeply rooted desire to get better will help Ko maintain her status as the world's best player, especially with the parity that currently exists within the women's game.
"Lorena was I think pushed harder because of Annika and she wanted to get there with Annika," he said. "I think Annika raised Lorena's game for sure. And I know Lorena was very sad when Annika finished because she wanted to have these Sunday afternoons of testing her ability again to Annika's.
"Jin Young is very aware that there are five players who could be in the number one spot right now, possibly even more players. I think Jin Young practices hard because she knows there are four or five players that if she doesn't have her best, she's not going to win. It's important that you have the competition because it makes you practice harder, because you know what they're doing. It's a good thing for women's golf. To pick the number one at the end of the year, it's not easy anymore. It used to be one or two players. Now it's five or six, possibly even more."