As gay women in the golf industry, LPGA Professionals Christa Teno and Pam Boccaccio have worked hard to be where they are today. A championship-winning coach and stand-out teacher, respectively, each of these women have found personal and professional success by choosing to be true to themselves.
"Being true to myself was my own little personal journey," said Teno. "With me coaching college kids, the last thing I want is to be ashamed of who I am, because I know there might be kids I recruit each year who are gay, so I need to be a good influence on them and show that I'm comfortable being me."
While their journeys to becoming LPGA Professionals might have been different, Teno and Boccaccio have both helped pave the way for those within the LGBTQ+ community who seek to play or work in golf.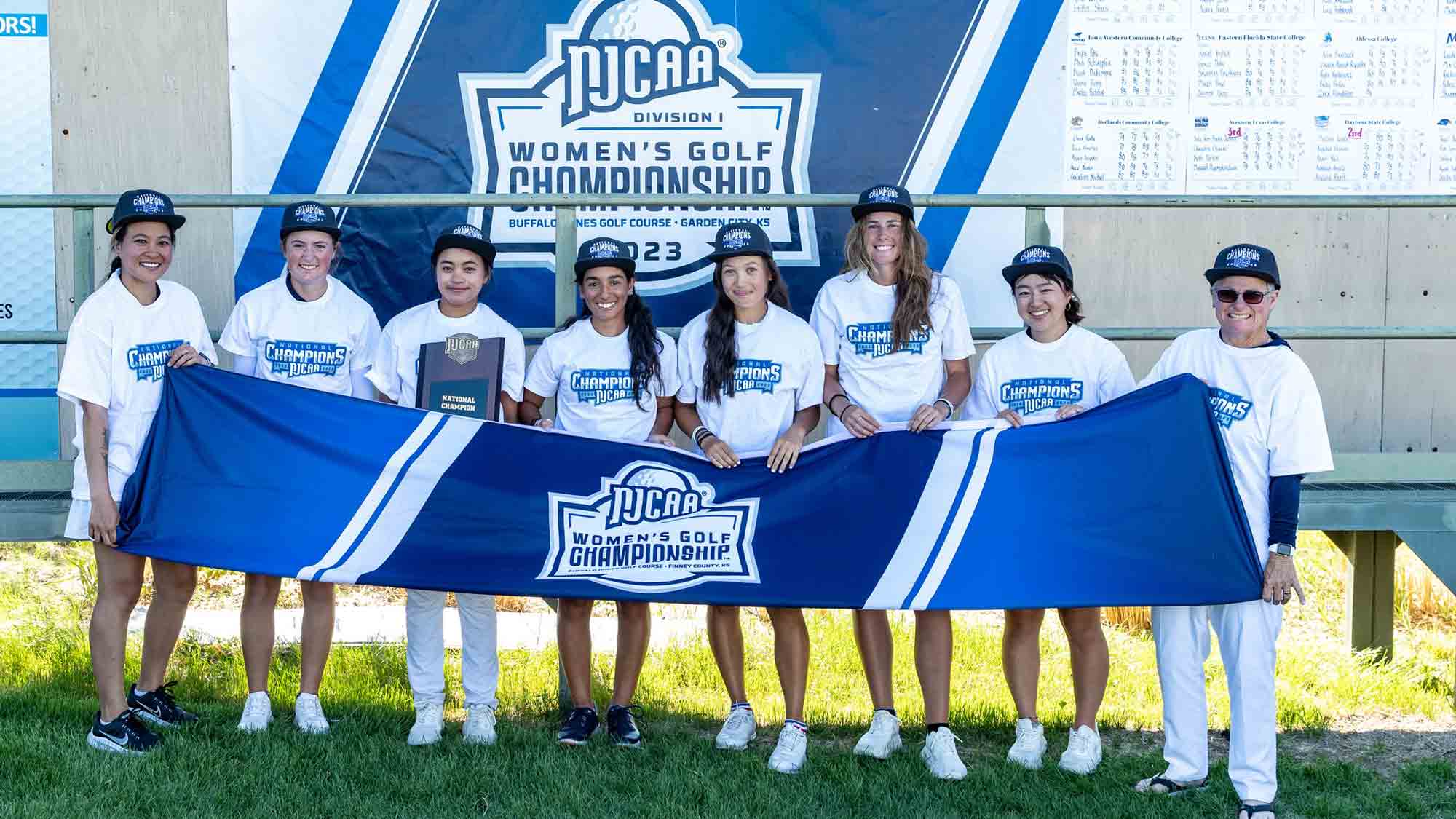 Born and raised in Canada, Teno first learned golf from her Uncle Bill, who gave her a cut-down 8-iron with mechanical tape for a grip. She immediately took to the game, but as the oldest of eight, Teno knew her parents couldn't dedicate all of their resources to help her play. So she took matters into her own hands, caddying at a course a mile from her house for a full year before ever hitting a single shot of her own on the grounds. After she saved up enough funds for the junior golf membership, Teno started playing as much as she could. What she didn't know, however, was how much the local community was supporting her back then.
"I just found out recently that the head pro kept a Christa Teno Fund for people to donate to so I always had shoes and balls," Teno explained about the support she had and the opportunities that resulted from it. "When doors just keep opening, you start to believe you're on the right track, and that's just how it felt. The better I got the bigger events I got to play in."
Teno eventually made her way to the United States, where she played for North Texas State (now the University of North Texas). Teno turned professional in 1985 after graduating from school, and in 1988, she debuted as a rookie on the LPGA Tour. Unfortunately for Teno, after making the cut in her first three starts, she would have to put a halt on her career to have major surgery. Much like other moments in her life, however, as one door briefly closed, a new one opened.
"Cutting my rookie season short was terrible," Teno said. "Since I couldn't golf, I needed something to do while I was recovering. Luckily, I was invited to help with a ladies' clinic at a club in Florida. That's when I discovered my love for teaching and working with people."
For the next 12 years as a professional on both the LPGA and Epson Tours, Teno would use each offseason as an opportunity to teach and gain more experience in the industry. That paid off when she retired from the tour in 1996 and chose to pursue teaching full-time. After receiving her Green Card in 1997, Teno applied for membership with LPGA Professionals.
"I feel like I'm a member of the greatest women's organization in the world," Teno said. "I get to hang out with like-minded women. Each of us has a story and we all had to work hard to get where we are. I have group chats with people I played on tour with and ones with LPGA pros. It's just a privilege to pick up the phone and call my friends for advice and support."
Teno spent the next several years serving in various roles within the golf industry, acting as a head professional and general manager, among other things. But of all the jobs Teno had in the golf industry, there was one that she had no interest in.
"I did not want to coach," Teno reflected. "But after moving from South Georgia to Central Florida after my mother died, I met the athletic director at Seminole State and he begged me to coach the team. I said no for a year before I finally sent in my resume and got the job. It was life-changing to become a coach because it's 24/7."
Though she may have fought off the idea of coaching for so long, Teno proved to be great at it. Since taking the reins in 2006, Teno's team has won five NJCAA Division I Women's Golf Championships, including the last four in a row. She was also recognized as the 2018 LPGA National Coach of the Year. Part of Teno's overall success can be attributed to staying true to herself and being someone that others in the LGBTQ+ community can lean on.
"I'm not a counselor, but to me, just being a strong, brave, gay person is what I have to do for those kids out there who might be in the same shoes I was in," said Teno. "I never thought It'd be legally married, and I never, ever, ever, in my wildest dreams thought Pride Month would be a thing. I'm grateful for my journey. It made me tough, and now there's not too much that bothers me or that I can't handle."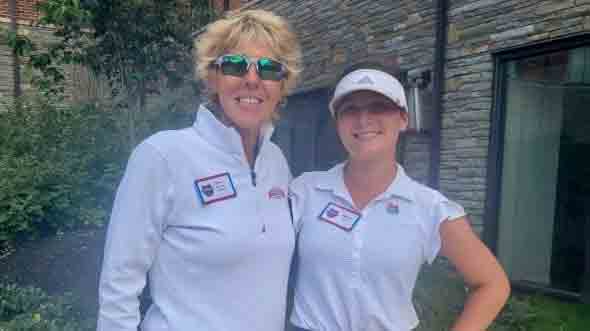 Much like Teno, Boccaccio is a strong role model for those in and outside of the LGBTQ+ community. Boccaccio grew up as an avid tennis player but having lived across the street from a golf course as a child, she always said that golf would be her next sport.
Boccaccio eventually picked up the game after starting her professional career as a physical education teacher some 25 years ago. Though it would take several years before Boccaccio started working in golf, she kept the game close as she worked various jobs focused on youth development, one of her passions.
"At the end of the day, I'm a teacher," Boccaccio said. "I tell people and I laugh, that everything I do at the end of the day comes back to teaching. I embrace the teaching philosophy and it lines up with mine."
It ended up being a perfect fit when Boccaccio combined her passion for golf with her love for teaching seven years ago. Boccaccio started with The First Tee, but within a couple of years, she caught wind of the LPGA*USGA Girls Golf program and decided to get involved there. Being introduced to the LPGA proved to be a life-changing moment for Boccaccio. Becoming an LPGA Professional provided her with a community unlike any she had experienced through sports.
"I have never experienced the camaraderie at this level," Boccaccio said. "You meet a fellow pro and it doesn't matter the hierarchy. We are one."
With the support of her fellow LPGA Professionals, Boccaccio has worked hard to create one of the nation's most successful Girls Golf chapters. In fact, her Girls Golf Jersey Shore site has more than 125 active members who meet at least once per month through formal clinics, mentoring meetings or playing opportunities.
"I think something that sets me apart is the connection I have with my juniors because of my wealth of knowledge and rich experience teaching," said Boccaccio. "I taught Pre-K through high school, so I really understand how each age and grade level needs to be approached in a different manner. Understanding the level of instruction and connection you have to make with every age group is key."
This focus on making a personal connection is one of the reasons Boccaccio has become a fan favorite amongst her local community and within the LPGA. For example, even students from her physical education days are reaching back out for help with golf.
"Recently, a mother of four sent me a message because she summers up here on the Shore," Boccaccio explained. "She still calls me Miss B even though I tell her to call me Pam. She says I was her favorite teacher in elementary school and that I'm the one person who has to start her sons with golf. It's a great feeling to hear that."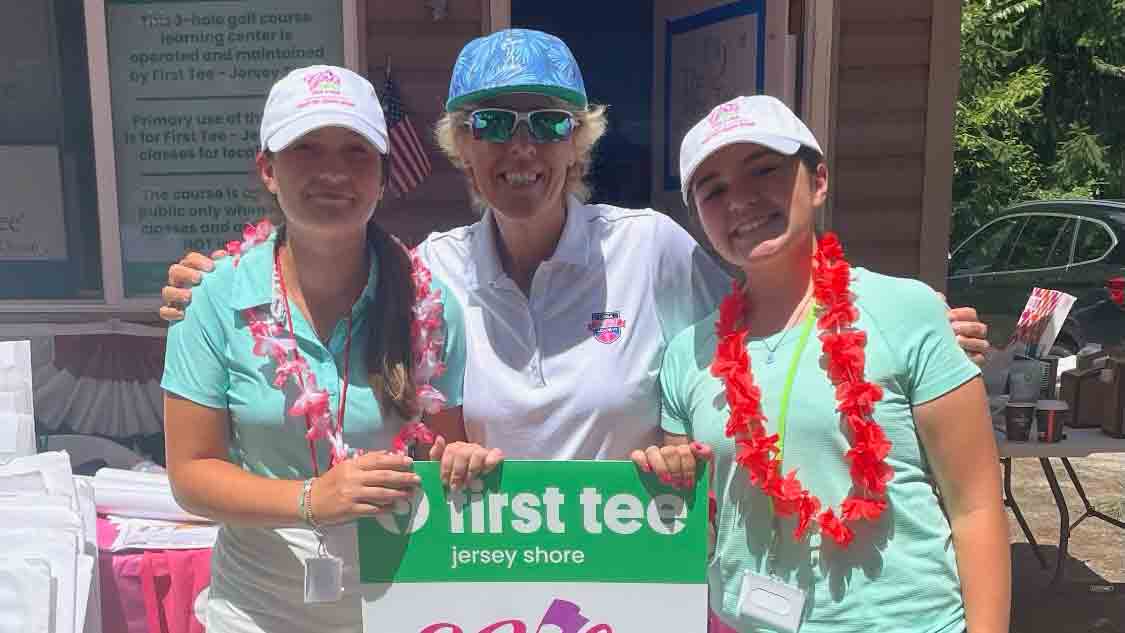 Boccaccio often reflects on her teaching journey and the opportunity to serve as a role model for younger generations. She also appreciates that in her experience, being a gay woman has not been an issue in her career.
"There are no stigmas or flags attached," she said. "It's Coach Pam and that's what it is."
Now established within the golf industry, Boccaccio still finds time to support those within the LGBTQ+ community.
"I've met so many young people who were in the same position as I once was," Boccaccio said. "I just let them know that it's a process. I'm always here for support, but this is their journey. There's no timeline. Being a champion for our community is just being there for support."
These independent journeys are something that Boccaccio wants those in and outside of the community to celebrate throughout the year.
"Pride Month is fantastic, but it's important that we as women within the gay community celebrate pride every single day," Boccaccio said. "We have such a great history. To celebrate the history of everyone who came before us so we can openly and honestly have these conversations is what pride means to me."
For Teno, pride is about something else entirely.
"I hope it becomes a non-topic," she said. "It's getting there. Enough females now have had courage to come out and say, 'This is how it is.' There's enough money in the sport that they can make an income, and there are enough allies out there as well. The new generation is making it happen."
As for those who might be reading this, Teno has one defining message: "Whoever you are, be good with you." A mantra that all can live by.